If I asked you to name a Southern state with a diverse geography, I'm guessing Alabama wouldn't be at the top of your list. This might be a bit of a curve ball, but Alabama has five distinct geographic regions which make it superb for outdoors adventures, especially hiking. I have lived in Alabama for 38 years and hiked every corner of the state. From the ridge and valleys in the northeast to the highland plateaus in the north to the coastal plain that covers the lower two thirds of the state, there are great trails and hiking options for all levels of ability. All you need to know is which ones are the best. That's where we Fifty Grande and I come in. Shall we?
15. Lakepoint State Park Loop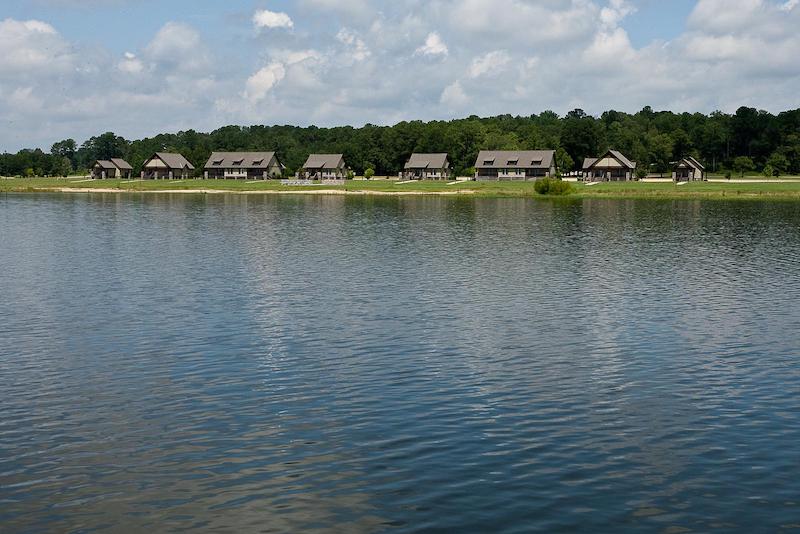 Lakepoint Resort State Park, 104 Lakepoint Dr, Eufaula, AL 36027
Total Distance: 2.6 miles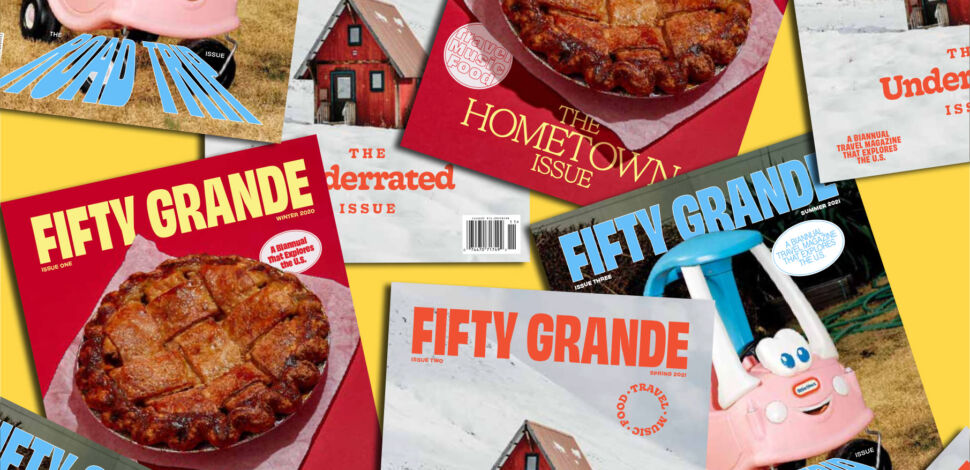 Rating: Easy
We will start the list off with this easy 2.6-mile loop. It is family friendly and features almost constant water views of the Chattahoochee River system's Walter F. George Reservoir, which forms the boundary between Alabama and Georgia. Locals call it Lake Eufaula. This loop is quick, flat, and beautiful. Keep an eye out for alligators.
14. Historic Blakeley State Park Loop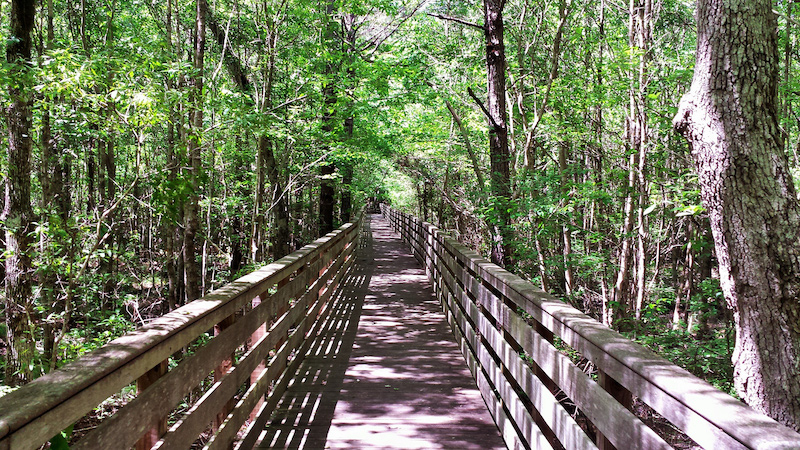 Historic Blakeley State Park, 34745 Alabama Highway 225, Spanish Fort, AL 36577
Total Distance: 3.1 miles
Rating: Easy
At the Tensaw River Delta, you will find this mostly flat 3.1-mile trail that offers up a bit of history with its scenic water views. This park is located on the former town of Blakeley and was the site of the last battle of the Civil War. The Battle of Fort Blakeley occurred on the same day that the Confederates surrendered. Remnants of the battle still remain along this loop.
13. Lake Lurleen State Park Hike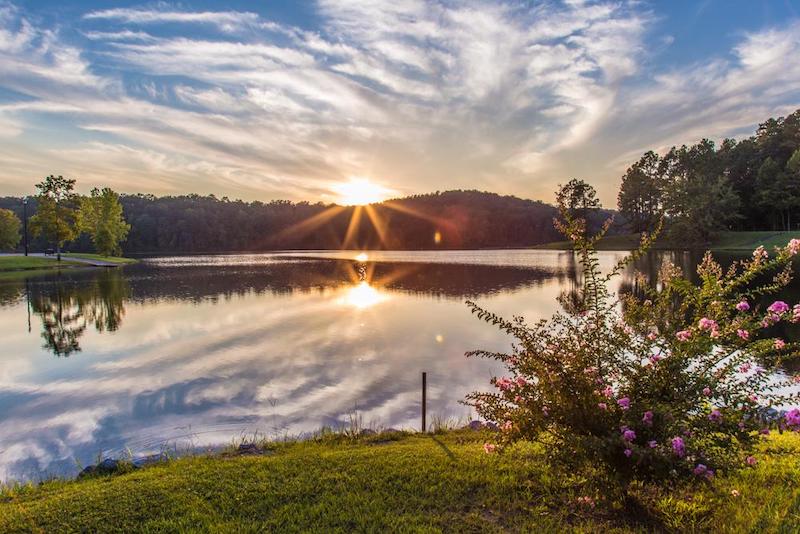 Lake Lurleen State Park, 13226 Lake Lurleen Road, Coker, AL 35452
Total Distance: 3.8 miles
Rating: Easy
Just outside Tuscaloosa lies this state park whose expansive trailways have made it a hiker and biker destination. While there are many trials to choose from, the most popular is the 3.8 mile out-and-back trail to the dam which runs along the lake. Here, you will see more of Alabama's wonderful lake views. If you are feeling adventurous, keep going on the 13 mile Tashka trail that continues beyond the dam. A fun fact: the lake and park are named after Alabama's first female governor, Lurleen Wallace.
12. Chewacla State Park Loop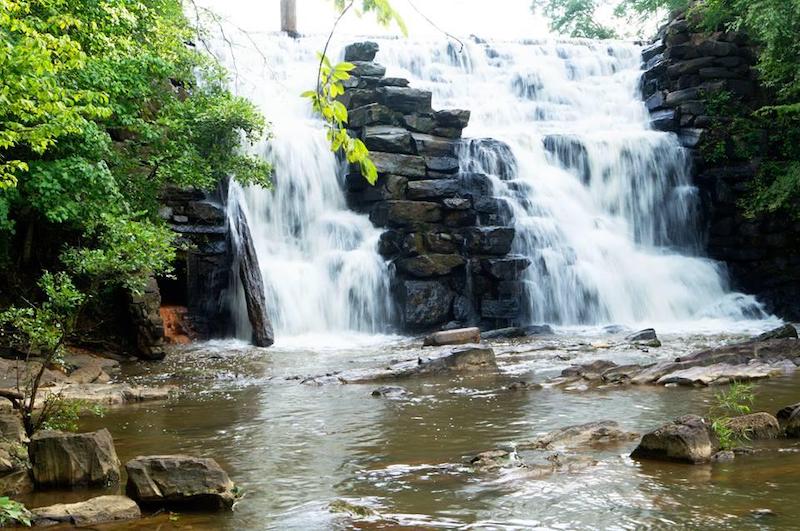 Chewacla State Park, 124 Shell Toomer Parkway, Auburn, AL 36830
Total Distance: 3.2 miles
Rating: Moderate
If you are going to mention Tuscaloosa, then you have to mention their college football rival town, Auburn. Chewacla State Park is just outside of Auburn and is home to a family friendly 3.2-mile loop that shows off Lake Chewacla as well as a nice swimming area where Chewacla Creek meets Moore's Mill Creek. The main attraction here, however, is Chewacla Falls, a gorgeous waterfall along the loop.
11. Pine Beach Trail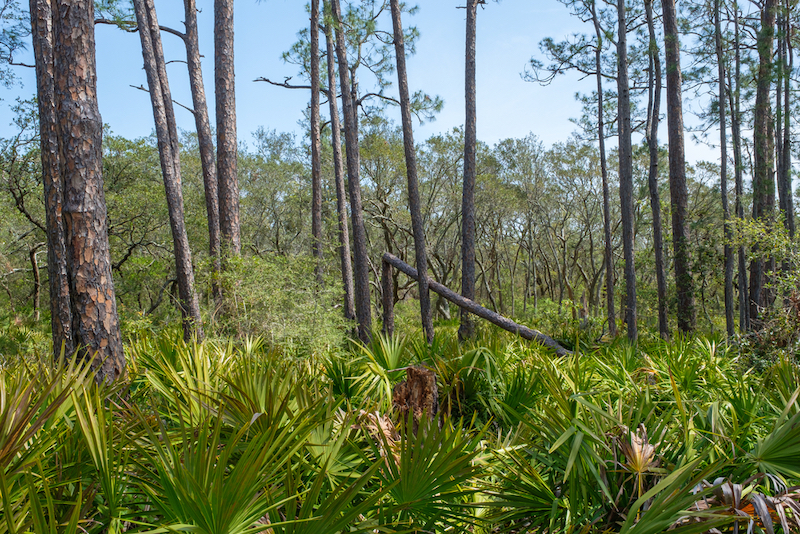 Bon Secour National Wildlife Refuge, 12295 Alabama Highway 180, Gulf Shores, AL 36542
Total Distance: 3.6 miles
Rating: Moderate
Make sure to bring a camera for this 3.6-mile out-and-back trip. Down at the southern coast of Alabama near Gulf Shores, this trail leads you through the slash pines — a staple of the coastal Alabama wilderness — and between the freshwater bodies of Little Lagoon and Gator Lake before finally ending at the Gulf of Mexico. Being on the coast, the terrain is flat, but it does take you through sand and over dunes. As temperatures rise during the summer months, this seemingly easy hike can be slower and tougher than expected.
10. Dismals Canyon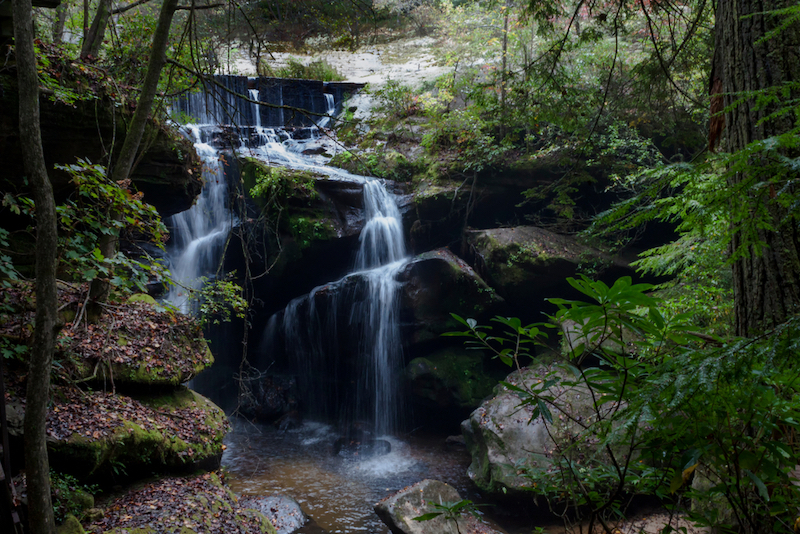 901 County Rd 8, Phil Campbell, AL 35581
Total Distance: 1.5 miles
Rating: Easy
This is the least challenging of the hikes on this list, but you're not here to exert yourself. You're here to see Dismals Canyon. The 1.5-mile loop goes over easy paths inside the canyon. Along with waterfalls and natural fauna, you will come upon the "Dismalites." These cousins of the famous "glow worms" from Australia and New Zealand are actually bioluminescent fly larvae only found in very few places across North America. Book a night tour to see the walls of the canyon glow blue and green.
9. Sipsey Fork Loop
Bankhead National Forest, 1070 Alabama Highway 33, Double Springs, AL 35553
Total Distance: 9.3 miles
Rating: Difficult
We are now getting to the part of the list aimed at those seeking a real challenge. This 9.3-mile loop takes you deep into the Sipsey wilderness of Bankhead National Forest away from any form of civilization. Ridges and elevation changes along the trail complement the rigor of the loop's distance. There are also at least two points where you will have to ford a river, so prepare to get a bit wet. Camping sites exist along the trail as well if you want to make this into an overnight adventure. For those truly trying to escape society to unwind in nature, this trail will be hard to beat.
8. Lake Guntersville Loop
Lake Guntersville State Park, 7966 Alabama Highway 227, Guntersville, AL 35976
Total Distance: 4.3 miles
Rating: Moderate
Formed by the mountainous terrain of Northwest Alabama and the damming of the Tennessee River, Lake Guntersville is a picturesque yet overlooked gem in the state. This loop takes full advantage of the waterfront scenery. You will walk past the steep shorelines, bluffs, and rock gardens along your way. Save energy for the end of this 4.3-mile loop as the last portion back to the trailhead is uphill.
7. Monte Sano Preserve Loop
Land Trust of North Alabama, 2442 Bankhead Pkwy NE, Huntsville, AL 35801
Total Distance: 4.9 miles
Rating: Moderate
Just east of Huntsville, you will find Monte Sano and its numerous systems of trails. I recommend this one, a 4.9-mile loop that will take you through 560 feet of elevation change. Pay attention that you get on the right trailhead as there are five options at the parking area. The must-sees along this cedar wood-filled loop are Dry Falls, Pulpit Rock, Three Caves Quarry, and Fagan Creek.
6. Falls Loop at DeSoto State Park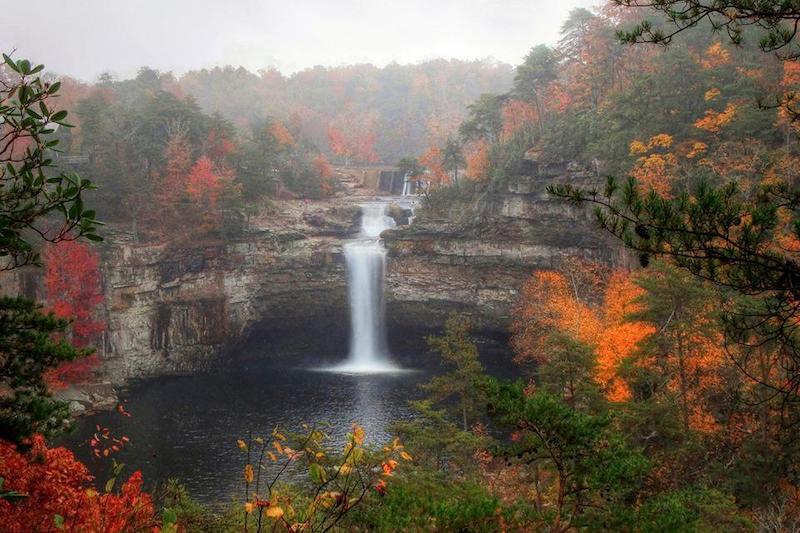 DeSoto State Park, 13883 County Rd 89, Fort Payne, AL 35967
Total Distance: 5.6 miles
Rating: Moderate
This waterfall-filled trail forms a 5.6-mile loop in the Northwestern corner of Alabama by Fort Payne. Hikers here will see Lost Falls, which is recognizable by its double falls, and Laurel Falls, which spills into a lovely pool at its bottom. There is some elevation change, but nothing too challenging. Be careful to watch the trail markings so you know when you are sharing a trailway with bikers. Camping is popular in DeSoto, so consider making a weekend of it and trying other trails at the park, too.
5. Skyway Backpack Loop
Talladega National Forest, 45 Alabama Highway 281, Heflin, AL 36264
Total Distance: 18.1 miles
Rating: Difficult
In Talladega National Forest, at some of Alabama's highest elevations, resides the most arduous hike on this list. Coming in at 18.1 miles and 1,000 feet of elevation change, this is a trek for the experienced hiker. The loop offers a trail shelter as well as multiple trail camping areas in case you want to break up the trip into two days. Dress appropriately: depending on the recent rainfall, stream crossings may be necessary, and there will be very rocky passes at points. The effort is worth it, though. You will encounter several waterfalls, including Cheaha Falls, and many mountain top views.
4. Falls and Tunnel of Borden
Bankhead National Forest, 1070 Alabama Highway 33, Double Springs, AL 35553
Total Distance: 4.2 miles
Rating: Moderate
Ok, I am breaking my own rule here by including a second trail in Bankhead National Forest that runs near the Sipsey Fork. And, considering how great this trail is, I stand by it. It runs along Borden Creek and is filled with waterfalls. This trail is an easier 4.2 mile out-and-back trip, but does have a unique obstacle. When you think you have reached a dead end in the gorge, keep walking. You will discover a 100 foot tunnel with one last secret waterfall waiting on the other side. Fall or Spring are the best times to visit this trail. In the summer, some of the falls may dry up and the bugs can become unbearable as well.
3. Noccalula Falls via Black Creek Trail
1600 Noccalula Rd, Gadsden, AL 35904
Total Distance: 5.0 miles
Rating: Moderate
One of the largest waterfalls in Alabama gets its name from the daughter of a Native American tribal chief who refused to go through with an arranged marriage. As legend has it, she flung herself from the falls to her death on her wedding day. While the day park is on one side of the grounds with a petting zoo, mini golf course, picnic pavilions, and a paved 1.7-mile walkway down to the falls, go to the ground's other side, by the campgrounds, and take the Black Creek Trail down to the falls. On the Black Creek Trail, you can go underneath the falls, an incredible experience and view. If you want, you can keep following the trail away from the falls to see the rapids in the gorge. All together, the Black Creek Trail makes a 5-mile adventure, but you can break it up into any of the portions mentioned above. On this trail, too, you will want to monitor the precipitation prior to your visit. Recent rainfall can make a spectacular torrent. The waterfall becomes much heavier and gives off a mist you can feel from hundreds of feet away. However, in such conditions, the rocky trail is more slippery and going underneath the waterfall is more dangerous.
2. Kings Chair Loop
Oak Mountain State Park, 200 Terrace Dr, Pelham, AL 35124
Total Distance: 4.2 miles
Rating: Moderate
Located about 10 miles south of Birmingham is Oak Mountain State Park. This is the trail I have personally hiked the most, and I cannot recommend this place enough.. It is a moderately difficult 4.2-mile loop with steep elevation changes and several scenic overlooks. My favorite is the Kings Chair overlook. It lets you see for miles to the south and east from its elevated perch. Up here, there are places to put up hammocks and relax an afternoon away up there above it all if you desire
1. Walls of Jericho Loop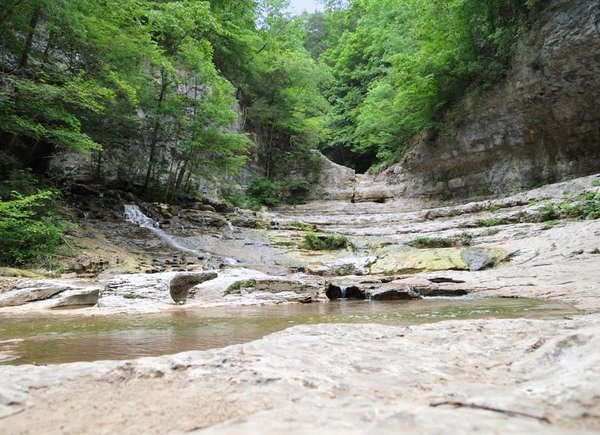 Total Distance: 9.6 miles
Rating: Difficult
The top of the list, Walls of Jericho Loop, is also one of the more demanding hikes in Alabama. This rocky, 9.6 mile trail with 1,080 feet of elevation change is not to be taken lightly. It starts at an elevation of 2,000 feet and passes many rock formations as it descends into a gorge. The trail then cuts through a boulder field before beginning to trace Hurricane Creek. Eventually, it crosses Hurricane Creek to follow Turkey Creek where you enter the Walls of Jericho, large limestone formations reaching up to the sky on either side of you. Pass waterfall after waterfall before going back up those 1,000 feet to the trailhead. There is a campsite at the bottom of the gorge in case you need to rest up before returning.