After a year and a half of playing will-they-won't-they with a pernicious virus, it's finally hot beach summer. Folks from coast to coast are eager to wax their surfboards, fill up their coolers and dive into the cerulean waters of the country's most iconic beaches.
Luckily, America's coastlines can suit the needs of any vacationer looking to escape the doldrums. Whether you want to build elaborate sand sculptures, snorkel at majestic reefs or lounge on the beach and listen to Nat King Cole's "Those-Lazy-Hazy-Crazy Days of Summer," it's time to stretch those sea legs and take in the ether at the best beaches in the United States.
West
Cannon Beach: Cannon Beach, Ore.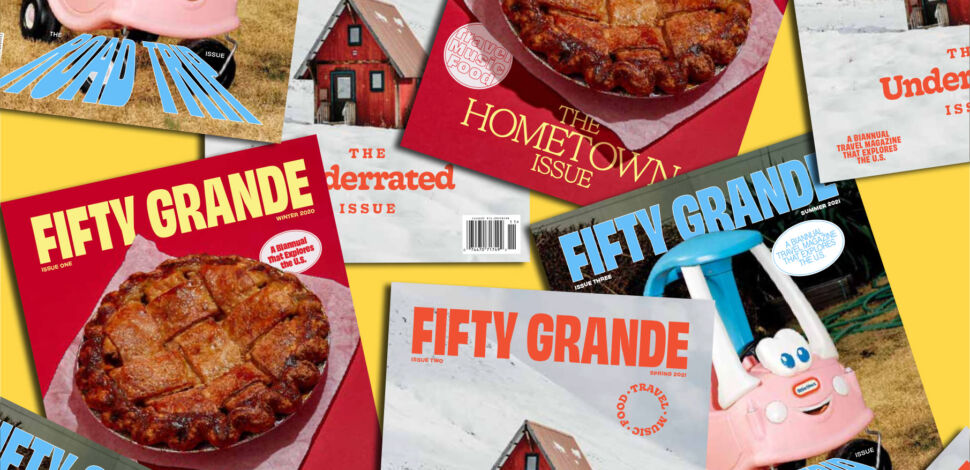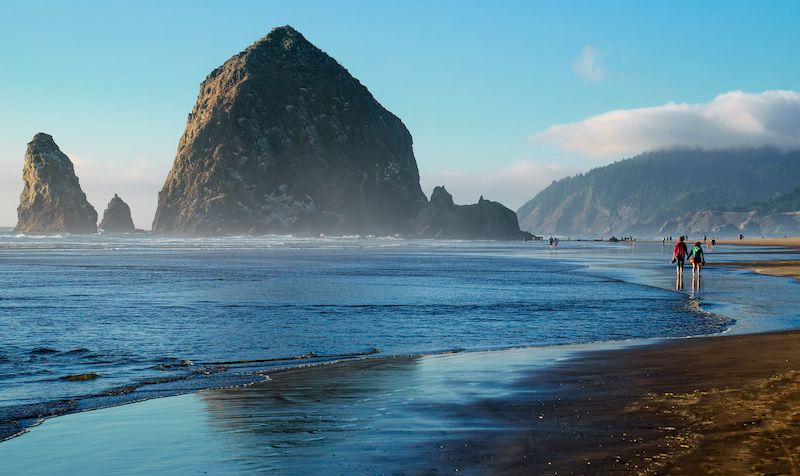 It's easy to see why Cannon Beach sits atop the itinerary of nearly every traveler that tours the Pacific Northwest. Surrounded by coniferous forests and state parks, the beach offers four miles of pristine shoreline to explore. Visitors love to snap photos of the infamous Haystack Rock — a 235-foot monolithic sea stack formed by lava roughly 16 million years ago. Search for starfish in the tide pools surrounding Haystack before heading to Tillamook Creamery to taste some of Oregon's best ice cream. (Cannon Beach: US-101, Cannon Beach, Ore.)
Ka'anapali Beach: Maui, Hawaii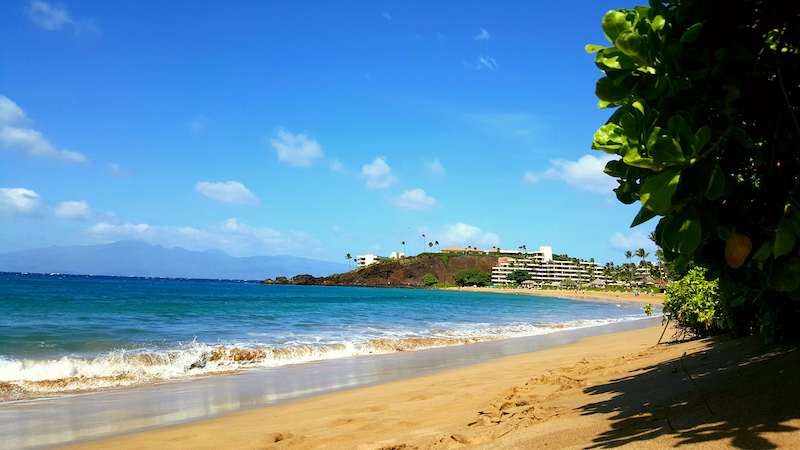 Situated on the leeward side of Maui, Ka'anapali Beach is the kind of white sand paradise that people daydream about during tedious Zoom meetings. The beach's glistening three-mile stretch is dotted with luxury resorts and modest condominiums alike, providing accommodations for island-seekers with varying budgets. Visitors love to cliff-dive off the iconic Black Rock and snorkel in the crystalline waters while searching for turtles. Finish a day of sun and surf by visiting Monkeypod Kitchen and drinking one of their signature mai tais. (Ka'anapali Beach: 2435 Ka'anapali Parkway, Lahaina, Hawaii)
Mission Beach: San Diego, Calif.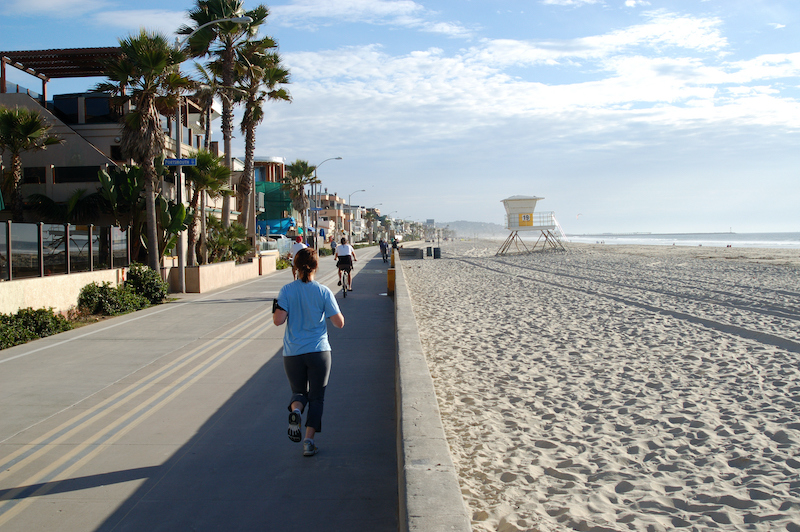 San Diego's Mission Beach seems like the type of place that inspired Smash Mouth's hit single "Walkin' on the Sun" — it's summery, timeless and loved by kids of all ages. The sandy getaway boasts no shortage of activities for avid beachgoers, including surfing, Jet-skiing and lounging about the beach. If watersports don't pique your interest, skateboard down the two-mile-long boardwalk or ride the historic Giant Dipper roller coaster at San Diego's beachfront Belmont Park amusement center. (Mission Beach: 3000 Mission Blvd., San Diego, Calif.)
Ruby Beach: Jefferson County, Wash.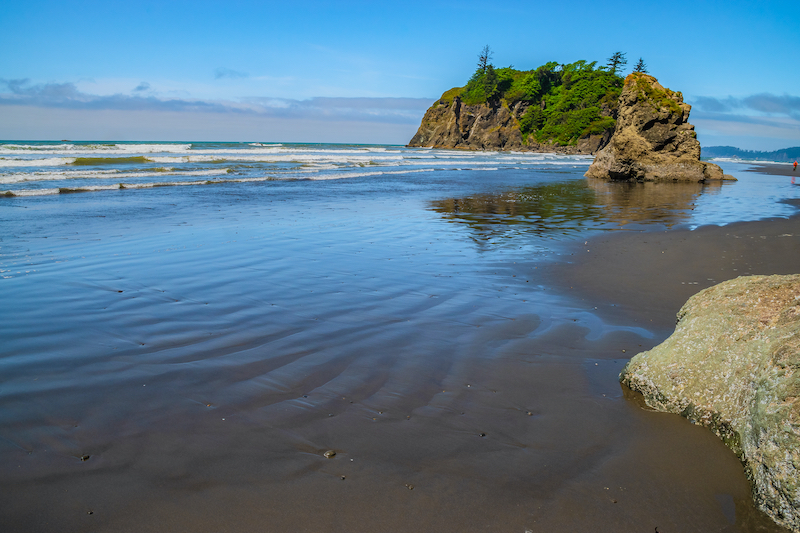 Western Washington's Olympic National Park is home to some of the finest beaches that the West Coast has to offer. While wanderlusters won't find opportunities to surf and Jet Ski here, Ruby Beach gives travelers the chance to explore luminous tide pools beside an endless forest of pines. Think less Sublime, more Grizzly Bear. Look for the namesake ruby-esque sand on the shores before marveling at the sea stack rock formation. (Ruby Beach: Jefferson County, Forks, Wash.)
Carmel Beach: Carmel-by-the-Sea, Calif.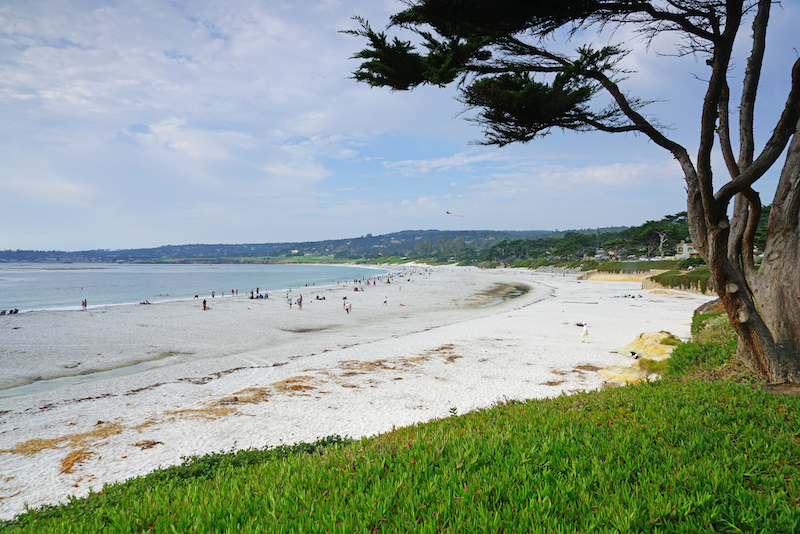 Carmel-by-the-Sea is a town as pleasant as it sounds, and its namesake beach accentuates its charm. With its sprawling white sands, picturesque cliffs and windswept cypress trees, it's no wonder why humans, with canines in tow, flock to this dog-friendly beach escape. Head out for a sunset stroll around the bluff before tucking into an unforgettable meal at the bespoke La Bicyclette restaurant. (Carmel Beach: Ocean Ave. and Scenic Road, Carmel-by-the-Sea, Calif)
Waimea Bay Beach Park: Oahu, Hawaii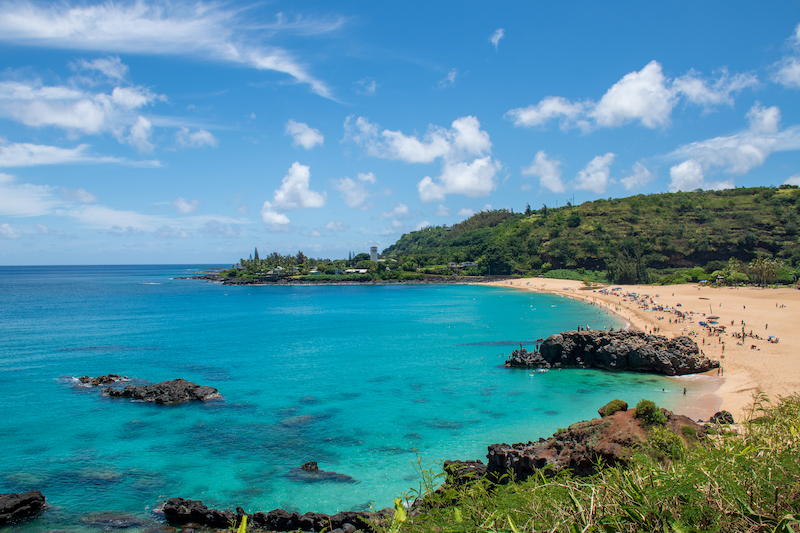 Surf's up to any thrill-seekers looking to explore Oahu beyond Honolulu proper. Those who opt to leave sunny Waikiki and venture up to the island's North Shore reap the benefits of Waimea Bay Beach Park's less crowded and equally pristine beach. Home to some of Hawaii's most iconic surf competitions and historic pipelines, it's no wonder why Waimea Bay received a shoutout in The Beach Boys hit "Surfin' U.S.A." over 50 years ago. Those who aren't into catching a gnarly wave can snorkel in the calm waters around the bay's edge and explore the majestic reefs. (Waimea Bay Beach Park: 61-31 Kamehameha Highway, Haleiwa, Hawaii)
La Jolla Cove: La Jolla, Calif.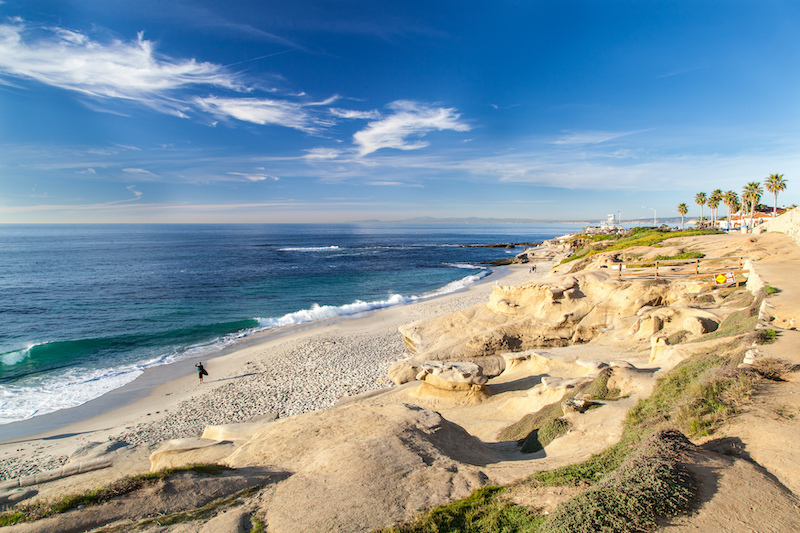 Nestled between Point La Jolla and sandstone cliffs, La Jolla Cove is an iconic destination loved by locals and tourists. Though the beach is small, it lends to its exclusivity and makes it all the better for viewing marine wildlife like sea lions and barracuda from the shore. When you're ready to take a dip in the cerulean waters, explore the 6,000-acre Underwater Park & Ecological Reserve via kayak or don your favorite snorkel gear for undersea exploration. (La Jolla Cove: 1100 Coast Blvd., La Jolla, Calif.)
Gulf and Florida
R.A. Apffel East Beach Park: Galveston, Texas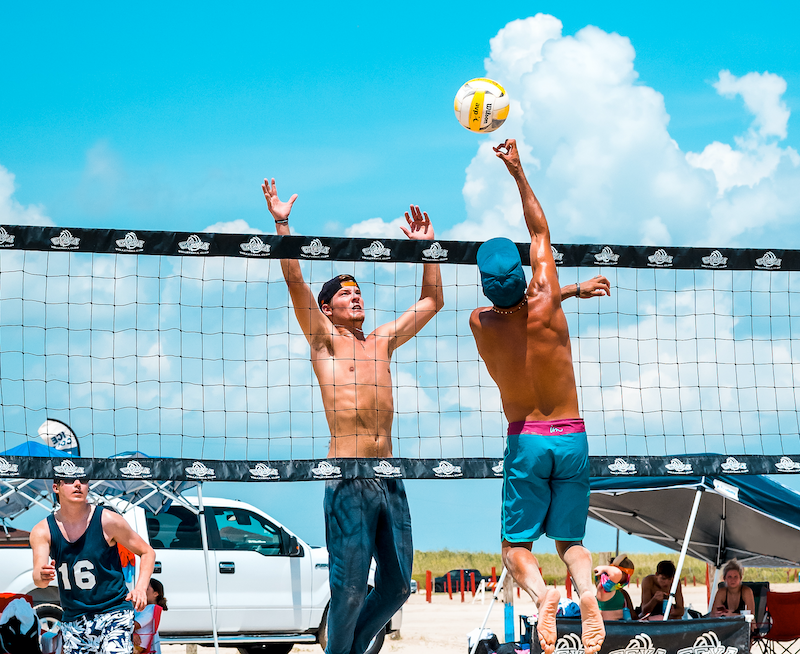 Texans hoping to escape the sweltering summer heat need only travel an hour south of Houston to the shores of R.A. Apffel East Beach Park in Galveston. Casually referred to as "East Beach" by locals, the sandy stretch has garnered a reputation of being a great place to party, as festivals and live concerts draw crowds each year. Those dreaming of sun, surf and sandcastles can catch the 34th annual American Institute of Architects Sandcastle Competition on Saturday, August 21, 2021. (R.A. Apffel East Beach Park: 1923 Boddeker Rd., Galveston, Texas)
Fort Zachary Taylor Historic State Park Beach: Key West, Fla.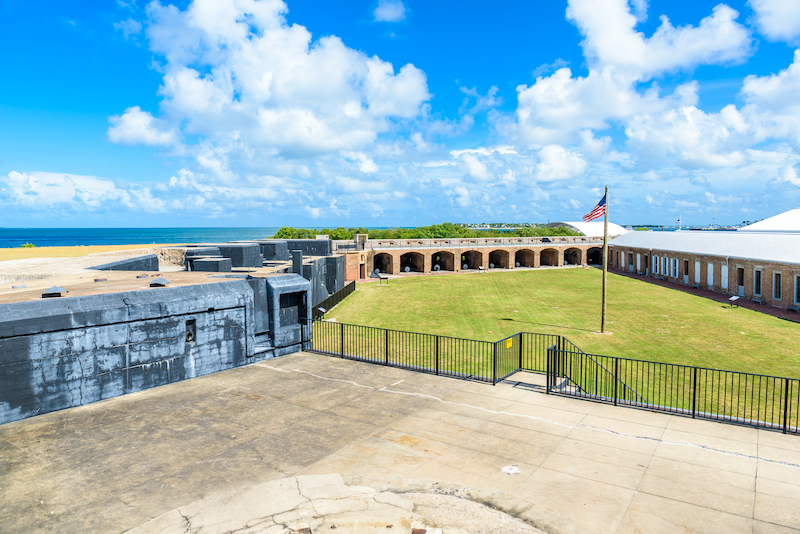 Fort Zachary Taylor Historic State Park Beach is as much of a mouthful to say as a slice of Key lime pie is to eat, but the renowned fort is a must-see destination in the Keys. Situated at the southernmost point of Key West — and the continental United States — the park is an ideal place to take the history buff in your life to marvel at relics from as far back as the Spanish-American War. However, for those more interested in taking in the beach, the waters surrounding Fort Zachary boast some of the best snorkeling and fishing in the state of Florida. (Fort Zachary Taylor Historic State Park Beach: 601 Howard England Way, Key West, Fla.)
Cotton Bayou Beach: Orange Beach, Ala.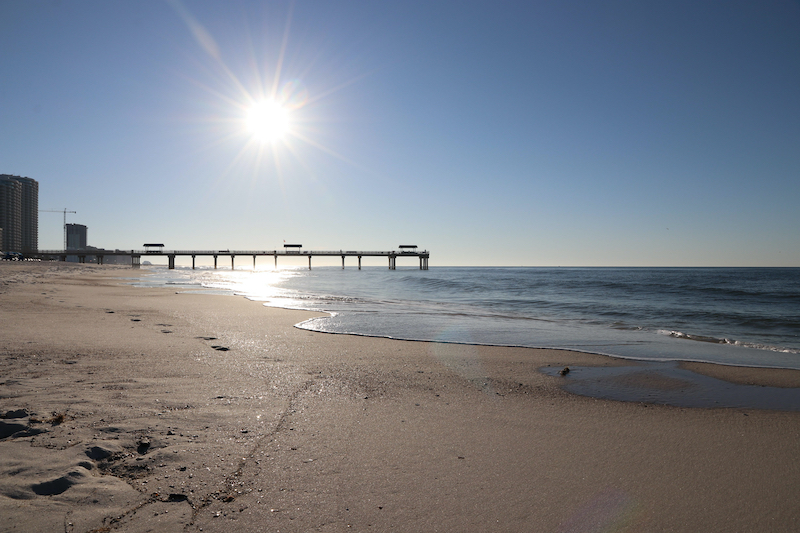 We don't usually associate the Heart of Dixie with white sand beaches and vast reefs; however, a trip to Alabama's Cotton Bayou Beach affords Gulf Coast travelers plenty of each. Situated just east of Orange Beach, Cotton Bayou Beach's sparkling sands and inviting boardwalks are just a microscopic part of the greater Gulf State Park. Families come to relax on the beach, snorkel in the expansive artificial reef and boogie board just off the shore. If you're hoping to take a voyage, book a glass-bottom boat tour through Dolphins Down Under or embark on their romantic sunset dolphin cruise. (Cotton Bayou Beach: 26026 Perdido Beach Blvd., Orange Beach, Ala.)
Front Beach: Ocean Springs, Miss.
Just off the coast of the Mississippi Sound, Front Beach offers sunbathers some of the calmest shallow waters in the Magnolia State, making it a prime destination for families with young swimmers learning to get their sea legs. Biloxi day-trippers need only trek ten minutes to the beach to test their surf fishing skills. After a day of sun and surf, head over to Vestige and indulge in their rotating tasting menu. (Front Beach: Front Beach Dr., Ocean Springs, Miss.)
South Beach: Miami, Fla.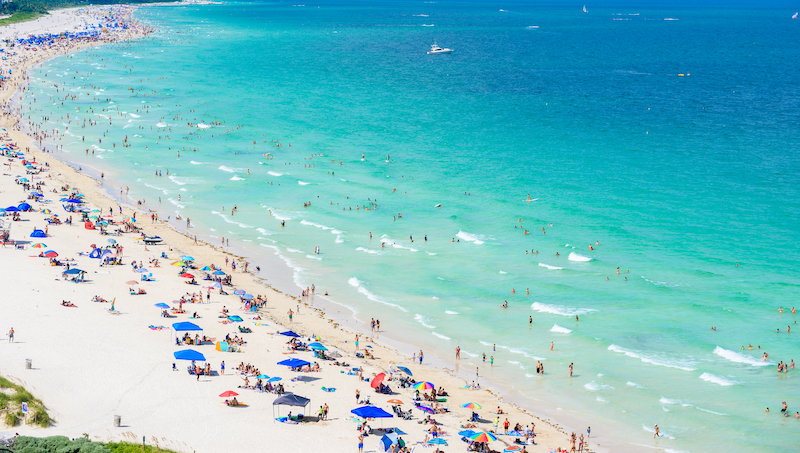 South Beach is the crown jewel of all beaches in Florida and maybe America as a whole. It's glitzy, glamourous and best served to the tune of Miami Sound Machine's "Conga." This beach, which is located at Miami's southernmost point, is an energetic playland with 2.2 miles of white sands. It's where locals and tourists alike go to see and be seen. Cruise down Ocean Drive with the top down and admire the famed Art Deco architecture before heading to The Bazaar by José Andrés for tapas and cocktails. (South Beach: 405 15th St., Miami Beach, Fla.)
East Coast
Driftwood Beach: Jekyll Island, Ga.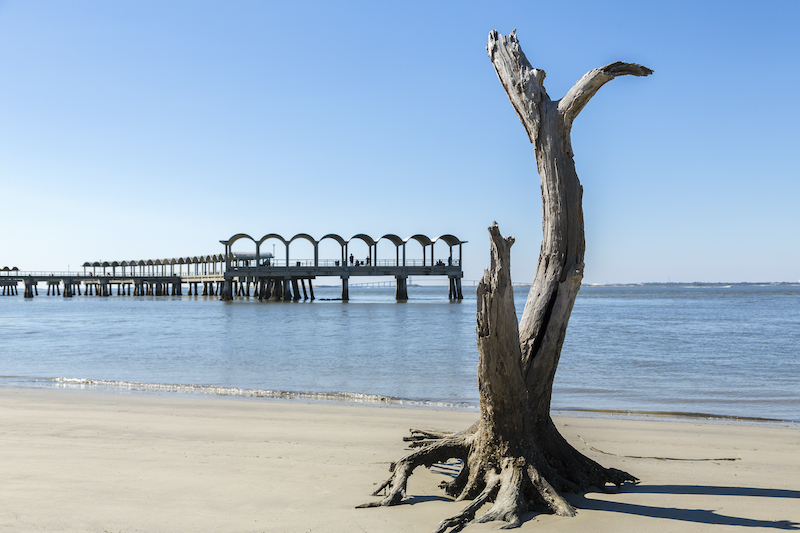 Driftwood Beach is a captivating and unspoiled piece of Georgia's history. Situated on the north end of Jekyll Island, one of Georgia's Golden Isles, it gets its name from the giant segments of weathered tree branches that eroded from what was once a sprawling forest. Head to the shores at night to moonbathe, stargaze and take in the natural splendor of this Georgia gem. (Driftwood Beach: Jekyll Island, Ga.)
Kitty Hawk Beach: Outer Banks, N.C.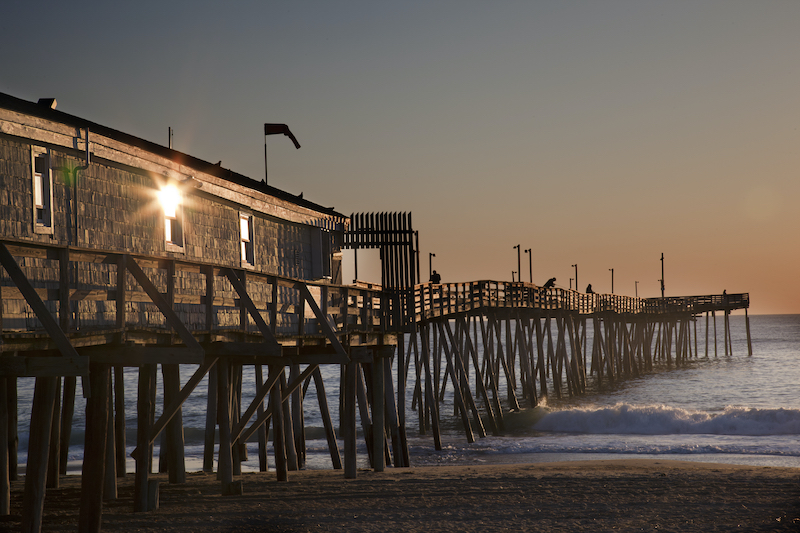 There are plenty of idyllic shores dotted along North Carolina's Outer Banks, but Kitty Hawk Beach has established itself as a popular destination for families and their four-legged friends. This dog-friendly beach receives magnificent swells making it a perfect spot for surfing, skimboarding and kayaking. If you're looking for more shade, take a jaunt through the Kitty Hawk Woods Coastal Reserve, a 461-acre maritime forest full of thick and wooded hiking trails. (Kitty Hawk Beach: Kitty Hawk, N.C.)
Coligny Beach Park: Hilton Head Island, S.C.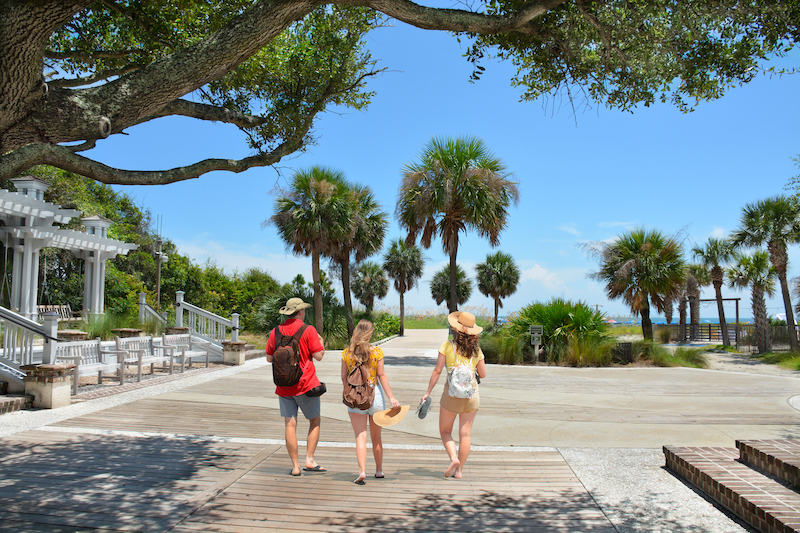 Hilton Head Island's Coligny Beach Park is a favorite of beachcombers looking for a heaping side of amenities with their vacation. As the most popular beach in Hilton Head, Coligny pulls out all the stops by offering outdoor showers, changing rooms and even free Wi-Fi — yes, Wi-Fi — for all visitors. After a long day of sun, surf and sea breezes, head across the street to the Frosty Frog Café and cool off with one of their 24 signature daiquiris. (Coligny Beach Park: 1 Coligny Circle, Hilton Head Island, S.C.)
Ditch Plains Beach: Montauk, N.Y.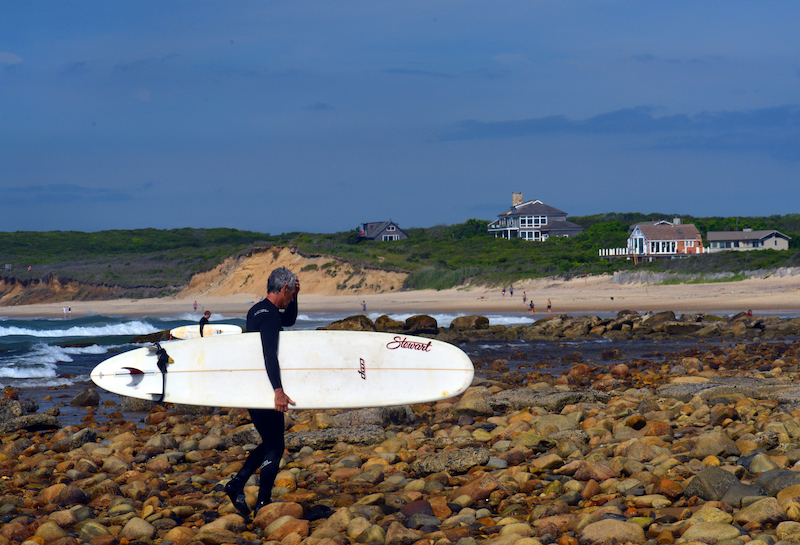 If Montauk is an oyster, then Ditch Plains Beach is its pearl. Surrounded by lush greenery and swooping cliffs, Ditch Plains has established itself as one of the premier spots for surfing on the East Coast. Aside from the surging waves, Ditch Plain's salty waters are also home to various fish, making it an ideal spot for surf fishing. Head to the Montauk Lighthouse Museum to learn more about the history of one of the oldest active lighthouses in the country. (Ditch Plains Beach: 18 Ditch Plains Road, Montauk, N.Y.)
Chincoteague National Wildlife Refuge: Chincoteague Island, Va.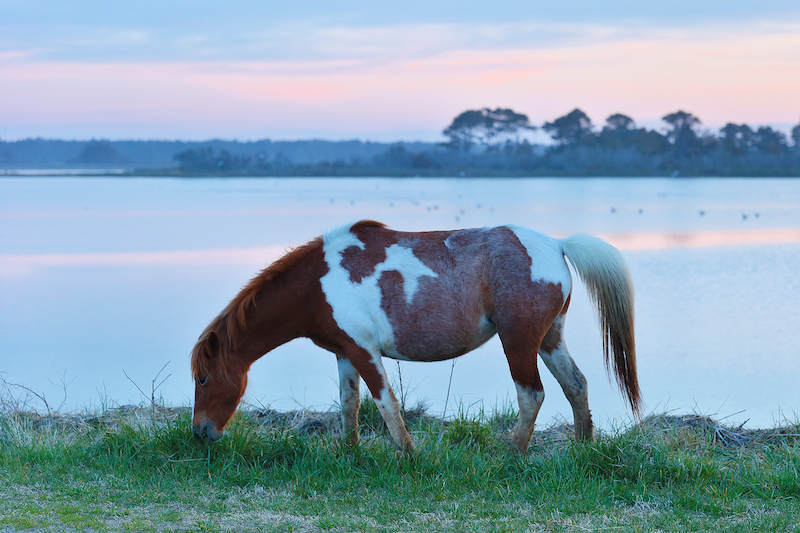 Perched south of the Maryland-Virginia border, Chincoteague Island is a place to enjoy the usual beach pursuits in and around the protected Chincoteague National Wildlife Refuge. The true showstoppers of the island are the wild Chincoteague ponies that harmoniously trot through the dunes and marshes. Folks looking for sweeter pursuits should visit the island between July 22-24, 2021, to attend the 33rd Annual Chincoteague Blueberry Festival. (Chincoteague National Wildlife Refuge: 8231 Beach Dr., Chincoteague Island, Va.)
New England
Ogunquit Beach: Ogunquit, Maine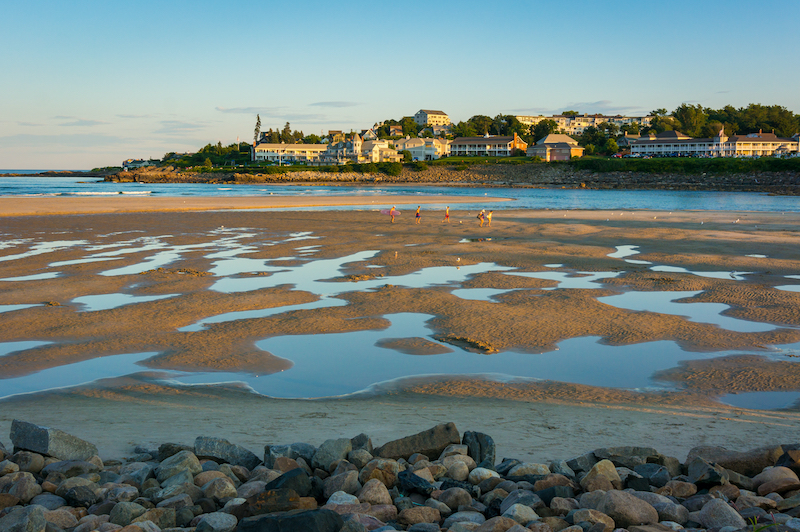 Drive less than an hour south from Portland, Maine, and you'll find yourself on the sandy shores of Ogunquit Beach. With 3.5 miles of coastline, white sand beaches and rushing low-tide waters, you can live out your fantasy of being an extra in Chris Isaak's "Wicked Game" music video — or at the very least, you can try. After a day of stretching out in the soft sand, head into Ogunquit proper and grab a requisite lobster roll from The Lobster Shack. (Ogunquit Beach: 124 Beach St., Ogunquit, Maine)
Misquamicut State Beach: Westerly, R.I.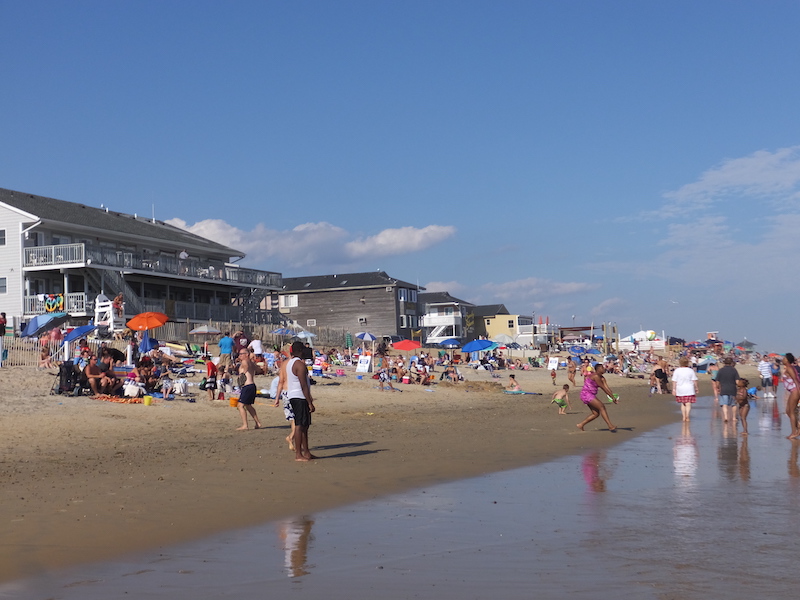 Families looking to splash around at the finest beach in the Ocean State need look no further than Westerly's Misquamicut State Beach. Calm waters and a three-mile stretch of soft sands make this beach an ideal place for building sandcastles and safe swimming for junior guppies. When you've had your fill of the beach, head to Bayview Fun Park to play putt-putt golf or cruise around in bumper boats. (Misquamicut State Beach: 257 Atlantic Ave., Westerly, R.I.)
Great Point Beach: Nantucket, Mass.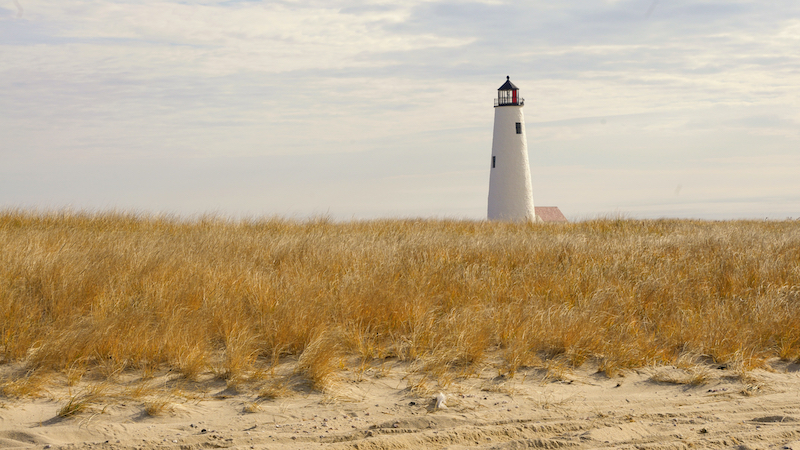 Great Point Beach is an unmissable destination if you're hoping to soak in quintessential Nantucket. Located in the remote Nantucket National Wildlife Refuge, the picturesque Great Point Lighthouse is the backdrop for windswept grasses and incredible seascapes — a scene that looks like a still from a Michelangelo Antonioni film. Rent an ATV and head out to the beach for a quaint picnic among the seabirds before trying your hand at surf fishing next to seasoned anglers. (Great Point Beach: 147 Wauwinet Road, Nantucket, Mass.)
Jenness State Beach: Rye, N.H.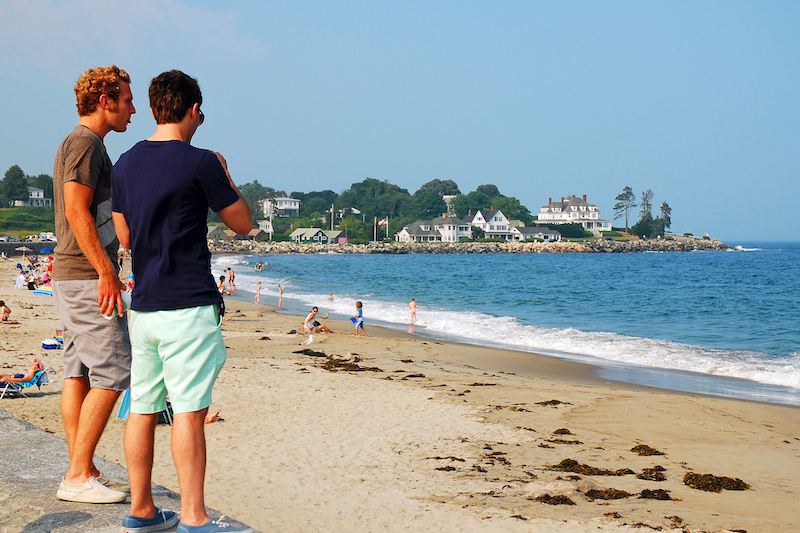 Cruise an hour north of Boston to Jenness Beach and you'll find a haven for wave-riders looking to catch a gnarly barrel. The surf scene in Rye may be the most impressive on the East Coast. Jenness is an unpretentious seaboard loved by both seasoned surfers and novices hoping to learn to shred. Lucky for you, Summer Sessions Surf Shop offers surf lessons for kids of all ages. If paddling out isn't your speed, stretch out on the velvety sands with a good book and take in the ether. (Jenness State Beach: 2280 Ocean Blvd., Rye, N.H.)
Duxbury Beach Park: Duxbury, Mass.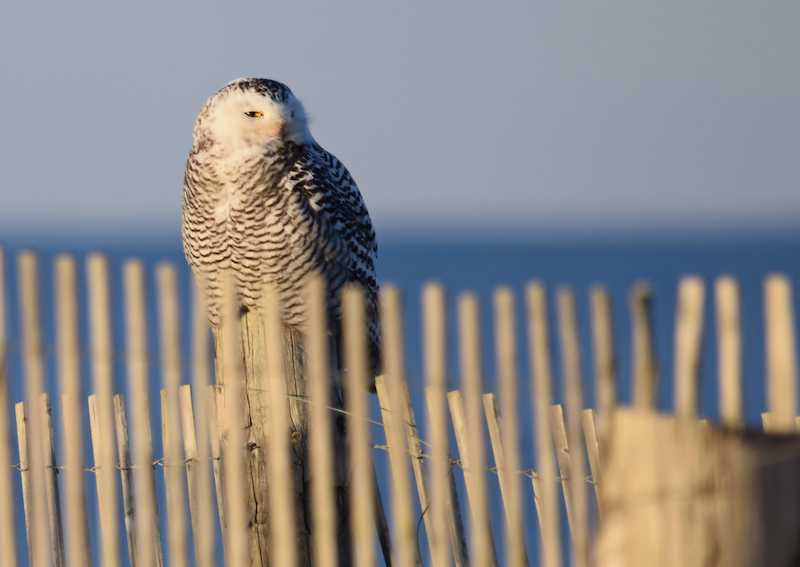 Accessible via the Powder Point Bridge, Duxbury Beach Park is a Cape Cod hideaway loved by locals and in-the-know jetsetters. Its sand dunes define this seaside retreat, but the true pièce de résistance is Duxbury's access to some of the best shellfish in Massachusetts. Clam-digging enthusiasts can muck around with a burrow and search for snacks or head to The Raw Bar at Island Creek Oyster Farm and indulge in some freshly shucked bivalves. (Duxbury Beach Park: 260 Gurnet Road, Duxbury, Mass.)