This story is part of our first-ever music special, which includes the results of our music survey, the resulting top music cities ranking and an in-depth look at the most travel-worthy music cities across the country. See all the coverage here.
---
When Grammy-winning soul singer and songwriter Leon Bridges prepared to record his latest album, he needed a change. Bridges wanted to loosen his routine and tap into a sound that was grittier, sultrier and less polished than his previous work. Inspired by Bridges' appetite for nightlife, producer Ricky Reed had the idea of scrapping the usual 9-to-5 schedule that Bridges was used to and instead wait until the sun went down before stepping into the recording booth. Reed figured this would allow the after-hours Leon Bridges to influence the work. The Leon Bridges who lets his hair down and likes to stay out late and have a good time; the Leon Bridges who hangs around for last call at the bar.
Reed's idea could be tricky to pull off. It would require a tightrope of work and play, studio space and living environment; a place to both get immersed in the creative process and to relax and regroup.
The solution was surprisingly simple. Bridges, who is probably best known for his 2015 hit "Coming Home," checked in for a six-week residency at Gold-Diggers, an easily missed three-story green and black building on a nondescript stretch of Santa Monica Boulevard in East Hollywood. Given the area, you'd be forgiven if your first thought was that it was just another strip club or seedy bar — in the '70s that's exactly what it was. But what lies behind its unadorned black doors is part hotel, part recording studio and part of Hollywood history.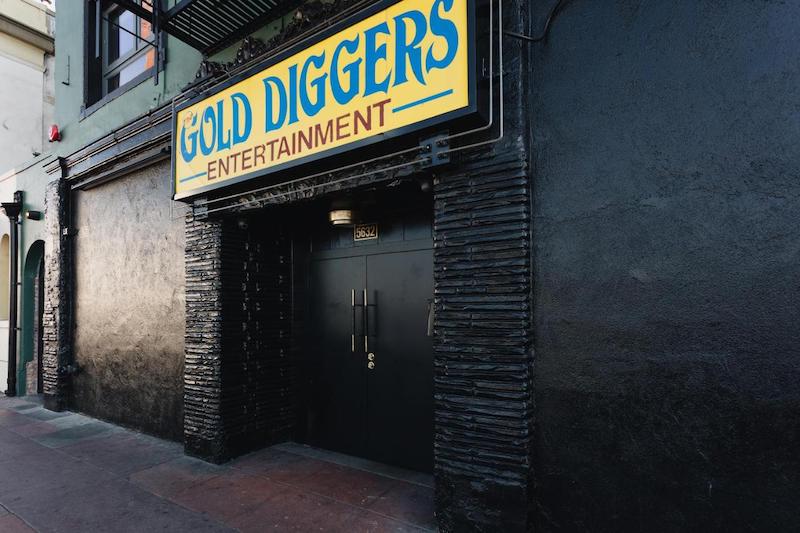 While the street view looks like a straightforward storefront, the footprint of Gold-Diggers is surprisingly large. Behind the main building, now an 11-bedroom boutique hotel above a 175-person bar and music venue, sits a large bow-and-truss-style warehouse, currently a state-of-the-art recording studio.
"When I bought the property, I had originally planned just to do the hotel and bar," says owner Dave Neupert of his early plans after purchasing the space in 2015. But after lunch with a friend who worked in the recording business, the idea to also build a seven-room recording studio organically came together. "I liked the idea that this campus would be a place to create music and to perform. And a place for fans to consume music." Thus, Gold-Diggers' unique value proposition of "Drink. Sleep. Record." was born.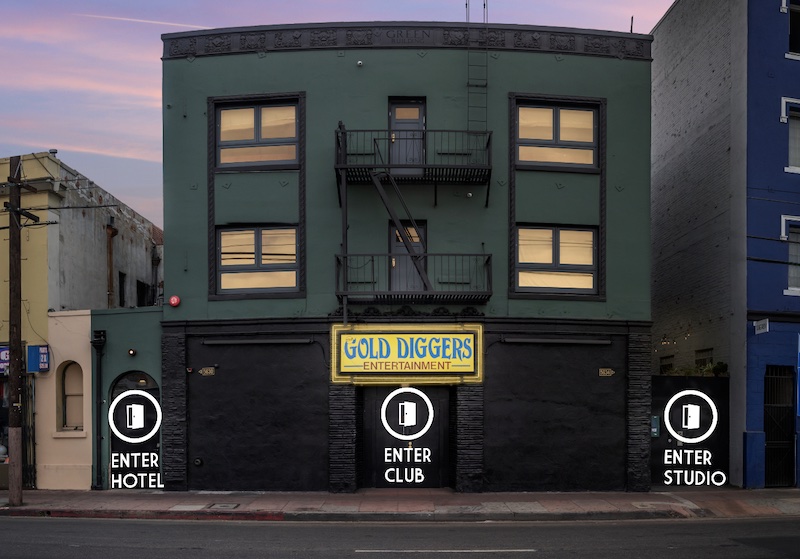 The front building was originally an inn and tavern built in the 1920s that catered to travelers heading to the beach on the famous Route 66. The warehouse in the back was home to the infamous Hollywood director Ed Wood and his Quality Studios, where he filmed low-budget sci-fi movies like "Plan 9 From Outer Space" and "Glen or Glenda." After Wood passed away in 1978, the studio became a practice space for punk and hair bands, notably Axl Rose's pre-Guns N' Roses band Hollywood Rose and the heavy metal band Slayer. The original Gold-Diggers name (and sign) pays homage to the strip club that served the neighborhood from the 1970s up until the time Neupert bought it.
For the current hotel, leaning into this colorful history was essential. Each of the 11 rooms has a unique style and layout, but all live in a parallel world that feels nostalgically seedy and cool, now drenched in something deeply romantic. Meanwhile, the bar and music venue on the street level maintains an aura of a neighborhood dive bar with a hip edge created by moody lighting and lots of gold detailing.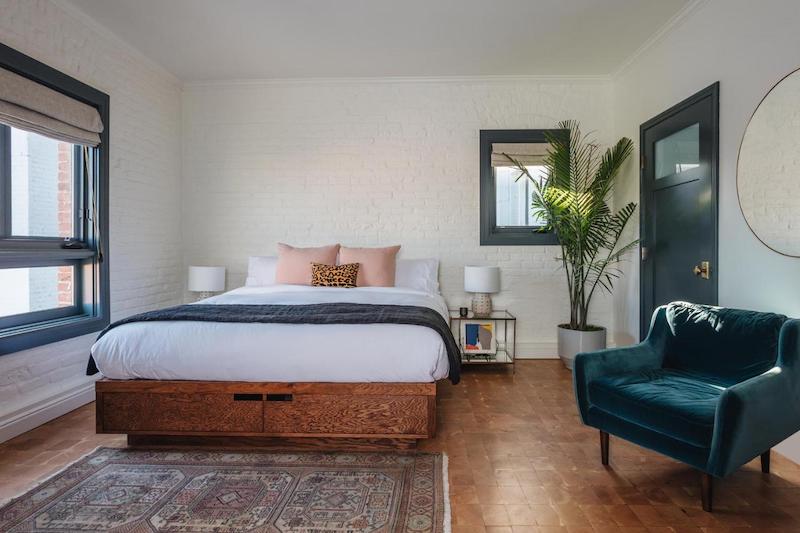 Each room comes with small collections of vinyl and cassettes curated by Justin Gage, founder of the influential music blog Aquarium Drunkard. You can queue up your new playlist on an in-room Sonos sound system or Bluetooth Audio Technica turntable and kick back on beds draped in linen sheets and velvet duvets. Even the artwork has musical connections; Neupert commissioned a series of 20 paintings from Andrew Savage, frontman of the indie rock band Parquet Courts and Grammy-nominated visual artist.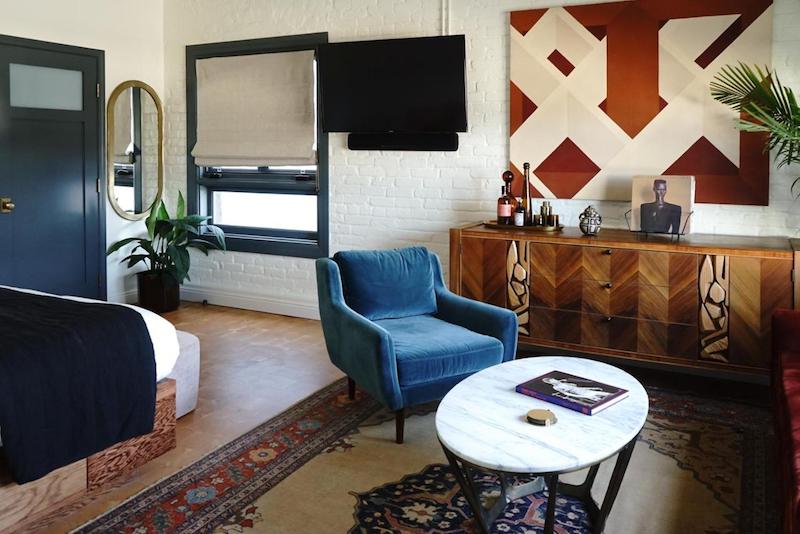 "We tried to soften the existing industrial edges of brick walls and steel retrofitting with lush fabrics and textures," Neupert says. Other design decisions and textures like chevron tiles, brass fixtures and wood floor tiles are the work of Silver Lake-based designer Tiffany Howell of Night Palm.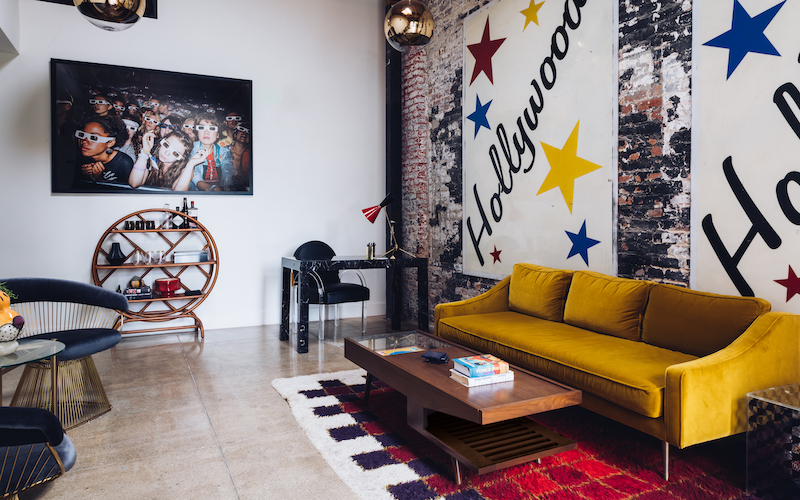 A stay at Gold-Diggers feels like you've tapped into a local secret, a spot your annoyingly cool coworker knew about and only reluctantly shared with you. On any given night, a musical act that could be tomorrow's headliner is on stage, thanks to a series of shows and DJ-led dance parties meticulously curated by talent booker Tyler Hale, formerly of the well-known NPR station KCRW. Meanwhile, today's big thing could be recording in the back. Lizzo and Caroline Polachek are among the artists who have booked time in the studio; Reggie Watts is a regular, often popping into the bar to work on some new material. Booking a room at Gold-Diggers won't guarantee an opportunity to interact with the famous singers in person, but it will give you a taste of a Los Angeles that is holding on hard to its musical roots.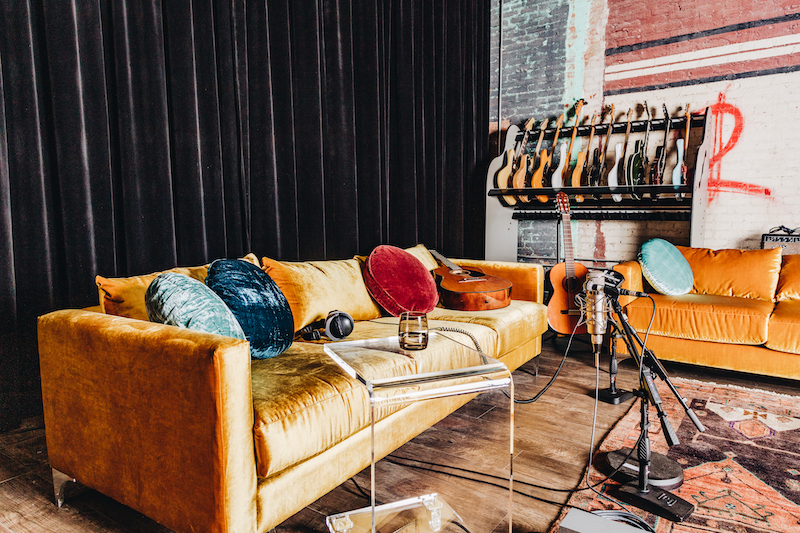 During Bridges' informal residency just before the pandemic, he often invited fellow musicians and friends in the industry to pop by for a drink and a jam session; he also performed several pop-up shows in the bar to try out his new music publicly. Bridges is still the first and only artist to take advantage of the whole campus, but Neupert is confident, now that the world is opening up again post-pandemic, more will follow. Meanwhile, Bridges' album, "Gold-Digger Sounds," has been applauded by critics, with Pitchfork calling it his "best-written record," and NME saying it's "a cohesive masterclass from start to finish." Ricky Reed's experiment — and Neupert's vision — seem to have worked out.