Like a building that would fail fire code in spectacular fashion, I've been told that there's only one way in and one way out of the Florida Keys. Upon arrival in South Florida, I discovered that's actually what some would call fake news. The main way to enter the Keys on this particular day is backed up, and the Google traffic directions are such a dark shade of red that there might as well be skull and crossbone emojis flanking the map's route. My bus driver, however, knows a "secret" way. At first, this sounded like a "Midnight Express" situation, but we took a side road and bridge into North Key Largo, which passed a terrifyingly named place called Crocodile Lake. True to his word, we avoided much of the traffic. Equally good: We weren't kidnapped and left for dead.
Somewhere on the Overseas Highway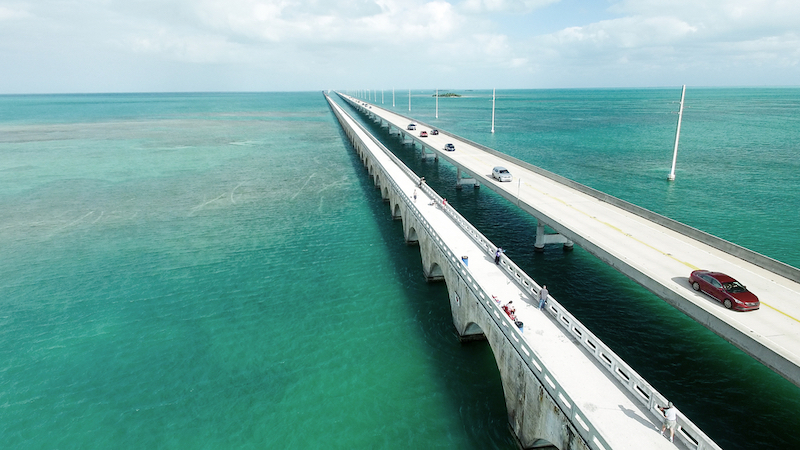 I'd been looking for a place to escape the frigid Brooklyn winter, and the Florida Keys, with its ideal weather, made the most sense. In addition to the sun (important!), I'm also seeking cocktails: the tropical, icey, sugary, sweet kind that the Keys are known for.
"Yeah, I got out of the city a long time ago," says Steve, a native New Yorker sporting a polo, shorts, glasses and salt-and-pepper hair who recently entered his glorious retirement era. Today, he's a fellow passenger on this bus to the Postcard Inn, as we crawl through traffic that even my expert driver isn't sure how to bypass. "Now, I get sun all winter."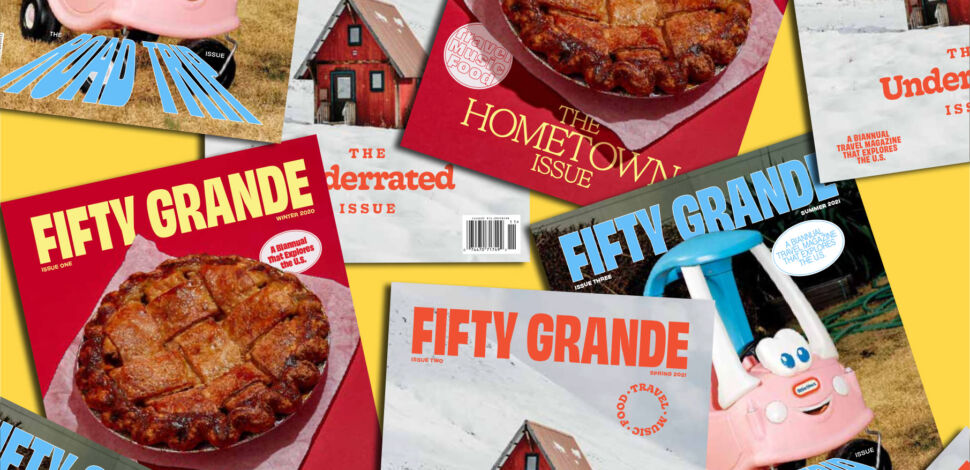 Steve seems to know the finer things in life. He tells me he eats sushi a couple of times a week, has a standing table at the ultra-exclusive Italian restaurant Rao's (!), and when he's not in South Florida, he lives just off of a golf course in the Hamptons. He speaks of being in the Keys sun with a sense of wistfulness, as if the northern part of the United States was Alcatraz that he and his prison buddies escaped years earlier. Today, they're free men.
Another gentleman I met along the way — a bartender named Gavi who rocked a full beard, glasses and a tropical T-shirt — also fled Brooklyn, but he went southward for work and today is slinging drinks in the Keys. "The view out of my apartment window used to be of the J train," he says of the grimey elevated line that is a special kind of loud when it creakily barrels past. "Now, when I wake up I see the ocean."
Postcard Inn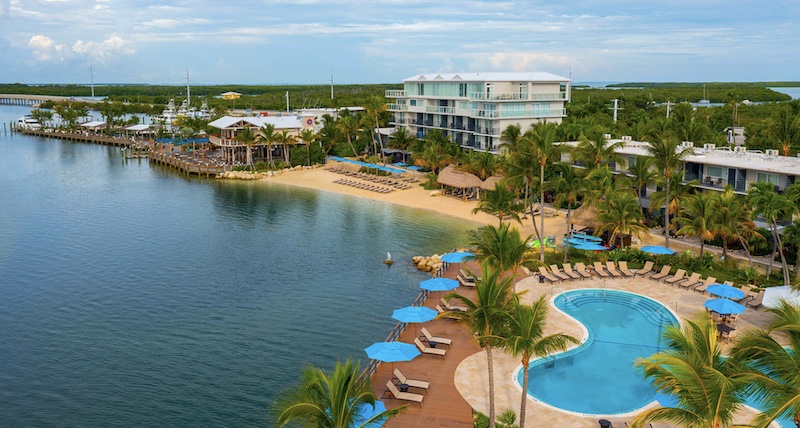 As I peer outside of my window at the Postcard Inn, I also see the ocean. My room and deck are so close to the beach it seems the whole property could be swallowed up by the waves at any moment. Sadly, that's exactly what happened in 2017 when Hurricane Irma showed its wet head around these parts and leveled everything it touched. Postcard Inn was rebuilt, and now it's shiny and new, right down to the free rum punch tap in the lobby.
True to Florida Keys form, I'm told by our driver, Wendy, that the Postcard used to be a wild party destination. These days it's mostly families and couples here to enjoy its marina and an outdoor Tiki Bar (they actually revolutionized the craft of tiki cocktails here).
My first drink in the Keys, straight from my very long, stuffy bus ride, is a pina colada. They make a mean one here. There's a glorious invention called a shooter that sticks out of the icey white goodness. For those tragically unaware, a shooter is a little plastic syringe filled with your choice of booze. Mine's filled with a rum from the local Islamorada Brewery and Distillery, which slowly seeps out into the rest of the concoction, giving the drink an extra boost of glorious spirit. We migrate to the seaside restaurant called Raw Bar, where I order up a plate of oysters. I squirt a lemon on them and get slurping. My friend orders a white wine to complement the proceedings.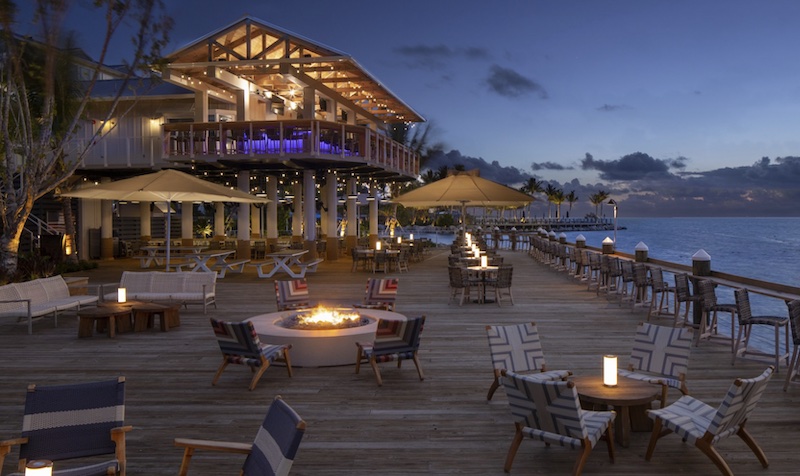 The sun sets on the property during my first night, and we take a walk to the Postcard's heated pool, which overlooks the expansive ocean. This is probably emasculating for the lowly pool, now that I think about it. With a frosty pina colada swirling around in my head, followed by a delicious Rum Runner, the resort's specialty, I swim around in sweet serenity. And yes, the delightful smell and sounds of the water below me really beat the exhaust fumes of the Amazon trucks that regularly barrel down my block back home. Suddenly, akin to an attack from a group of Tomahawk missiles, a group of 8- and 10-year-old kids assaults the pool. Like a Sunday School teacher, I am stunned by their dirty language and find myself reaching for a string of rosary beads as each one cannonballs away. If you think Gen Z is out of hand, just wait until whatever they're gonna call the generation after.
Isla Bella
Morning in the Florida Keys is a tranquil time. I take full advantage by waking with the sunset and bringing a book to Postcard Inn's private beach, which is outfitted with lounge chairs and umbrellas for when the sun's too unforgiving. Before we leave, I order another pina colada. It's somehow better than my first. On our way out, we notice the property is outfitted with a little neighborhood coffee shop known as Starbucks. The sign outside delivers a stern warning: LAST STARBUCKS FOR 80 MILES.
For many years, the Keys was simply a series of unconnected islands, with the final one, Key West, only accessible by boat or plane, and to this day, a majority of the Keys are barely built up. There are a ton of resorts, but there are scant establishments for everyday needs. If you're a turtle, however, the Keys are tailor-made for you.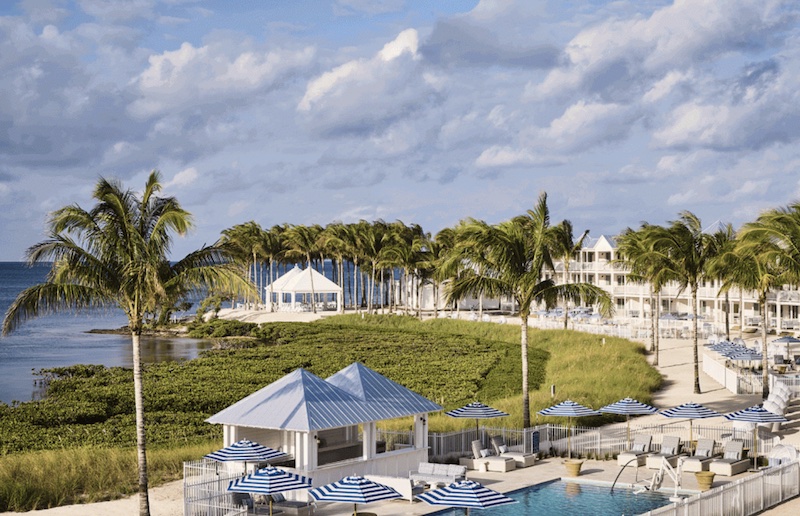 After a couple days of eating, drinking and lounging in Islamorada, we leave the Postcard Inn on a nighttime drive to head to the Marathon Key resort of Isla Bella and find a stretch of roadway that is glowing red. Our Uber driver, Wendy, tells us that nearly every light on this particular section, from streetlamps to lights on homes and the like, is outfitted with red bulbs in order not to confuse the mating ritual of, yes, turtles. Our reptile friends are guided by the light of the moon when it comes to mating, and hatchlings use the moon as a GPS to get back to the ocean. Red light is less disorienting to turtles' habits than white light and other colors on the spectrum, so goes the theory. Or maybe the red light gets them horny? (Attention: Pixar, I have a movie for you.)
Pulling up to the gates of Isla Bella is something out of "Jurassic Park," except vicious dinosaurs don't roam this property. Instead there are guys like Joe. College-aged with khaki shorts, short, fit and spry, he puts our bags in a golf cart and whisks us to our third-floor room. (He tells us he's from Nashville and comes here part time for work during college break.) In the front of the building is a grove of palm trees that makes our room feel treehouse-like. On the other side, our view, again, is the Atlantic Ocean.
Of course, there's a bar right on the beach. After my days of heavy, sweet and tropical drinks, I opt for a Campari soda. It's a nice respite, and a favorite from my long-ago time in New York. True, I was there just 48 hours ago, but it seems like generations.
I get vibes of Europe staying at Isla Bella, from the peaceful beach, blue-and-white striped umbrellas and white concrete that blankets the property. The ocean floor of their private shore is covered in a sludgy mud that reminds me of a visit to Iceland's iconic Blue Lagoon. The birdlife here is miraculous, with massive pelicans flying overhead and nesting nearby. A New York pigeon would be shook. Boats drift to and fro in the distance. I read later that the cast of "Jersey Shore" recently descended on Isla Bella to shoot an episode. If the place wasn't so pretty, that grim thought could have tainted the entire experience.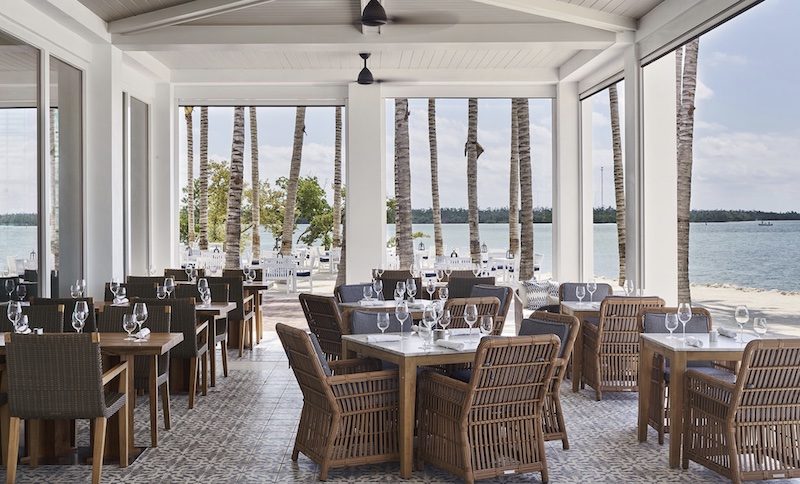 It's late afternoon and I order food from their on-site restaurant, Mahina, and sit at their beach bar. I'm back to my frosty, tropical drink kick and order a frozen strawberry concoction with more vodka than strawberry. My friend orders a Blonde & Bitter, which includes Pilar rum, ginger beer and, true to Keys form, a float. This time it's Angostura bitters. Even better, we discover that a portion of each sale is donated to the Conch Republic Marine Army. They are all about keeping the waterways clean, because if you want to enjoy Mother Nature, you also have to respect her.
We are introduced to someone who our charismatic bartender proclaims is one of the most interesting men in the world. Yeah, he's yet another New York refugee, and we're told he used to travel into the city when he was a kid to see Bob Dylan play in Greenwich Village. Later, he won $20,000 on a game show hosted by Nick Clooney. We don't ask what his life is like these days, but right now he's sipping a beer, something light, as the glorious sun sets behind us. I think that's really all we need to know.