Waking up with crust around your eyes, a throat you could swear is full of sawdust, skin that feels like sandpaper, and what ends up being an unfortunately empty plastic water bottle next to your bed may be what comes to mind when you think of "zombie festival." Apocalypse Zombieland, the latest event from Insomniac Events and Bassrush has a different, more festive take: bring fantasies of The Walking Dead to electric life. 
The backstory created for this inaugural festival insists that zombies have taken over and the only thing that will stave them off is the intense vibrations of bass-heavy house music. Perhaps "Walking Dead" protagonist Rick Grimes would have found greater success if he tried this strategy. The only way to find out is at the Queen Mary Waterfront in Long Beach on November 24 and 25. When most EDM raves tend to blur together in a jumble of fluorescent furry hats, rainbow molly bracelets, and speaker-breaking bass boosts, a theme like Zombieland is a welcome deviation. 
The festival will host artists like Zeds Dead, Excision, Rusko, Liquid Stranger and more across four stages outfitted with 50,000 watts of bass and 17 million light pixels. With that intense stage production, you are guaranteed to feel as if you got smacked by a red shell on Rainbow Road. And hey, if all goes awry, the waterfront makes for an easy escape from zombies. 
The Specs 
The park has a 15,000 person capacity

Two-day General Admission starts at $199.99. One-day GA starts at $109.99. Two-day VIP starts at $359.99. One-day VIP starts at $249.99

Here's the

Insomniac Events App

Check out Fifty Grande's guide to California here.
FAQs
What is the closest airport to Apocalypse Zombieland?
Long Beach Airport (LGB) is just 11 miles from The Queen Mary. 
What kind of bag can I bring into Apocalypse Zombieland?
Any bag that is under 12" x 12"
I'm under 18. Can I go to Apocalypse Zombieland?
No. GA ticket holders must be 18 and up, and VIP ticket holders must be 21+. 
Which artists are on the Apocalypse Zombieland lineup?
1991, Adventure Club, Andy C with Tonn Piper, Automhate, Barely Alive, Benda, Blanke, Bou, Camo and Krooked, Chee, Emorfik, Eprom, Excision (Detox Set), Executioner, Fallen B2B Richter With MC Dino, G-Rex, Grafix, Hamro, Hvdes, Jessica Audiffred, Kai Wachi B2B Kompany, Kanine, Kill the Noise, Koven, Kumarion, Liquid Stranger, Montell2099, Mythm, Of The Trees, Point.Blank, Rated R, Shanghai Doom, Slang Dogs, Smith., Sweettooth, Tisoki, Vuiiigur, Wooli, Xotix, Zeds Dead, Alix Perez, Bloodthinnerz and Dack Janiels, Chef Boyarbeatz, Diesel, Discovery Project, Eliminate, Excision, Funtcase, Ghastly Presents Ghengar, Goddard, Gorillat, Green Matter, Hairitage, Hedex, Heyz, Infekt, Ivy Lab, Jeanie, Justin Hawkes, K Motionz, Layz, Midnight Tyrannosaurus, Netsky, Peekaboo, Phibes, Reaper, Replicant, Rusko, Ruvlo, Saka, Shades, Sub Focus, Sullivan King, Sumthin Sumthin, Superave., Veil, Virtual Riot, Visages, Yellow Claw, Zomboy.
2023 Poster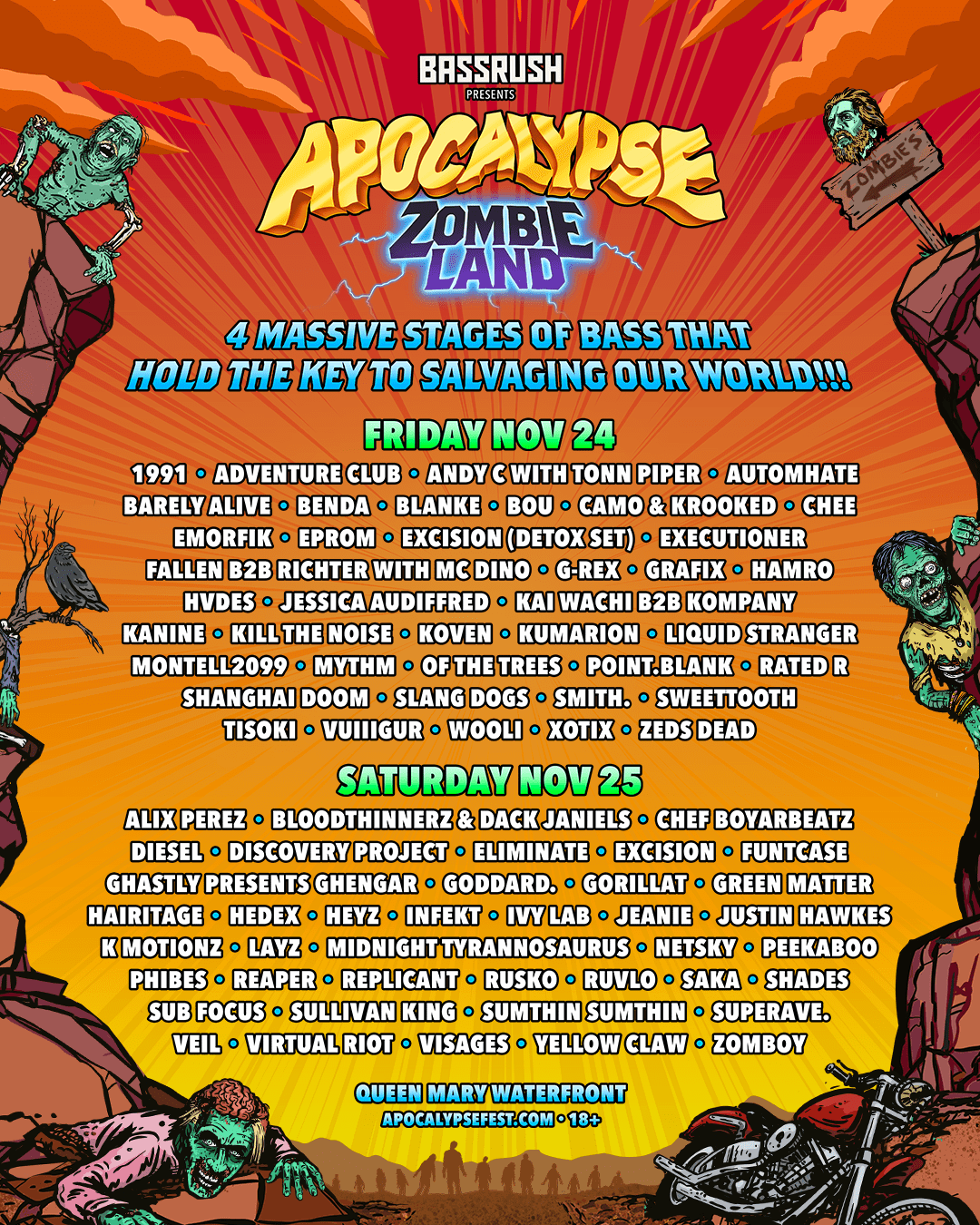 Videos