The Bishop Craggin Classic knows that while it's up to you to chalk your hands, grip the handholds, watch your footwork and send any crux you encounter, climbing is far from a solitary sport. The California leg of a rotating series of festivals sponsored by the American Alpine Club, Bishop Craggin has everything under the dusty sun (or rain) from short-film screenings, yoga sessions, workshops, a silent auction and a cutest dog contest to carnival games and more. Friday evening will have food from Cloudripper, Coachwhip Cafe and Mee's Small Eats, as well as live music from The Low Downs. With all that going on, you'd think there would hardly be time for climbing. Far from it. Clinics hosted by the Sierra Mountain Guides are held throughout the second and third days, covering myriad topics, including harder grade climbing, different climbing styles, rock rescue training and  queer-inclusivity. 
Experienced climbers, come to Bishop to deepen your connections and commitment to rock climbing. Less experienced climbers, do not shy away. Bishop has many beginner-level clinics and workshops. Chat gear with fellow climbers, drink beer around campfires, send a few climbing routes in the central Sierras, and just hang out.
Bishop is deeply committed to expanding and enriching what it means to be a climber. The Craggin Classic facilitates conversations with members of indigenous communities, as well as performances by the AkaMya Cultural Group, to broaden cross-community investment in the environment and lands that make climbing possible in the first place. Stick around for the stewardship project on Sunday morning, where Bishop partners with several local climbing organizations to give back in the form of trail maintenance. 
The Specs
No attendance numbers are available. 

General Weekend passes are $50, not including the cost of clinics, which range from

$80-$130

Check out Fifty Grande's guide to California

here

. 
FAQs
What is the closest airport to the Bishop Craggin Classic
There is the small Bishop (BIH) Airport just outside of town. If you're looking for a larger option, the closest is Fresno (FAT) Airport, about 80 miles away. 
What is the bag policy?
As the Craggin Classic is a climbing event, there is no bag policy. In fact, as you'll have to bring your own equipment, you'll probably want to bring a bag or two. 
Is the festival ADA accessible? 
Craggin Classics are open to all. However, not all events and clinics are accessible. Contact the Bishop's event coordinator for further information and details to make the most out of your time there.
Is there lodging nearby? 
In addition to the Hotel California, there are numerous campgrounds within a few miles of downton Bishop.
What if the weather is bad?
Events are held regardless of weather conditions. 
2023 Poster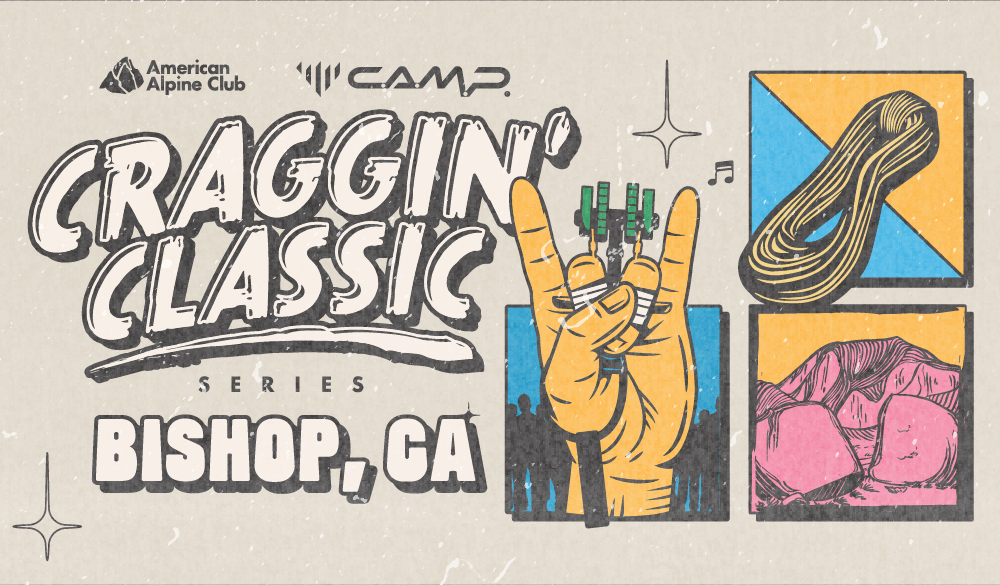 Videos