Calibash isn't your typical, tent-to-tent music festival, but more of a six-in-one concert where the performers rotate through one stage, Grammys-style, giving you a better chance of seeing collaborations between your favorite artists. Tickets for each of Calibash's two days are sold separately, with the first day serving as a showcase for Latin artists globally and the second day exclusively dedicated to Mexican artists.
The second day of this year's Calibash is also serving as the launch of Calibash MX, SBS's Mexican live music concert brand. Calibash and Calibash MX are back-to-back live shows scheduled for Friday, January 12 (Calibash) and Saturday, January 13 (Calibash MX).  Day two will feature a lineup including Grupo Frontera, Edgardo Nuñez, Yng Lvcas, Yahritza y Su Esencia and Conexión Divina.
Calibash has hosted some of the biggest names in reggaeton in its nearly two-decade history, including Rosalía, Karol G, Bad Bunny and Daddy Yankee. In 2024, the headliners will expand to include Feid, Yandel and 10 others.
The festival will be held in Crypto.com Arena, formerly the Staples Center, for the second year in a row in 2024. Reggaeton has built a massive following in the city, evolving from its original form of Latin and Caribbean dance music to a complex hybrid of pop, hip-hop and LGBT influences, all the while maintaining its characteristic dembow beat. Tickets have sold out quickly in years past, so buy early if you want a guaranteed seat. Parking near the arena is also famously difficult, so Metrolink or Amtrak are probably your best bets. 
And if Latin music fans miss Calibash in LA, there's another upcoming event in Las Vegas. Held at T-Mobile Arena in Vegas on January 27, that show will feature Luis R Conriquez, Grupo Marca Registrada, Gabito Ballesteros, Yahritza Y Su Esencia and DannyLux. Artists like Enrique Iglesias and Bad Bunny have played Calibash Vegas in the past.
Calibash is presented by SBS Inc., LaMusica and Mega 96.3 FM.
The Specs
Attendance tops 20,000.

Calibash ticket prices range from $98-$800 per day, depending on seating. 

Scope out some

Euphoria filming locations

while you're in LA. And here's our guide to California. 
FAQs
Which airport is closest to the festival grounds?
Los Angeles International Airport (LAX) is 17 miles away.
What is the bag policy?
Small clutches and wallets smaller than 5" by 9" by 1" are allowed, subject to inspection.
Is the festival ADA accessible?
Crypto.com Arena offers a range of accommodations, from wheelchair escorts to assistive listening devices.
How far is it from Las Vegas, NV to downtown Los Angeles?
Las Vegas and L.A. are 270 miles from each other.
When do the doors open at Crypto?
Doors open at 7pm.
What is SBS Inc.?
Spanish Broadcasting System, Inc. (SBS) owns radio stations in Los Angeles, New York, Puerto Rico, Chicago, Miami, San Francisco, Orlando, and Tampa. The stations focus on these genres: tropical, regional Mexican, Spanish adult contemporary, top 40 and urbano.
Which artists are on the Calibash 2024 festival lineup?
The 2024 lineup includes Feid (pictured above), Yandel, Farruko, Prince Royce, Young Miko, Maria Becerra, Darell, Grupo Frontera, Edgardo Nuñez, Yng Lvcas, Yahritza y Su Esencia, and Conexión Divina.
2024 Poster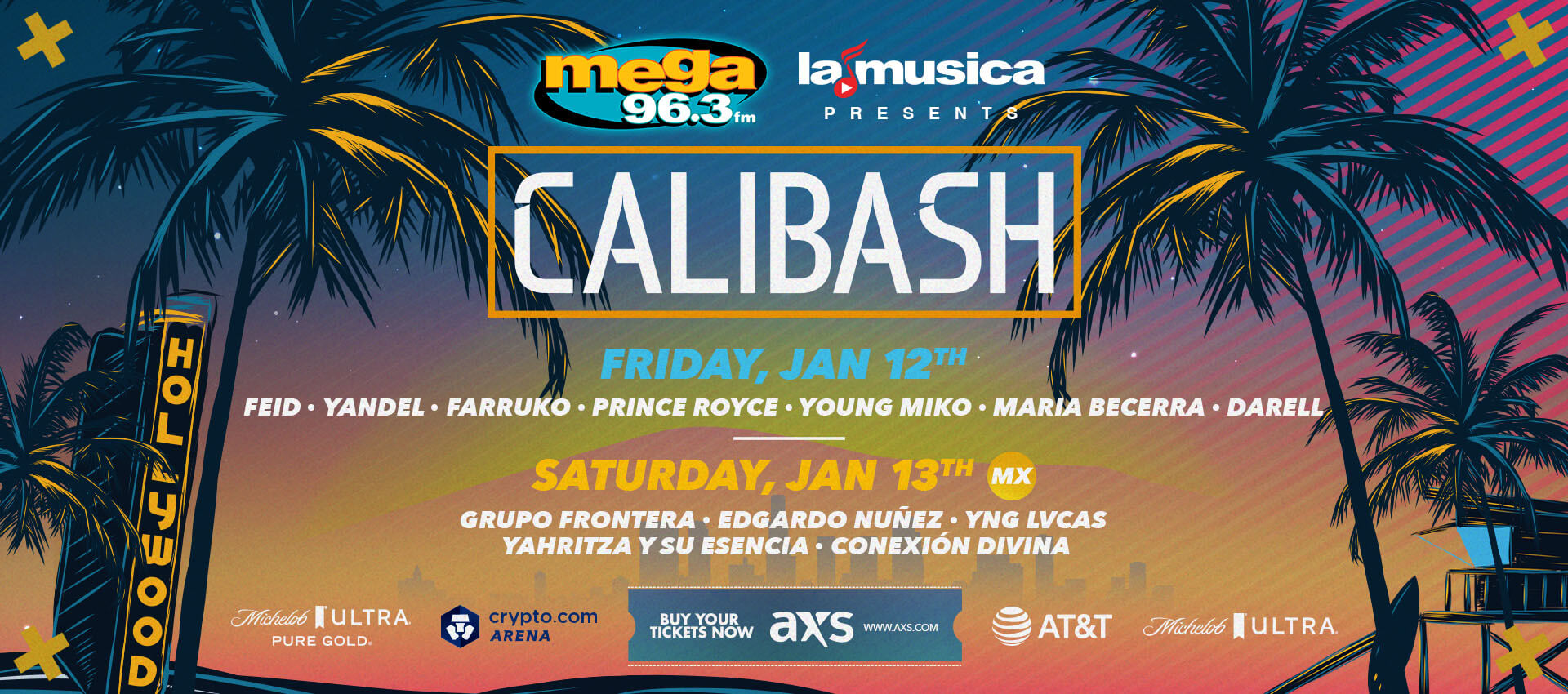 Videos