Don't we all deserve a good disco night, complete with hoop earrings and platform boots, once in a while? This year's Insomniac Day Trip event Disco Trip is your chance to take over the dancefloor Saturday Night Fever-style, shine in the limelight, and transport yourself back to the 70s. 
To turn Grand Park into Studio 54 for one psychedelic night, there will be US Disco veteran DJ Harvey alongside the cosmic duo Bears In Space, known for their extravagant party in Akbar – a seasonal appointment for partygoers. Iconic house-music DJ Louie Vega is expected at Disco Trip to warm up your bodies (and hearts), as well as French DJ Disco Dom, a true diva of the disco experience who has just released a non-stop dance EP Inferno. The artists will take turns on one big stage, while the crowd will dance in the light of a giant glimmering ball raised above the ground in the middle of Grand Park.
Bring sequin, satin, metallic, and other over-the-top fabrics. And what about printed headbands and scarves? Bring them all. If they have kept some of the highlights from last year's inaugural Disco Trip, you'll be able to pair your grooviest outfit with your favorite drink in a matching disco ball cup.
The Specs 
L.A. Grand Parkbout can hold up to 50,000 people. 

General Admission passes start at $79.99.

VIP passes start at $149.99.

Take a look at our Fifty Grande "

Euphoria

" filming location guide to Los Angeles for additional glitters and cosmic lights (do we ever have enough?)
FAQs
What is the closest airport to Disco Trip?
The closest airport to get to the Disco Trip Festival is Los Angeles International Airport, which is 18.8 miles away.
Is there an age limit for entry?
Yes. The festival is 21+. No one under 21 can enter the festival, even when accompanied by a legal guardian.
Can I bring my own totem?
Yes, but the festival has strict guidelines you might want to review ahead of time. For example, the totem can't be higher than 10 feet and they must be made of lightweight materials. 
What time can I arrive at Disco Trip?
The Festival starts at 2 p.m.
Which artists are on the Disco Trip 2023 lineup?
SG Lewis, DJ Harvey, Bears In Space, Disco Dom presented by Dombresky, Louie Vega presents Flashback, Palms Trax, Evelyn "Champagne" King, Natasha Diggs, Heidi Lawden, Rolando.
2023 Poster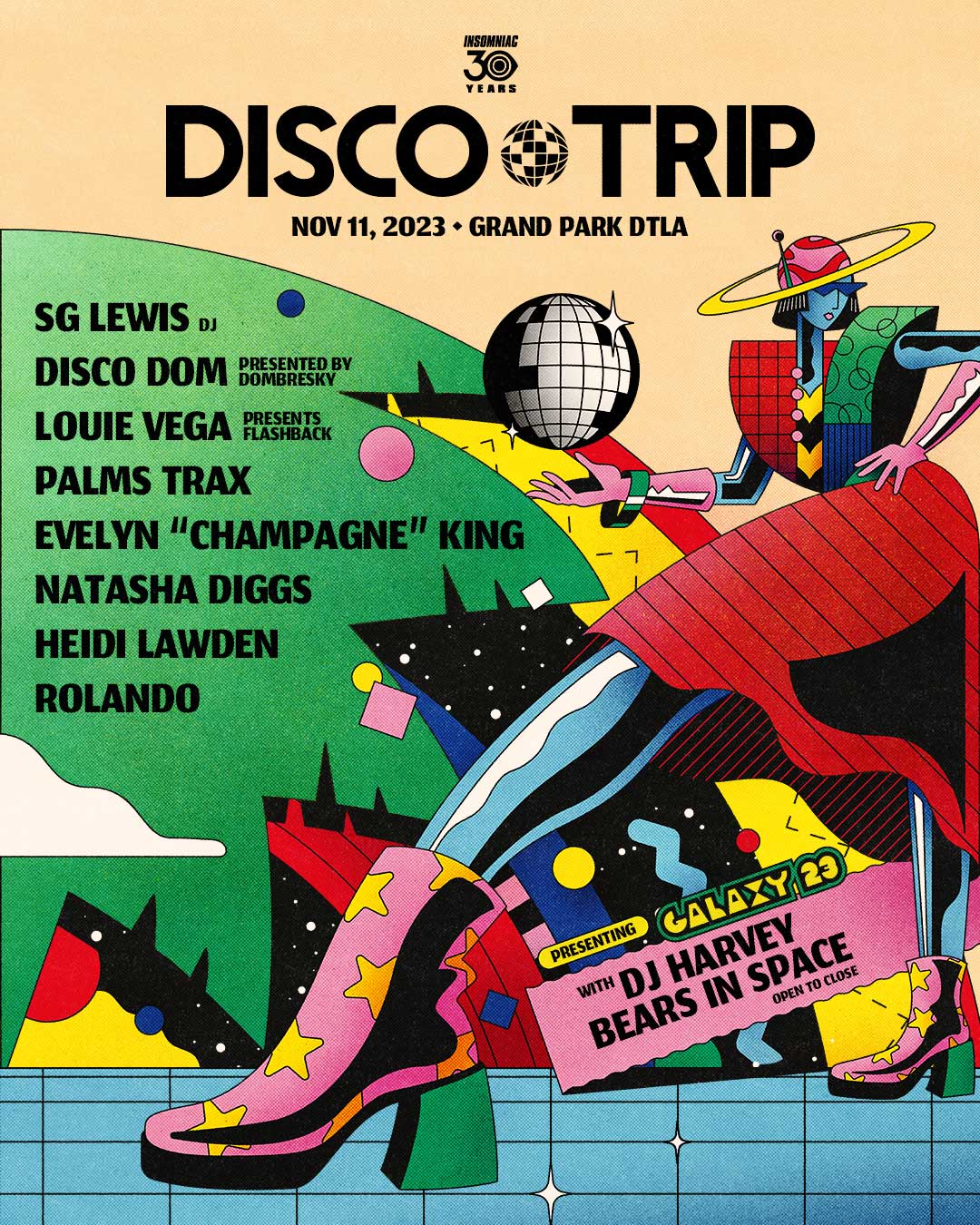 Videos