There are some people in Tucson, Arizona who like to party with glowsticks and hula hoops and glitter plastered to their tiny little bikini top and booty shorts combo. That's the crowd the Dusk Music Festival 2023 brings to downtown. Here it's neon, flashing-light shows, and raging right at the rail while you spin behind your sunglasses even though it's nighttime. If you build it they will come, etc.
And that's the idea behind Dusk Fest. A group of friends with very non-festival day jobs launched the Tucson festival in 2016 in hopes of creating a cultural event that could rival those in Phoenix and places farther west. For its seventh year, this two-day festival will continue to highlight the best of Tucson's food, art, and music, all at once.
The Dusk Music Festival world is built up with lighthearted make-believe dreamscapes, like this magical "conceptual cactus garden installation" by local artist Lex Gjurasic, typical of EDM festivals. While the vibe in certain areas is very much an EDM rave, the music at this festival is not exclusively EDM. The two major headliners for 2023, DJ Snake and Seven Lions, are full-fledged EDM acts, while the third headlining band, 311, is an American rock band from Nebraska. Another notable, non-EDM group is COIN, whose upbeat, California-retro pop rock sounds will have you singing along to the catchy choruses before you know it.
And this festival can't highlight the best of Tucson without stations like the Dusk Vendor Village, where small businesses sling their fairs. Or the Tucson ARTS exhibits which showcase the sculptures, lighting exhibits and digital artwork of local student and professional artists. Catch even more artsy fartsy fun at Tucson SHOPS, a market with goodies from local and national artists and vendors. And then get silly at Tucson PLAYS to play arcade games from Cobra Arcade Bar. Finish it off with the Tucson FEASTS culinary festival, where you can grub on great food from vendors like Gastronomic Union of Tucson (GUT) and Dante's Fire.
The Specs
Between 11,000 and 15,000 people are expected to attend.

2-day tickets at $109. Extras (including festival t-shirt and locker rental) for $64.99. Ticket and Hotel Package tickets ranging from $93.49 to $479.34. Add ons include Friday Festival Pregame for $45 per person and Sunday Brunch for $79 per person.

There is no app for this festival.

Make the most of your weekend with help from Fifty Grande's

Best Things to do in Tucson

.
FAQs
What's the nearest airport?
The Tucson International Airport (TUS) is nine miles away from the festival grounds. 
Where is the event held exactly?
It is held in downtown Tucson at Jacome Plaza, 101 N Stone Avenue Tucson, AZ 85701.
How far is Los Angeles from Tucson?
L.A. is 485 miles northeast of Tucson.
When do doors open?
Doors open at 2:00 PM each day. The event ends at 11:00 PM on both nights.
Who is playing?
Originally billed as a fest with a mix of genres including rock, indie, country, EDM and hip hop, Dusk leans heavily toward EDM and pop/indie rock. The 2023 lineup includes DJ Snake, Seven Lions, 311, AC Slater, COIN, Neil Frances, Troyboi, Bad Suns, Deathpact, J. Worra, Ray Volpe, Shiba San, Freak On, Gem & Tauri, GG Magree, Kelsy Karter & The Heroines, LØLØ, Masteria, Softest Hard, Smallpools, Young Rising Sons.
2023 Poster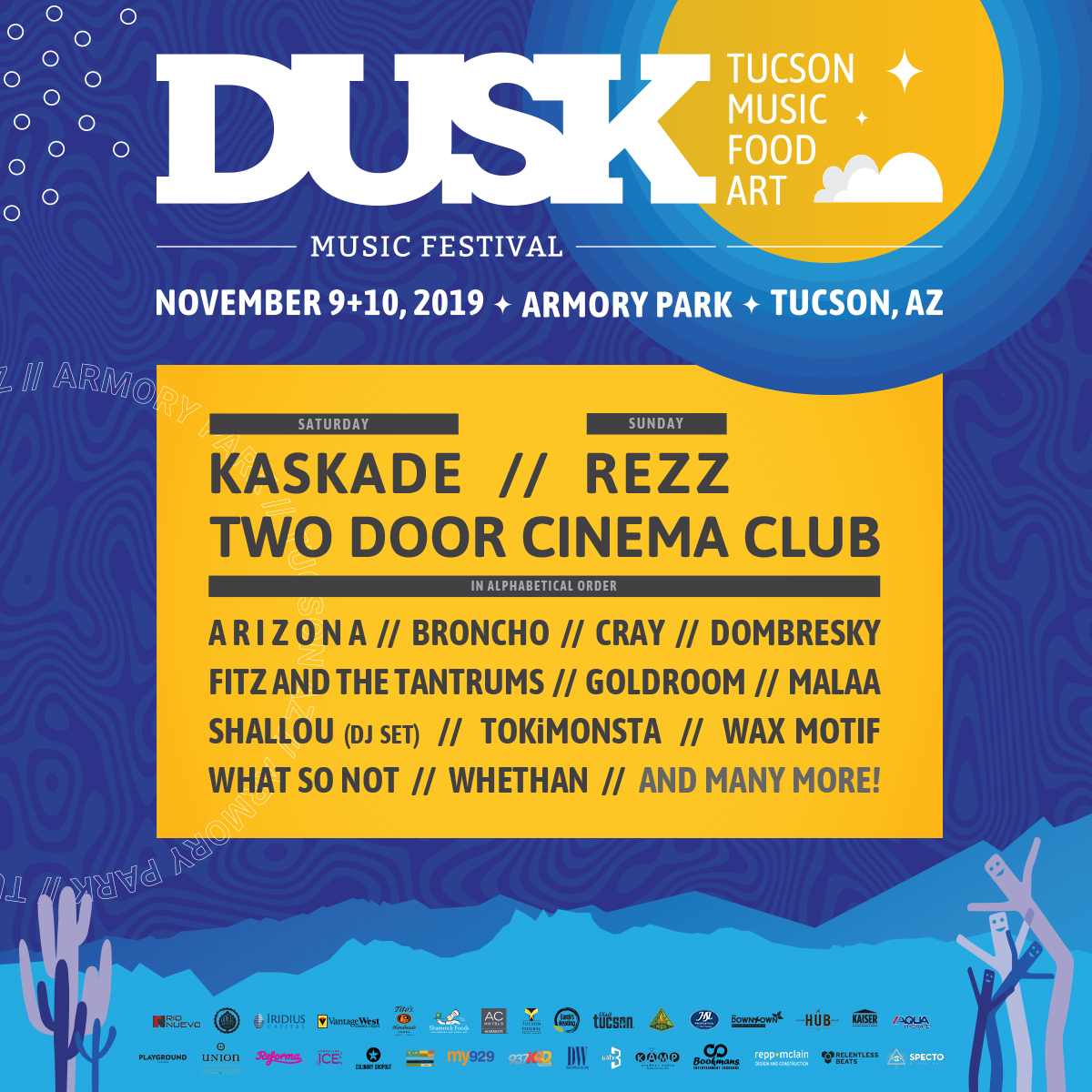 Videos
#duskmusicfestival on TikTok