Music festivals usually leave you hungover, with a ringing in your ears, and a litany of regrets, but, at Global Citizen Festival, you get in some community service hours, too. The annual festival, which takes place in New York City's Central Park, brings together an eclectic group of artists like Metallica and the Jonas Brothers, Green Day and Stevie Wonder, with activists, celebrities, world leaders, philanthropists and fans to help end extreme poverty by 2030. That is obviously no simple task — and neither is getting a ticket. 
Though free, the NYC event requires fans to download an app and earn their entry through good works. At the moment, you can Tweet at the European Investment Bank and ask them to pause the debt payments of countries experiencing climate change-related catastrophes. The Tweet template reads, "countries facing climate disasters need a Debt Pause Clause. Will you empower low-income nations to rebuild, adapt, and mitigate the effects of climate change and commit to dropping disaster debt?" If you feel more emboldened, you can also call up the White House to remind the U.S. government that it pledged millions to help address poverty and climate change (but has yet to release the funds.) Around 60,000 people will get to mosh. 
The promise of a free concert with hip-hop, pop and rock greats — AC/DC, Foo Fighters, Rihanna, Jay Z, Mariah Carey, Coldplay and many others have played the annual music festival — has moved mountains (or at least, petitions). In 2017, Time magazine reported that people took 1.6 million actions over two months, resulting in $3.2 billion worth of commitments toward ending global poverty. 
The lineup for the New York City event this coming September is stellar. Red Hot Chili Peppers, Ms. Lauryn Hill, Megan Thee Stallion, Conan Gray, and Stray Kids are scheduled to play the Great Lawn. A three-hour event that took place on June 22 in Paris, in the run-up to the main fest, had performances by Billie Eilish, R&B singer and Oscar winner H.E.R, the legendary Lenny Kravitz, and Mosimann, a French-born andworld-renowned DJ. You can't sing "wish you were gay" with Billie Eilish moments after hearing a moving speech from a politician on the need to combat open defecation and leave the same person you were when you walked onto the festival grounds.
The Specs
Around 60,000 free tickets are up for grabs.

The Global Citizen

app

is

where you can find petitions and rack up points.

VIP tickets are available for purchase.
Check out Fifty Grande's guide to New York here.
FAQs
When and where is the event?
Saturday, September 23, 2023. It is held on the Great Lawn of Central Park in NYC.
What is the closest airport to Global Citizen Festival 2023?
Nearby airports include New York La Guardia (4.9 miles), Newark (12.9 miles), and New York JFK (13.6 miles). 
Which artists are on the Global Citizen Festival 2023 lineup?
Red Hot Chili Peppers, Ms. Lauryn Hill, Megan Thee Stallion, Conan Gray, Stray Kids
What is the exact purpose of Global Citizen? 
It's to end extreme poverty now. According to the festival's press release, the "2023 Global Citizen Festival campaign takes aim at the major issues perpetuating extreme poverty, including the impacts of climate change on the Global South, the inequities affecting women and girls around the world, and the global hunger crisis, and will call on governments to protect and defend advocates everywhere," reads the statement. "The campaign will unite millions of voices, amplified by the world's biggest artists, to demand urgent action from world leaders gathering in New York City for the United Nations General Assembly in September."
After this year's COP27, G7, World Bank spring meetings and Paris climate finance summit failed to deliver any tangible results or disrupt the world's "unjust systems complacency can't win," Global Citizen CEO/co-founder Hugh Evans said in the statement. "If we want to see breakthroughs on development and climate change, we need the U.S., U.K., Canada, Australia, and all G7 nations to meet the urgency of the hour. Every single citizen has a vital role to play, and together, we must be laser-focused on driving results and impact in September."
How do I get a pair of tickets?
You can earn a pair of tickets to Global Citizen Festival by taking action on the Global Citizen app or the Global Citizen website to help end extreme poverty now. According to the site, with each action you take, you earn points to go towards your entries into the draw for Festival tickets.
There were/are separate draws for festival tickets. You can find each draw on our app. An entry into a ticket draw will cost 60 points — each entry is 60 points — but you can enter each draw multiple times. If you don't win in the first draw you can keep trying.
The five draws are:
July  11 — July 31
Aug. 1 — Aug. 14
Aug. 15 – Aug. 28
Aug. 29 — Sept. 11
Sept. 12 — Sept. 19
Something to be aware of: You can take action on the site and app, but you must enter the draw to earn tickets to the Global Citizen Festival in NYC on our app. Each draw closes at midnight EST. If you are a winner, you will be notified by email the next day. You can also check our app under "Entered Rewards" on your profile to see if you're a winner. You can also watch the festival's social media accounts (@glblctzn) the latest news and updates.
2023 Poster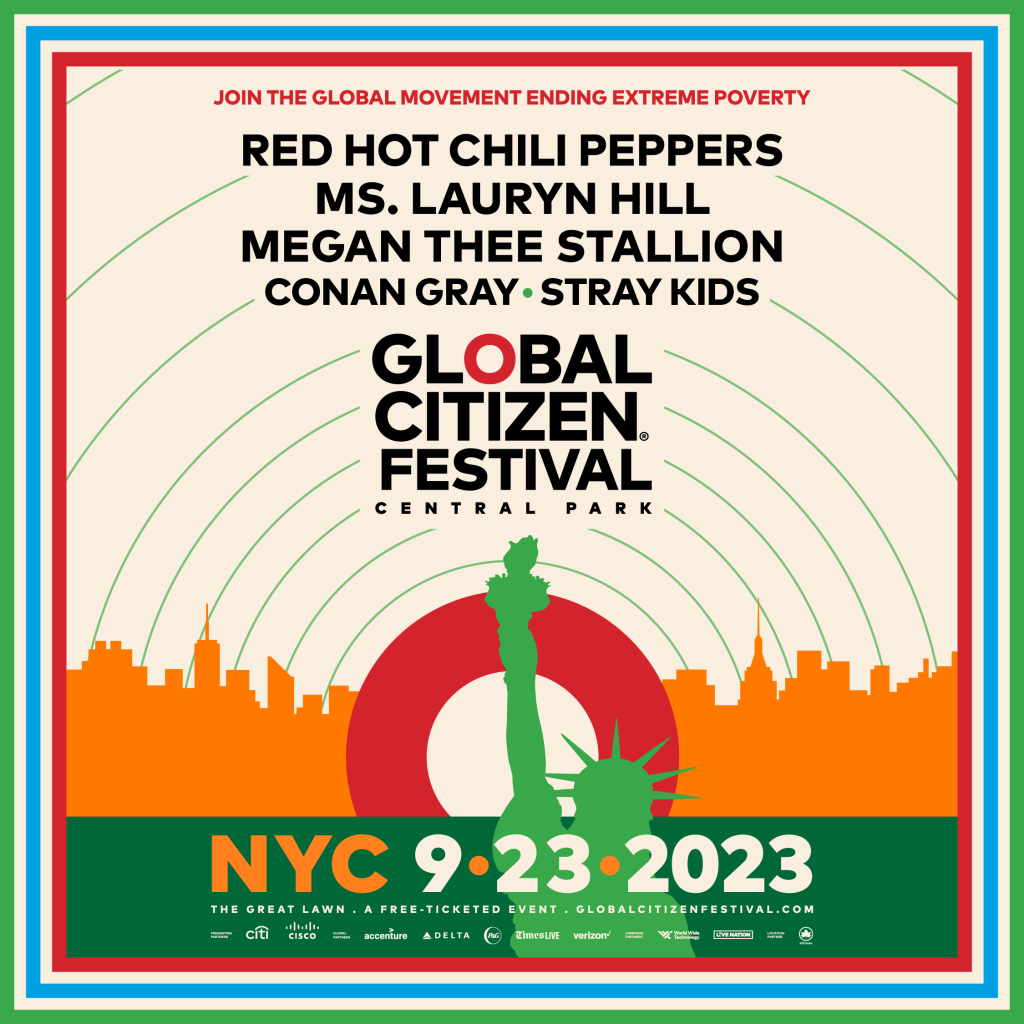 Videos
#globalcitizenfestival on TikTok