Go-karting at sea? Check. Playing laser-tag 16 decks above the ocean? Also, check. How about 96 hours of non-stop music from more than 70 DJs while you travel from Miami to an exclusive private island in the Bahamas only accessible to cruise guests? All of this, and more, is possible on the 2024 Groove Cruise, that is if you have the money to shell out on what, for some EDM heads, could be the experience of a lifetime.
For the rave's 20th anniversary, organizers pulled out all the stops: Tiesto, Diplo and John Summit will headline, and joining them are an entourage of well-experienced electronic dance sailors who have even dropped anchor in Tomorrowland, including Gabriel & Dresden, LP Giobbi and Joel Corry. Disco Lines is also playing, bringing a pop-like vibe, best showcased by his upbeat, groovy mixing chops in "Baby Girl" and "MDMA". 
The Groove Cruise is not for those with weak stomachs — or weak wardrobes. Every day and night, Wednesday to Saturday, has a tailored theme. This year's Wednesday day theme, for instance, tells revelers to wear "something that represents" their country.  Virgins, having apparently formed their own state government, are meant to wear white. Friday night, on the other hand, is "50 Shades of Nintendo." In other words, it's ComicCon for the rich. If you're stressed about what to wear, there's a handy Pinterest board linked for sexy inspo. 
According to one Reddit user, you "will experience horrible fomo just by sleeping". But try to stay up by legal means….people have been detained in the past for trying to smuggle in certain uppers. 
While this year's bacchanal sold out a whole nine months before the ship will set sail, you can still get on the waitlist for this year and start plotting to get next year's tickets.
The Specs
The Groove Cruise 2024 has a ship capacity of nearly 5,000 attendees

Prices

start at $899 and go up to $25,000. This year's tickets are sold out, but you can join the waiting list. 

Female Foursomes (that's a group of 4 female friends) save an additional $44.00 per person

First responders get a 5% discount

Need something to do before you board? Here's our guide to Miami.
FAQs
What can I bring/not bring on the Groove Cruise?
Check out the policies for Norwegian Cruise Lines', Carnival's and Royal Caribbean's ships.
Who is performing on the Groove Cruise
Tiesto, Diplo, John Summit, Aly & Fila, Amidy, Anthony Attalla, Biscits, Blastoyz, Boris, Brennen Grey, Craig Connelly, Deeper Purpose, Deepfake, Disco Lines, Factor B, Gabriel & Dresden, Gem & Tauri, Gene Farris, Haliene, Joel Corry, Joshwa, Kyle Walker, Lilly Palmer, LP Giobbi, Marie Vaunt, Markus Schulz, Max Low, Max Styler, Mitis, Nifra, PIG&DAN, Ranger Trucco, San Pacho, So Tuff So Cute, Speaker Honey, Trivecta, VNSSA, Adam Scott, Adina Butar, Alley Kay, Brian G, Bryan Lubliner, Cazztek, Crispy, Dancetronauts, Danny Olson, Dave Neven, Davey Asprey, Denzo, Doc Brown, Dose, Drums of the Sun, Fisherman, Grube & Hovsepian, Highlnd, Jdisko, K3ss, Keith Christopher, Ksofresko, Lizzie Curious, Luccio, Nathan Bliss, Nate Wyatt, Nicky Genesis, Nikademis, Nikita Page, Ollie Sanders, Raquelevate, Rico & Miella, Rizzo Vassalo, Romi Lux, Scooter & Lavelle, Scotty Boy, Shannon Williams, Shay de Castro, Tee So, Trance Jesus.
2024 Poster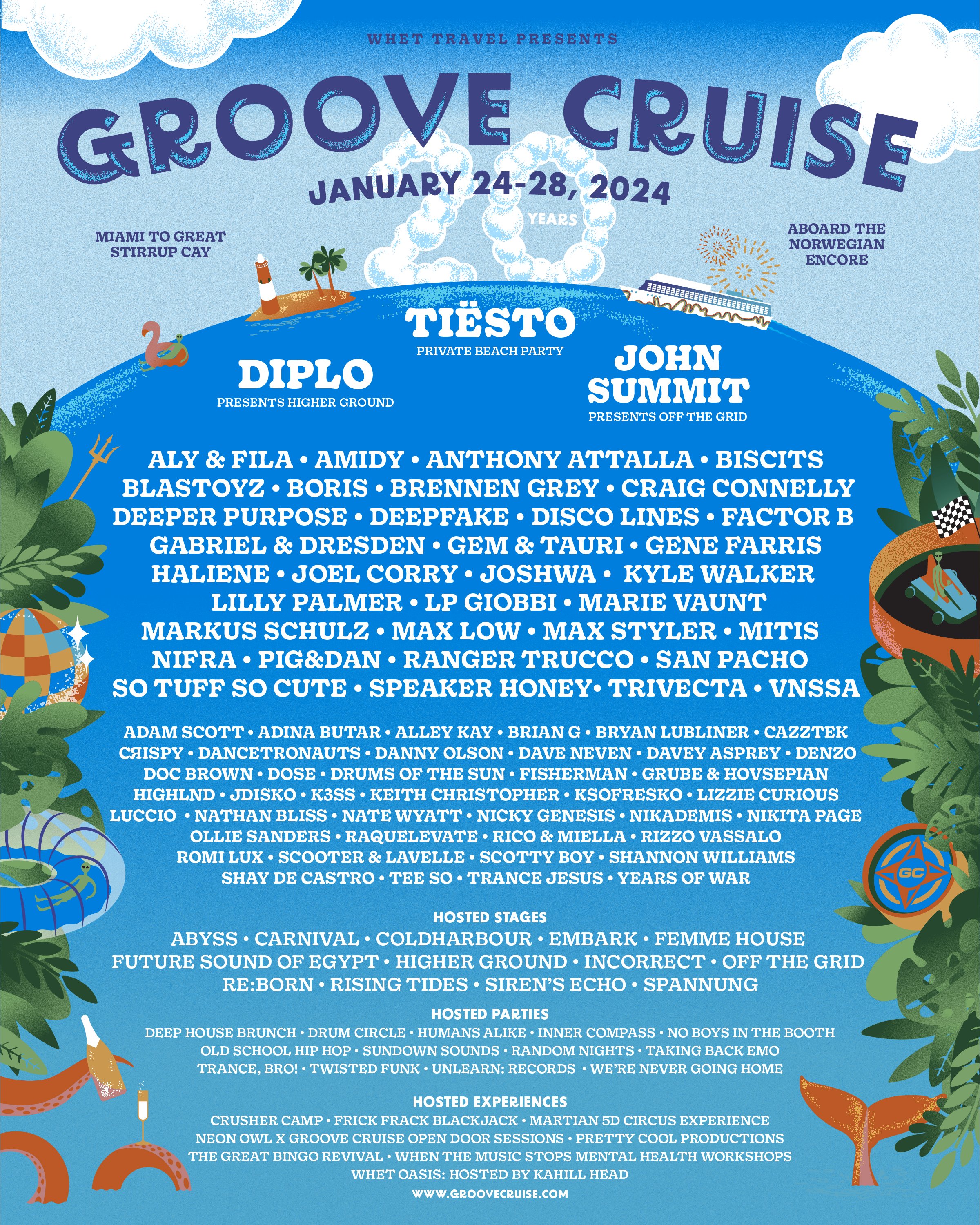 Videos
#groovecruise on TikTok