In its eighth year, Hinterland is a festival for good vibes and good old American weirdness. Held in Saint Charles, Iowa, a town with a population of 640, Hinterland reaches toward the nostalgia of festivals of a bygone era: think Woodstock but much smaller and in the Midwest. Killer headliners—Bon Iver, Zach Bryan, and Maggie Rogers—might even be outdone by the other performers: Sylvan Esso, Orville Peck, Noah Kahan, Wallows, Del Water Gap … you get the idea.
The middle-of-nowhere location—Saint Charles is a half-hour drive from Des Moines, Iowa—means camping, which ranges from simple plots to pitch a tent to expensive "glamping" getups and RV parking spots with electric outlets. The party doesn't end when the last performer leaves the stage at night; after-hours performers strum along at the Campfire Stage, and a 24-hour taco truck means snacks at any time of night. If you're looking for a boozy, horny rager of a weekend, Hinterland isn't it; the vibe is mellow and stoney. 
Maybe because of the headliners, maybe because it's in the middle of nowhere, definitely because of the Hinterkids programming, Hinterland draws attendees of all ages. Older hippies in long skirts can rest easy on blankets in the grass while breastfeeding mothers take their infants to a nursing tent. The festival leans into its rural midwestern setting with its state fair-inspired cuisine: think corn dogs, popcorn, and beers (plenty of veggie, vegan, and GF options available). Also, middle of Iowa and Americana-indie music does equal a pretty white crowd, though the free-love atmosphere seems to strive for inclusivity. The festival, perhaps in another reach toward Woodstock-era may-peace-be-with-you energy, partners with Habitual Roots, a wellness nonprofit, for guided meditations and "sound healing," whatever that is.
Prepare yourself for a startlingly beautiful red sunset over the corn fields; might as well crash in the field and see who you meet.
The Specs
Around 14,000 people attended the festival last year

3-day GA admission costs $250, not including camping. VIP passes, which include camping, VIP area access, and other perks, cost $550 for three days. Single-day passes range from $100-300, and are currently sold out for Saturday.

Basic tent camping is available for $50 for 3 days. Car and RV campsites range from $200-$1250 (for glamping).

While you're in the area, check out other cool spots in

Des Moines, Iowa

.
FAQs
What is the closest airport to Hinterland?
Des Moines International Airport is around 30 minutes' drive from the festival site.
Is camping included in the price of the festival ticket?
No – festival passes are sold separately from camping and parking passes.
Is Hinterland accessible?
Yes – check in with the festival's ADA desk and they'll help you out. The festival map includes accessibility guidelines.
Can I bring my own food and drinks?
You can bring whatever you'd like to the campsite; within the festival, no outside food or drinks are permitted. There are free water refill stations. Food and drink are available for purchase, with dietary restriction-friendly options.
Which artists are on the Hinterland lineup?
Bon Iver, Zach Bryan, Maggie Rogers, Sylvan Esso, Orville Peck, Angel Olsen, Noah Kahan, Wallows, Houndmouth, The Teskey Brothers, Joy Oladokun, Faye Webster, The Regrettes, Skegss, Wilderado, Patrick Droney, Riley Downing, Pony Bradshaw, Del Water Gap, Tomberlin, spill tab, and Yot Club have been confirmed.
2023 Poster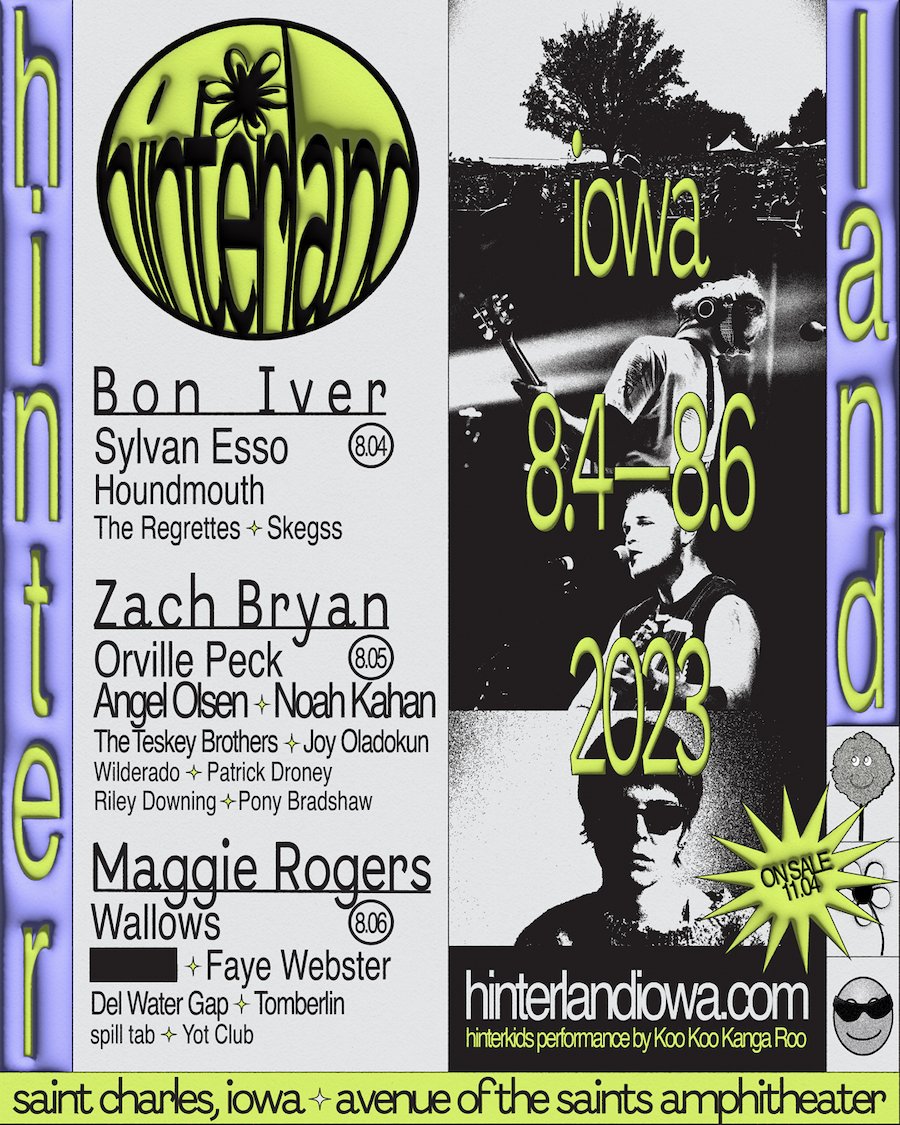 Videos
Spotify Playlist
#hinterland on TikTok