Louder Than Life is back again for four days in September with one of the deepest rosters of hard rock, metal, grunge, punk, post-hardcore and emo artists of any rock festival in the United States. Foo Fighters, Tool, Green Day, Avenged Sevenfold, Godsmack and Pantera lead the lineup of more than 100 artists who rock out Kentucky's Highland Festival Grounds. Louder than Life Fest also announced just a few weeks before the festival that viral sensation Oliver Anthony, singer of "Rich Men North of Richmond," the country ballad which skyrocketed to No. 1 on the Hot 100 Billboard chart, will be playing two special performances in 2023.
Those who live within a mile radius of the grounds can literally feel the performances, drums and all, reverberating in their houses. Not sure if this needs to be said, but, you don't need to go to Louder Than Life unless you like really loud rock for days on end. The vibe can be summed up with this — there's a dedicated community of Louder Than Life fans that arose on social media called the Loudmouths. Loudmouther Jeff Polk describes the group as "the most vulgar, nicest people you'll ever meet." 
Camping is available at the fest and if that's your thing, all your camping essentials are easily accessible at the Camp Store. RV, car and tent camping options are available and with showers included. 
If you want to cosplay as a rockstar on tour, the Exacta Pass gives you the chance to add on one more Danny Wimmer Presents Festival: Bourbon & Beyond on September 14-17. The music festival's food lineup has not yet been released, but last year included BBQ, burgers, vegetarian and vegan food trucks, hot dogs and more. For even more info you can visit louderthanlifefestival.com. The Specs
Approximately 20,000 people attend Louder Than Life.

One-day GA tickets range from $119.99-$139.99 and four-day GA tickets are $299.99.

One-day VIP tickets range from $229.99-$259.99 and four-day VIP tickets are $709.99.

Camping tickets

are available. 

Check out Fifty Grande's

Best Things to do in Louisville

.
FAQs
Where is the music festival held?
Louder Than Life 2023 is held at the Highland Festival Grounds at The Kentucky Exposition Center. The Center is located at the junction of I-65 and I-264 in Louisville and the grounds are right next to the Louisville International Airport.
What is the best way to get to and from the Louder Than Life Festival?
The Louisville International Airport (SDF) is located 1.4 miles away from the festival grounds. 
Can I leave and re-enter the festival?
Re-entry is only allowed for attendees camping on the festival grounds. 
Where can I store my stuff?
Lockers are available and can be reserved for $20-$85.
How can I catch Oliver Anthony's two special performances?
See this blazing star hit the stage Thursday and Friday September 21 and 22 at Kroger Big Bourbon Bar.
Which artists are on the Louder Than Life 2023 lineup?
Foo Fighters, Weezer, Rancid, 311, Coheed and Cambria, Royal Blood, Code Orange, White Reaper, L7, Deafheaven, Nothing But Thieves, Sueco, Movements, The Bronx, Nothing, Nowhere., Mannequin Pussy, Beauty School Dropout, Pinkshift, Bob Vylan, Starcrawler, Starbenders, KYNG, Tigercub, SeeYouSpaceCowboy, Guerilla Warfare, Asava, Tool, Godsmack, Limp Bizkit, Megadeth, Corey Taylor, Dance Gavin Dance, Bad Omens, Wage War, Avatar, Fever 333, Kittie, Enter Shikari, Miss May I, Fame On Fire, Dead Poet Society, Rain City Drive, Austin Meade, SIM, Tallah, Cassyette, Ten56., HANABIE., Gnome, Fox Lake, Widow7, Luna Aura, Avenged Sevenfold, Pantera, Falling In Reverse, Pierce The Veil, Parkway Drive, BABYMETAL, Asking Alexandria, Dethklok, The Hu, The Amity Affliction, Memphis May Fire, Suicide Silence, Sleep Token, Whitechapel, Zero 9:36, Gideon, Strange Kids, Dragged Under, Jesus Piece, Afterlife, Another Day Dawns, Ithaca, Devil's Cut, Reach NYC, Feast For the Crows, Dissonation, Green Day, Queens of the Stone Age, Turnstile, Run The Jewels, Flogging Molly, The Interrupters, AWOLNATION, Rival Sons, Billy Talent, Mayday Parade, You Me At Six, Senses Fail, Viagra Boys, Boston Manor, DeathbyRomy, Jehnny Beth, The Emo Night Tour, Call Me Karizma, Ryan Oakes, Thousand Below, Holy Wars, Reddstar, Letdown., As You Were, Death Valley Dreams, JVK. Full schedule here.
Who produces Louder Than Life?
The festival is produced by Danny Wimmer Presents. This year's event will once again be at Highland Festival Grounds.
Who was on past Louder Than Life lineups? 
The Kentucky festival's 2022 edition was headlined by Red Hot Chili Peppers, Nine Inch Nails, Slipknot and KISS, and also featured more than 100 artists. Nine Inch Nails, Korn and Metallica were among the headliners in 2021.
2023 Poster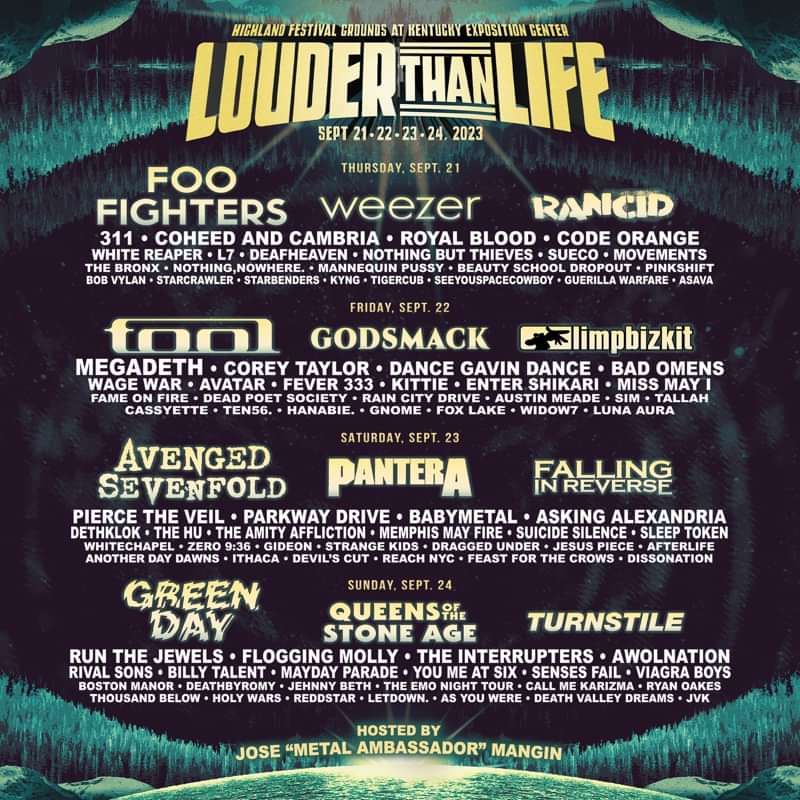 2023 Announcement Video
Past Performances
Evanescence, 2022
The Warning, 2022
Korn, "A Different World," 2022
#louderthanlife on TikTok