The standard line about Pitchfork Music Festival is that it's for music nerds, nerds so nerdy that they care more about analyzing beats than dancing to them. It's a festival for the discourse kids, the ones writing album reviews in twitter threads and earnestly debating in the replies. If a weekend planned by online music heads sounds dull, I ask you one thing: who do you want on the aux at a party? Right, you want the music nerds. You want the kind of people behind Pitchfork.  
The Pitchfork Music Festival is, essentially, the Chicago-based music media outlet's perspective of the state of music. On three stages, you'll hear whoever the Pitchfork staff thinks is cool. Mostly, that's up-and-coming, sometimes experimental acts from across genres. Bigger names — but typically not mega-mainstream ones — anchor the lineup. This year, headliners include The Smile, Big Thief and Bon Iver. Other artists scheduled are Alvvays, Killer Mike, Weyes Blood, Perfume Genius, JPEGMafia, King Krule, Snail Mail, Ric Wilson, Rachika Nayar, Koffee, Panda Bear and Kelela. The rest of the weekend is populated by newer artists like indie-alternative bands Yaya Bey, Vagabon and Julia Jacklin, and house artist Ariel Zetina. If you are into really deep cuts, pop into Soul Glo's set. The group has the punk-rap vibe of $uicideboy$ and less than 70,000 monthly Spotify listeners.  And yes, at every performance, people do dance a normal amount.
Beyond the live-music, you can shop for vinyl at the Chirp Record Fair, pick up a high quality Flatstock poster and roam the Renegade Craft Fair, the largest curated display of independent crafts and designs in the world. There's also the festival's locale, Chicago, a place which begs the question, "Is it possible to fall in love with a city?"
The Specs
60,000 people attend. 

Tickets range from $115-$449.

Payment plans and hotel packages are available.
FAQs
Where in Chicago is the festival held?
In Union Park on West Randolph Street.
Do children require a ticket?
Children 10 and under do not require a ticket. 
Are cameras or video equipment allowed? 
Professional camera and video equipment is not allowed.
Can we bring in our own food?
Outside food and drink is not permitted.
What is the full Pitchfork Festival lineup of artists?
Friday
The Smile (Thom Yorke, Jonny Greenwood project)
Alvvays
Perfume Genius
Leikeli47
Nation of Language
Roc Marciano & The Alchemist
Youth Lagoon
Ric Wilson
Grace Ives
Jlin
Axel Boman
Mavi
Sen Morimoto
Contour
Saturday
Big Thief
Weyes Blood
King Krule
Snail Mail
Panda Bear + Sonic Boom
Julia Jacklin
Charlotte Adigery & Bolis Pupul
Vagabon
MJ Lenderman
Yaya Bey
Black Belt Eagle Scout
700 Bliss
Palm
Deeper
Sunday
Bon Iver
Kelela
Koffee
Killer Mike
JPEGMafia
Hurray For the Riff Raff
Mdou Moctar
ILLUMINATI HOTTIES
Jockstrap
Soul Glo
Florist
Lucrecia Dalt
Rachika Nayar
Ariel Zetina
2023 Poster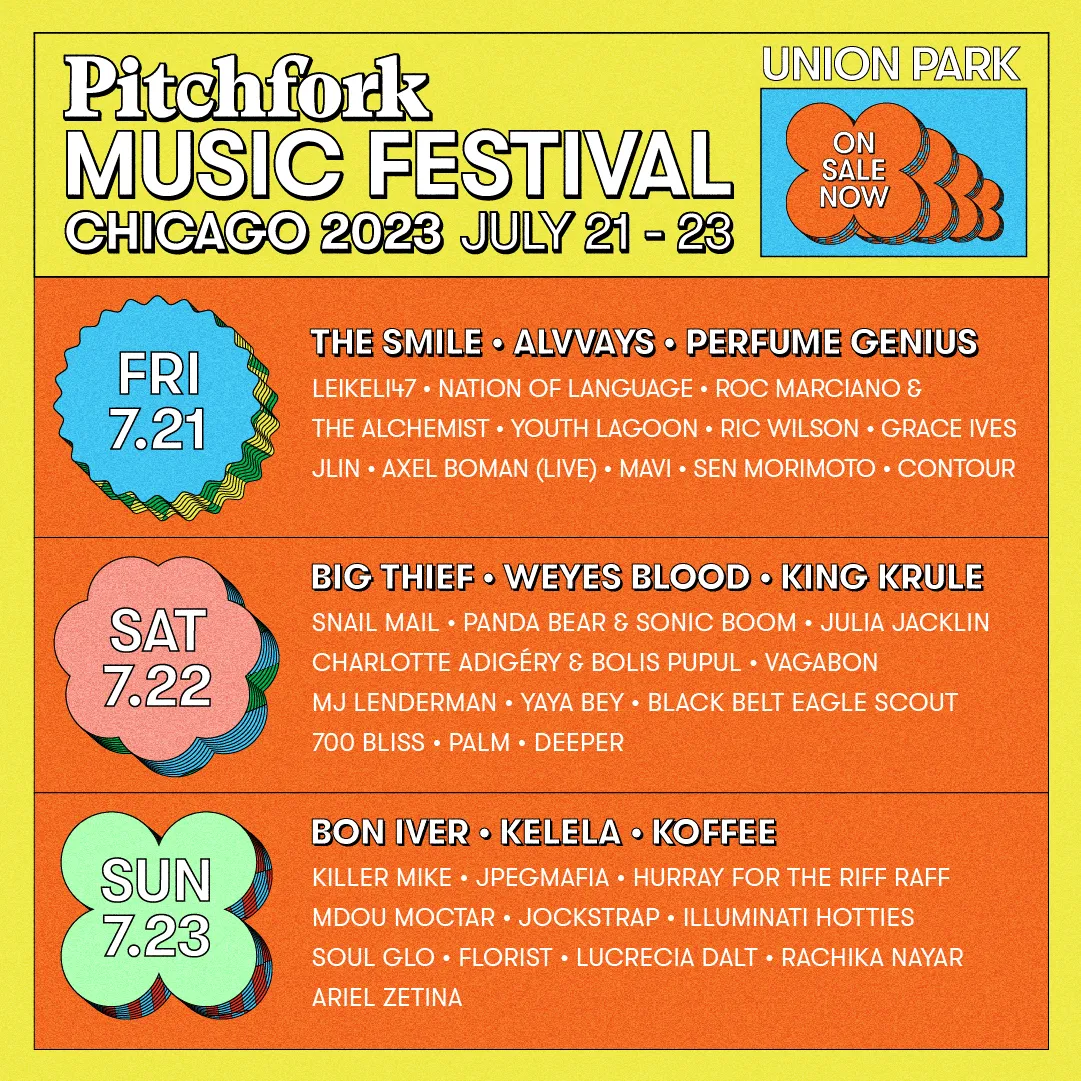 #pitchforkmusicfestival on TikTok