In 2011, a tornado struck Cullman, Alabama, devastating downtown and killing six. It was part of a larger super outbreak across the state, leaving many without electricity, homes and livelihoods. From this vortex cloud came a steel guitar lining: the first-ever Rock the South. With only 13 weeks to plan, founder and Cullman native Shane Quick, pulled together an event that drew thousands and raised money to rebuild the community. 
For 2023, the festival has expanded from two to three full days. Despite the name, RTS focuses on rock-adjacent country. This year's headliner Chris Stapleton gritty crooning is rooted in blues and old-school rock n' roll, and rising star Zach Bryan's unpretentious musical arrangements lean toward Americana (though his well-knit lyrics take a page out of the country bible with their reverence for mothers, Jesus, and God with a capital G).
Coming from all over the continental United States, RTS's down-home crowd seems blissfully influencer-free. Cowboy boots, daisy-dukes, and baseball caps define the dress code. A nod to Southern culture, sure, but also practical—RTS has faced heavy rainstorms in recent years, and Alabama's summer sun is no joke.
RTS seems to have its heart in the right place: it's proudly the most financially accessible country festival on the market (a fact co-organizer Nathan Baugh notes with pride), and a portion of the proceeds are donated to local charities and nonprofits. 
The Specs
About 65,000 people attended Rock the South in 2022 (the festival has grown each year). 

3 day GA tickets for Tiers 1, 2, & 3 are sold out at the time of this article, though Tier 4 tickets are still available for $219.99 (prices will increase on June 30th). 

Children 2 and under can attend for free. 

Check out Fifty Grande's guide to Alabama here. Maybe take a stroll through Moorseville if you get chance.
FAQs
What's the best way to get to and from Rock the South 2023?
Fly into Birmingham (50 miles south) or Huntsville (55 miles north). You're gonna need a car for sure; Cullman is a small, rural-ish town without public transportation. 
Where can I stay, and how much does it cost to park?
There are a range of budget hotel chains in Cullman ($70-$130 per night), plus Airbnb options. $75 for a weekend parking pass.
What's the deal with camping?
RTS offers both tent and RV camping (Wednesday @ 4pm until noon Sunday, purchased separately from entry tickets). Car camping costs $245 for the weekend (Tier 1 is sold out), and is first come, first serve. One vehicle allowed (you can purchase an extra pass for another vehicle), with six wristbands provided. 
RV camping costs $700 (Tier 1 is sold out). Spots are assigned, and include 12 wristbands. No power hookups, low decibel generators only. 
Both tent and RV camping include complimentary shower and bathroom access (you don't have to sit in festival stink for the whole weekend…) Leave Fido and the cats at home–no pets are allowed. 
Safety and accessibility?
All festival-goers pass through metal detectors and will be subject to search. First aid and emergency services on-site; ADA parking provided. 
What artists are in the RTS 2023 lineup?
Chris Stapleton, Zach Bryan, Cody Johnson, Riley Green, Bailey Zimmerman, Travis Tritt, Jo Dee Messina, Chase Matthew, Drake Milligan, Mackenzie Carpenter, Madeline Edwards, J.R. Carroll, Ella Langley, Tristan Baugh, Red Clay Strays, Dee Jay Silver.
2023 Lineup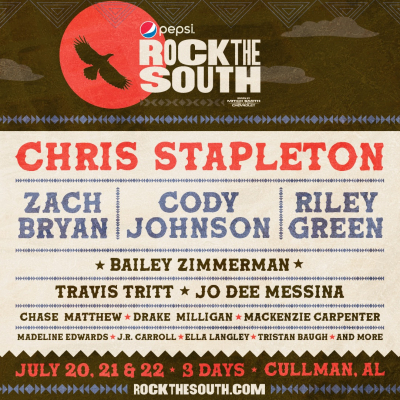 Videos
Rock the South 2018 Wrap
Morgan Wallen, "Whiskey Glasses" 2022
#rockthesouth2023 on TikTok