Bring your Ed Hardy tank tops and Rock Revival jeans out from the archives because the divorced dad party of the year is here. This Labor Day weekend, take a trip back to the early 2000s when Nu Metal ruled American rock music. While it's not exactly your modern day Woodstock, Rocklahoma is nostalgia for a different era, the Butt Rock era. The divisive Butt Rock genre that ruled the 80s Sunset Strip and re-emerged during the post-grunge late-90s era comes to life again in the grassy fields of middle America. Butt Rock legends Black Stone Cherry perform on Friday, Theory of a Deadman on Saturday and Buckcherry on Sunday. Rocklahoma isn't just a revival though. It's one of the largest rock festivals in the nation. Across four stages, it will showcase 50 artists including Godsmack, Limp Bizkit, Pantera and Rob Zombie, over three days plus the kickoff party on Thursday. (The full lineup is below.) 
Rocklahoma is big on camping, too. Just over 15,000 attendees camp out on the festival grounds. Hard rock fans look forward to the fest all year, and, for those desperate to get the party started early, the campgrounds open five days before the festival. Tents, RVs, trailers and all "vehicles made for sleeping" are allowed on the campgrounds, but glamping options are also available if you're not one to rough it. The campgrounds are notoriously raunchy, so don't be surprised if you see a stripper pole in the back of a pick-up truck: that's only the tip of the iceberg. It's hard to come down from all the thrashing and drinking, so go ahead and take those extra two days to load out your gear. 
The Specs
Approximately 20,000 people attend each day.

Tickets range from $99-$759.

VIP tickets are sold out. 

Check out Fifty Grande's guide to Oklahoma here.
FAQs
When and where is Rocklahoma 2023? 
The festival is scheduled for September 1-3 at Pryor Creek Music Festival Grounds in Pryor, Oklahoma.
Where is the nearest airport?
The nearest airport to Rocklahoma is Tulsa International Airport. The annual three-day hard rock music festival is held in Pryor, Oklahoma, which is about 50 miles away from Tulsa.
How far is Chicago from Pryor, Oklahoma?
Chicago is 653 miles from Pryor.
Are you allowed to camp at the festival?
Yes. Rocklahoma features on-site camping and glamping options.
Can I leave and re-enter Rocklahoma?
Re-entry is only allowed with a wristband.
When did/do passes for Rocklahoma festival go on sale?
Passes for the fest go on sale on Friday, March 10.
When do passes for Rocklahoma festival go on sale?
Passes for the fest go on sale on Friday, March 10.
How much do tickets/passes cost?
As of July 27, the prices for passes are as follows:
Weekend general admission — $219 + fees.
Weekend general admission 4-pack — $839 + fees.
Weekend general admission military — $199 + fees.
Friday GA — $99 + fees.
Saturday GA — $99 + fees.
Sunday GA — $99 + fees.
Are tickets refundable?
Tickets are final sale. The festival is rain or shine unless there is an extreme weather emergency.
Can I attend the pre-party show?
Anyone with a weekend wristband can attend the pre-party show at The Roadhouse. 
Who are the headliners for Rocklahoma 2023?
Godsmack, Pantera, Rob Zombie and Limp Bizkit.
What artists are on the Rocklahoma 2023 lineup?
The Rocklahoma lineup includes: Pantera, Godsmack, Rob Zombie, Limp Bizkit, Bush, Chevelle, Corey Taylor, Daughtry, Theory of a Deadman, Ministry, Asking Alexandria, Code Orange, GWAR, P.O.D., Mammoth WVH, Atreyu, Jinjer, Skid Row, Buckcherry, Warrant, L.A. Guns, Kix, Filter, Fuel, Ayron Jones, Black Stone Cherry, Mothica, From Ashes To New, New Years Day, Crobot, Fame On Fire, BulletBoys, Voodoo Moonshine, Dayseeker, Plush, Dead Poet Society, Brkn Love, Steven Adler, Dead West, Shot Of Poison, Small Town Sindrome, 90LB Wrench, Jessikill, Snake Bite Whisky, Daymes Rocket, Bat Alliance, Stonebreed, Siin and Nova Rex.
Who played Rocklahoma 2022?
Korn, Shinedown, Five Finger Death Punch, Evanescence, Megadeth, Cypress Hill, Seether, Three Days Grace, Skillet, Suicidal Tendencies, Jelly Roll, In This Moment, Underoath, Ice Nine, Motionless in White and more.
2023 Poster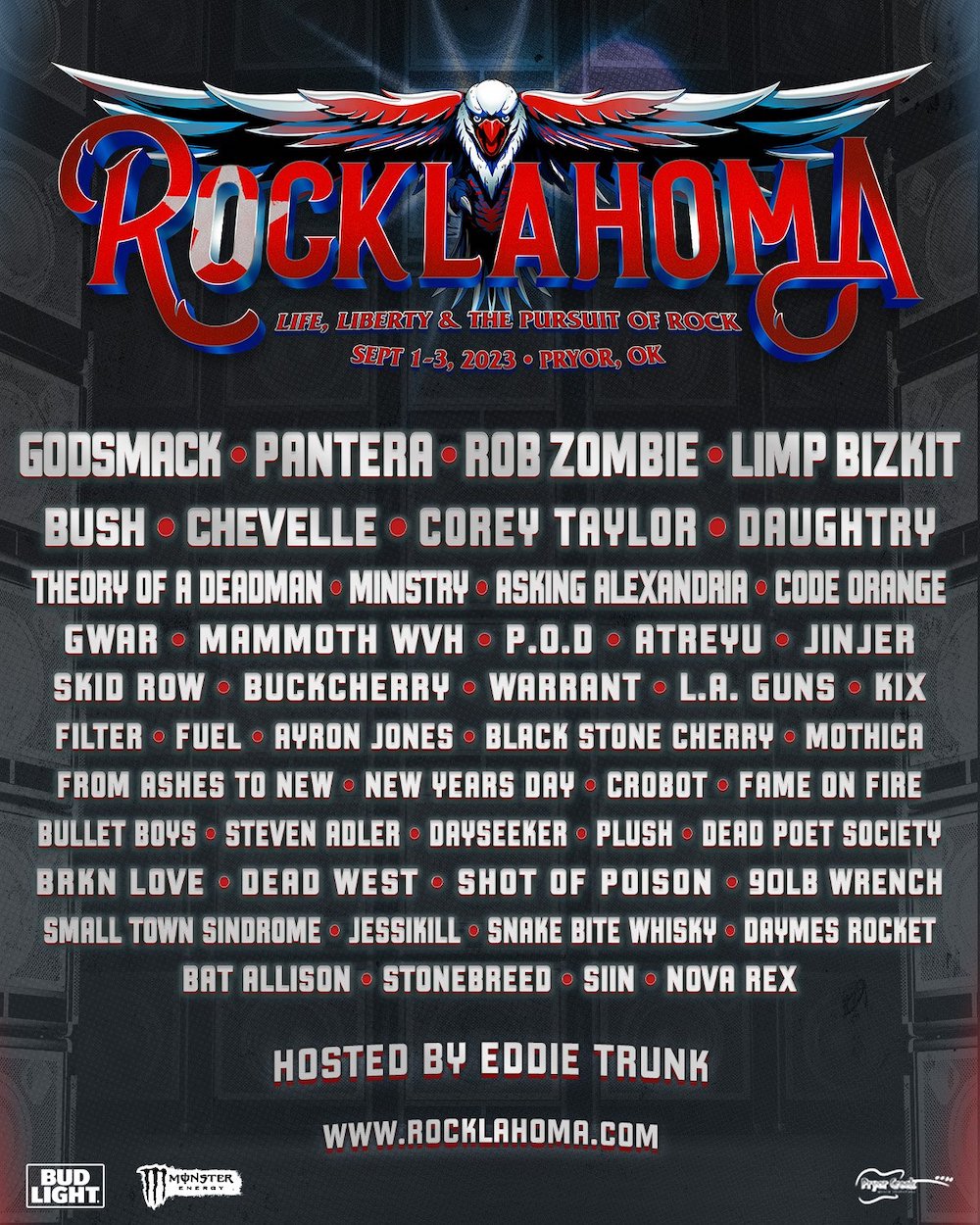 2023 Announcement
Past Rocklahoma Performances
Korn, "Shoots and Ladders," 2022
Five Finger Death Punch, full show, 2022
Skillet, full show, 2022
Plush, full show, 2021
Ratt, "Lack of Communication," 2017
Puddle of Mudd, 2012
#rocklahoma on TikTok