If you're a regular costume contest winner, excel at glow-in-the-dark hula hooping, or are raising a 4-year-old prodigy trumpet player, pack your Winnaebago and head to the Sugar Pine Music Festival. Okay, that's a pretty specific subset of the population, but don't be surprised if you encounter them all at the Sugar Pine Music Festival, an eclectic four-day gathering held in Grass Valley, Calif. Formerly the Hangtown Music Festival, this year will mark its first with its new branding, and its second at its new location, the Nevada County Fairgrounds. 
This fairly small festival brings in some rock/Americana heavy-hitters. In the past, famed folk groups Railroad Earth and Molly Tuttle have been regulars on the stages of Sugar Pine. This year, funk-jam band Lettuce will headline, as well as Mike Campbell & the Dirty Knobs — Campbell's lyrics spill a dryly witty social commentary, while the band's vocals and instrumentation are dead ringers for Tom Petty and the Heartbreakers (which makes sense, given that Campbell was a Heartbreaker and co-wrote many TP hits). Add Karl Denson's Tiny Universe (yes, that's the Karl Denson who tours with the Rolling Stones) and it's sure to be an insanely musically rewarding time. As for the festival's late-night series, ticketed separately, the fun apparently "gets freaky after dark." 
A week before Halloween, the festival starts the party early with daily costume themes, pumpkin carving and a spooky funk vibe. It's also remarkably family-friendly, with tiered ticketing for children and teens, as well as robust KidZone programming, including music workshops, fairy house making, and various nature-related activities. 
The Specs 
In previous years, the capacity was 2,300 attendees. With the location change to the Nevada County Fairgrounds, capacity has increased to at least 2,500. 

4-Day GA Adult Passes are $295.50, and include walk-in camping. 3-Day GA Adult Passes are $280.50, and Sat-Sun Passes are 160.50. Tiered children and teen passes are also available. Check out all of the options

here

.

In addition to 4-day admission, SupernaturALL VIP passes (starting at $599) include prime camping, drink tickets, a VIP lounge, access to late-night shows, t-shirts and more. 

While you're in Grass Valley, check out

Sacramento, California's colorful capital.

And here's our guide to the state.
FAQs
What's the closest airport to the Sugar Pine Music Festival?
Fly into the Sacramento International Airport (SMF, 62 miles away, an hour and 15 minute drive). Rent a car to get to Grass Valley.
What's the deal with camping? If I don't want to camp, what are my options?
All multi-day passes include walk-in tent camping. On-site parking (includes car camping) is $75 (or $145 with reentry privileges). For set-ups 18' or longer, two RV camping options are available: with electric and water is $499, and dry RV camping is $375. 
What should I bring? What's not allowed?
Make sure to bring a small soft-sided cooler (large hard sided ones aren't allowed), rain gear, and reusable water bottles. No pets or campfires. 
Which artists are on the Sugar Pine Music Festival 2023 lineup?
Lettuce, Mike Campbell & the Dirty Knobs, Karl Denson's Tiny Universe Beastie Boys Tribute (feat. members of Slightly Stupid), Alo, Garcia Grisman Tribute (feat. Stu Allen, Joe Craven, Jim Kerwin & Andrew Collins), Sunsquabi, Moontricks, Ron Artis II & the Truth, Jennifer Hartswick Band, Diggin Dirt, Eddie Roberts (New Mastersounds), The Lucky Strokes, Carolyn Wonderland, Dead Winter Carpenters, Honey Island Swamp Band, Boot Juice, Broken Compass Bluegrass, Armchair Boogie, Grateful Bluegrass Boys, Salty Sally, Caltucky, Joe Craven MC.
2023 Poster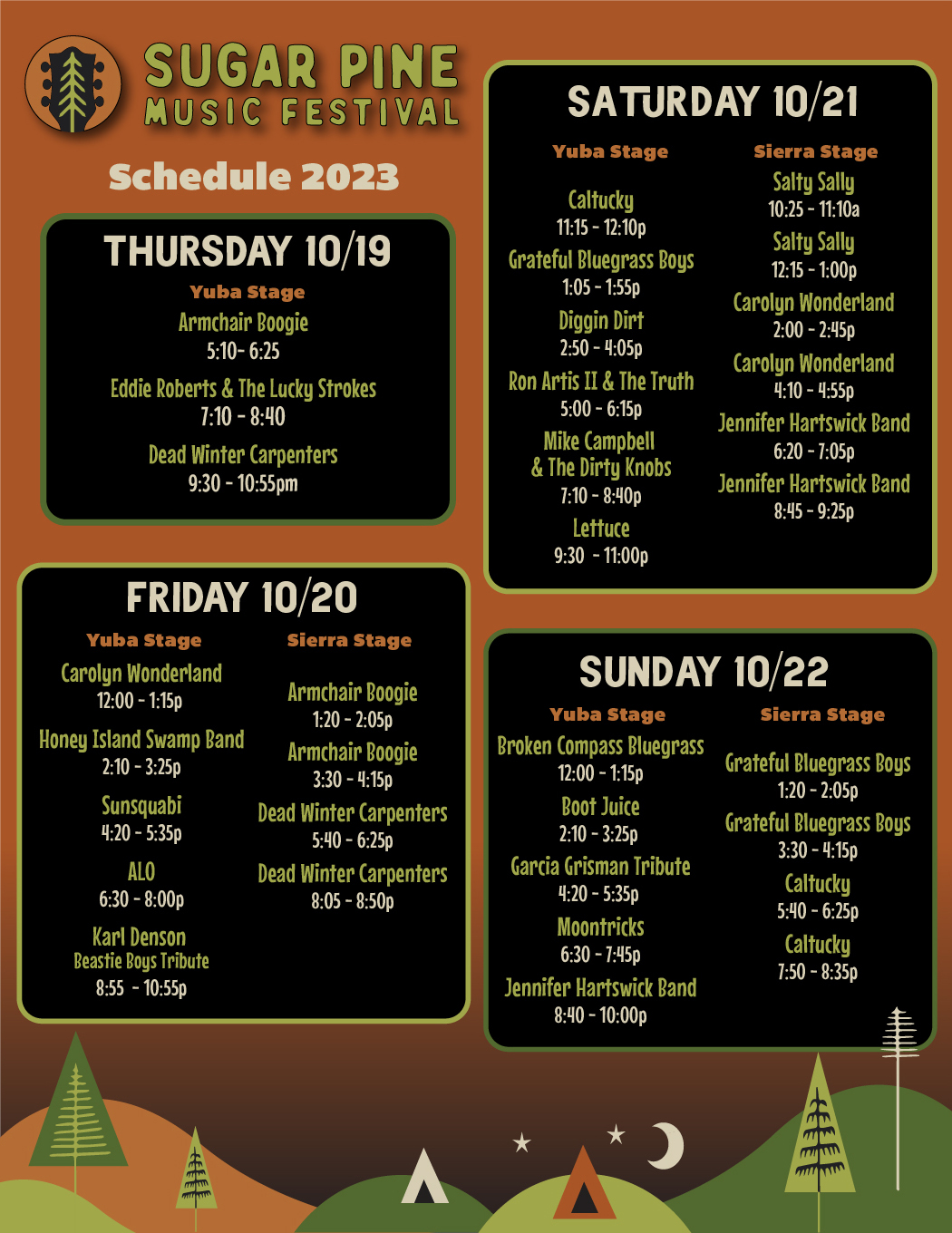 Videos