For five weekends each winter, the indoor stadium of Daly City's Cow Palace transforms into the festive streets of Victorian London. The Great Dickens Christmas Fair is a holiday-themed blast into the past (minus the horrible sanitation and body odors, thank god). Imagine Harry Potter World or Magic Kingdom, except instead of glimpsing Snow White awake and putting down some cheesecake, you're likely to run into Jacob Marley rattling his chains as you guzzle eggnog at a real fake pub. 
Definitely plan to spend the whole day here, as there's plenty to do. Start by wandering the seven different market "streets," marveling at the store front set design and perusing the Holiday Handcraft Marketplace for handcrafted jewelry. Buy a mug of ale and get your fortune told. If you're feeling overwhelmed, sign up for a Tour of London. Stop in at the Athenaeum Club, where you can watch readings and demonstrations given by various well-known literary and artistic figures from the era, including Charlotte Bronte and Edgar Allan Poe. Do some sleuthing and puzzle solving with the Sherlock Holmes and Jekyll & Hyde Experiences (included with your ticket cost), solving mysteries and bringing Victorian villains to justice. And of course, don't miss what the fair is famous for: theatrical entertainment. At the Dockside Ale House, Mad Sal gets raucous with a slew of bawdy songs, accompanied by singers and dancers. You can watch scenes from A Christmas Carol at Fezziwig's Dance Party, or listen to sea shanties at the Paddy West Stage.
Diversity and inclusion have been an especially important topic amongst the fair's host of actors since the pandemic (the fair didn't happen for two years, then tried a drive-through version, which proved to be an astounding flop). Two years ago, Londoners of the African diaspora and others boycotted, pushing the production team to change aspects of the fair that glorified the era's racism and to improve representation of BIPOC actors. 
The Specs 
Over 5,000 festive festival-goers attend each day.  Tickets are for specific dates. 

Early Bird (until October 15th):

Adult tickets (13+) are $35, youth (5-12) are $20, children under 5 are free. 

General Admission:

Adult tickets (13+) are $45, youth (5-12) are $25, children under 5 are free. Twilight tickets (entry after 3pm) are $30 for adults, and $18 for youth. If you're active military, you can attend the 1st and 2nd weekends for free.

Looking for other things to do while visiting the great state of California? Check out

Fifty Grande's guide here

. 
FAQs
What is the closest airport to the Great Dickens Christmas Fair?
Fly into San Francisco International Airport (SFO, 10 miles, 20 minutes driving). If you're staying in SF, take the BART train into the city, or grab a rideshare (rides leave from Level 5 of the Domestic Garage). 
How do I get to the Cow Palace from downtown San Francisco?
Depending on where you're staying in the city, it may be easier to take BART, CalTrain or the Muni, or to grab a rideshare.
I am a cosplay queen/historical garb seamstress or hate Halloween with a passion/only wear sweatpants. What should I wear to the Christmas Fair?
At the very least, wear something comfortable. Shoes made for walking. If you'd like to dress up, the Fair encourages Victorian-esque ensembles. Don't dress up like specific Dickens characters (in order to prevent confusion), or wear blatantly unrelated costumes (Star Wars, Lord of the Rings, etc). 
What is the bag policy at The Great Dickens Christmas Fair?
All bags and personal items will be subject to search. Don't bring weapons, chairs, or anything with wheels.
Is the Christmas Fair ADA accessible?
The fair is completely wheelchair accessible, and service animals are permitted. Specific days will be scheduled for deaf and hard of hearing visitors. 
There are also designated baby changing and breast-feeding areas.
Can I buy tickets at the door?
Nope. Use the link to the right to purchase tickets online.
2023 Poster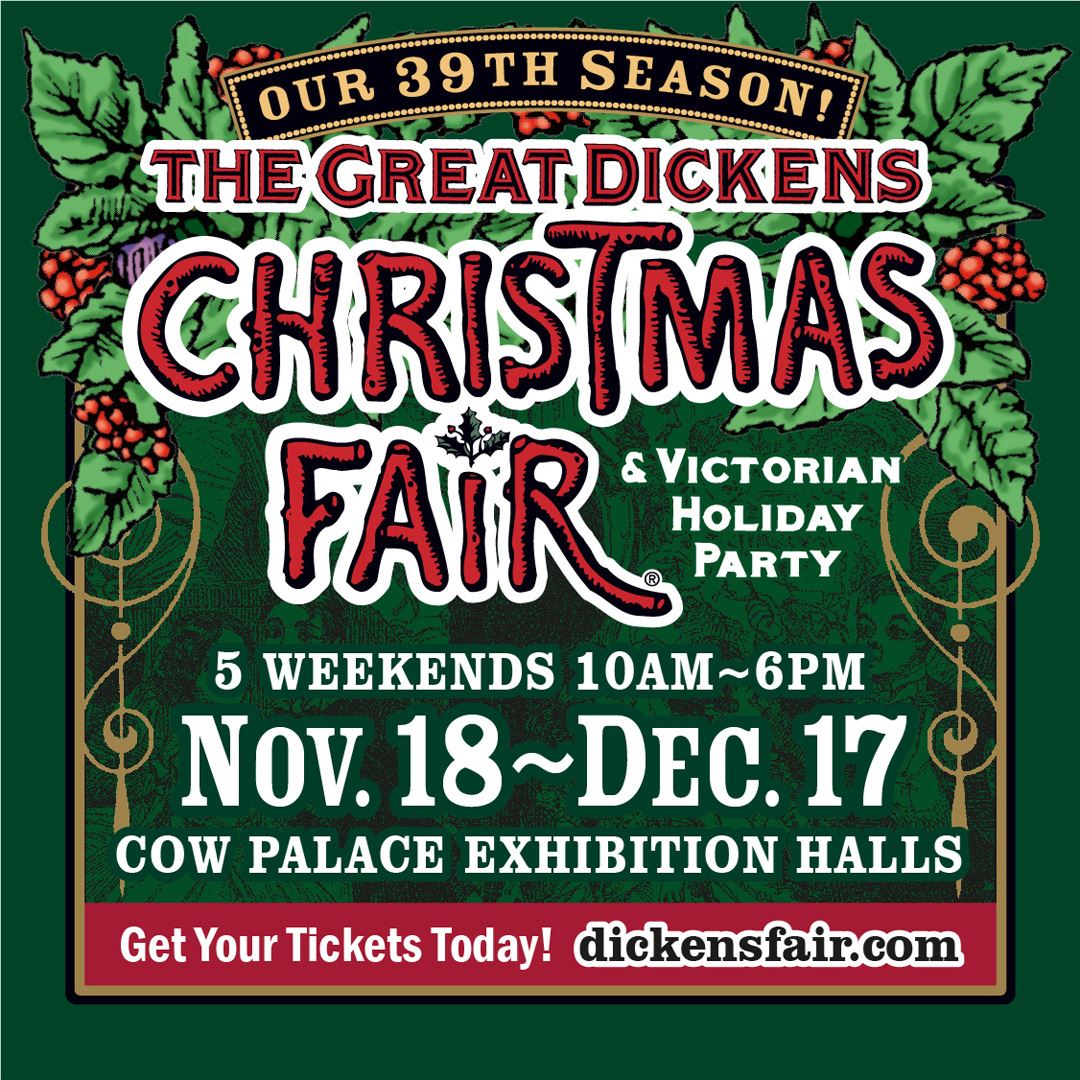 Videos