The Ramble Festival describes itself as a "vibe-centric" event. Formed by best friends Jason "J" Hubert and Brandon "Brick" Lohr to fill a void for music lovers after the pandemic, the two consider themselves "music-loving" mothers who conceived The Ramble Festival. The fest, held at Camp Ramblewood in Harford County, Md., is a three-day affair that encourages attendees to camp out and experience more than just the music. (Camping passes are included with all weekend tickets.) Come for the music, stay for the rustic morning yoga. 
There are three stages of music at the festival with up to 18 artists playing on any given day. Artists scheduled on this year's lineup include The Del McCoury Band, The Motet, Perpetual Groove, and Magic Beans — bluegrass, indie rock, blues and country music thrive here. Following the headliner, each night of the festival carries into late night jams, where multiple artists gather around a campfire and play together with attendees. There is also a busking competition open to all. The best busker gets a place on the Moon Stage in 2024. 
The Specs
Attendance numbers are not available. 

Tickets range from $80-$100 for one day passes and $200-$250 for weekend GA tickets. Some ticket tiers have already sold out.

Visiting Maryland for the first time? Check out Fifty Grande's guide to the best things to do in Baltimore

here

.
FAQs
Where is the nearest airport?
Wilmington Airport (ILM) is the closest to the festival, however, Ramble Fest is most easily accessible by car. 
Where is the festival located?
Camp Ramblewood in Harford County Maryland, an hour north of Baltimore.
Is festival transportation available?
No, transportation to and from the festival is not provided.
Can I bring my kids?
Yes. Children 12 and under get into The Ramble Festival for free, and there's a "Kids Kove" area open for several hours each day. 
Who's playing this year?
2023's lineup includes The Motet, The Hillbenders Whograss, Caleb Stine & Band, The Deer Creek Sharpshooters, Fishing For Hippies, Issac Hadden Organ Trio, Kendall Street Company, Naptown Brass Band, Sneezy, Isaac Hadden, Kanika Moore, Tauk Moore w/ Robert Randolph, Jason Hunn, & The Funky Dawgz Horns, Magic Beans, Perpetual Groove, Caleb Stine, Bella's Bartok, The Dirty Grass Players, Fishing For Hippies, Naptown Brass Band, Rebekah Todd, Red Clay Revival, Shadowgrass, The Sweet Lillies, Uncle Krunkel's One Gram Band, Yam Yam, The Rambling Busker Brigade, The Del McCoury Band, The Grateful Ball feat. The Travelin' McCourys, Neighbor, Dogs in a Pile, Danielle Williams, and Natalie Brooke.
2023 Poster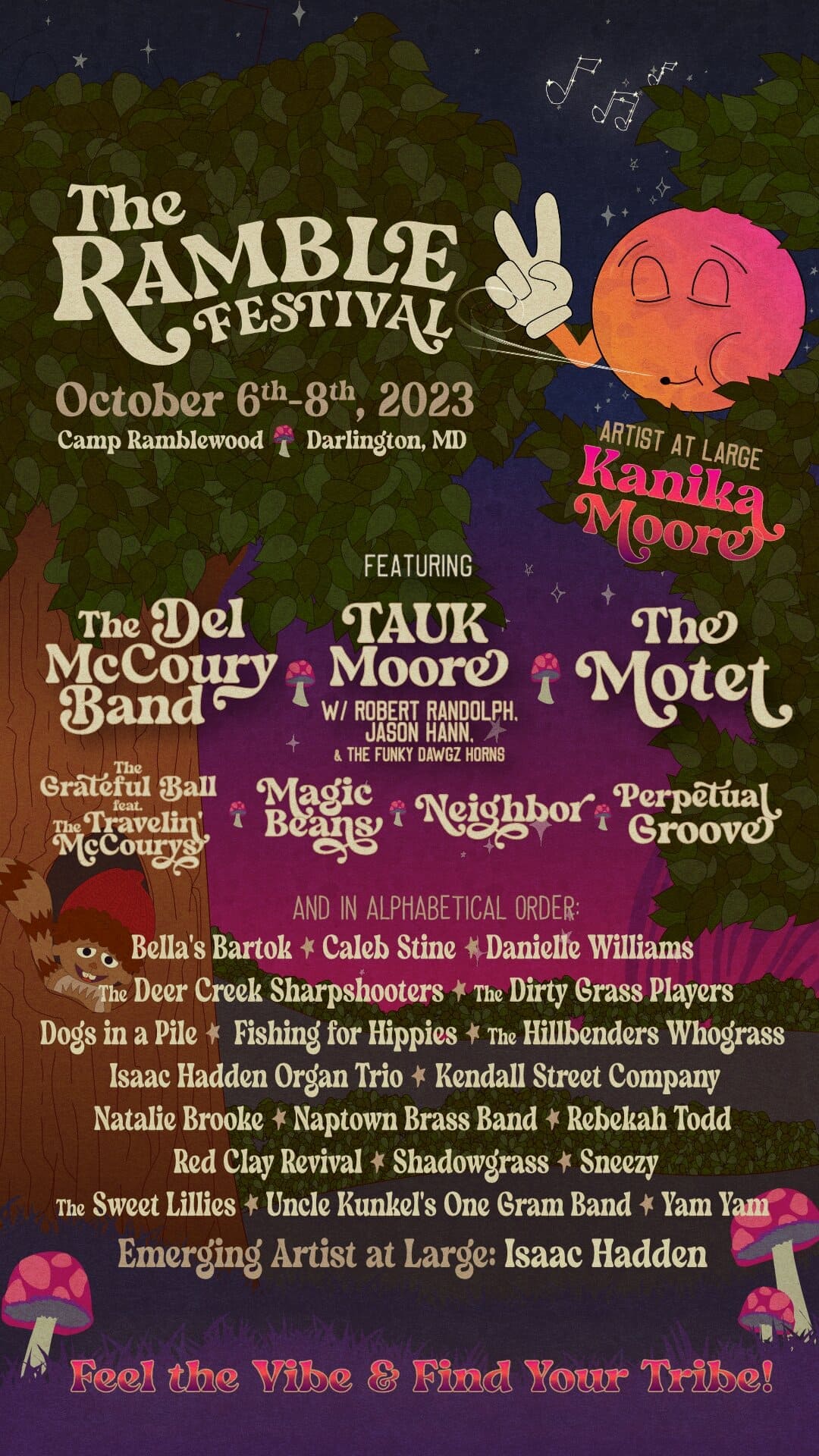 Videos