Born in 2007 as the Roots N Blues BBQ Festival, Treeline Music Fest was bought in 2019 by the festival's former co-directors, Tracy Lane and Shay Jasper, and transformed. Once a pure Missouri Americana festival, the new Treeline is now a women-dominated indie fest that celebrates its Missourian heritage while turning outward, welcoming musicians and music lovers from across the country. This year is the first year with the new name; the tree imagery is meant to capture both the festival's deep roots in forested Columbia, Mo., and also music's metaphorical tree canopy, the bigger community that's necessary for survival.
The Treeline Music festival grounds on Stephens Lake Park have views of the manicured lake and the thick, green trees, the ideal setting for breathy, Southern-gone-synthy Ethel Cain and sweet country superstar Jo Dee Messina. Queer popstars MUNA and Japanese Breakfast always draw adoring queer-femme crowds, adding a more metropolitan spin to Treeline Music Fest. The Quorus, an LGBTQA+ community choir based in Columbia, will also take the stage. In 2018, the boutique festival established the annual Missouri Roots Songbook, an award for a Missouri-born or raised singer. Sheryl Crow won in 2021.
The organizers are on it when it comes to the set-up. Free shuttles run from downtown Columbia to the music fest. There are six restroom areas, a dedicated Alcohol Free Zone, and two accessible viewing areas. Vendor Row, with local restaurants (including smoky Big Daddy's BBQ, Ozark Mountain Biscuits, and Fretboard Coffee) and vendors (like Buy Lokal Vintage and Hitt Records), divides two stages.  
And, if you're in the mood to get physical, you can register for the 2023 Betsy Farris Memorial Run, named for the former director of Roots N Blues Festival. A 5k, 10k, and half marathon will kick off on Saturday morning. Registering for the race gives you access to discounted festival tickets and a free breakfast burrito. Treeline Music Fest isn't exactly the blowout rager extravaganza of the year, so you can run and still have enough energy left over to vibe out to some folk music in the afternoon. 
The Specs
Around 10,000 people attended last year.

Single-day GA passes range from $80 to $95 depending on the day. 3-day GA passes go for $149; 3-day VIP passes, which include food and drink samples and premier reserved seating, cost $379.

While in Missouri, check out our

Music Lover's Guide

to Kansas City. And here is our guide to the state. 
FAQs
What is the closest airport to Treeline Music Fest?
While Columbia Regional Airport is only 12 miles from the festival, realistically the cheaper, more convenient flights will land in St. Louis Lambert International Airport (111 miles away) or Kansas City International Airport (146 miles away).
Where is Treeline Music Fest held?
The festival will be held at Stephens Lake Park, which is located at 2001 E Broadway, in Columbia, MO, USA. Columbia is in Boone Country.
Where should I stay?
Check out the Treeline Music Fest 2023 website for a list of recommended local hotels and motels. There's no camping at this festival.
What is the stage schedule for the festival?
See the poster below with full details of the stage schedule.
Should I bring cash?
Your festival wristband acts as both your entry pass and your wallet: pre-register the wristband with a debit or credit card, and you'll be able to buy anything you like with a simple tap.
Is Treeline Music Fest Accessible?
Yes — Treeline has ADA parking, an ADA entrance, and designated accessible viewing areas. Contact the festival at least three days before it begins with specific requests so they can help accommodate you.
Who are the festival headliners?
MUNA, Jo Dee Messina, Japanese Breakfast, The Robert Cray Band, Salt-n-Pepa are among the festival headliners.
 Which artists are on the Treeline Music Fest lineup?
MUNA, Jo Dee Messina, Japanese Breakfast, The Robert Cray Band, Salt-n-Pepa, Sierra Ferrell, Ethel Cain, Amanda Shires, Noah Cyrus, Cam, Devon Gilfillian, Wilderado, Chapel Hart, Sasha Alex Sloan, Nicole Atkins, Halle Kearns, Olivia Jean, Post Sex Nachos, Katy Guillen & The Drive, The Quorus, The Lonesome Companions, Rochara Knight & The Honey Doves, Western States, The January Lanterns.
2023 Poster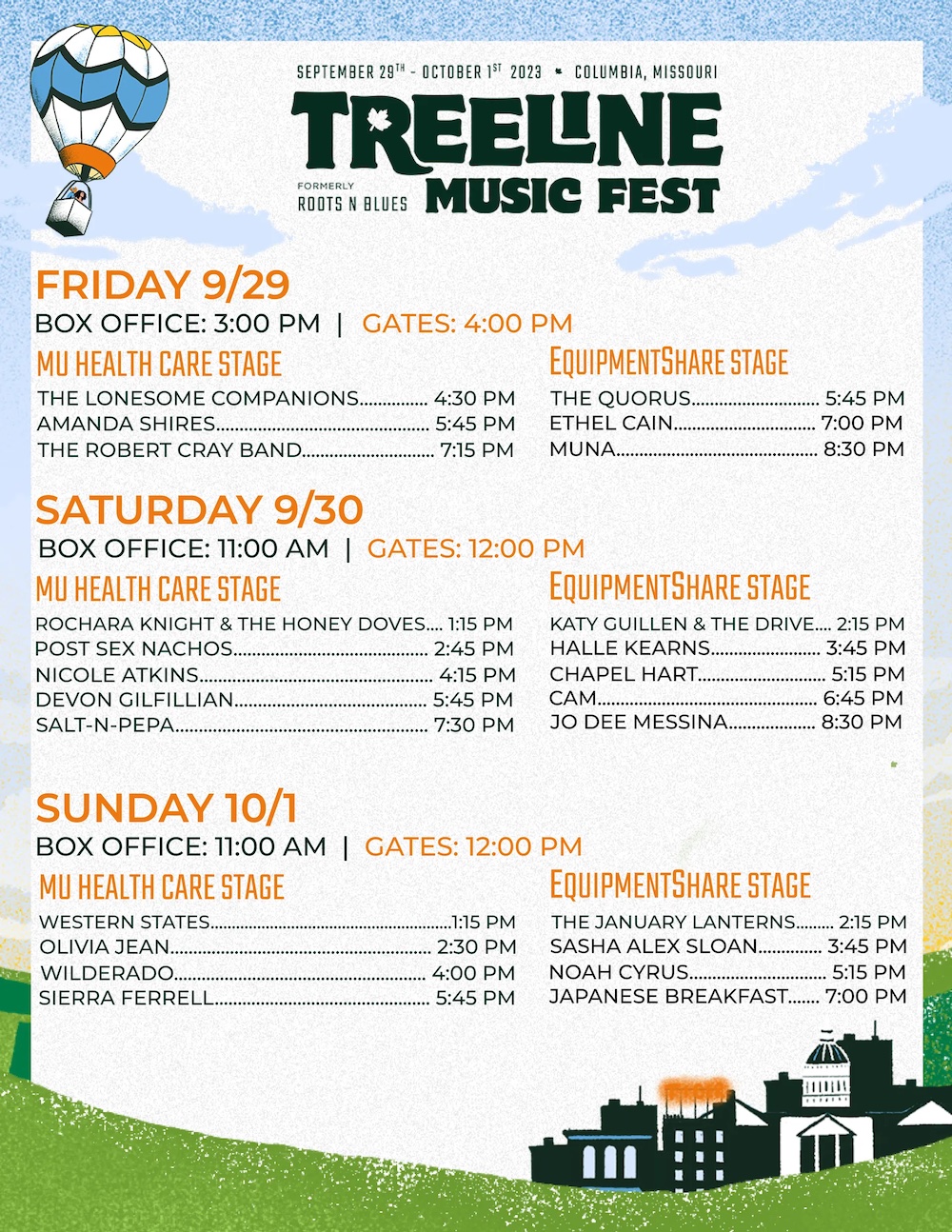 Videos
Spotify Playlist
#treelinemusicfestival on TikTok