It takes no time to recall the seemingly endless days I spent reveling in the hot sun at Six Flags Fiesta Texas. I still remember racing to my favorite roller coaster and the excitement I felt after each twist, turn and drop, even though I had taken the ride so many times before. I remember listening to the laughter of my friends after they struck it big at "Balloon Darts," acrobatically carrying an oversized stuffed elephant with one hand while holding a rapidly melting ice cream sandwich in the other. If you spent any time growing up in these 50 states, you probably know the giddy feeling.
That said, amusement parks have come a long way since we were kids. While the amusement parks of yesteryear may have been groundbreaking compared to, say, the original Luna Park, today's theme parks blow them out of the water. Want to embark on an African-centered safari? You can do that. Looking to dive into a food and wine tasting? They got you covered. More into box-office-breaking attractions in the heart of Los Angeles? That's their bread and butter. In fact, there are hundreds of niche experiences brought to life in modern amusement parks across the U.S. Here we've assembled some of the best amusement parks across America, to indulge that inner kid in all of us.
Busch Gardens Tampa Bay – Tampa, Fla.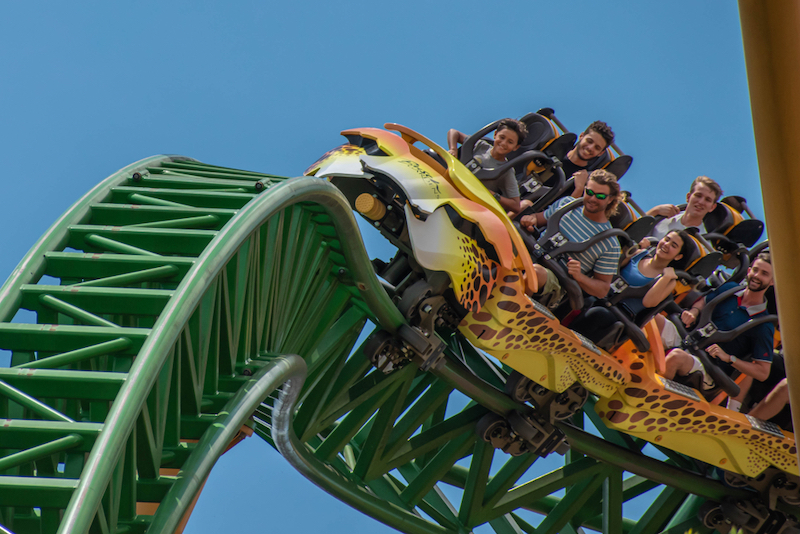 Spread out across 335 acres, and just 11 miles north of Tampa, Busch Gardens Tampa Bay is the go-to summer destination for animal lovers. The safari-themed park opened in 1959 and is home to 200 species that live in habitats like the Bird Garden — which showcases more than 500 tropical birds from all over the planet — and the Edge of Africa. The acclaimed Serengeti Safari covers 65 acres of the park's Serengeti Plain habitat in an open-air touring vehicle and allows visitors to observe animals like rhinos, giraffes and zebras. Outside of the savanna, the year-round park has exhilarating rides like the Iron Gwazi, which drops at a 91-degree angle from 206 feet high and reaches a top speed of 76 mph. Families with young adventurers can explore areas like the Sesame Street Safari of Fun and Pantopia for kid-friendly rides and shows. Water park enthusiasts looking to cool off can purchase a bundle package to access Busch Garden Tampa Bay's sister waterpark, Adventure Island.
Cedar Point – Sandusky, Ohio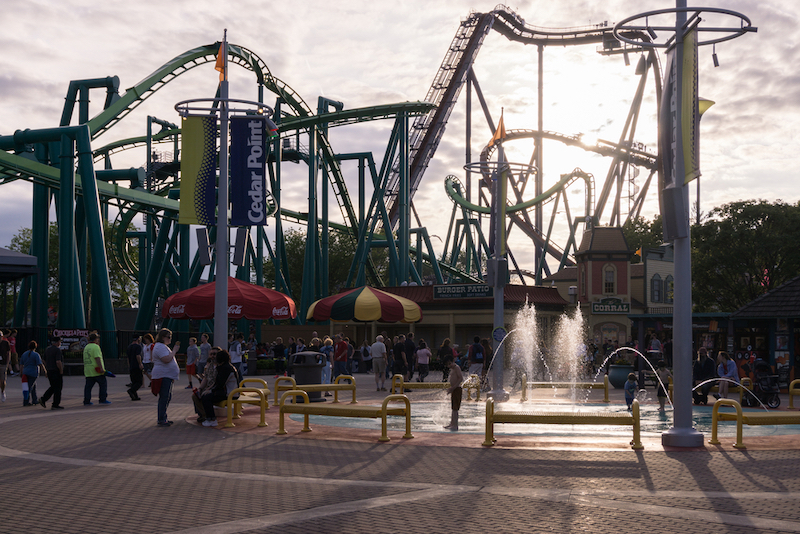 Old does not mean slow at this amusement park. Opened in 1870, Cedar Point is the second oldest amusement park in America behind Connecticut's Lake Compounce and is on the National Register of Historic Places. The park, known as "America's Roller Coast," sits on 365 acres on the edge of Lake Erie and is the only park in the world with five roller coasters that are at least 200 feet high. Cedar Point boasts an impressive 70 rides and 17 roller coasters across the park, including extreme coasters like Top Thrill Dragster, which goes from 0 to 120 mph in under four seconds, and the Guinness Book of World Records holder Magnum XL-200, recognized for its leading-edge height. The park also features five family-friendly accommodations, including Castaway Bay Resort, which touts a tropical indoor water park, and Lighthouse Point cottages and cabins on the sandy shores of Lake Erie. The annual Cedar Point Nights will run from July 29 through August 21 at Cedar Point Beach and will feature carnival games, beach bungalows, fire pits and the delicious Lake Erie Luau.
Dollywood – Pigeon Forge, Tenn.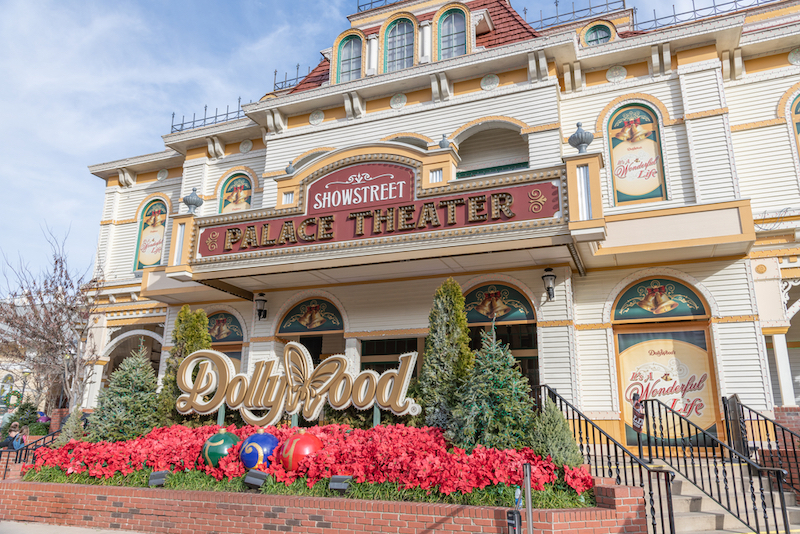 Welcome to the Church of Dolly Parton. Nestled in the Great Smoky Mountains, Dollywood is the premier amusement park for all things Dolly and, just like the singer, sets itself apart by emphasizing the Tennessee traditions of the area. Partially owned by Queen Dolly, the park is just a 24-minute drive from where she grew up and less than an hour away from Knoxville. Dollywood has all the standard things you want from an amusement park, including nine roller coasters and Dollywood's Splash Country water park with rides for adults and young children. While the park doesn't serve alcohol, must-try comfort foods include The Grist Mill's famous cinnamon bread with apple butter and delicious pulled pork sandwiches from Miss Lillian's Smokehouse. Great Smoky Mountain crafts are on display and can be purchased throughout the park at bespoke shops like Valley Forge Blacksmith, Smoky Creek Leather and Mountain Blown Glass. Guests can enjoy music concerts throughout the year from groups like the Smoky Mountain String Band, and Dolly Parton usually performs at the park at least once a year. Other standout attractions include a replica of the two-room home where the country singer grew up and a 30,000-square-foot aviary house exhibition of bald eagles known as the Eagle Mountain Sanctuary.
Funland – Rehoboth Beach, Del.
An afternoon spent at Funland is the most fun you can have on the Rehoboth Beach boardwalk, aside from housing a bucket of Thrasher's French Fries. While the family-owned park may not be as gigantic as some other places on our list, Funland takes nostalgia to the wonderful extreme, offering guests a chance to enjoy vintage games and rides that are still operational today. Here, vintage isn't a trend. Funland originally opened in 1939 and still has rides like the Boats, Fire Engine and Merry Go Round carousel that debuted in the 1940s and '50s. (Don't worry, they're safe!) Currently, the park has 20 operational rides that range from 60 cents to 3.60 per ride ticket, just like in the good ol' days. Standouts include the Sky Fighters, Crazy Dazy teacups and the classic Paratrooper ride. Most rides are tailored to younger children, but older kids and adults looking for more thrills can enjoy the Haunted Mansion, the Superflip 460 and the arcade featuring midway games like Horse Races and Skee-Ball for just 50 cents. Funland is open annually from early July through mid-September and entertains roughly 300,000 beachgoers each summer.
Kings Island – Mason, Ohio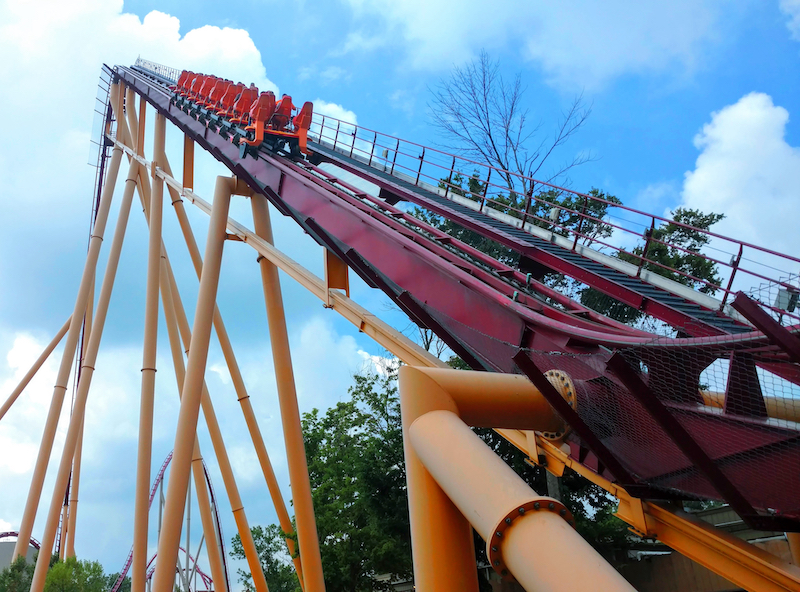 Visitors know and love Kings Island for its thrilling rides. The Beast, currently the longest wooden roller coaster in the world, and Banshee, the world's most extended steel inverted roller coaster with a top speed of 68 mph, are just two of the 100 attractions spread across 364 acres on the outskirts of Cincinnati. The park's newest ride, and the most significant investment in its history, is the Orion, one of only seven giga coasters worldwide. It touts a 300-foot drop and speeds up to 91 mph. For those of us whose stomachs can't handle the park's top speeds, there's the Soak City water park and annual concert series with performers like Five For Fighting and Daryl Hall and the Daryl's House Band for a separate fee. Make sure to grab some of the famed blue ice cream — a blueberry soft-serve that debuted in 1982 and is now found all around the city of Cincinnati.
Knoebels Amusement Resort – Elysburg, Pa.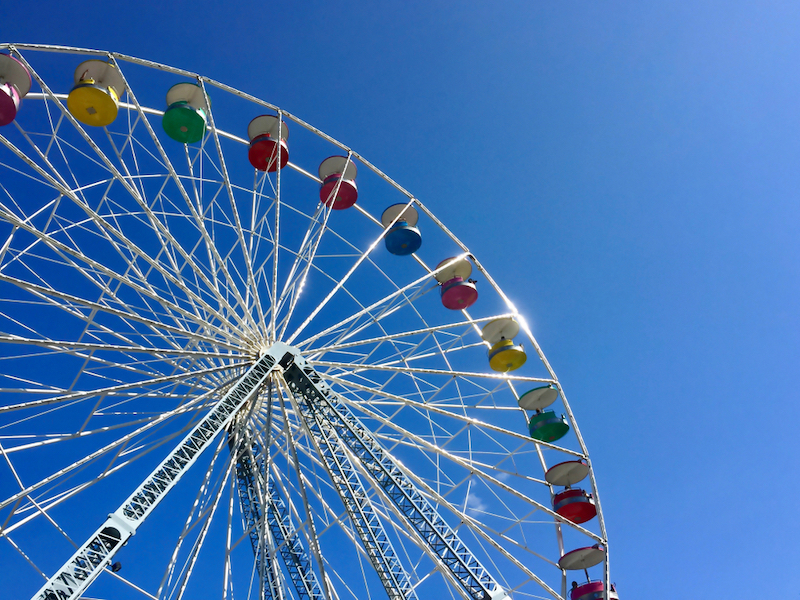 Situated in central Pennsylvania, roughly two-and-a-half hours from Philadelphia, Knoebels Amusement Resort is a timeless haven for families on a budget. The family-owned park initially opened in 1926 and is the largest free amusement park in America. Guests get free entertainment, free parking and rides and games that only cost 2 to 5 dollars each. Visitors can buy tickets per ride, or purchase all-day passes and ticket books, though certain attractions cost a separate fee. Knoebels' 60 rides run the amusement park gamut. The park has sensational steel and wooden roller coasters, calming boat rides through a motor boat moat, and rides for younger kids like Kiddie Boats, Panther Cars and even a carousel from 1913. If you'd rather keep your feet firmly planted on the ground, the park offers classic games like Cat Rack, Tic-Tac-Toe, Skee-Ball, a Lazer Maze and mini-golf. Visitors can reserve a site at the Knoebels campground or a cottage to stay in. The park also offers dinner specials for diners on a budget.
Knott's Berry Farm – Buena Park, Calif.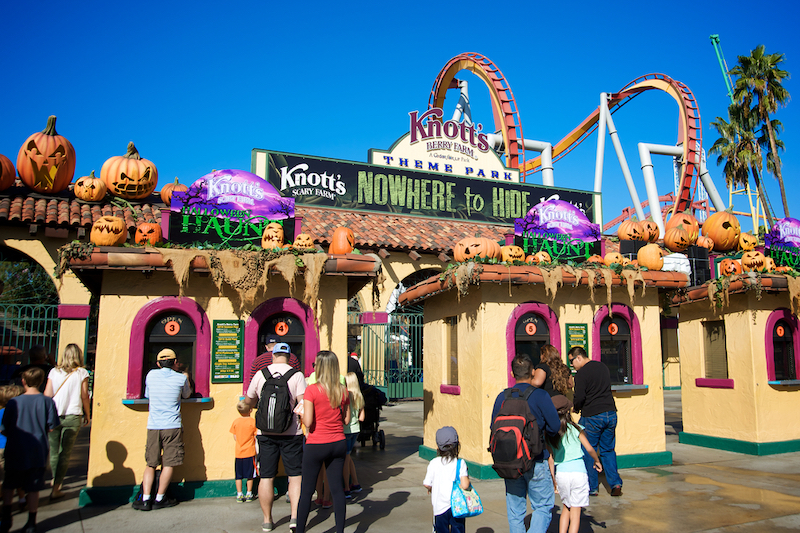 Billed as "California's Original Theme Park," Knott's Berry Farm initially opened as a roadside berry stand by Walter Knott in the 1920s. It morphed into a Western-themed amusement park back in 1968 after decades of slowly adding a restaurant, shops and attractions like the Ghost Town and Calico Railroad. The Ghost Town and Calico Railroad train ride is still a favorite attraction at the park, and guests can take part in the annual old Western "Ghost Town Alive!" show with cowboys and bandits through Labor Day this year. Knott's Berry Farm also features over 40 rides like adrenaline-rush-inducing GhostRider, the fastest, longest and tallest wooden roller coaster on the West Coast. Of course, it wouldn't be Knott's Berry Farms if it didn't have a deep appreciation for berries. Each spring, the park hosts the Boysenberry Festival with culinary delights inspired by the season. Tasty treats like fully loaded funnel cake topped with ice cream and boysenberry jam are available whenever the park is open.
Six Flags Magic Mountain – Valencia, Calif.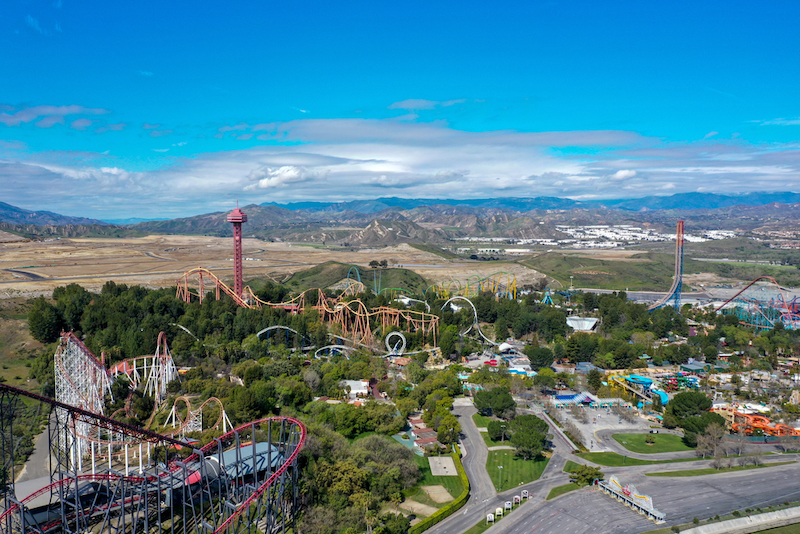 Six Flags Magic Mountain is a supercharged park. Just 46 minutes outside Los Angeles, Six Flags Magic Mountain is spread across 262 acres and holds the world record for most roller coasters in a park, with 20 electrifying rides. To the delight of roller-coaster enthusiasts across America, Wonder Woman Flight of Courage formally opened on July 16 and is the newest ride at the park. The ride is in the DC Universe-themed land and has set a record as the tallest and longest single-rail coaster on the planet. Comic lovers who aren't courageous enough for Wonder Woman's whirlwind ride can still take meet-and-greet photos with Justice League characters at the park's Main Gate Plaza. But, there's more to Six Flags Magic Mountain than superheroes. The park also has CraZanity, the tallest pendulum ride on the West Coast, and Goliath, a towering steel roller coaster with a jaw-dropping 255-foot drop that sports a subtropical Mayan civilization theme. Fun fact: Six Flags Magic Mountain is featured in countless television shows, music videos and games and was the site of the fictional Walley World in Chevy Chase's 1983 smash hit "National Lampoon's Vacation."
Universal Studios Hollywood – Universal City, Calif.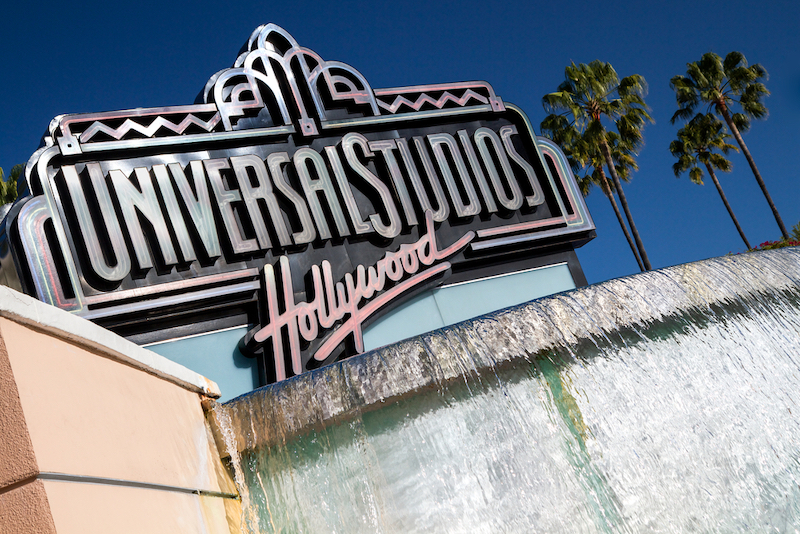 This park is the closest thing to movie magic outside of a green room. Universal Studios Hollywood opened as a film studio in 1914 before becoming the full-fledged amusement park many know and love. While there are six Universal Studios theme parks worldwide, the Hollywood location was the first to open in 1964, allowing guests to tour the backlots as a way to increase profits for the studios. Today, "The Entertainment Capital of L.A." covers over 400 acres in the middle of Los Angeles and features rides, attractions and shows inspired by some of the world's favorite films. The park is known for the Wizarding World of Harry Potter attraction, a family-friendly area with rides like Flight of the Hippogriff, shops like Ollivanders where guests can purchase their wand and restaurants like the Three Broomsticks featuring hot or frozen butterbeer seasonally. The park's newest attraction, The Secret Life of Pets: Off the Leash, boasts a family-friendly ride through the animated world of the characters in New York City. No matter how you decide to spend your day, carve out time for The World Famous Studio Tour narrated by video tour guide Jimmy Fallon. It features appearances by a 3D King Kong and the cast of "The Fast & the Furious."
Walt Disney World – Lake Buena Vista, Fla.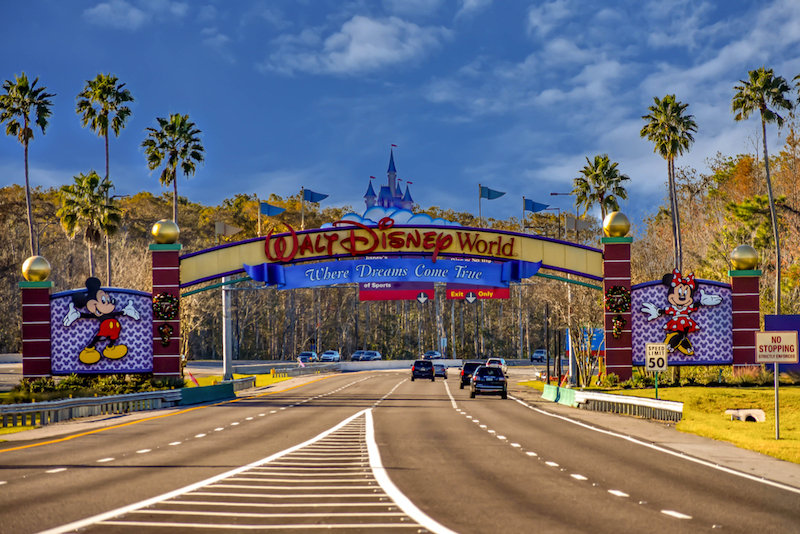 Nicknamed "The Happiest Place on Earth," Walt Disney World is the undisputed queen of amusement parks in the United States. The amusement park haven comprises four theme parks, two water parks and 31 Disney-themed resort hotels — and offers countless opportunities for dining, shopping and golfing onsite. After opening in 1971 with Magic Kingdom — where guests can still spot the famous Cinderella's Castle and enjoy rides like Splash Mountain — the park added EPCOT, Disney's Hollywood Studios and Disney's Animal Kingdom, each worlds unto themselves. At 580 acres, Animal Kingdom is the largest theme park in the world and offers guests the chance to observe hundreds of live animals. The park has also received acclaim for its animal conservation efforts. It surrounds a massive 145-foot-tall Tree of Life sculpture once visited by Jane Goodall. Epcot is globally themed. During the summer and fall months, it hosts the EPCOT International Food & Wine Festival, featuring tasty bites like raclette from the Alps marketplace. Disney's Hollywood Studios is oft-inspired by the streets of Los Angeles and features cinema-focused attractions like Star Wars: Galaxy's Edge and Toy Story Land. Guests should plan to spend at least four or five days exploring the 25,000 acres of parks and at least seven if Universal Studios Orlando is on the itinerary.