Scene
The 21c Oklahoma City is an art museum set in a piece of industrial history
Imagine stepping into a gallery of modern art, but instead of an information desk staffed by a volunteer docent you find a check-in desk that facilitates your literal night at the museum. That's close to the experience at the 21c Oklahoma City, where the lobby and adjacent art gallery feel like an afternoon of artistic exploration more than checking into a hotel. You'll find more visitors than hotel guests strolling the exhibits, and the experience puts you squarely in the veins of Oklahoma City's art scene.
What's more, the hotel is set in an old Ford Motor Co. plant, a stately structure dating back to 1917 that once put out 200 Model Ts a day. This leaves the hotel full of tributes to America's industrial glory days, including massive, multi-paned windows in the rooms that fill each one with bright Oklahoma sunshine. You'll also find metal beams and high ceilings throughout the hotel, reminding you that, yes, this space was once an assembly plant. 
The New American Mary Eddy's restaurant occupies the old Ford showroom, and offers a welcoming place to grab a burger after a day of exploring. Just make sure to watch out for the poles when you get up to go to the bathroom.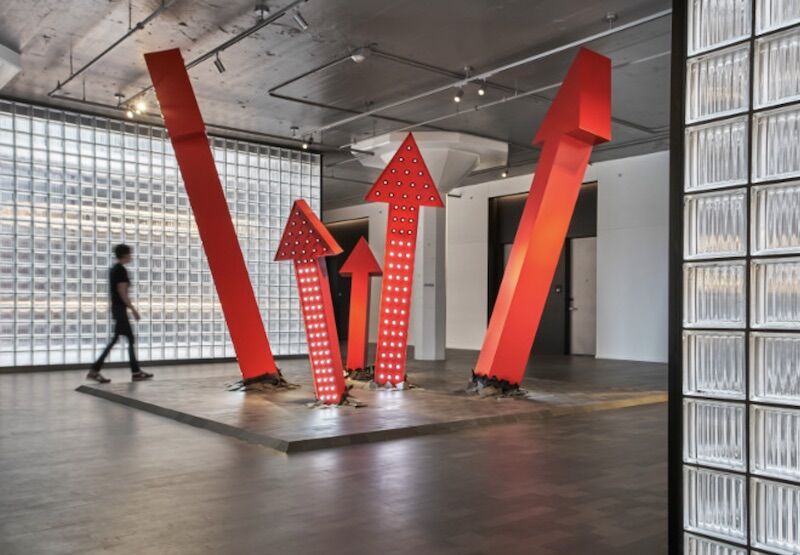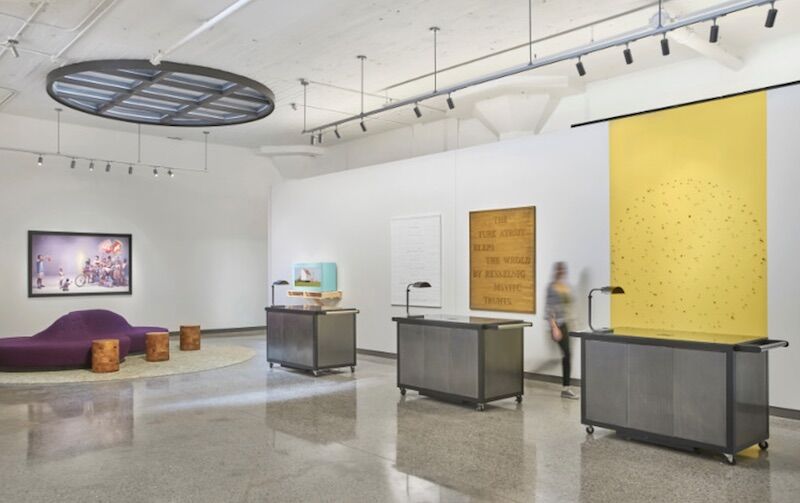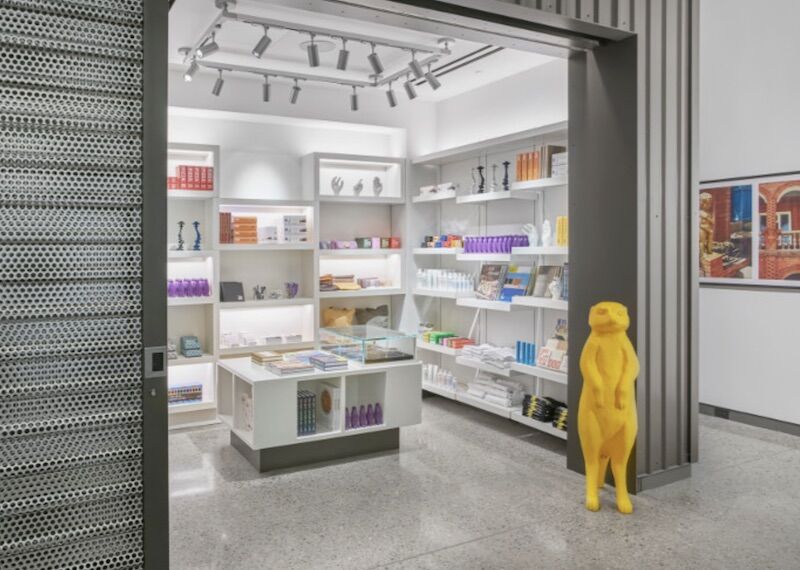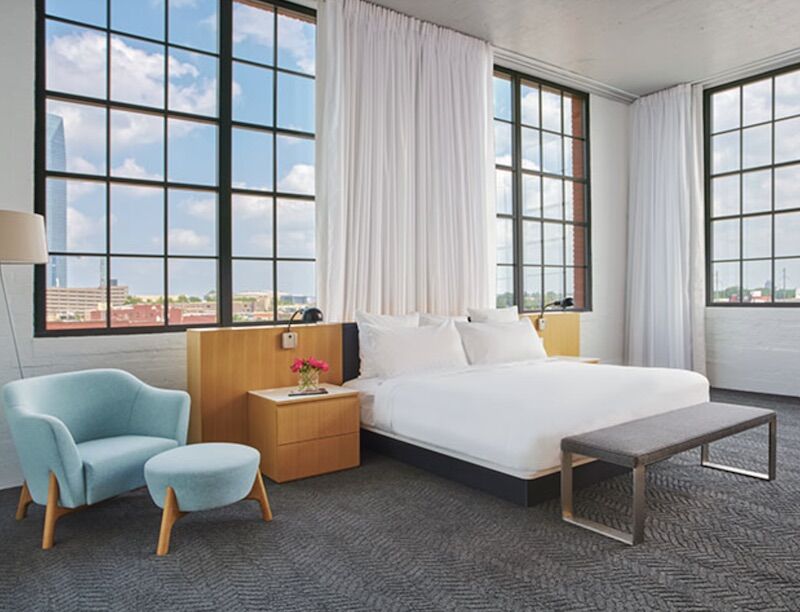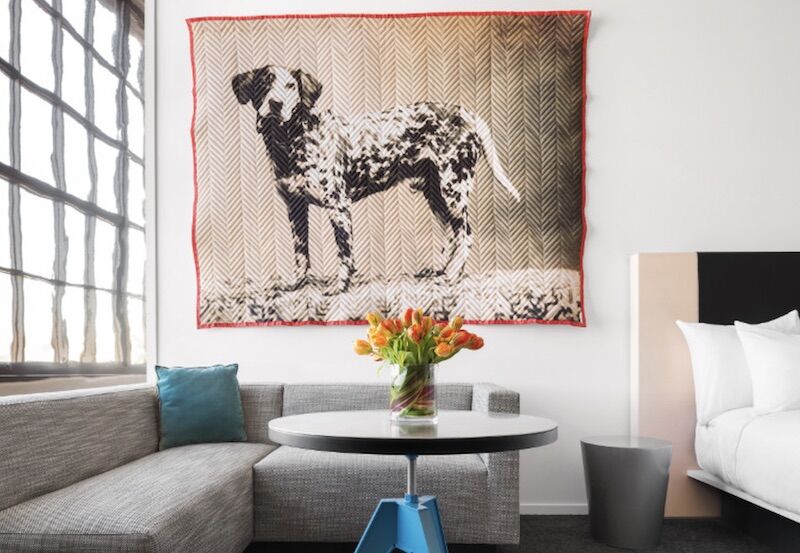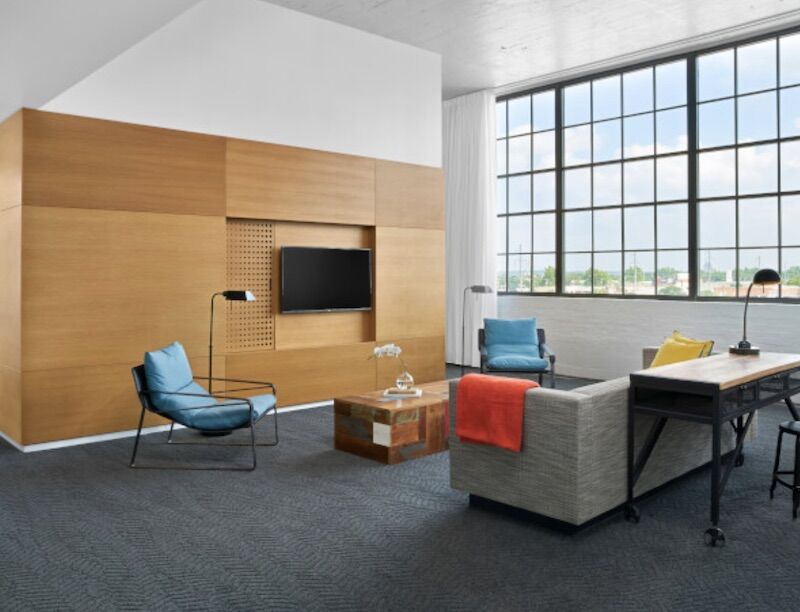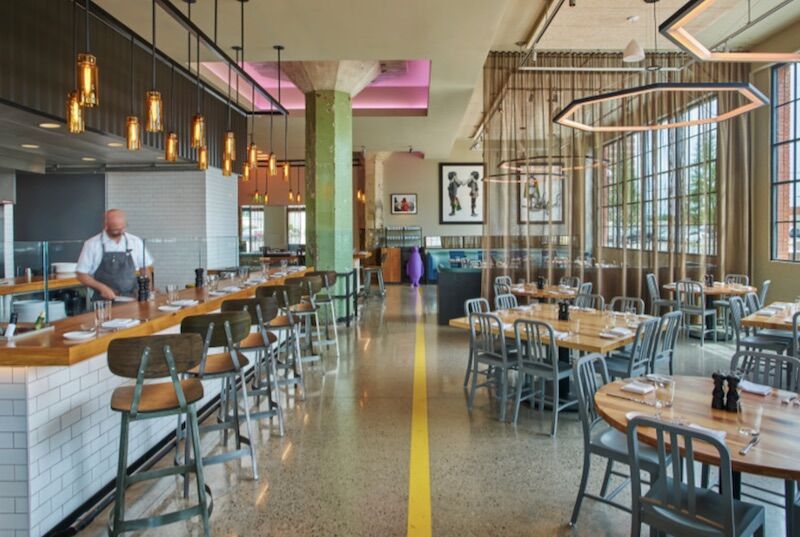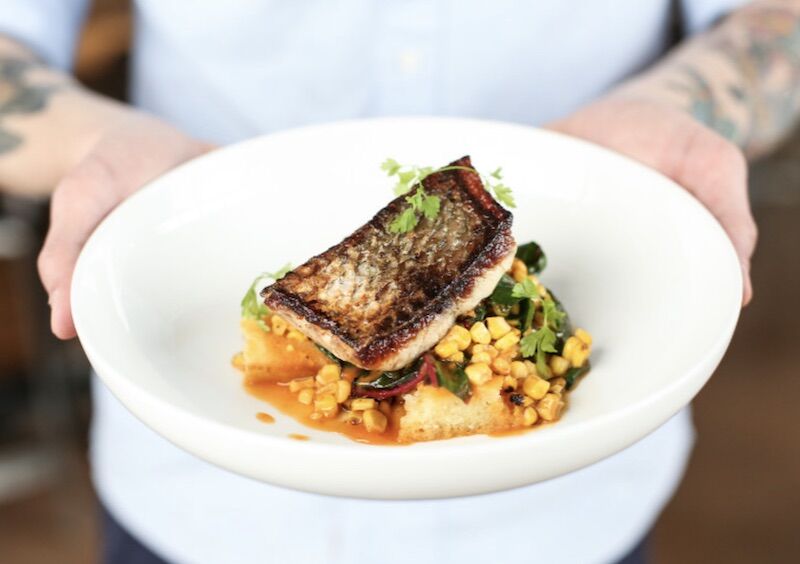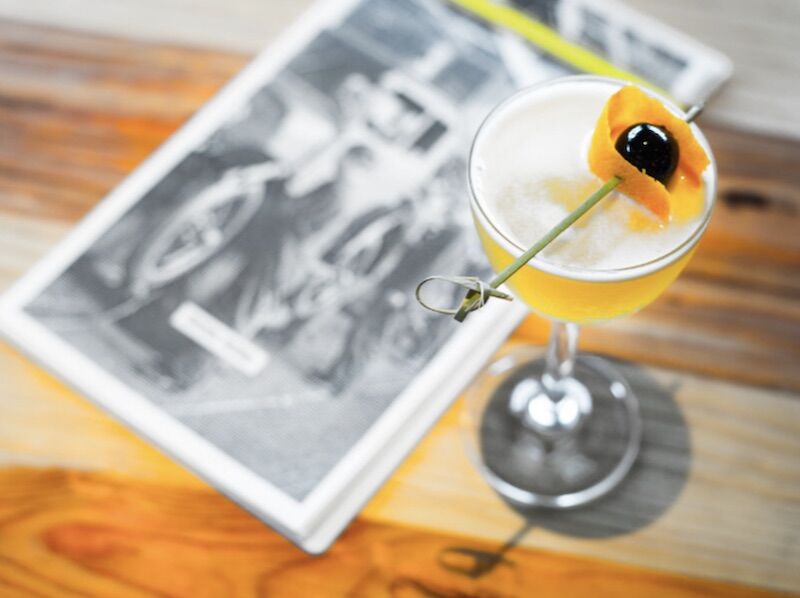 Location
The west end of downtown, a short walk to the city's famous Film Row
The 21c Museum Hotel Oklahoma City sits in the west end of downtown OKC, a fixture along the city's famous Film Row. During the first half of the 20th century, Oklahoma City was a major distribution hub for films, and studios like Paramount, MGM and others had offices here. Though those days are as far gone as the Model T, the Art Deco and midcentury-modern buildings it birthed still sit along Sheridan Avenue, today filled with everything from dance studios to chic restaurants. The old Film Row is on the National Register of Historic Places and now serves as one of the creative hotbeds of Oklahoma City.
Beyond Film Row, the location is ideal, about a mile from the heart of downtown, midtown and the burgeoning scene in Bricktown. If you don't get enough art inside the 21c, you're also only a short walk from the Oklahoma City Museum of Art, the Paseo Arts District and Oklahoma Contemporary. If you're looking for things to do in Oklahoma City, the 21c isn't far from plenty of other stuff too.
Here are highlights that are in proximity.
The ever-changing and provocative street art of the

Plaza Walls

are only about a five-minute drive, two miles away.

Learn about the dawn of the American frontier at the

National Cowboy & Western Heritage Museum

, about 15 minutes away by car.

Immerse yourself in cowboy culture and bite into one of the best steaks of your life at

Cattlemen's Steakhouse

in

Stockyards City

, just across the Oklahoma River, five minutes by car.

Sip local beers at

Bricktown Brewery

, then wander the rest of the restored warehouse district in Bricktown, about a mile and a half's stroll through downtown away.

Check out the Dale Chihuly blown glass exhibit — among other classical and contemporary art — at the Oklahoma City Museum of Art, about ten minutes from the 21c on foot.

See the old Seattle SuperSonics play in their new home at the

Paycom Center

, one of the best atmospheres in the NBA.
Rooms
Spacious lofts with high ceilings and, yes, more art
Unlike the cowboys in those old Pace Picante Sauce ads, the Wild West actually embraces New York City at the 21c, with fabled Big Apple design firm Deborah Berke Partners doing the bulk of the design work at the hotel. The results are rooms that feel a little like SoHo lofts, with elegant-yet-austere elements giving the spaces an almost Scandinavian vibe. No matter what class of room you're in, you'll be greeted by big glass windows, a holdover from the building's previous life as a Model T plant., and plenty of cool art on the walls to gaze at when you don't feel like getting out of bed.
Deluxe Double Queen and King Rooms – The 21c's entry-level rooms still clock in at 400 square feet for king rooms and up to 640 square feet for double queens. Some have small seating areas and all offer 48″ HDTVs, along with Malin + Goetz bath amenities, Nespresso machines and sleek modern furnishings that remind us of an upscale Ikea.
Lightwell Rooms – Either a regular king room or small suite that backs up onto a lightwell filled with sculptures. Think of it like the most artistic fire escape you've ever slept next to.
Deluxe Loft Suite – These 755-1,105-square-foot suites offer a king bed and separate living room area, and many include a soaking tub if your day of cowboy-related exploring done tuckers you out.
Luxury Loft Suite – Perhaps the most interesting design feature of the 21c's rooms are the bathrooms in the luxury loft suites, which sit in the dead center of the room. Of course, this isn't Vegas, so they're wood-walled and no one can watch you shower. They've also got separate wet rooms with soaking tubs, plus a work and sitting area with majestic views out the old factory windows. They're also available as 1.5-bedroom suites, where the seating area has a pull-out couch.
The 21c Suite – For the ultimate 21c experience you have the penthouse suite, a 2,828-square-foot room offering two king bedrooms, a dining and living room and a spacious terrace that offers another 2,220 square feet of space. You'll also have two 80" HDTVs in the living room. 
Amenities
Purple penguins and a restaurant inside an old showroom
The penguin accidentally became the mascot of the 21c Museum Hotels, a onetime Venice street art project that the hotels' founders bought to put in the Louisville location. Guests loved them, and now the little guys adorn each 21c property, with each hotel boasting a different color. The 21c Oklahoma City's birds are purple, and you're welcome to pick one up, bring it to dinner, have it keep you company in your room or just hang with it for inspiration.
In addition to that, the 21c is also home to a full-scale art museum, which houses rotating exhibitions and is free and open to the public. You'll also want to check out the Woozy Blossom, a 16-foot steel tree that sprays a refreshing mist on passers-by in front of the hotel.
For food, check out Mary Eddy's, a New American restaurant filling the space once occupied by the Ford factory's showroom. The big, open eatery is lit by natural light by day and Edison bulbs by night. It offers a menu long on modern twists on American classics, like smoked chicken wings with charred chile sauce or a porcini-rubbed sirloin with bordelaise and pearl onions. All of it's available for room service too, if the Edison bulbs scare you.
In addition to all that, the 21c Oklahoma City offers:
Full-service day spa

High-tech fitness center open 24 hours a day

Free Wi-Fi

Business center

Laundry service

14,000 square feet of meeting and exhibition space