SCENE
As far as staying at the airport goes, this is the best it gets
Staying overnight by the airport is typically a pretty nondescript experience. You check in, you throw down your stuff, and maybe you grab a domestic draft in the painfully generic downstairs bar. But this AC Hotel near Ft. Lauderdale-Hollywood International Airport raises the expectations for what an airport hotel should be. The upstairs cocktail lounge and restaurant is elegant and welcoming, feeling more like a high-rise condo living room than a hotel lobby. It's the perfect place to grab a drink for the evening, or knock out some work before a meeting.
Though stays are typically short, the AC feels like a place designed for long-term guests, with sleek, modern appointments in the rooms and a massive gym. In reality, the AC Hotel Ft Lauderdale Airport isn't all that different from other ACs though it lacks a true rooftop bar like many of its locations. But if you need a place to crash before a cruise, or while doing business in Ft. Lauderdale, it's an outstanding option.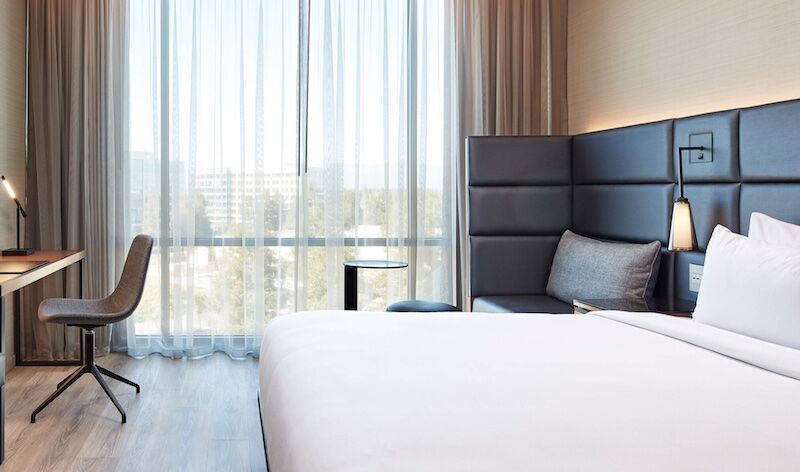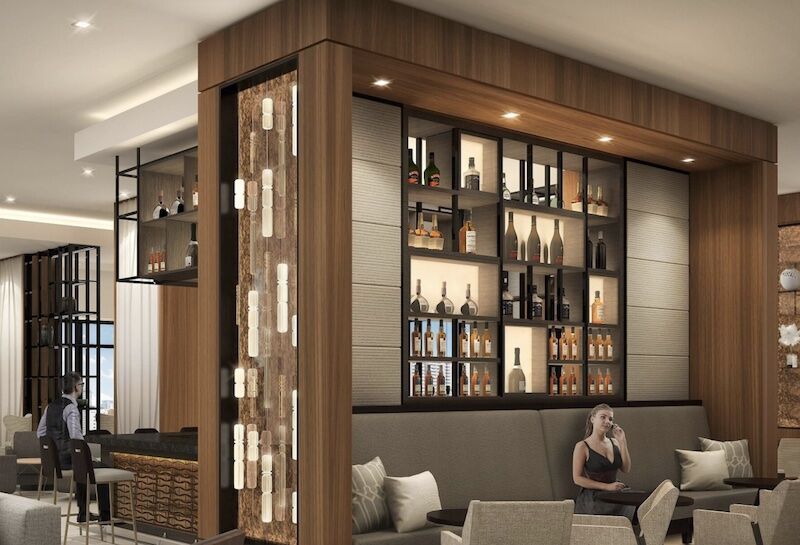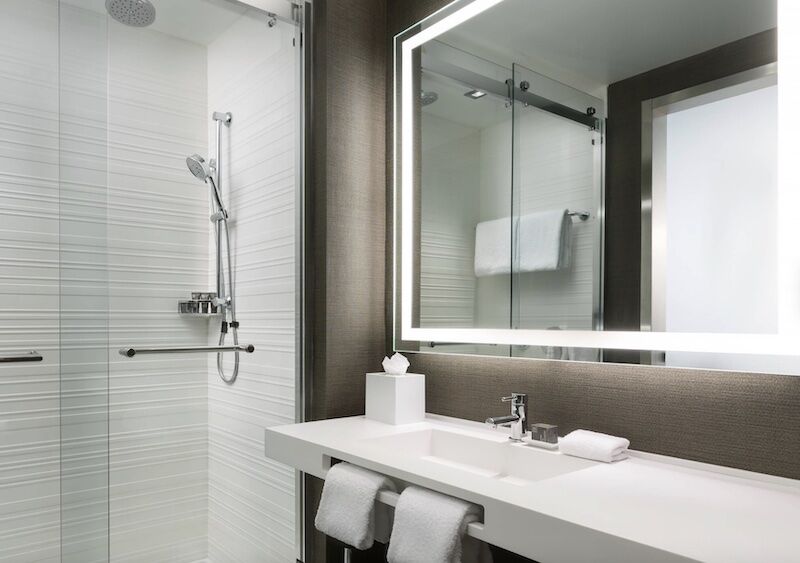 LOCATION
A short ride to the airport can cruise port, and walkable to bars and restaurants
As you may have brilliantly deduced from its name, the AC Hotel Ft. Lauderdale Airport is, in fact, a stone's throw from FLL airport, typically about five minutes on the hotel's shuttle. If you're in town to catch a cruise from Port Everglades, it's a scant ten minutes away. There's no shuttle, but a taxi or rideshare won't run you much over ten bucks, and this hotel is much nicer than anything you'll find near the cruise port.
Near the hotel, you'll have almost-instant access to Dania Pointe, a multi-use business development with bars, restaurants, shopping, and other twenty first century trappings. Restaurants range from barbecue to sushi to a Brazilian rodizio steakhouse, giving the AC the best walkable dining options of any hotel near FLL. There's even a bowling alley at Dania Pointe. And just across the street sits Paradise Tiki, a funky, waterside lounge with fruity cocktails and fantastic food.
If you're looking to explore the city during your airport stay, there's plenty of nearby options.
Get your game on at

The Casino at Dania Beach

, a former jai-alai fronton that now boasts slots and all your favorite table games. It's five minutes away.

Catch an IMAX movie or just expand your mind at the

Museum of Discovery and Science

. Ft. Lauderdale's signature science museum is 10-15 minutes by car.

Ft. Lauderdale Beach isn't exactly close to the airport. But if you're in town and want to hit the sand you can get there in about 20 minutes.

Try some of Florida's most creative beers, from the maple bacon porter to a peanut butter and jelly beer, at

Funky Buddha Brewing

. The mega-craft-brewery is 20 minutes away.

Stroll the boardwalk in Hollywood, a parade of all the people who make Florida, Florida. It's about 15 minutes by car.
ROOMS
Updated, comfortable but you won't be spending tons of time in them
If you've stayed in an AC Hotel in other cities, these guest rooms are almost identical, boasting views out over Dania Pointe and downtown Ft. Lauderdale. Because AC is a lifestyle brand, there's not much in the way of storage space or work areas in the standard rooms. But the high ceilings and modern amenities make the rooms feel bigger than they are.
While everything in the rooms, from the glass showers to the halogen lights, is updated and comfortable, they're not designed to spend a lot of time in. The AC is an exceedingly nice airport hotel, but it's still that: An airport hotel. So don't go in planning to call the place home.
The rooms don't vary much, other than by size, and are broken down into the following categories:
Standard Guest Room – These rooms offer two queen beds, a small desk, and a full bathroom with glass-door shower and amenities. They are, again, limited in terms of storage and work space, but fulfill the need nicely for an overnight stay.
King Guest Rooms – Roughly the same size as the standard rooms, these ones come with a sleeper sofa and a King bed.
Premium rooms – Same offerings as the Standard and King rooms, but they're slightly larger and boast better views. You can opt for Promenade or City views, though for a quick stay it's not worth paying a premium.
AMENITIES
Everything you'll need, including a pool with views
What separates the AC Hotel from the glut of other hotels stretching south from the Ft. Lauderdale airport is its amenities. On their surface, stuff like a bar, restaurant, and fitness center seem pretty standard for this kind of place. But this hotel has some add-on perks. Each floor is equipped with a hydration station, theoretically allowing guests to fill reusable water bottles instead of slugging back single-use plastics. (Though the hotel still provides plastic bottles in the room, which is a bit puzzling.) You'll also get USB ports, hair dryers, Netflix/Hulu access on the televisions, and all the other high-tech stuff you expect in a modern hotel. Plus valet parking and full bell and front desk service.
Pool Deck
The AC Hotel's pool sits on the fifth floor, with elevated western views over Dania Pointe and the rest of Ft. Lauderdale. As airport hotel pools go, this might be the nicest one in America. Or, at least, the one with the best vantage point.
Fitness Center
The gym is exceptionally large, offering treadmills, ellipticals, exercise bikes, functional training, and weight machines. Whatever your workout preference is, you'll find it in here, whether you want to hit the heavy bag or run wind sprints. It's open 24 hours and looks out to the pool deck. So you can use the pool's inviting waters as an incentive for when your workout is over.                          
Lobby
If you need to get work done during your stay at the AC Hotel Ft. Lauderdale Airport, the second-floor lobby is the place. Rooms don't offer much in the way of workspace, but the long, shared tables, bright lights, and unobtrusive staff make the hotel's common area better than most coworking spaces. High-speed public Wifi and a sunny deck with city views don't hurt either. 
AC Kitchen/AC Lounge
The lobby serves triple duty, standing in as the hotel's restaurant and cocktail bar too. In the morning, AC Kitchen brings a full European-style breakfast buffet available for $14.95, worth a stop if you're not up for a breakfast search. In the evening, it transforms into AC Lounge, where you'll find an inventive menu of craft cocktails not normally available at an airport hotel bar. They're served alongside Spanish-style tapas ranging from charcuterie to meatballs, an inviting change from the standard salads and sandwiches you're usually stuck eating downstairs.