Scene
Laid-back luxury set among thrift store finds
If the U.S. military increased its budget so barracks were designed like boutique hotels, it might look a little like the Ace Hotel in Portland. That's not to say the Ace Hotel has at all the charm of a drab government building; quite the opposite. The Ace has a funky, surplus vibe that takes stuff you could probably find at Saigon Sam's and turns it into something cool. Wool blankets and olive canvas upholstery cover fixtures in the rooms, where concrete and brick walls are illuminated by silver metal lamps. Some rooms don't have their own bathroom, and bunkmates share heads down the hall.
The hotel is thrifter's dream, filled with vintage items like an old filing cabinet on the second-story mezzanine, record players and classic records in the rooms. But the Ace can go high-end too (much like the playing card it's named after), as its suites could pass for low-ceiling artists' lofts (plus the murals throughout). And though the decor is second-hand cool, everything still has the plush, comfortable texture one expects in a nice hotel.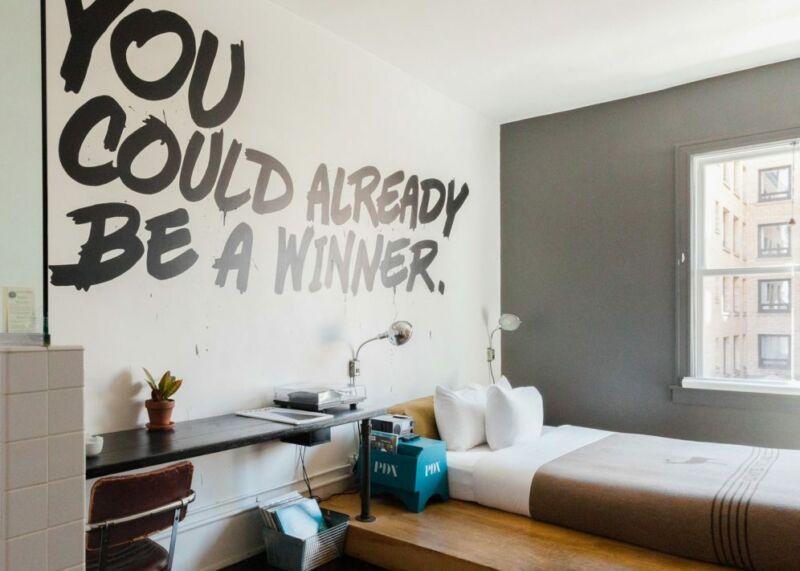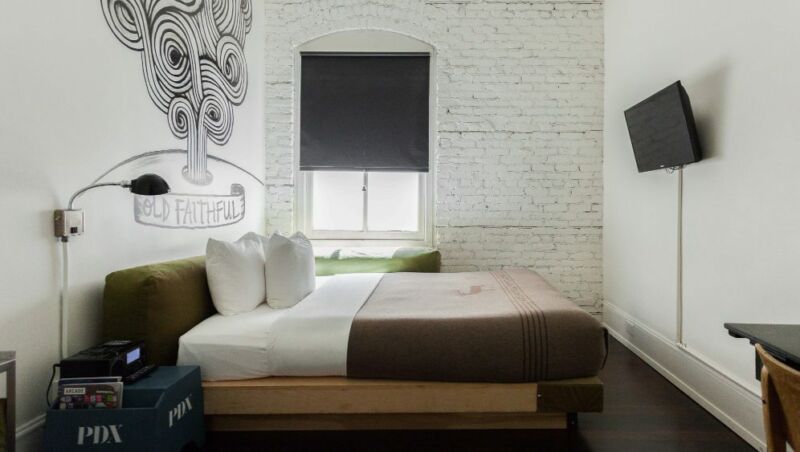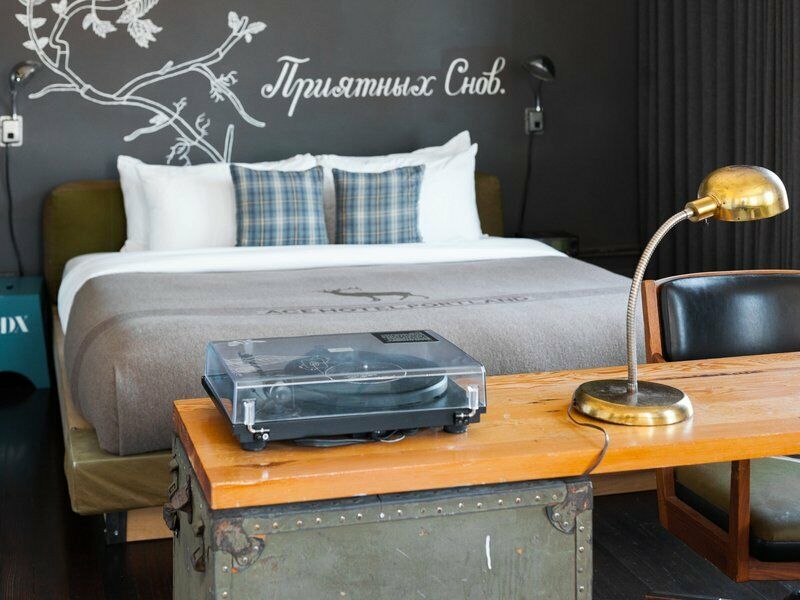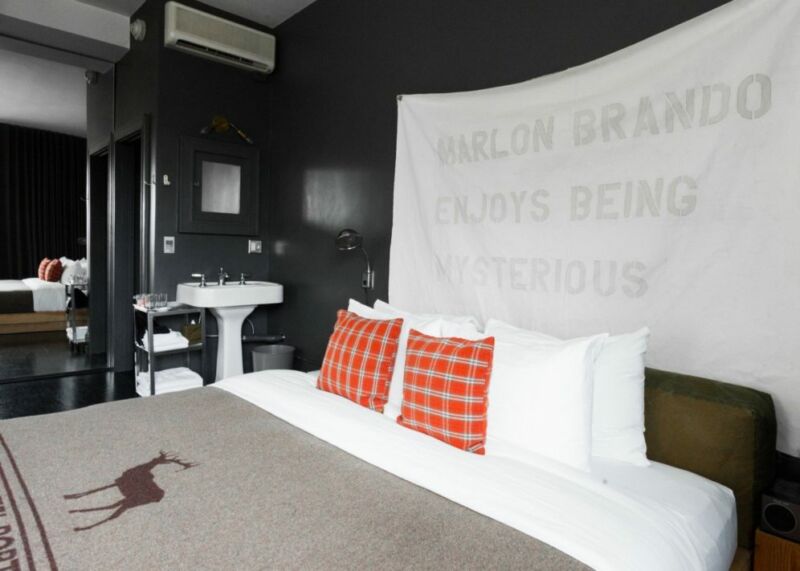 Location
If you're coming to stay downtown, you'll never go far
The Ace Hotel in Portland is located on the west end of downtown Portland. It's a block off West Burnside Street — a well-known strip of live music venues, restaurants and, well, strip joints, so nightlife is easily accessible. Exploring Portland's vibrant neighborhoods will still require driving or a rideshare, but the Ace's central location is about as good as it gets in the Rose City.
Suites at the Ace Hotel have a view of iconic Powell's City of Books, and if you're down to spend the day in America's biggest independently owned bookstore, it's an easy stroll. You're also here because Portland's a stellar city to visit and you can find the best way to explore the city in our guide. Here are some things to do in PDX not far from the Ace:
Bounce on the floor at

McMenamins Crystal Ballroom

. Seriously, the historic live music venue set inside the old Coalition Hall has a floor that bounces when enough people pack the place. It's about four blocks away.

Sample beers at

Deschutes Brewery Portland Public House

. Though the location on Northwest 11

th

Avenue isn't the official production facility, you'll still find stuff from Portland's most famous brewers you won't taste elsewhere.

Sip coffee and explore restaurants in the

Pearl District

. The hotbed of repurposed warehouses and art galleries is a few minutes' walk away. And every first Thursday the neighbrohood hosts a lively art walk.

Cheer on one of MLS's most celebrated teams at a

Portland Timbers

game at Providence Park. It's about a 10-minute walk away.

Hike through Forest Park. Though it'll require a long bicycle or short car ride, this 5,200-acre swath of urban forest offers 80 miles of trails. It's about 15 minutes away.

Get the ultimate Portland experience at the

Portland Saturday Market.

It runs on Saturdays and is filled with stands from dozens of international food vendors, as well as local brewers, makers and plenty of oddball stuff straight out of "Portlandia

.

"

 
#acehotelportland on Instagram
Rooms
From dorms to suites, the Ace has a place for everyone
This is where the Ace Hotel starts to diverge a little from your standard boutique hotel. On the high end, its rooms are fabulous, a clever mix of vintage style and advanced luxury with stunning views of the Portland skyline. On the lower end, though, it offers everything from rooms with views of a brick wall to rooms with shared bathrooms. Which might sound a little hostel-y, since it is, but wrapped in an upscale aesthetic. That said, even the most basic rooms at the Ace are filled with character, where funny modern art lines the walls, color schemes and decor are flawless and music is almost everywhere. They offer plush bathrobes and Stumptown coffee, and exposed brick and outlets in the lamps mix old and new seamlessly. So no matter your budget, the Ace still allows you to feel like you're staying somewhere nice. 
The Ace's rooms break down into the following categories:
Amenities
One might be tempted to confuse the Ace hotel with a hostel, but its amenities are what set it apart. You'll find free Wi-Fi throughout, as well as original art on almost every wall and a common area filled with big leather couches. There's also a full-service front desk that can help you with pretty much anything.
Pantry
On the second floor you'll find the Pantry, where a daily breakfast of baked goods from St. Honore bakery and Stumptown coffee are served. During the day, fruit and tea are readily available, and guests can use the kitchen as well.
Photo booth
The lobby offers guests the chance to memorialize their stay in a vintage photo booth.
Stumptown Coffee Roasters
If the simple in-room drip isn't enough for coffee connoisseurs, Stumptown Coffee has a shop just off the lobby. Here, you'll find all your iced oat milk latte cravings satisfied, alongside a lineup of fresh pastries if you slept through breakfast. 
Parking
The Ace doesn't have much in the way of parking, so your best bet is to drop your stuff at the front desk when you check in, then move it to a nearby surface lot. The Union Bank Garage at 429 Southwest Broadway is the closest one.
FAQ
What are the other locations of Ace Hotel?
Besides Portland, the Ace Hotels has locations in Brooklyn, Kyoto, Los Angeles, New Orleans, New York, Palm Springs and Seattle.
How far is it from the Ace Hotel Portland to Portland International Airport?
It's 12.2 miles away and about a 15-minute ride.
When is check-in and check-out?
Check-in is at 4PM and check-out is at noon.
Is there free WiFi ?
Yes, there is free WiFi in all public areas and in guest rooms.
Does the hotel have a pool?
There's no pool at the Ace Hotel Portland.
What amenities are in the rooms?
The rooms are equipped with Rudy's shower products, a flat-screen TV, air conditioning, radio with input, Pearl+ soap, hairdryer, fully stocked minibar, bathrobe, iron, and in-room safe. The bathrooms offer a standup shower or claw foot tub.
Is there an ATM on site?
Yes.
#acehotelportland on TikTok