Scene
A space-themed space for the people of South Lake Union
The bustling South Lake Union neighborhood in Seattle is effectively Amazon's turf, and while the towering apartment and office buildings that now flank the Space Needle have given Seattle a stunning second skyline, what the area has lacked is a hotel with any personality. Enter the Astra, a space-themed beauty complete with a swanky rooftop bar, spectacular restaurant and common areas where tech workers can kick back outside the office.
Space is ever-present at the Astra, which can be seen when first stepping foot inside. The lobby's celestial ceiling art eventually leads to sketches of astronauts on hallway walls. Furniture is short and sleek in the 1960s space-race sort of way, creating a welcoming environment for the remote workers looking to set up in the lobby. The hotel's restaurant, Otium Grill & Greens, brings energy to the Astra long after everyone's logged off for the day, and the rooftop bar is a legit happy-hour scene that brings the people of the neighborhood inside.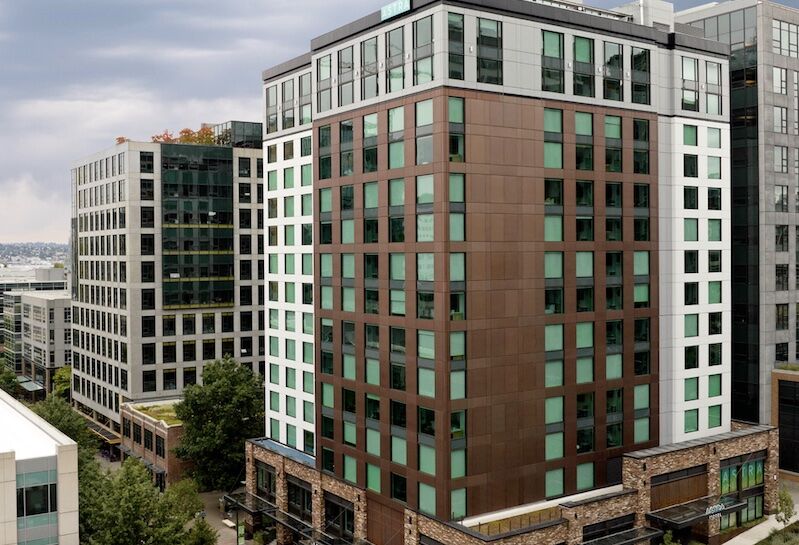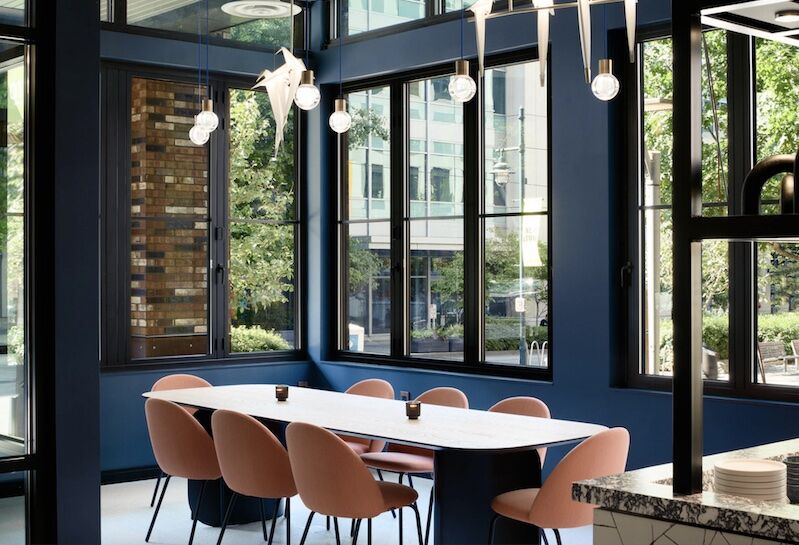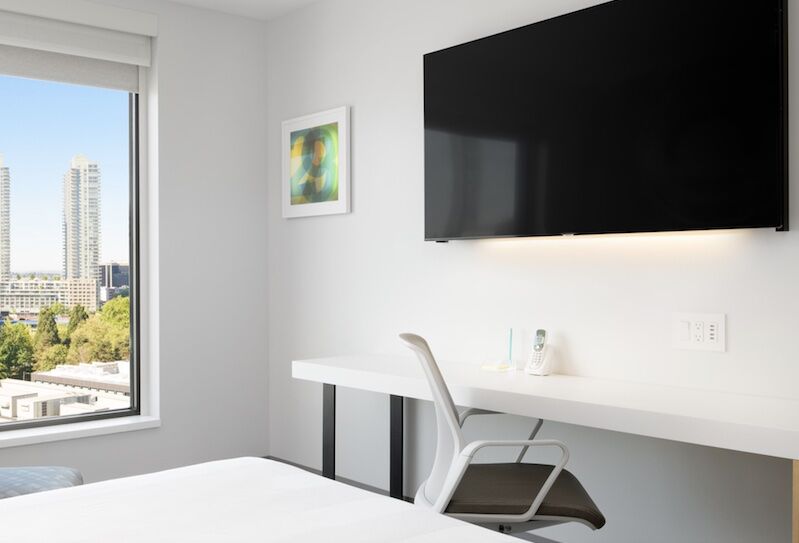 Location
The heart of South Lake Union, walkable to Seattle Center and downtown
The Astra Hotel Seattle sits in South Lake Union, an old shipping neighborhood that's transformed into the technological heartbeat of the city. Because the area is new, and much of what was there before has been demolished, bar and restaurant options are limited near the hotel. But downtown Seattle is a short walk south, accessible in less than 15 minutes by foot. And South Lake Union is still right on the water, meaning it's easy to escape the glass-and-steel jungle for a meditative gaze at the lake.
Other cool stuff that's not far from the Astra:
#astrahotel on Instagram
Rooms
Space station chic with views of the Needle
The Astra's guest rooms aren't large, but what they do give immerses you in space tributes and mid century-modern design. Orb lights illuminate the rooms, and silver overhead etchings of the Space Needle line the walls. Clean white interiors give the place a serious space station vibe, too. You'll find a small closet, mini-fridge, desk and work chair in each room, so if you're in Seattle for work it's the odd new hotel where your clothes and computer have space to spread out.
Most of the guest rooms are effectively the same, differing only in their views and types of beds.
Deluxe – Astra's entry-level rooms at 225 square feet with varying views. This is the only category with double beds, twin beds and trundle beds as an option, so keep this in mind if you're traveling with kids.
Premier – These rooms offer single king bed or two queen bed options and the view is of the Amazon buildings next door. The windows are tiled, though, so it doesn't quite feel like a New York City walkup where you're staring straight into someone else's living room.
Downtown Skyline King – Similar to the Premier, but faces south toward the downtown Seattle skyline. Only available in king bed.
Space Needle View – Same room footprint and amenities as Premier, but the view opens up onto the iconic Space Needle. King and two queen options are available, and two queen rooms are 243 square feet.
Space Needle Corner King – Largest standard room category, offers two windows out onto the Space Needle, additional clothing storage in a chest of drawers and 320 square feet of space.
Amenities
The Astra might have been designed as an amenity for South Lake Union locals as much as it was a hotel, as both its restaurant and rooftop bar can lay claim as the best in the area. They're a big reason why staying here immerses you in the neighborhood, as just as many locals enjoy these spaces as hotel guests.
Astra's on-site restaurant décor is an upscale take on the 1960s coffee shop, with low-slung furniture and orb lights sitting under sexy beamed ceilings. But don't let the aesthetic fool you — the food here is a beautiful melding of Northwest and Mediterranean cuisine, where you can start off with winter squash gnocchi with caramelized onions and move on to king salmon with creamed spinach and Brussels sprouts. If you're not up for a whole meal, the bar makes fantastic craft cocktails and serves the same food menu.
Astra's signature amenity is this rooftop bar, set 16 stories above the city. With a live DJ and a spacious patio looking out onto Lake Union and the Space Needle, it's an ideal place for an after-work drink or a late-night adventure. You can also snack on charcuterie cut right in front of you, or just relax inside with a glass of wine.
Astra's lobby coffee shop is the first franchised outpost of Seattle's top European-inspired coffee roaster. You'll find all your favorite gourmet coffee drinks as well as pastries made fresh each day, sandwiches and fruit.
The Take Away Gift Shop
Far more than a standard sunscreen-and-single-serve-Advil gift shop, the Take Away has a curious collection of local artisanal gifts that actually look like souvenirs you didn't buy at your hotel gift shop. The food and drink offerings are similarly unique, with everything from local craft beers and wines to Theo Chocolates and Jones Sodas.
The gym at the Astra sits in the basement, but offers more space than a lot of health clubs in dense urban areas. You'll find everything from stair climbers to abundant treadmills, and even a Peloton bike. Dumbbells go past 50 pounds, and the gym has a full circuit of weight machines, too. Basically, whatever your workout is, you likely won't have to adapt it.
Parking
Valet parking is available onsite for $58 per day.
Other amenities:
24-hour business center
8 meeting rooms, meeting spaces
24-hour front desk
Digital concierge services
Dry cleaning/laundry services
Safe-deposit box at front desk
Free wifi
Air conditioning
Rooms come with a Flat-screen TV
Bath amenities, toiletries by Johnathan Adler
Hair dryer
FAQ
What time is check-in and check-out?
Check-in is 3:00 PM. Check-out time is noon.
Is the hotel non-smoking? 
Yes, the hotel is a 100% non-smoking hotel.
Does the hotel accept cash?
The Astra Hotel accepts credit cards and debit cards. It does not accept cash.
Is Astra an independent hotel?
Astra Hotel Seattle, A Tribute Portfolio Hotel, is owned by Marriott.
How far is it from Seattle-Tacoma International Airport to the hotel?
It's 14.3 miles between the Seattle-Tacoma International Airport and the Astra Hotel Seattle.
Which is the nearest airport to the hotel?
The King County International Airport (Boeing Field), just 8 miles from the hotel, is closer than Seattle-Tacoma International Airport which is 14.3 miles from the hotel.
What's the distance between the hotel and Washington State Convention Center?
The Seattle Convention Center, formerly the Washington State Convention Center, is .9 mile away from the hotel via Westlake Avenue and 7th Avenue.
What's the hotel's address?
300 Terry Avenue North, Seattle, Wash.
#astrahotel on TikTok