Scene
An iron plant finds new life filled with entrepreneurs and musicians
At the end of Beale Street just before the Mississippi River sits the William C. Ellis iron foundry. It later became known as One Beale, an abandoned lot on prime Memphis real estate, one that's finally getting new life with the Caption by Hyatt Beale Street. Built in the weathered bricks and wood pillars of an old industrial plant, this hotel is the first in Hyatt's new line of choose-your-own-stay hotels, incorporating local elements, common spaces and loads of personality.
The lobby at the Caption is a true meeting place for Memphians. You may find yourself working at a couch across from blues musicians reviewing the previous night's show or looking in on a meeting room filled with local entrepreneurs planning their next move in the city. The entire scene is encased by soot-stained bricks and steampunk design with big windows looking out on the hotel's beer garden and Front Street. It's an absorption in Memphis' past and present, and, other than the iconic Peabody, no hotel in the city gives guests a better sense of place.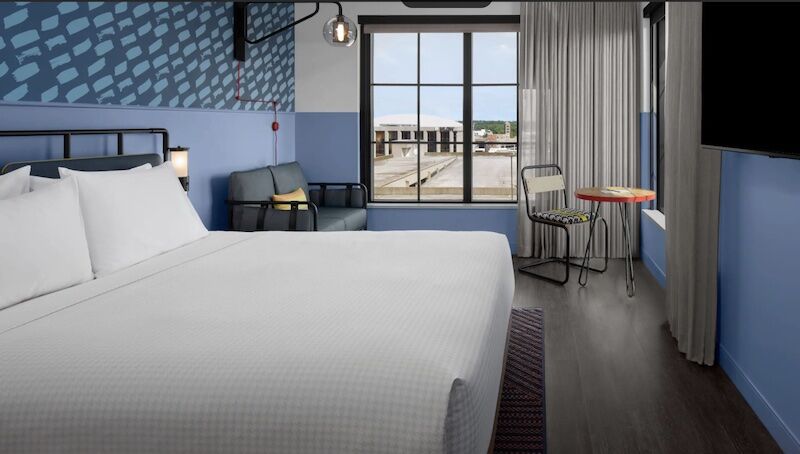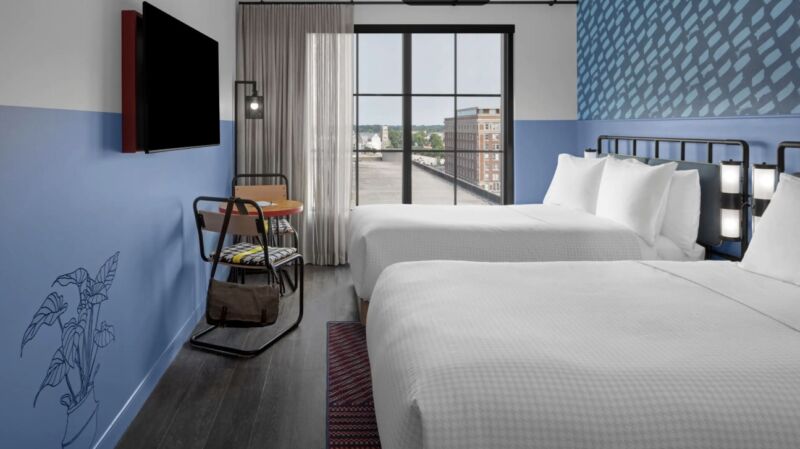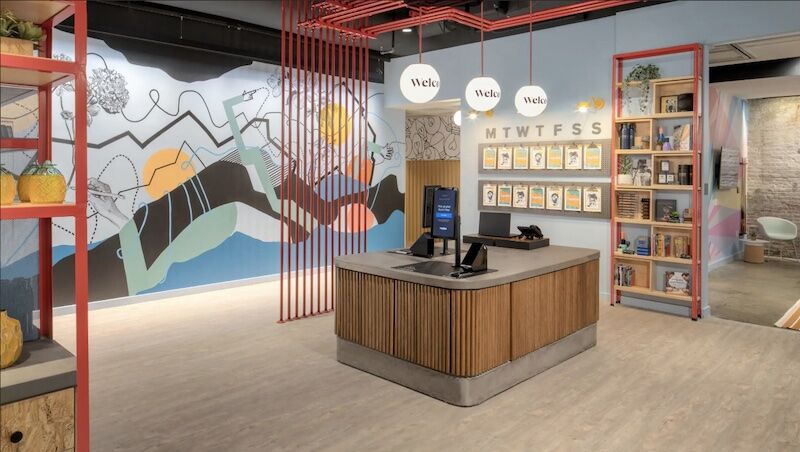 Location
As close as you're getting to Beale Street without a guitar keeping you awake
The Caption is just a short walk from the blues capital of the world. Even if you're not into the neon and smoky juke joints of Beale Street, you're still only a short walk from pretty much everything in downtown Memphis and just up a hill from the Mississippi River. While nobody's confusing Memphis with a truly walkable city, staying at the Caption puts you close to most of the stuff people come here to see.
#captionbyhyattbealestreet on Instagram
Rooms
Steampunk style for an active traveler
Like a lot of lifestyle hotels, the Caption isn't designed for long stays. That's not to say the rooms aren't well designed or comfortable, but amid the walls adorned in Memphis-specific cartoon art and the industrial piping furniture, there isn't much place to put things away. Still, the décor is evocative of the space's industrial past. Towel hooks are made of painted nozzles, and towel racks are crafted from metal pipes. Dimmer bulbs are set in cages, and rebar is used as table legs. The entire in-room experience is an exercise in creative upcycling; even though the rooms don't beg you to hang around, they are at the very least interesting.
Caption by Hyatt Beale Street's rooms break down into the following categories:
View – The most common room at the Caption by Hyatt Beale Street is the View category, which includes both corner and river views. The layout for both is essentially the same, with either one king or two double beds, a small desk, flatscreen TV, mini-fridge and bathroom with a rainshower. The "closet" is actually some metal piping with cloth webbing, suited for hanging up a day or two's worth of clothes. The king rooms also come with a small sofa that seats one.

Deluxe – These slightly larger rooms have the same amenities as the View rooms, with a larger working area and more space to move around. If the entry-level rooms feel too small, this 350-square-foot version may be better for you.

 

Suites – The two-room suites offer the best option if you want a full living room to accompany your bedroom. While the sofa and TV make for a relaxing place to kick back with a drink, they're not exactly ideal for entertaining. The suites do offer balconies, however, which have fantastic views of the Mississippi.
Amenities
Do-it-yourself everything and a vibrant community space
Perhaps the coolest thing about the Caption is its history. You'll walk through bricks laid just after the Civil War on your way to a meeting room made of 19th-century timber. Beyond that, the Caption has created a do-your-own-stay experience that's unlike most American hotels, and in the process has given Memphis a totally unique experience.
Automated checkin
The Caption by Hyatt Beale Street offers automatic check-in kiosks where the entire process is done via a touchscreen, but you'll always find humans onsite to help you out. You can use your phone as your room key too.
Talk Shop
Talk Shop is effectively Caption's lobby. Here, a bar, coffee shop and quick-service restaurant serve guests as they work in a colorful, shared space. Since rooms don't offer much in terms of workspace, you'll find everyone from visiting business teams collaborating over presentations to guitarists reviewing their sets hanging out. Self-service water is available, as well as Muletown Coffee.
Though it technically sits in the Hyatt Centric next door, Beck & Call is also the Caption's de facto rooftop bar. It's a weekend hot spot with elevated views of the Mississippi and a fantastic collection of bourbons and craft cocktails. The smoked old fashioned goes beyond most takes on this drink with smoke that lingers in the glass long after the cover is removed.
Bar
The Caption's lobby bar keeps to the hotel's self-service ethos with a menu of build-your-own cocktails. You pick one liquor, a mixer and a flavored syrup, and it all arrives in front of you so you can mix it to your liking. The bar also boasts a special William C. Pilsner beer from Grind City Brewing a few blocks away, and a full slate of beers, wines and liquors if you'd rather stick with your regular.
Café
The on-site quick-service café has a short menu of sandwiches, including a fried chicken sandwich developed by a local line cook that will be on the menu at every Caption worldwide. The coolest dishes, though, are the woodfired pizzas. They also follow the build-your-own model, and you can choose between crusts ranging from brioche to artisanal sourdough, then top it with whatever sauce-cheese-topping mixture you fancy.
Meeting space and courtyard
While you may not be planning a wedding or corporate function at the Caption, the meeting spaces are still worth checking out. They all incorporate the original pillars from the 1860s foundry, and the main ballroom has brick walls melted from the heat of the smelting ovens that once sat in front of them.
Pool
The Caption shares its pool with the Hyatt Centric next door, which has the only resort-style pool deck in Memphis. The space is equipped with a heated pool, cabanas and a beautiful view of the Mississippi River.
Fitness center
While the gym isn't huge, what it lacks in size it more than makes up for in equipment. You'll find dumbbells going up to 50 pounds, medicine balls, TRX straps, kettlebells, three treadmills, ellipticals and exercise bikes.
#captionbyhyattbealestreet on TikTok