Scene
Making eccentric aunts everywhere proud
One of the first things you notice about the Catbird Hotel is a 992-pound bronze rhinoceros sculpture situated right outside the main door. Titled "Come Out, Come Out Rhino, Wherever You Are," the sculpture is meant to pay tribute to the River North (RiNo to locals) district of Denver, Colo. Peering out of a manhole, the rhino is both a nod to humankind's harmful effects on endangered animals and the neighborhood's love of thought-provoking art.
In fact, the rhino is only one of 47 eclectic pieces (not including the one-of-a-kind sculptures found in each room and the myriad cat- and bird-themed paintings in the hallways) at Catbird, a hotel in the up-and-coming neighborhood, known for its vibrant murals, crafty bars and breweries and modern restaurants.
Though Catbird is geared toward business travelers and those who spend weeks at a time on the road, it's a far cry from your run-of-the-mill extended-stay hotel. It's, frankly, really fucking cool. Not only do the rooms have more amenities than most hotels you're likely to stay at, but the decor is funky (the art collection is supposed to be an "ode to everyone's favorite eccentric aunt"). And the guest rooms have a distinctive layout. In most of the rooms, the beds are lofted and come with hidey-holes underneath — if you open one cabinet, a table pops out; if you open another cabinet, a closet with hangers rolls out. It's anything but ordinary.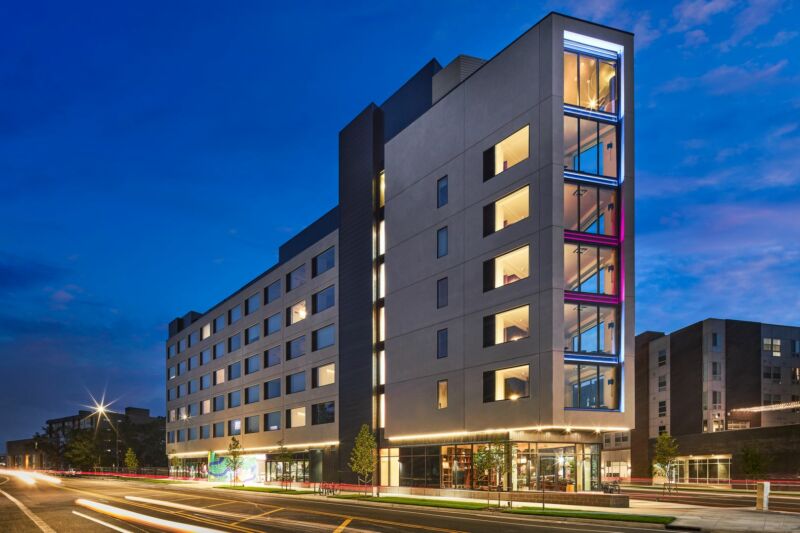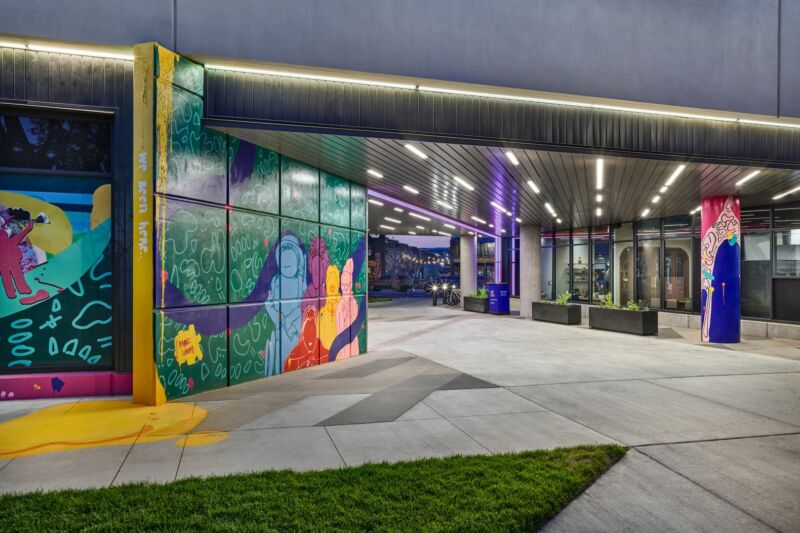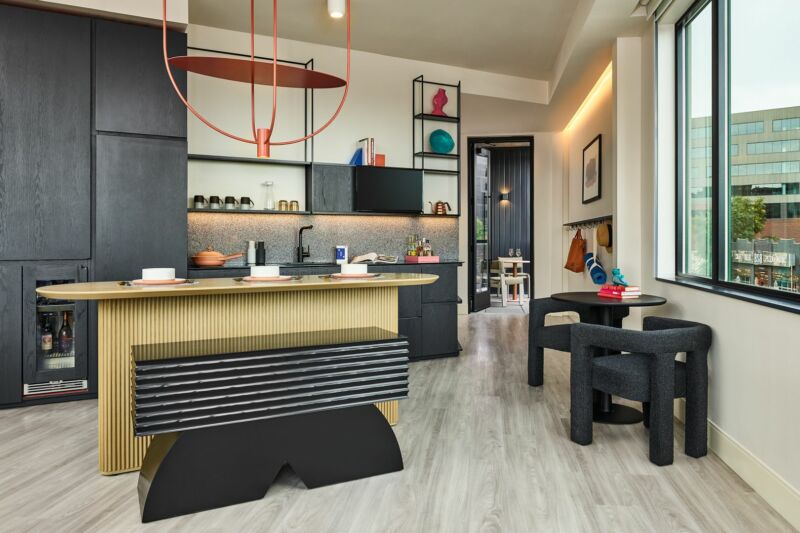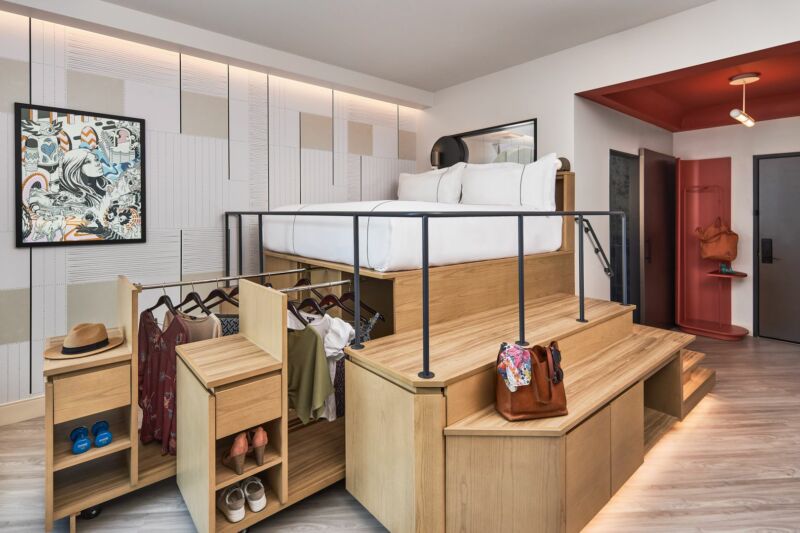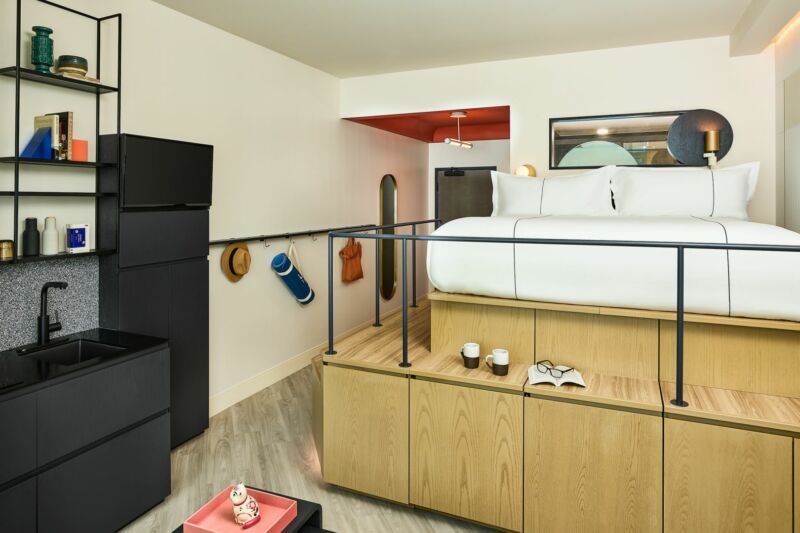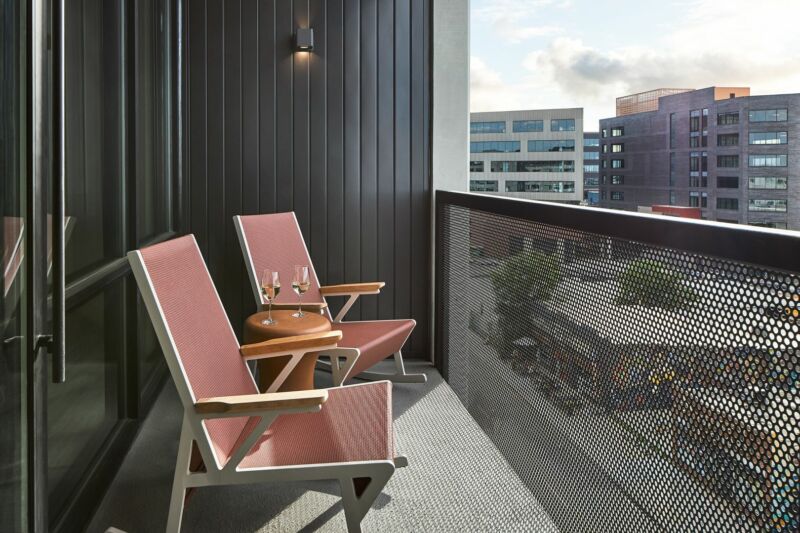 Location
In River North, a local artist enclave
Sure, you might know Denver as a beer-geek nirvana. Or maybe as somewhere with stellar weed. Or perhaps as a jumping-off point for Rocky Mountain National Park adventures. But if you know that Denver has an incredible art scene? Nowhere is that more apparent than in River North. RiNo is where there's the highest concentration of murals in the city, where local artists have their studios and several contemporary galleries. 
Here are notable places to check out nearby. And here is our full guide to Denver. 
#catbirdhotel on Instagram
Rooms
Artsy, elevated (see what we did there?) comfort. 
Though Catbird's rooms are small, they're incredibly functional. And because they're meant to be long-stay accommodations, they have everything you might need already there. 
Each room features a full kitchen (with everything from a refrigerator to a dishwasher to cooking supplies), coffee services, snacks, multi-functional furniture, a flat-screen TV and a 4K Ultra HD projector with a six by eight-foot drop-down projection screen. 
Amenities
Playful snacks and toys
The Playroom: Some hotels have lending libraries that include books. At Catbird, that library includes Vespa Primavera scooters, cruiser bikes, skateboards, GoPros, Polaroid cameras, board games, fishing rods, picnic kits, basketballs, record players, ukuleles, Vitamix blenders, Cuisinart panini presses, Instant Pots and more. Whatever can make the hotel feel more like home, guests can rent for free. There's also a program where guests can check out a potted plant to bring to their room. 
The Red Barber: A rooftop bar with indoor/outdoor seating and 180-degree views of the city and the neighboring mountains. There's also a terrace with a stage, hot tubs and lounge seating. 
Kitchen and Marketplace: A hybrid front desk, bar, restaurant and grab-and-go snack parlor. Here breakfast is served made to order from 7 to 11 a.m. (or noon on weekends), and lunch is offered on weekdays from 11 a.m. to 2 p.m. on jewel-colored chairs and couches. 
Klee House: One of the most unique amenities in any Colorado hotel, the Klee House is the historic, 1890-built, 2500-square-foot home that Catbird was built around. It is often used as a meeting space and includes a full kitchen, living room and loft. 
#catbirdhotel on TikTok