Scene
The Roaring Twenties captured in the dark-colored details of the Citizen Hotel Sacramento
Some hotels in historic buildings are content to transform their interiors into something decidedly 21st century. Not The Citizen. When it set up shop in the 1926 California Western States Life Insurance building, the hotel used painstaking detail to re-create the feeling of its architecture's era. A grand arch frames the entrance and opens up into a set of marble stairs and oversized leather chairs. In the guest rooms, vertically striped wallpaper is adorned with political cartoons by Jack Ohman, a nod to the legislators and lobbyists who frequent the hotel and its restaurant. Taken together, the decor screams there's some illegal drinking going on around here somewhere.
Grange, The Citizen's excellent farm-to-table restaurant, is consistently recognized as one of the best in Sacramento — and it's gorgeous. On the second level, you'll not only get a bird's-eye view of Grange's circular chandeliers and woodworked windows, you'll also happen upon the mezzanine library, full of leather-bound legal books and dimly lit tables. It's the perfect place to hold a closed-door meeting right out in the open.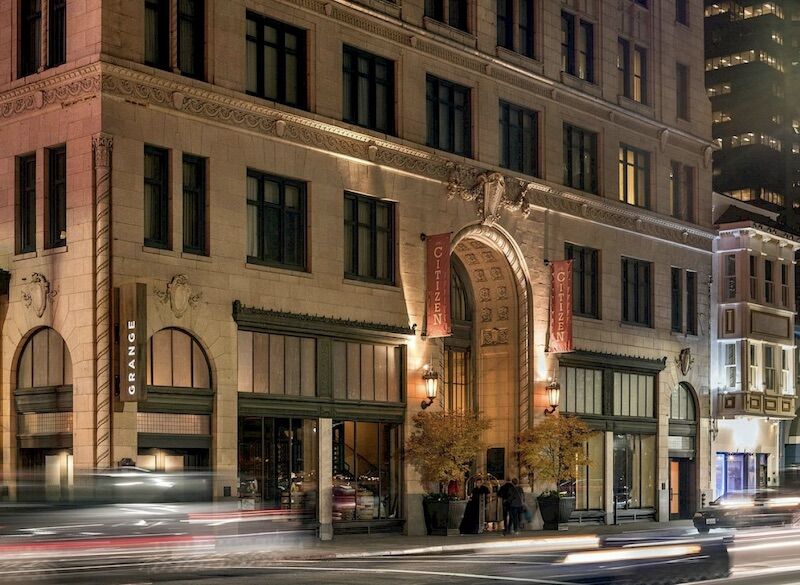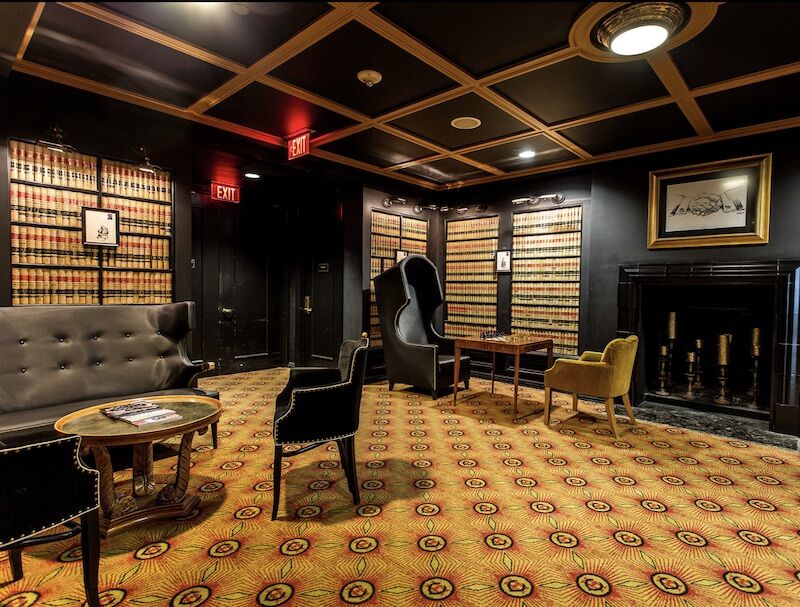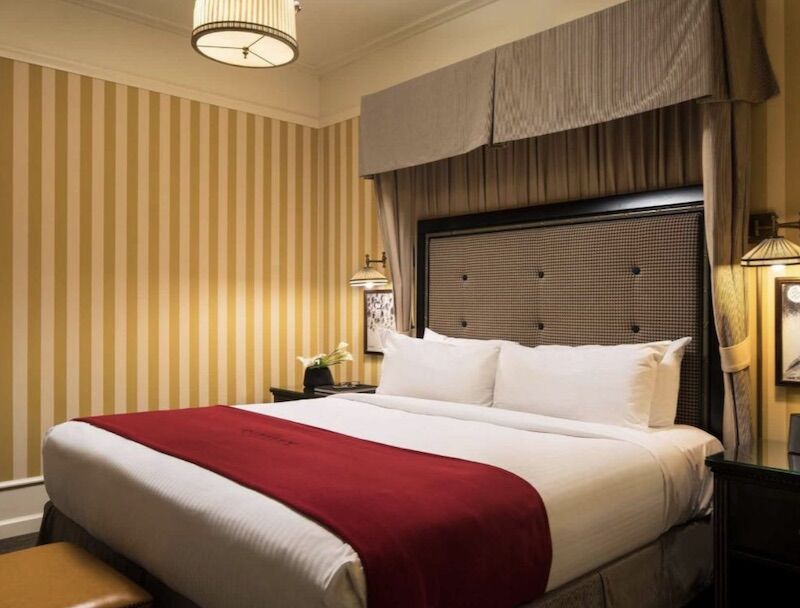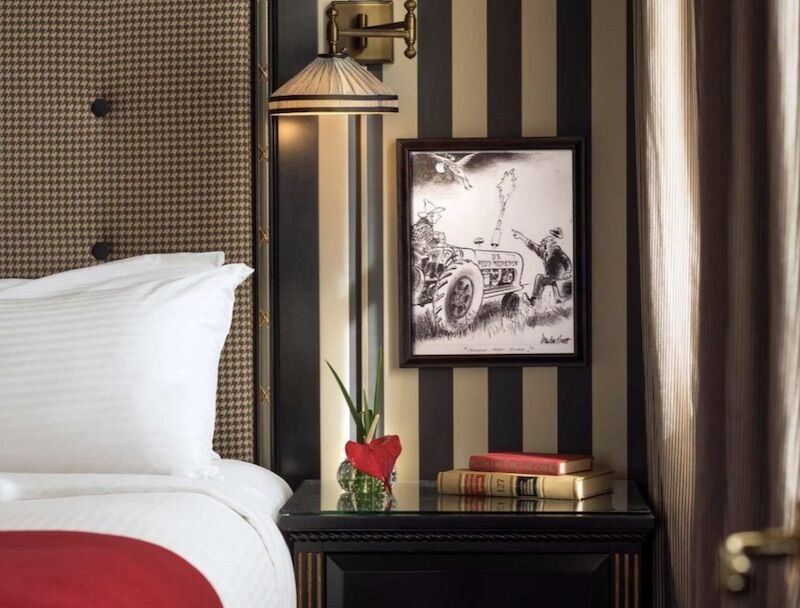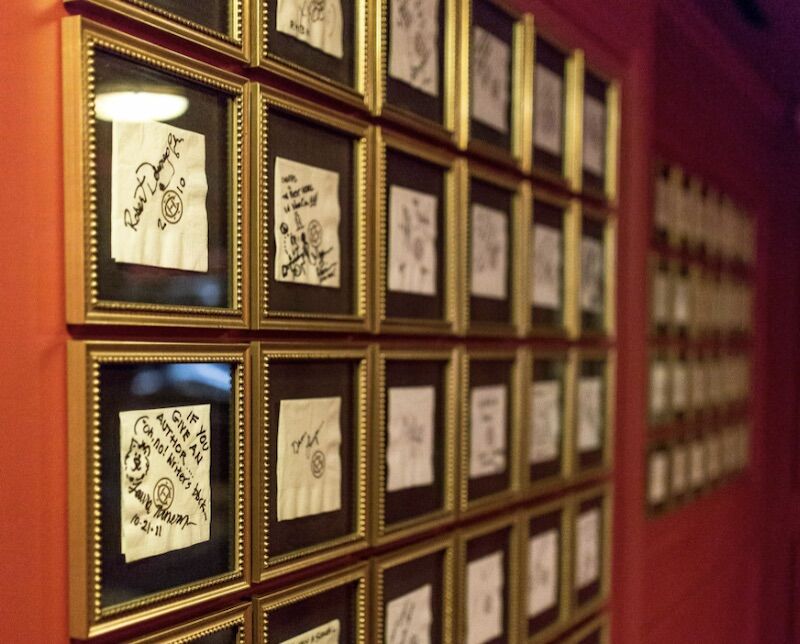 Location
A perfect launchpad if you want to explore downtown, but not so much if you want to hit some of Sac's biggest attractions
The Citizen Hotel Sacramento sits in the heart of downtown, a few blocks from the State Capitol and the sparkling new Golden 1 Center. Nearly all the rooms have spectacular views of either the skyline or the Capitol, and the seventh floor offers a panoramic view of the city. Though it's a bit of a trek to get to the American River Parkway, or any of Sacramento's other signature outdoor attractions, if you're looking to explore downtown, Old Sacramento or any of the city's museums and restaurants, the location is prime.
Within a short walk from The Citizen Hotel Sacramento, you can:
Rooms
Immerse yourself in the 1920s, if the 1920s had flat-screen TVs and Keurigs
The hotel's 1920s motif moves seamlessly into all of its rooms, where vertically striped wallpaper, plush furnishings and old-looking armoires immerse you in the fashions of a century ago. Little details — like lampshades covered in California historic documents — give each room a heavy dose of character. And because no two rooms are exactly the same, you'll be sure to have something in yours that's a unique jolt of flapper-era joy. 
The rooms aren't huge, and because this was once an insurance office building, there's not much in the way of closet space. However, nearly every room boasts views of either downtown of the Capitol, and the armoires, end tables and dressers allow for enough storage  if you're planning a longer stay.  
Basically, The Citizen has four categories of rooms, all of which come with a Keurig machine and Gilchrist & Soams toiletries:
Deluxe Rooms – The standard rooms at The Citizen are also the smallest and come with either two double, one queen or one king-sized bed. If you're here to work, the classic wood desk makes for an inspirational place to do it. You'll also have a flat-screen TV, elegant end tables and a full bathroom.
Junior Suites – The next tier of The Citizen's suites is fairly similar to a Deluxe King, except it includes a small living room area. It's ideal if you need a little more space to spread out, but might not be worth the upcharge if you're not planning to set up shop in your room nor have any kids stumbling around. 
One-Bedroom Suites – These deluxe suites offer a separate living room with stylish period furniture, which feels like the kind of place old-school politicos would meet to hammer out devilish deals. Even if your business isn't nefarious, it's still a great place to hold meetings whether business or familial. The bathroom is done up in marble and tile, a nod to a different political institution, the nearby Capitol building where those backdoor deals become laws and headlines.
Penthouse Suites – The ultimate in capital city living are the Penthouse Suites, where you'll enjoy a panoramic view of Sacramento from your 200-square-foot shared balcony. You can relax after a long day of lobbying or, if you aren't among the political class, sightseeing, in your sunken jet tub with a cocktail you mixed yourself in the penthouse's built-in wet bar. It's a way to feel like you're some kind of power player without actually being one. Which might be the most quintessentially Sacramento experience you can have.
Room rates begin around 179 dollars and continue to 350+. 
Amenities
Sacramento's most stylish hotel doesn't need a ton of amenities to make it cool, but it does boast a second-floor library that, on select nights, will have live music and cocktails to drive home the Prohibition-era experience. You'll also find a small gym that's open 24 hours, but if you need more than cardio equipment or light weights, you'll likely be disappointed.
Grange
One thing you won't be disappointed by, however, is Grange, the hotel's restaurant and one of Sacramento's best. It's typically filled with locals every night of the week as the ever-changing menu adapts to what's fresh in the Central Valley. While we wouldn't condone skipping dinner, brunch is the real star of the show. Make sure to snag a brunch reservation as soon as you book your room, as the market omelet with chorizo and chiles and the smoked chicken hash peppers and sweet potatoes are not to be missed.
Other amenities you'll find at The Citizen Hotel Sacramento:
Valet parking (35 dollars per night)

Grab-and-go convenience stand

24-hour business center

Free weekday newspaper

Meeting spaces