Scene
A gathering place in the heart of Miami's financial district
People often mistake the ground floor of Brickell's citizenM hotel for an art gallery. So as you walk inside to catch an elevator to the second-floor lobby, you'll probably encounter a number of curious visitors who've wandered over from Mary Brickell Village next door to see what the colorful walls are all about. This is your first indication that the citizenM is more than just a place to stay. It's a community gathering space in the most densely populated neighborhood south of Manhattan, and the best jumping-off point to explore this part of Miami.
The Danish import has created a hotel bursting with energy, whether it's in the second-floor lobby filled with remote workers and modern art or on the rooftop where the pool and small bar create one of Brickell's best swimming scenes. Art is everywhere at the citizenM, and though the rooms are small everything about the experience is efficient and fun.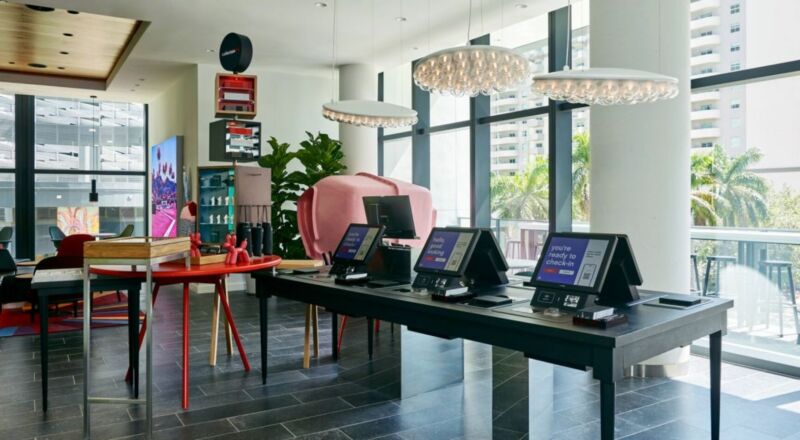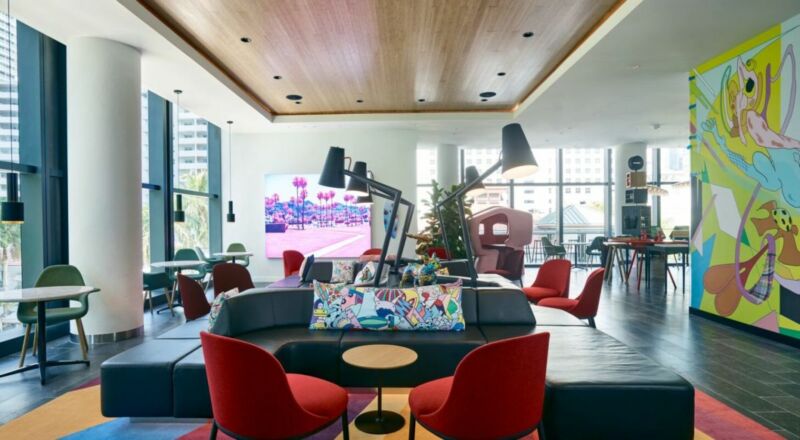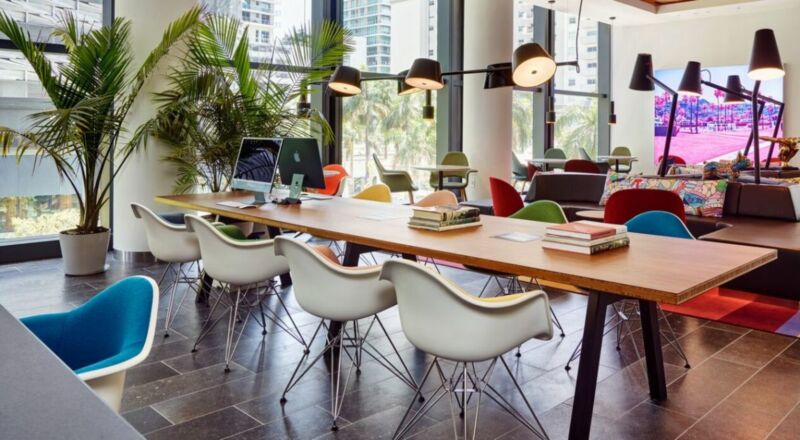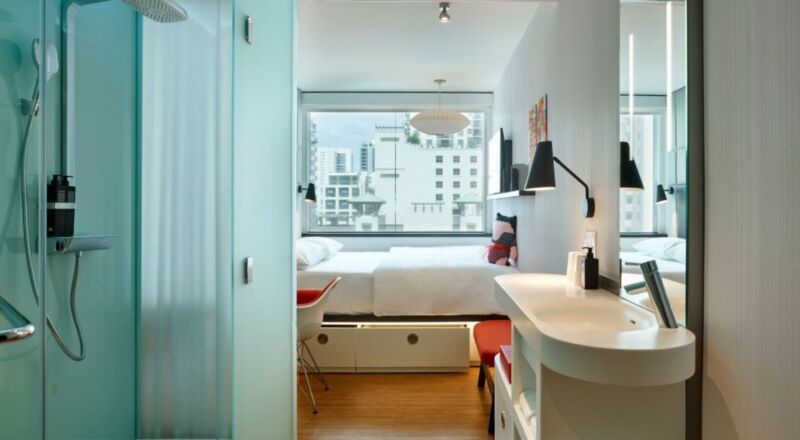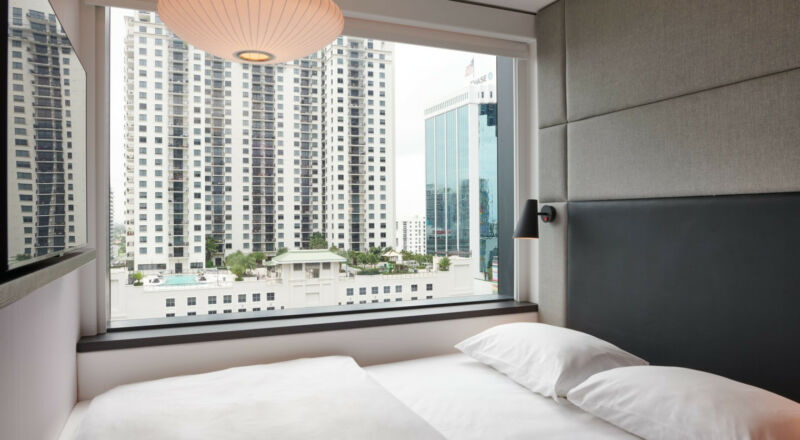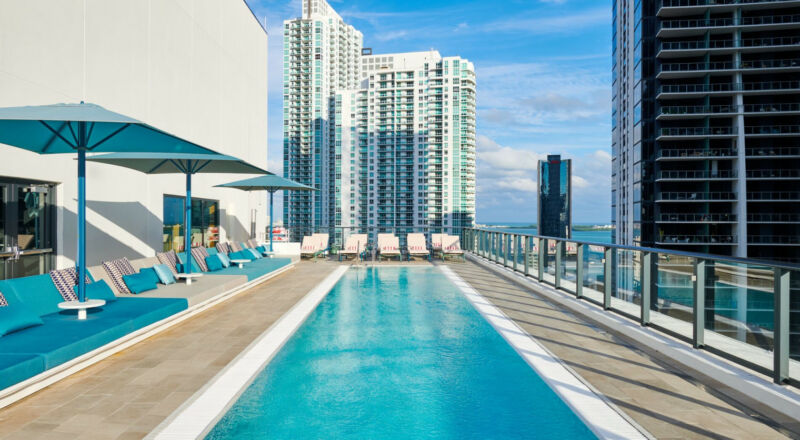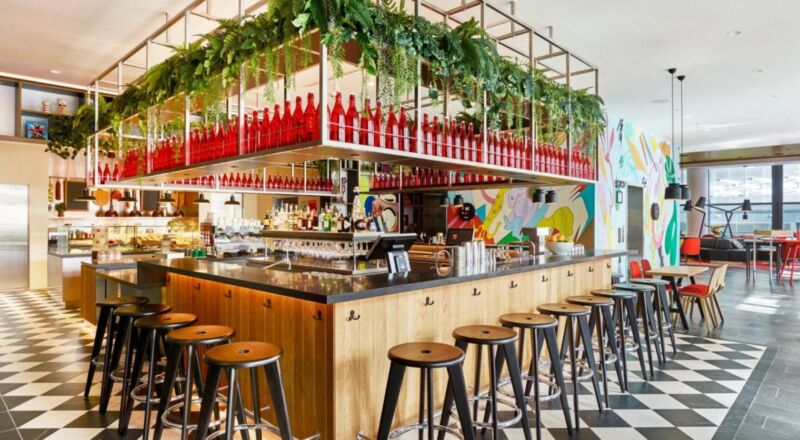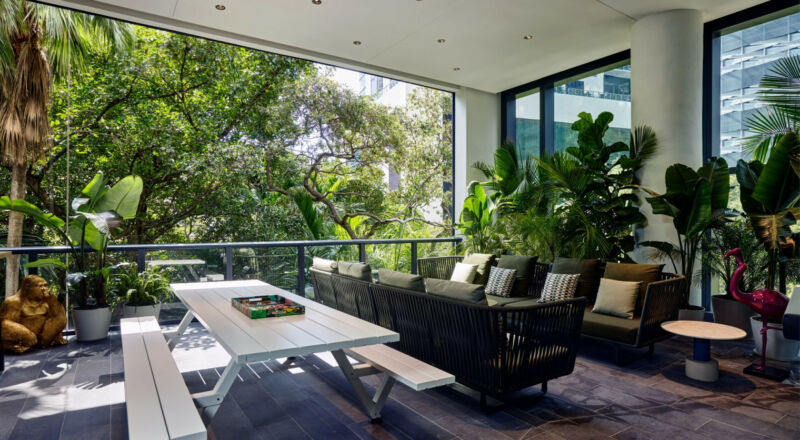 Location
Smack in the middle of Brickell and walkable to pretty much everything
The citizenM Brickell sits across the street from the shops and restaurants of Mary Brickell Village and two blocks from Brickell City Centre. It's a short walk to Miami's Metrorail, which can easily take you to the airport, the University of Miami and the Brightline train station. While Brickell is fun to explore on its own, it's also fairly convenient to the rest of Miami. Here's what else to check out while staying at the citizenM Brickell:
Iconic Ocean Drive and the shores of South Beach are about 20 minutes away, depending on traffic. The soft sands of Key Biscayne are closer, less than 10 minutes by car.

Stroll the cigar-scented streets of Little Havana, grabbing a drink at

Ball & Chain

and a Cuban sandwich at Sanguich. It's about a half-hour walk down SW Eighth Street, or a 10-minute drive.

Marvel at America's largest concentration of street art in Wynwood. Start in the outdoor museum that is the

Wynwood Walls

, then branch out and take in the murals covering the rest of the neighborhood.

Take a walk around Brickell Key. This island just off Brickell is a popular running route, and offers stunning views of Biscayne Bay, downtown and the cruise ships at PortMiami.

Grab a drink with a view.

Sugar

sits atop the East Hotel a couple of blocks away and offers a panorama from the Everglades to the Atlantic.

Rosa Sky

is similarly close, and gives you a front-row seat to the skyline.

Catch the Miami Heat or a touring concert at the

Miami-Dade Arena

. It's only a few stops on the Metromover and sits right on the bay.

Culture yourself in Museum Park. Both the

Frost Science Museum

and the

Pérez Art Museum

sit across a sunny courtyard from each other, with waterfront views from inside and out.
#citizenmmiami on Instagram
Rooms
Small, efficient and altogether fun
CitizenM's rooms are like Southwest Airlines' airplanes: They're all exactly the same, and lean toward fun. Of course, unlike Southwest's 737s, citizenM's rooms are small. Like, cruise ship cabin small, clocking in at a scant 156 square feet. Somehow, though, the rooms don't feel cramped, with extra-large beds wedged right up against windows that look out over the Brickell skyline, and a shower/toilet room that allows plenty of space.
The rooms are all controlled by tablet, allowing you to change to lighting colors and brightness, watch TV, raise and lower blinds and adjust temperature. CitizenM even fits a desk and chair in the rooms, and while working in the common areas is far more advisable, if you're not feeling social you can still be productive. Bath amenities are all available in the lobby, so if you don't see soap or lotion when you get upstairs don't be alarmed.
When you arrive on your floor, be sure to look down at the carpet, too. The hallways are covered in an aerial photo of Miami, so you can get the lay of the land if you look closely enough.
Amenities
A home away from home and a cool rooftop bar
Living Room
The best part about the citizenM Brickell is its buzzing main lobby Living Room, set a story above the street with an outdoor terrace facing Mary Brickell Village. With long communal tables, comfortable couches and tons of cool art, it feels a little like a WeWork with better decorations. 
Jungle Terrace
Just off the Living Room you'll find the Jungle Terrace, an outdoor patio adorned in golden statues and picnic tables. It sits above Morris Park and its grove of palm trees and tropical foliage. The result is a space that's as close to working from Thailand as you'll find in South Florida.
Breakfast
If you've stayed in hotels in Scandinavia, you know breakfasts are a big deal. This carries on to citizenM's Miami locations, where a big spread of parfaits, pastries and hot entrees awaits in the lobby. Breakfast runs from 6-11 a.m. and includes coffee and juices. It's included in some room rates.
Grab-and-Go Cooler
Once breakfast is over, the space converts to a grab-and-go cooler, where you can select pre-made salads and sandwiches from Miami's Icebox Cafe. It also offers beer, wine, soft drinks and other snacks to fuel up on while you work.
canteenM
The lobby bar offers a fantastic menu of bar bites like chicken dumplings and rosemary fries alongside a collection of original craft cocktails. Opt for the Citizen Jasmine, which combines Grey Goose and jasmine tea.
cloudM Rooftop Bar
CitizenM's 20th-floor rooftop bar offers sprawling views high above Brickell. The bar itself is pretty small, serving only canned beer, wine, sodas and cocktails. It is, however, conveniently located next to the rooftop pool, so you won't have to go far for your "I'm drinking a beer in a pool in Miami" Instagram posts.
Pool
The long, narrow rooftop pool sits right next to cloudM. It's more for sunning and being seen than swimming laps, but offers fantastic views of the surrounding high-rises.
Fitness Center
The 20th floor also houses citizenM's gym, which like the rooms is both small and efficient. Inside, you'll find two Peloton bikes, two treadmills, a cable trainer, a pull-up bar and sand-filled handle dumbbells. Still, five people can work out comfortably.
Meeting Spaces
Citizen M's meeting rooms are unlike any you've likely seen in a hotel, each one with a quirky theme and dry erase boards as walls. They're bookable by anyone, not just hotel guests, and the communal tables that sit outside them are open to the public.
Parking
CitizenM doesn't offer any parking, valet or otherwise. Mary Brickell Village does have a pay garage across the street.
#citizenmmiami on TikTok