Scene
The Cormorant Hotel is a chic boutique that creates a unique world in the heart of La Jolla 
The Cormorant Boutique Hotel seems almost like the setting of a sitcom. A cozy little 26-room inn wedged on a corner in the heart of La Jolla, it's the kind of place where you run into everyone staying there at least four times during your stay, and you hit first-name status with the staff within an hour. The flow of familiar faces makes the four-story Cormorant Hotel far homier than most hotels, but it's more than "Cheers" with a comfy king bed. It's a chic getaway; a beachside boutique with a rooftop bar perfect for sunset happy hours. It's a place where you can step out onto your private balcony and feel like king or queen of all you survey, with bustling streets and the expansive ocean before you. It packs more into a small space that one would expect and makes for a delightful jumping-off point to explore this upscale suburb of San Diego.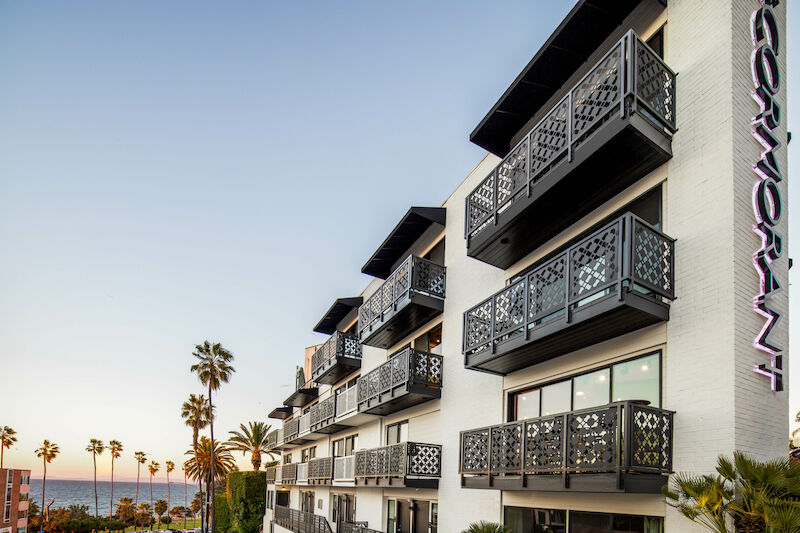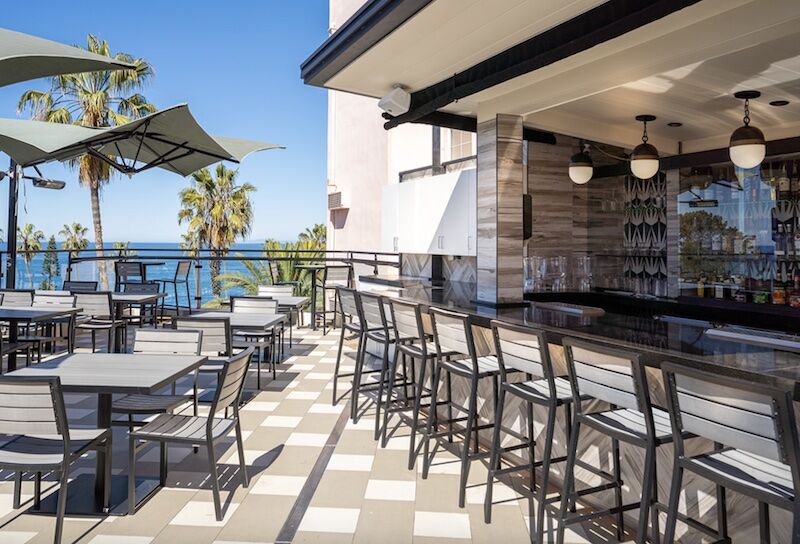 Location
Just steps from the ocean, convenience is one of boutique's big appeals
For access to city excitement and ocean activities, few hotels offer the convenience of the Cormorant Hotel. It sits at the intersection of Girard Avenue and Prospect Street, a seven-mile stretch of shops, bars and restaurants. All of it is easily escaped, however, with a short stroll down the hill to La Jolla Cove.
Ensconcing yourself in La Jolla is nice, but if you're looking to explore more of San Diego, the rest of the city isn't terribly far. Here's a rundown of what to do nearby:
#cormorantboutiquehotel on Instagram
Rooms
Small rooms with big-time views
The Cormorant was transformed from an old, dilapidated inn, and as is the case with many older hotels, the guest rooms here aren't huge. That said, La Jolla isn't the kind of place one comes to hang out in their room, and with 25 of its 26 rooms facing the ocean ⁠— 22 with private balconies ⁠— they make perfect home bases.
The rooms teeter around 250 square feet, and most offer a king bed only. So if you're traveling with someone you'd rather not share a bed with, you may want to look elsewhere. All come with a pair of plush dark robes, a Nespresso machine and Balmain Paris amenities in the bathroom. Plus a mini-fridge in the wardrobe, which offers ample space to unpack.
Because the hotel is carved from a different generation, the rooms vary greatly. Here's a breakdown of the different types of rooms:
Queen – The only room in the hotel without an ocean view, the queen room is 183 square feet and the cheapest offered.

Ocean Vista King Balcony – These rooms sit on the side of the hotel, and feature a king bed, a desk and a semi-private balcony. This means when you step outside, you may be out there with your neighbor, separated only by a low metal barrier.

Village View King – This 205-square-foot room offers its own private entrance off the street, convenient if you want to avoid people in the lobby. The downside is your view is of the street, with no balcony.

Deluxe Ocean Vista King – These larger rooms are 261-295 square feet, and offer a couch in addition to the king bed and desk. You'll have the same semi-private balcony as the Ocean Vista, just more space.

Grand Sea View King – If you love space and panoramic views, and don't care about a balcony, this room's the move. It has a big corner view and 265 square feet of space with a separate seating area, but no balcony.

Superior Sea View King Balcony – This is effectively the hotel's presidential suite, sitting high atop the corner of the hotel with a private patio. Views stretch from the village to the ocean, and you'll have 305 square feet to spread out in.

ADA Rooms – The Cormorant's ADA rooms are also its largest, offering private, roll-in entrances off the street and plenty of space. The king room is 327 square feet, and the hotel's lone double-queen clocks in at 506.
Amenities
The Cormorant is a small boutique hotel, and part of that "charm" is that it's not teeming with amenities. There's no valet cart or bellmen, so prepare to lug your own bags. This can be cumbersome if you're on a high floor, as there's no elevator either. What we're saying is, pack light or prepare to get a workout.
You'll also bump into servers taking food from the third-floor kitchen up to the rooftop restaurant, and have the chance to peer into said kitchen every time you walk between the floors. And its aromas, though at times alluring, fill and hang in the hallways. Other amenities to note:
Parking – The Cormorant offers valet parking for $35 a night. It's the best move as La Jolla street parking is on par with New York City.

Wi-Fi – Free Wi-Fi is available to all guests

Work space – The Cormorant is a surprisingly easy place to work, as most rooms offer large desks with loads of space. The small lobby also boasts a long communal table with outlets, though you won't typically find anyone working there.

Fitness Center – The quaint little Cormorant doesn't have an onsite fitness center, but does give guests a free pass to

Life Time

, about two blocks away. This mega-gym offers a spa, steam rooms, group classes in everything from HIIT to Zumba and first-class locker rooms. It's far better than a hotel gym and a cool way to meet locals too.

Adventures in La Jolla Cove – The hotel has partnered with

Everyday California

to offer easily bookable packages for snorkeling, kayaking, surfing and other watersports. You can also book pop-up picnics if you're up for a romantic evening on the cove. All guests get 20% off regular prices.

Prospect Market – The former corner store is now the hotel's grab-and-go market. It offers plenty of beer, wine, snacks and cigarettes. It's got a handful of frozen foods too, but  no fresh-made options.

Birdseye

– Up a side staircase and past a wall of succulents you'll arrive at Birdseye, the Cormorant's rooftop restaurant. The food is pricey but fantastic, where you can enjoy fresh guac, ceviches, salads and carne asada tacos with unfettered views of the Pacific. The Portnoy-worthy pizzas are also worth a look, as are the spicy specialty cocktails that taste extra refreshing when enjoyed at sunset.
#cormorantboutiquehotel on TikTok