Scene
The Cosmopolitan is Las Vegas, all grown up.
Think of the menagerie of Las Vegas, Nevada accommodations like your extended family. Some, particularly the most senior hotels, are like your great aunt: a little stuffy, kind of smelly and coasting by on their glory days. Others are like your "pull-my-finger-uncle" — they lean heavily into the kitsch of magic shows, animal attractions and alcoholic slushies in 70-oz. guitar-shaped plastic cups. But then there are some that are akin to the sharply dressed, well-traveled cousin with mysterious amounts of money that makes an appearance every few Thanksgivings. The Cosmopolitan of Las Vegas is the latter. 
Open since 2010, the resort is glamorous, with a notably youthful, experiential vibe, which is probably why it attracts more of a millennial crowd than other Las Vegas hotels. It's a place that prioritizes high-end shopping, dynamic dining, buzz-worthy drinking options and immersive contemporary art that skews suggestive (if not risque).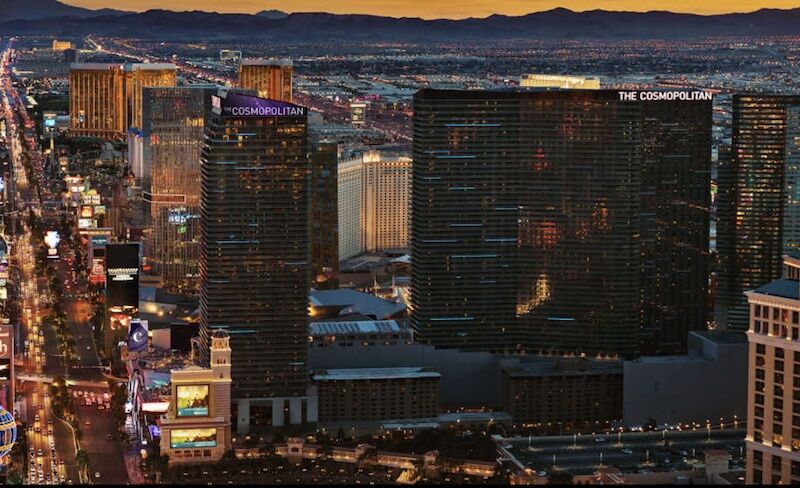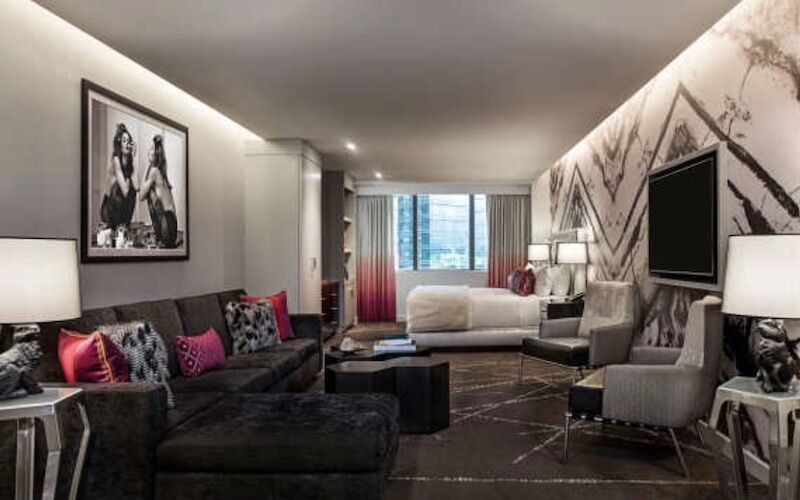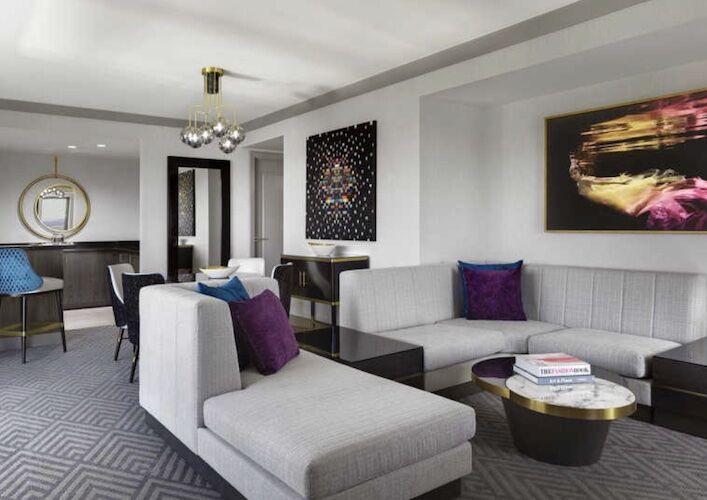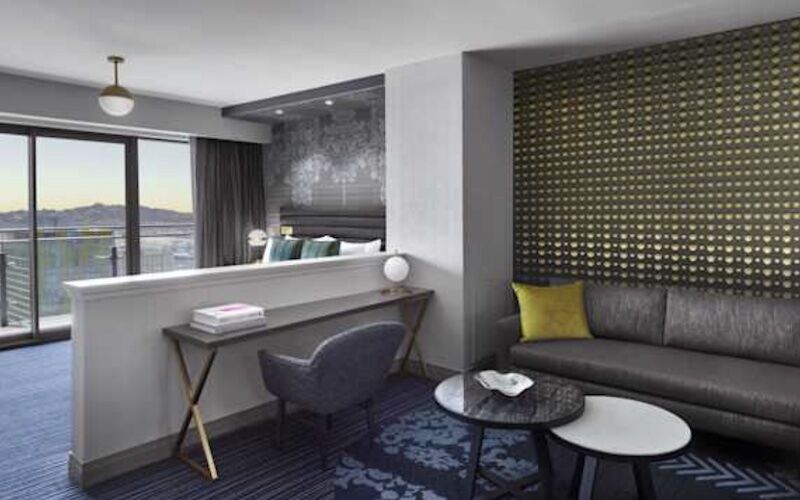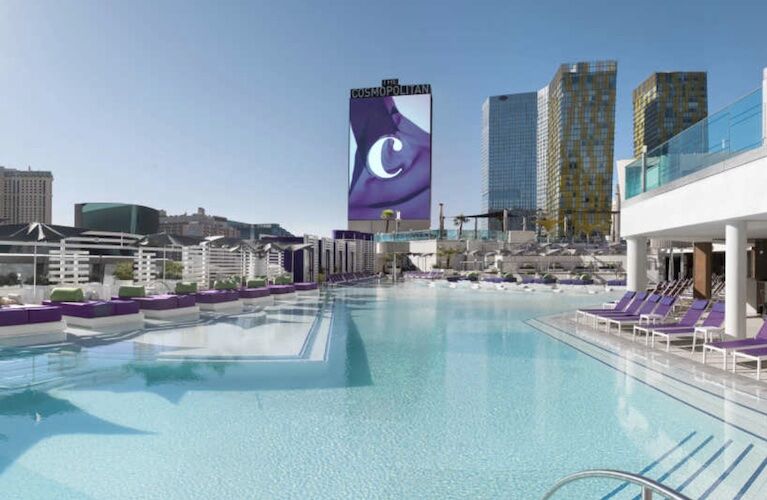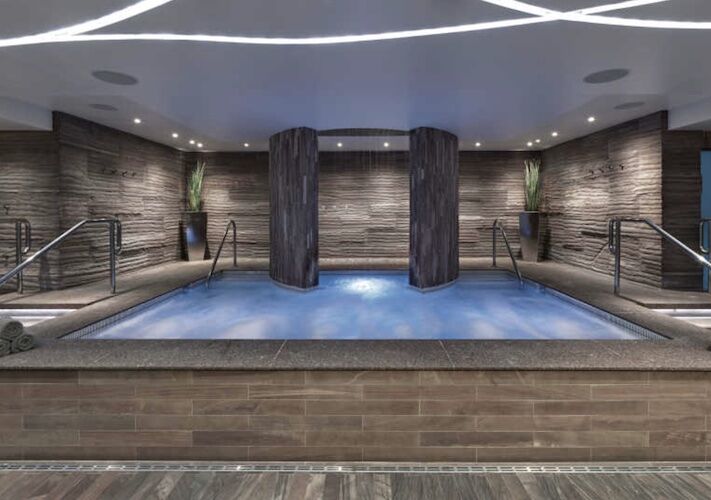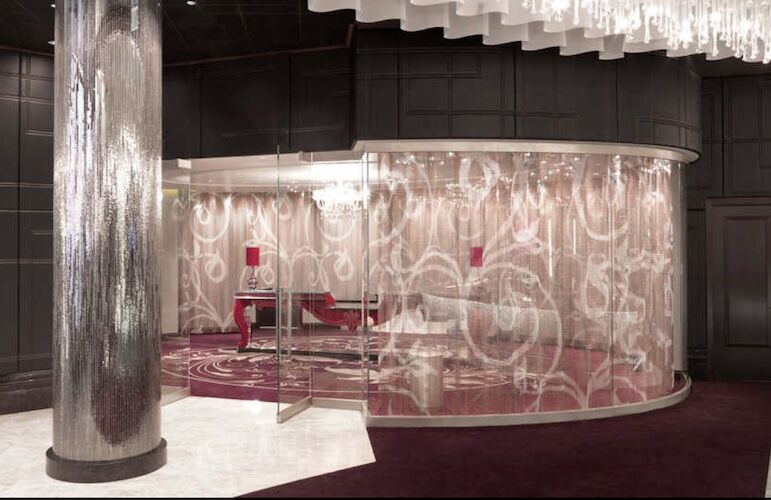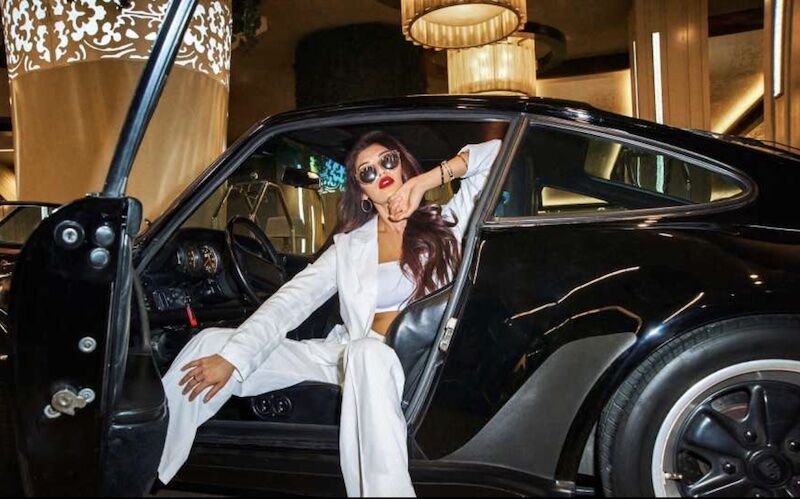 Location
Smack dab in the middle of the Las Vegas Strip. 
There's so much to do within the Cosmopolitan, you really don't need to leave. But should you feel the desire, there's a staggering number of restaurants, nightlife and entertainment options within a few blocks. The hotel sits in the center of the Strip, with some of its closest neighbors being Bellagio Resort & Casino, Planet Hollywood, ARIA Resort & Casino, Paris Las Vegas and Caesars Palace. 
Below are some things to do near the hotel and on the Strip. If you're looking for a guide to all of Vegas, see our round-up of the best things to do in the city. 
Fountains of Bellagio: Even if you score a room with fountain views, it's worth catching the show from ground level. The biggest free show in town, a ballet of more than 1,200 fountains and LED lights plays at the top and bottom of every hour from 3 to 7 p.m. and every 15 minutes from 7 p.m. until midnight. Each performance is paired to music, ranging from Italian opera classics to Taylor Swift's latest bop. 
Cirque Du Soleil show: There are myriad incredible shows and performances in Las Vegas, but Cirque Du Soleil at The Mirage is far and away the most impressive. 

High Roller: The second-largest observation wheel globally, the High Roller offers the best views in town. During the 30-minute ride, guests have their own glass-sided cabin from which they can spot replicas of the Eiffel Tower, the Statue of Liberty and the Colosseum or plot out their evening bar crawl from on high. You can ride in a cabin with an open bar for some extra dough. 

Welcome to Fabulous Las Vegas sign: Did you even go to Vegas if you didn't take a photo with this iconic sign? It's a popular stop, so we recommend getting there early if you want to avoid the crowds. 

Eat at Bazaar Meat: An ode to all things carnivorous, Bazaar Meat has menu items like cotton candy foie gras, various tartares, New Zealand rack of lamb and Wagyu steaks. 

It's worth noting that the size of the buildings can cause a mirage-like effect. It may look like Luxor Hotel & Casino isn't that far away, but trust us, it is. Do yourself a favor and check distances on Google Maps before heading out, especially if it's peak summer. 
#cosmopolitanlasvegas on Instagram
Rooms
Rare terraces and views of the Fountains of Bellagio. 
What makes The Cosmopolitan particularly unique is that many of its more than 3,000 rooms have terraces or patios. Generally speaking, most hotels in Las Vegas consider access to outdoor spaces (particularly on higher levels) a safety hazard — even the older hotels originally built with deck space have sealed off those areas. It's considered too much of a liability. Here, however, guests can overlook the famous Fountains of Bellagio on one side or Caesars Palace on the other from the comfort of their open-air couch. 
Another notable abnormality of The Cosmopolitan is how large the rooms are. Initially, the building was intended to be a residential space, so even the lowest-tier rooms are sizable. The rooms are also impressively soundproof and dimly lit, a sometimes-necessary anecdote to the cacophony and flashing lights associated with casino floors. 
Pro tip: Ask for a room facing the Fountains of Bellagio. 
City Room and City Studio: Though they're entry-level rooms, they don't skimp on space. The 460-square-foot City Room offers two queen-sized beds and a large marble bathroom with his and hers sinks and a rain shower, whereas the 630-square-foot City Studio has a king bed, a living room and a soaking tub. Neither room has a balcony. 
Terrace Studio: The most affordable of the private terrace options, this 620-square-foot studio has a king-sized bed, a seating area and a bathroom with a full-size bubbler tub. Some overlook the famed Bellagio fountains, some do not. There's also the option of a studio with two queen beds, though the seating area is smaller and the tub doesn't have jets. 
Terrace One Bedroom: Unlike the Terrace Studio, which has a bathroom near the door, the Terrace One Bedroom's bathroom runs parallel to the bedroom (which is separated from the living space by a sliding door), so that the impressive Japanese-style soaking tub is up against the window overlooking the city below. Again, some overlook the fountain, some do not. 
Executive Suite: Geared toward business travelers, this suite boasts a king-sized bed, a conference table with six seats, a living area and one-and-a-half baths. 
Wraparound Terrace Suite: Impressively large, the Wraparound Terrace Suite has oodles of amenities you normally wouldn't find in a Vegas suite. There's a full kitchen (with a Sub-Zero wine chiller), a dining area, a living room, a large separate bedroom with a king-size bed, two bathrooms and a 410-square-foot private terrace that hugs two sides of the suite. 
Two Bedroom City Suite: One of the better options for those traveling with a group (or with children), this suite has, if you couldn't guess, two bedrooms (one with a king-sized bed, the other with two queen-sized beds). Each bedroom has its own bathroom with a tub, and there's a small powder room in the living area. 
Lanai Suite: There are only 11 Lanai Suites, but each is two floors of spectacular living. On the first floor, guests find a kitchenette, a mini-bar, a dining area, a living room, a full bathroom and a patio with a private jacuzzi. They'll find a room with a king-size bed and a second bathroom up the winding staircase. 
The Bungalow: These offerings are so exclusive that the brand doesn't want to put floor plans online. What we do know is that it's 1,695 square feet over three floors and offers butler service, a private terrace, a jacuzzi plunge pool, plenty of space for entertaining and one king-sized bedroom.
The Chelsea Penthouse: Like the Bungalow, little is known about this offering other than that it boasts floor-to-ceiling windows and two king-sized bedrooms. It's 2,400 square feet, so it's likely no slouch. If your stay includes time in the Chelsea Penthouse, we'd like to be friends with you.
Amenities
Some of Vegas's most talked-about bars and restaurants, large-scale pools and a Moroccan hammam. 
Can we call the more than two dozen restaurants at The Cosmopolitan "amenities"? Sure, why not. They're part of what draws patrons to book rooms here (and make it hard to leave). 
Concierge: The Cosmo's concierge desk is open Monday through Thursday & Sunday, 10AM to 6PM. Friday and Saturday the hours are 9AM to 7PM. The concierge call center is open daily from 8AM to 9PM (877.893.2003, [email protected])
Restaurants: The Cosmopolitan has some pretty buzzy stand-alone restaurants, as well as outposts of famous eateries like Milk Bar, Eggslut, Hattie B's and Momofuku. All in all there are more than two dozen offerings. Consider checking out Zuma, a modern Japanese restaurant where dishes are presented family style and menu items include the black cod and prawn gyoza, torched salmon belly sushi with truffle and the 10-oz. Wagyu skirt steak. Another stand-out option is China Poblano, a newer concept that marries Mexican and Chinese cuisines.  And one last thing: the Wicked Spoon Buffet mixes traditional buffet dishes with seasonal takes. Breakfast and lunch are served Monday – Friday ($38 and $45 respectively) and brunch is offered on the weekends for $49 per adult.
Bars: While The Chandelier, a three-story cocktail lounge housed within a massive chandelier, is arguably the most popular place to sip potent potables in The Cosmopolitan, it's far from your only option. There's The Ski Lodge in Superfrico (a restaurant billed as "Italian American Psychedelic"), Race & Sports Book (where you can celebrate your wins or drown your betting sorrows), Vesper and CliQue (both of which offer expansive cocktail programs). 
Speakeasies: There are a handful of hidden-from-plain-sight restaurants and bars within the confines of The Cosmopolitan. There's Ghost Donkey, a mezcal-fueled bar (look for the door with a donkey illustration within the Block 16 Urban Food Hall). There's the Prohibition-style whiskey parlor hidden behind a door that reads "Janitor's Closet" at Barbershop Cuts (a men's hair salon that isn't just a front — you can get a shave or trim here, too). And there's Secret Pizza, a spot that serves pies and salads at the end of a dark hallway on the third floor. 
Pools: The Cosmo has three pools, each with a different vibe (two are more casual, one acts as a daytime club). Certain nights there are "dive-in" movie nights, where guests can sit on floaties with a tropical-inspired cocktail in hand to watch classic films. And in the winter, they turn one of the pools into an ice skating rink and blast it with artificial snow, so you feel like you're in a snowglobe. 
Pampering: Sahra Spa, which is onsite, offers myriad treatments ranging from facials to one of the only Moroccan-style hammams in town. Violet Hour Salon, the beauty parlor, offers hair, nails and makeup appointments.
Art: From the moment you walk into The Cosmo, you're immersed in art. The main lobby features oodles of 15-foot-tall columns, each showcasing a rotating digital artwork collection. There are also six vintage cigarette machines scattered throughout the property; however, coinage doesn't reveal a package of nicotine but rather a small piece of art crafted by a local artist. 
Club: The Marquee Dayclub is open Thursday through Sunday from 11 AM to sunset.
Other amenities: Expect room service, laundry facilities, free Wi-Fi and a pair of fitness centers. 
And, because it's Las Vegas, you can expect a gaming hall on the first floor. Fair warning: It has some of the city's most expensive blackjack and poker tables. 
FAQ
What time is check-in at the Cosmopolitan?
Check-in is at 3 PM.
What time is check-out? 
11 AM.
When I go to https://www.cosmopolitan.com/, what's that all about?
It's a historic women's magazine which is based in New York City and owned by Hearst media and is unaffiliated with the hotel.
Does Britney Spears play at the Cosmopolitan?
No. Britney Spears' Las Vegas residency performances ran for four years at The AXIS auditorium located in the Planet Hollywood Resort & Casino. The residency ended in 2017.
Have celebs stayed at the Cosmopolitan?
This hotel has hosted Kim Kardashian, Channing Tatum, and Cameron Diaz, among others.
I'm looking for the Cosmopolitan expensive taste test thing.
We love that too. But it has nothing to do with the hotel. See here.
How far is it from the Cosmo to the MGM Grand?
The MGM is a little less than a mile south of the Cosmopolitan.
How far is the Cosmo from the Venetian?
The Venetian Las Vegas is one mile north, straight up Las Vegas Boulevard, from the Cosmopolitan.
How far is the Cosmopolitan from CityCenter?
CityCenter is right next to the hotel.
How far is the Cosmopolitan from the Flamingo Las Vegas Hotel and Casino?
The Flamingo is a half mile north from the Cosmo.
Does the Cosmopolitan have a business center?
Yes. It's located on level 3 of the Chelsea Tower, adjacent to Gracia Commons. It includes a FedEx shipping and printing center.
Can I use a different credit card at check-in than I used for the reservation?
The credit or debit card used to reserve your reservation is required upon arrival. If you don't have the card at check-in, the deposit will be refunded and you'll need to use a new form of payment.
Does the hotel offer valet parking?
Registered hotel guests receive complimentary valet parking at the Cosmopolitan (it's part of the "resort fee"). Other guests can valet for $35 per day (or any fraction of a day) Monday through Thursday and $40 per day Friday through Sunday.
Does is the Cosmo's resort fee?
There's a nightly resort fee of $45 per room plus taxes. Nightly resort fee covers self and valet parking, the hotel phone, 24-hour fitness center access and tennis court access (based on availability).
Can I get a room with a terrace or a fountain view?
Yes, every room at the Cosmopolitan has a terrace and many have fountain views. You can select a fountain view when booking your room (based on availability).
Does the Cosmo have air conditioning?
Yes.
I'm just trying to find a recipe for a Cosmopolitan (you know, the drink with lime juice, cranberry juice, vodka, etc.) Can you help? 
What's the Cosmopolitan Hotel's address?
3708 Las Vegas Boulevard South Las Vegas, NV 89109
#cosmopolitanlasvegas on TikTok