Scene
A stalwart in an ever-changing city
When the El Cortez was originally constructed in 1941, it was a simple, two-story hotel with 59 rooms near Fremont Street in downtown Las Vegas. Back then, the city's total population was just over 8,000, and the area was just starting to gain a reputation as a place of entertainment and gambling. In the years that followed, myriad other resort casinos opened up, each flashier and with more gimmicks than the last. 
But the El Cortez doesn't really have a gambit. What it does have is the noteworthiness that comes with being the longest-running hotel and casino in Las Vegas. It's a distinction that earned the joint a spot on the National Register of Historic Places (the only casino with the honor). 
While the hotel is older, it doesn't often feel that way. It did just undergo a $25 million renovation that saw a freshening up of the casino and a remodel of 200 rooms and suites in the tower.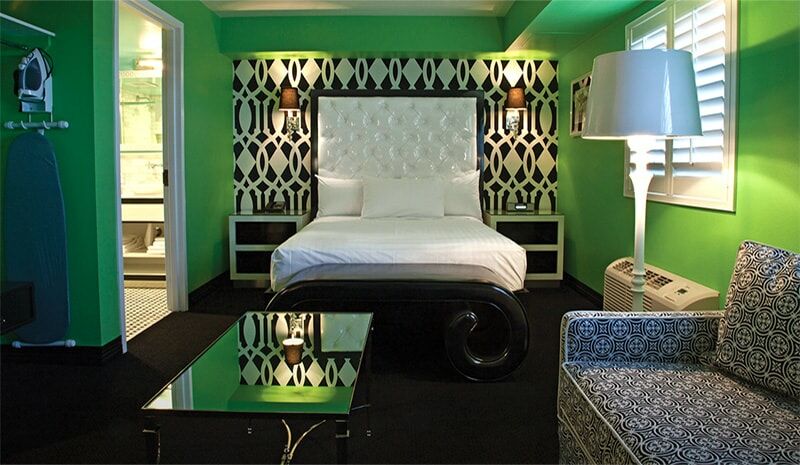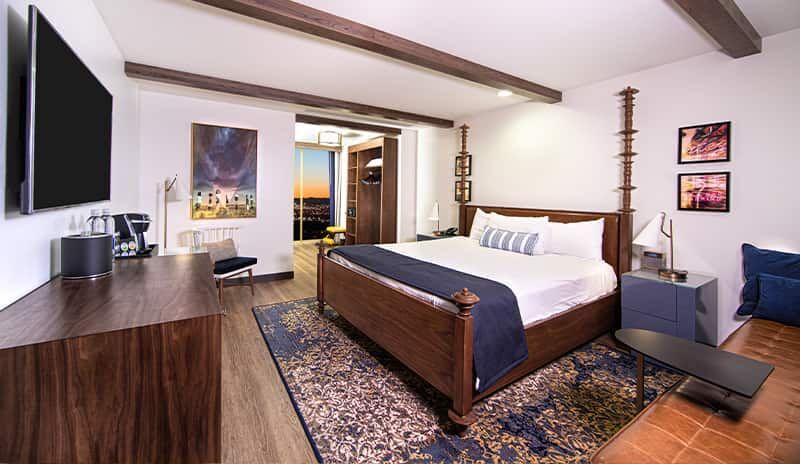 Location
Classic Las Vegas, with retro charm and cheaper price tags 
The El Cortez is found downtown, which has a noticeably different vibe than the infamous Las Vegas Strip. The casinos, bars, restaurants and shopping spots are much more laid-back — it's just not as overwhelming or ostentatious as the Strip. For that reason and the fact that it's a cheaper area (including at blackjack tables — the minimums are usually significantly lower), it's also a place where more locals hang out. 
Here are some notable places of interest close to El Cortez. (And here is a guide to the best things to do in Las Vegas if you're looking for more to do beyond the hotel's nabe.)
#elcortezhotel on Instagram
Rooms
From time-capsule rooms to luxury digs
Vintage Rooms: These are the original rooms built back in the 1940s. And they really haven't changed much. They're all found on the second floor of the main building, right above the casino floor. They're some of the cheapest rooms in all of Vegas — on weeknights during slower seasons, they can go for as little as $35 a night. 

Pavilion Rooms: These rooms look and feel much like the Vintage Rooms; they just aren't quite as historic. Expect heavy wood furniture and headboards, patterned carpets and basic amenities. 

Cabana Suites: They aren't actual cabanas, but they are fun. These rooms are found across the street in a sister building and are markedly more modern and stylish than lower-tiered rooms. Each room comes with custom retro furniture, a 42″ plasma TV, an iHome Stereo, a minibar and swanky marble bathrooms. 

Tower Premium and Tower Premium Suite: Contemporary and more luxe, these rooms boast king-sized beds, walk-in showers, large televisions and a refrigerator. The latter also has a separate sitting room. 

Jackie Gaughan Suite

: El Cortez also has a hidden luxury suite tucked away on the 15th floor. The massive suite has a pale pink-and-gold interior, dramatic lighting, statement furniture pieces and was once the primary residence of Jackie (who owned the El Cortez) and his wife, Bertie. The space has a beautiful bar, two master bedrooms and bathrooms (one of which has a solid marble toilet). Recently the room appeared in Ellie Goulding's "On My Mind" music video. The rate for this room starts at $1,000 a night. 
Amenities
Affordable resort fun
In the rooms, there aren't many amenities beyond the standards: a hairdryer, TV, toiletries, a Keurig with coffee and a pair of water bottles. Wi-Fi, free parking in the attached garage and a fitness center is included in the $24 amenities fee. But you're probably not going to Vegas to hang in your room. Other amenities include:
A casino: This is Vegas, so even if the word "casino" wasn't in the name, you could pretty much assume there are at least some slots. The El Cortez is one of the only places in Las Vegas that still has coin-operated slot machines, so when you hit it big, the clinking sound of falling money isn't a computer sound effect; it's real. There are also table games and a sports book for betting. 
Siegel's 1941: Named for the notorious mobster Bugsy Siegel, who briefly owned the El Cortez, this restaurant somehow feels both like a greasy spoon and a classy Italian eatery. Menu items include Reubens, tuna and prime rib sandwiches, shrimp cocktail and country-fried steak dinner.
The Parlour Bar & Lounge: Large leather chairs, low-slung tables and black-and-white photos of mobsters define this cocktail bar. Come for happy hour when drinks range from $3-5. 
Ike's: Named for Ike Epstein, a Chicago bookmaker who moved to the area in 1959 to help open the Stardust Hotel (and the father of the current owner, Kenny Epstein), this lounge boasts 10 television screens for watching and betting on sports. 
Eureka!: Burgers, handhelds and a solid selection of local and national craft beers. 
Spas and salons: There is a trio of ways to get pampered at the El Cortez. The Terry Rae Beauty Salon offers full-service hair and nail appointments, NV Spa does massages and Speakeasy Barbershop can do shaves, cuts and beard trims for men.
#elcortezhotelandcasino in TikTok