Scene
Twenty-one acres of "nomadic" style lodging with eclectic, artisan-designed indoor-outdoor spaces. 
At a normal hotel, you book a room. At El Cosmico, you can sleep in a solar-powered tent, a yurt or a pink retro camper. At this 21-acre glamping resort, the desert floor becomes your hallway — El Cosmico prides itself on whimsical, rustic spaces, including a communal outdoor kitchen and the lounge-tastic hammock grove (sort of like kindergarten nap time, but for nature-loving 30-somethings). With the exception of a few suite-style lodgings, expect to be trekking in flip flops under the glow of sunrise to visit the separate outdoor bathroom. In other words: El Cosmico is where you go when you want to act like you're a bohemian, but don't want to give up iced lattes or Instagram. 
When you arrive, lift up your sunglasses and enter the Lobby & Provision Co., a light-filled, wood-paneled interior area where you can buy tasty snacks, locally designed clothing and funky home decor. Owner Liz Lambert's eclectic, and what many have called culturally appropriative, eye permeates: where else would you sleep in a Sioux-style tipi, draped with a serape blanket and a Betsy Ross American flag? (No irony here.) Hospitality and maintenance are perhaps not the hotel's strong suit(e) — reviews complain of occasional hot water issues and less-than-helpful staff. 
On a more complimentary note, many of the interior and exterior spaces (including retro trailer lodgings) were designed by Enabler, a construction collective of carpenters, furniture makers and welders, whose work is both innovative and traditional. Plus, you can bask in decade-old remnants of Queen B's aura: Beyoncé and Solange stayed at El Cosmico in 2012.
The hotel might relocate to a larger space in the coming years, so visit soon to experience the original layout.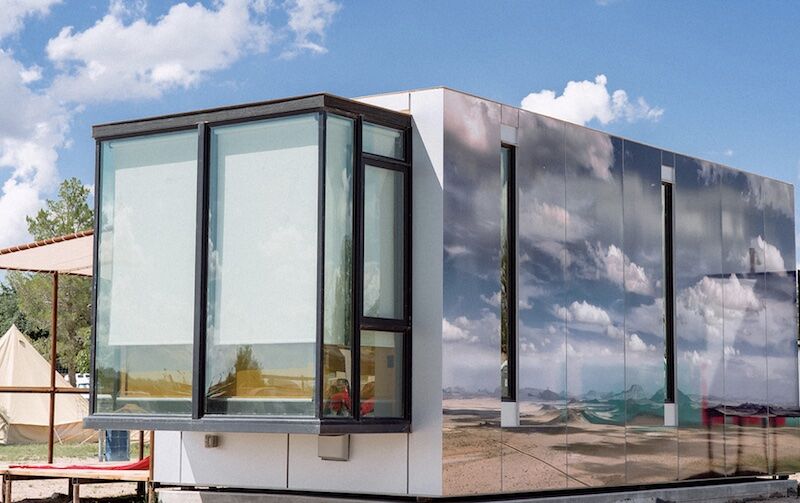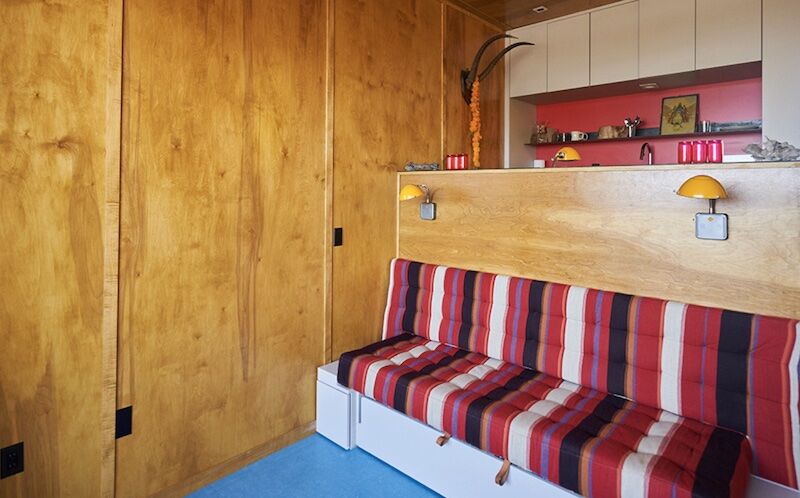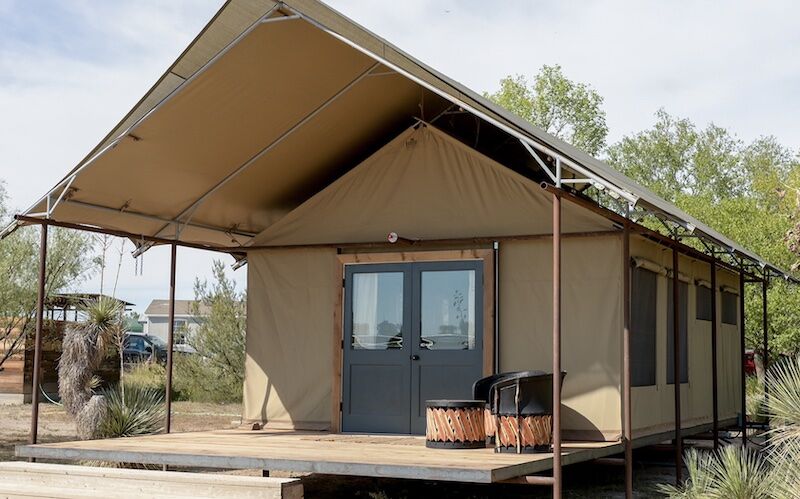 Location
Marfa, Texas: convenient to nothing, except itself. 
Drive for hours into the middle of the desert in West Texas, until scrub brush and wide open sky become your only friends. The highways are knife-like, cutting straight through the landscape. When you've just about had enough, you hit a strange monument to consumer culture: it's the Instagram-famous Elmgreen and Dragset's Prada installation, a free-standing chichi "boutique" housing real shoes from the 2005 collection. Welcome to Marfa. 
Located in the southwest corner of Texas, it's a highbrow-lowbrow outlaw grid, Frida Kahlo meets spaghetti Western meets retro-futuristic junkyard wet dream. El Paso, the closest urban hub, is still a three-hour drive. Austin and San Antonio are at least six hours away. 
Founded in the late 19th century as a railroad town, Marfa became home to Fort D.A. Russell during World War II, an outpost for training pilots and chemical mortar battalions, as well as 200 German prisoners of war. (Check out Building 98, an army bachelor's club where prisoners were held — and tasked with painting murals). After visiting Marfa in the early 1970s, artist Donald Judd purchased a large area of land, including abandoned buildings at the former military base, transforming it into the Chianti Foundation. Since then, the town has increasingly gained exposure as a creative escape. 
Within a reasonable drive of El Cosmico, you can:
Rooms
Lift a middle-class middle finger to permanent establishments and the brick-and-mortar environment. 
El Cosmico offers several different types and tiers of lodging, all stand-alone dwellings meant to evoke a strange amalgamation of "nomadic culture," plus a Hollywood glam version of the western United States. The lodging options are:
Safari Tents, Jupe Tents (queen, from $114 per night): Your Girl Scout troop grew up into bohemian queens. Basically, you're glamping. Wood floors, private porches, comfy beds. Yes, there's electricity — simple lighting and outlets for charging devices. Linens and towels are provided; private bathrooms, not even a sink or toilet in the room, are not. You can wash yourself in one of the rustic, desert cottagecore bathhouses. 
If you're a tech nerd, stay in the Jupe Tents, solar-powered units designed by a team from SpaceX and Tesla with built-in Baltic birch bed frames and end tables, plus private porches. 
Yurts (queen, from $149 per night): Never encountered a yurt? It's a Mongolian round tent, traditionally used in the mountains and steppes of Inner Asia. At El Cosmico, each eclectically decorated yurt includes a queen bed, writing desk, sofa and private porch. Electricity, A/C and heat. The bathroom situation is the same as the tents. Linens and towels are provided. 
Tipis (or Tepees or Teepees) (queen, from $154 per night): Sioux-style dwelling including a queen bed, writing desk, loveseat and daybed. Cowhides on cowhides for a cozy taxidermy vibe. Linens and towels are provided (ditto bathhouses). 
Vintage Trailers (full-king, $214-334 per night): Brightly painted metal trailers with birch interiors, private porches and custom decor. Layouts differ, but each includes some configuration of kitchenettes, private bathrooms, outdoor showers and/or extra beds. 
Cosmic Kasita (queen, $250 per night): A '70s-style (hello, honey wood paneling), 325-square-foot micro home with a bay window bed, kitchenette and bathroom. (Wi-Fi doesn't reach this room, but you can connect in the hotel lobby. Or just enjoy the email silence…)
Bushtec Tent (king, from $414 a night): Adirondack cabin meets the Weasley's magical tent mansion meets safari. Front porch, back porch, vintage soaking tub, private outdoor shower. 
Working on a wanderlust budget? El Cosmico also offers space for tent and RV camping for $30 a night. 
Amenities
El Cosmico offers plenty of carefully designed outdoor spaces for playing, working and "do-nothingness." 
Lobby House and Provision Co. Store
Part hotel lobby, part Southwestern boutique selling quirky merchandise (think retro-inspired T-shirts and bandanas), posters and small-batch beauty supplies. Complimentary coffee in the mornings. 
Wood-fired Dutch hot tubs
Rent a wood-fired Dutch hot tub and soak in what looks like a giant kitchen mortar while you stare out into the scrub brush sunset. $85 per tub for an evening soak (6-10 p.m.), and reservations are required 24 hours in advance. 
Hammock Grove
Shaded hammock grove for reading, snoozing and hanging out.
Outdoor Stage
A shaded, open-air platform with plenty of room in front to dance. Home to the annual Trans-Pecos Festival of Music and Love. Check out the hotel calendar for music performances and other offerings. 
Communal Outdoor Kitchen
Hungry at odd hours, or visiting Marfa on a budget? El Cosmico's rustic outdoor kitchen offers plenty of counter space, grills and a communal fridge. The hotel doesn't have a restaurant, but you can cook your own meals here, hostel style. If you're a fan of making friends over yet another gussied-up Top Ramen, crack open a beer and hang out here. 
Bathhouses
Secret garden meets Turkish hammam meets WWOOFing in Hawaii. Never thought I'd be so enamored with what amounts to a glamorous public beach bathroom. Open air, flushing toilets, warm showers, clawfoot tubs. Large, wooden-walled stalls give plenty of privacy — though some guests have complained of occasional lack of hot water. 
Other Information
An ADA accessible trailer is available, and dogs are allowed for an additional fee.
FAQs
What is El Cosmico's address?
802 S Highland Ave, Marfa, Texas 79843 USA
When is check-in?
Check in starts at 3pm and check out is by 11am.
Can I bring my own tent to the grounds instead of opting for a rental?
Yes.
How big are El Cosmico's grounds?
El Cosmico definitely embraces the vibes of intrepid travelers and, as such, it is spread over 21 acres. The hotel often touts the property's abundance of wide-open spaces and communal spaces that are available.
What can you tell me about the partnership between Icon, BIG and El Cosmico?
A partnership was revealed in early 2023 between 3D printing company Icon, architecture firm Bjarke Ingels Group (BIG) and El Cosmico's founder Liz Lambert. Their plan is to expand El Cosmico's nomadic hotel in the high plains desert. More information is TBD.
How far is Marfa from Big Bend, Texas?
Big Bend is 33 miles away but the route will take an hour and 20 minutes to drive.
#elcosmico on TikTok