Scene
Roadside lodging for the 21st century
El Rey Court is nothing like the roadside motels of yesteryear. This once-drab Santa Fe motor court has been fully transformed into an Instagram-worthy haven that's as warm and welcoming as it is aesthetically pleasing. As you step into the lobby at El Rey Court, you're greeted with the essence of Santa Fe's next generation. White-washed adobe wall features and exposed wooden beams help set the vibe, along with geometric art and the occasional mirror. It feels decidedly Southwestern, but not without a cheeky self-awareness that reminds you this is roadside lodging in the 21st century. 
Originally built in 1936, the roadside motor court is brimming with nostalgia. It's also a local spot as much as it is a tourist destination — there are sprawling outdoor spaces and a vibey on-site bar — and even during the week it's not unusual for the hotel's common areas to be bustling with people. Whether they're grabbing a drink at La Reina or cozying up to one of the hotel's many kiva fireplaces when the desert air begins to cool, there's an atmosphere here that makes you want to linger.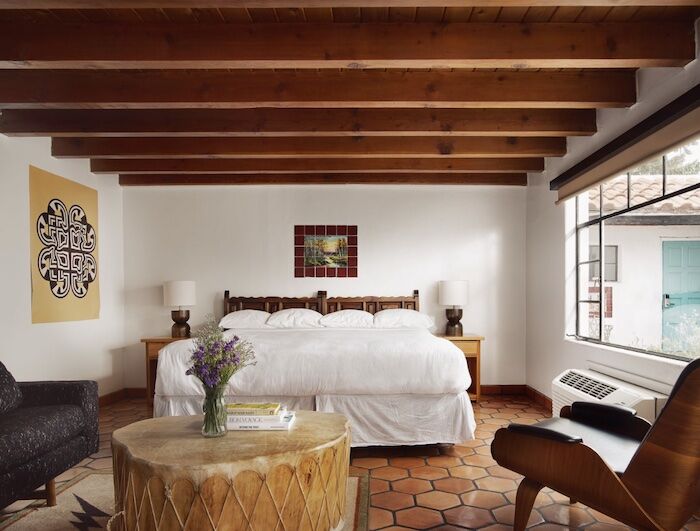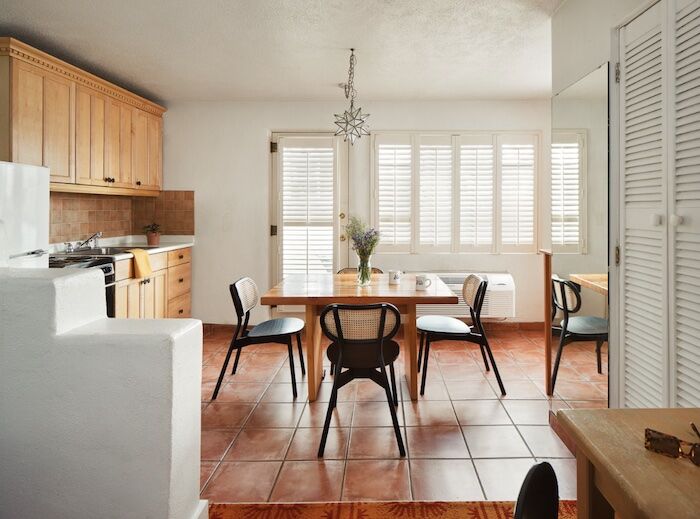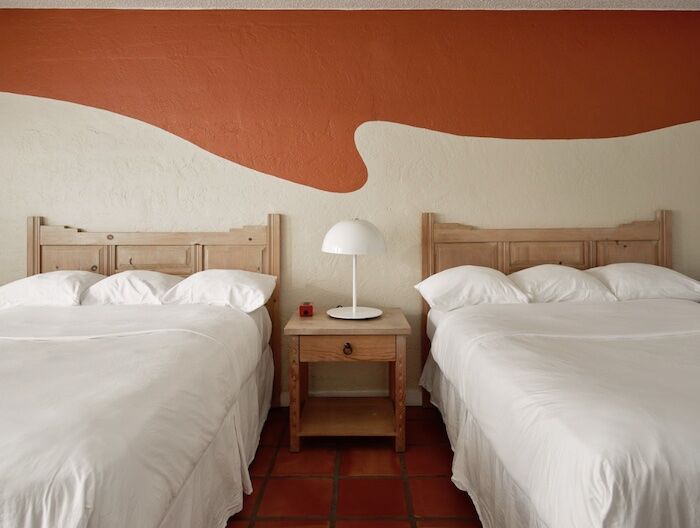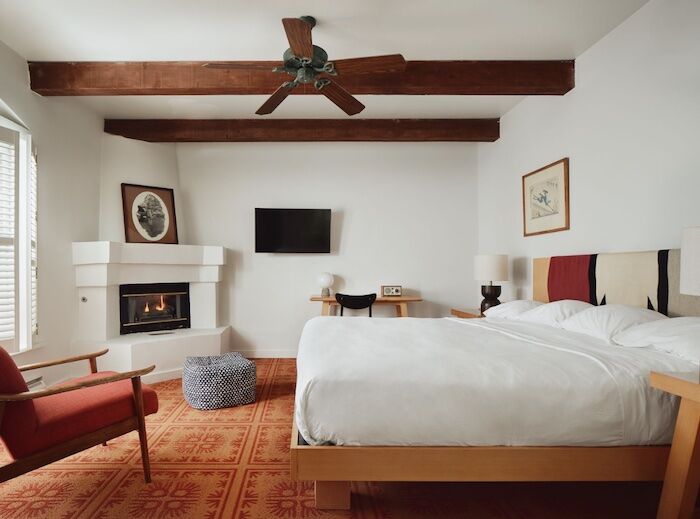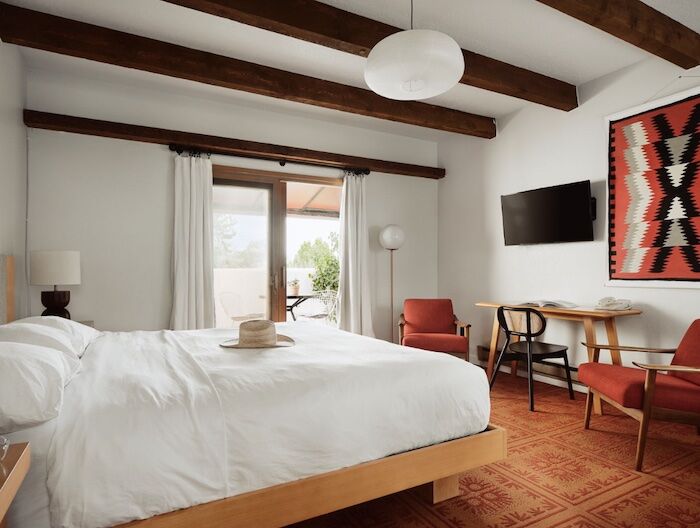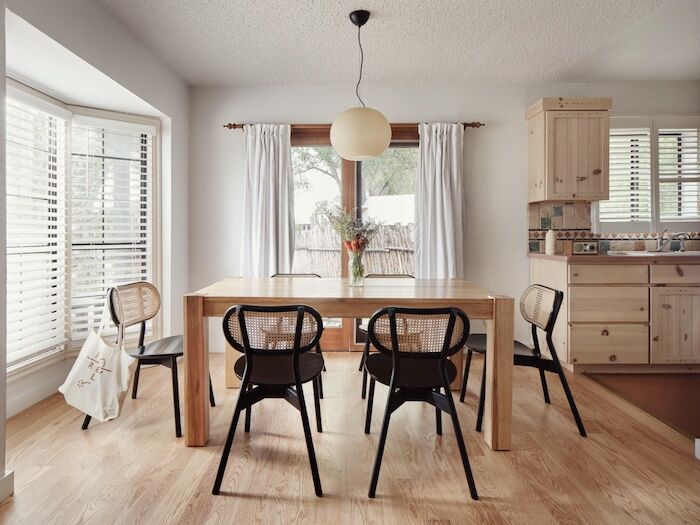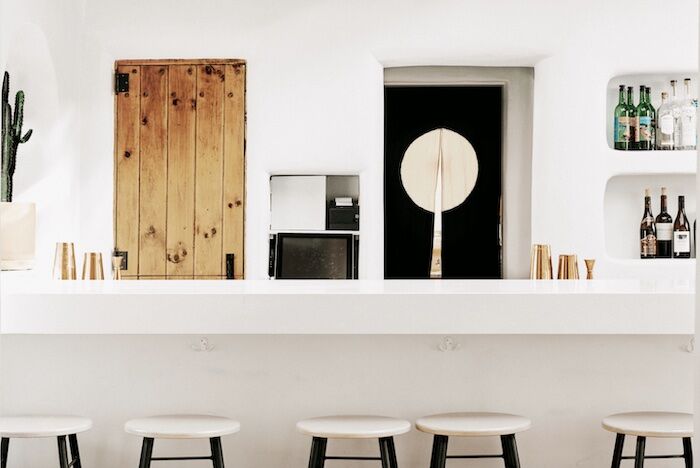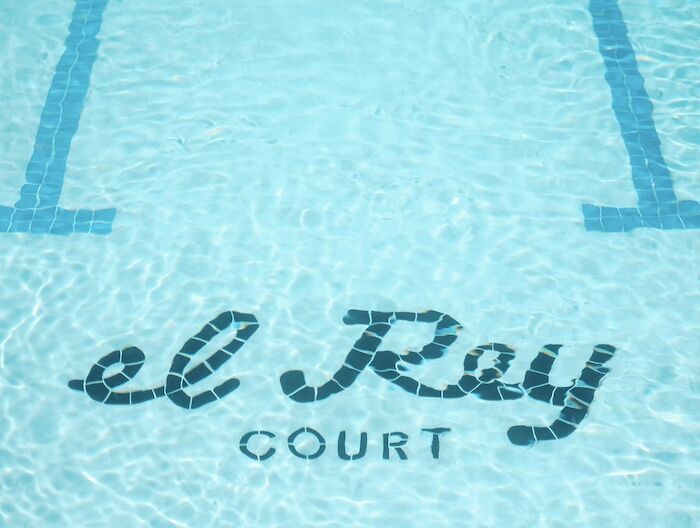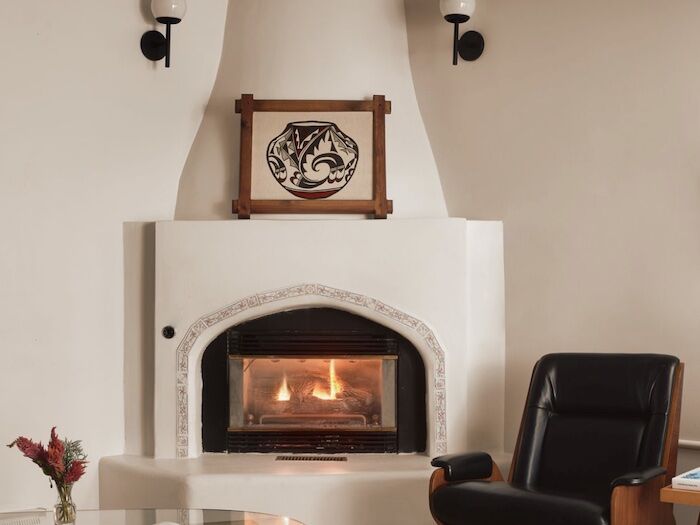 Location
Along Historic Route 66
El Rey Court is conveniently located along one of Santa Fe's main thoroughfares, making it an easy drive to anything in the city. Cerrillos Road is a popular area bustling with other local businesses and eateries. However, the area isn't the most pedestrian friendly. Don't fret if you're exploring Santa Fe without a car though. The city has plentiful ride-sharing services like Uber so you won't find yourself stranded. 
The hotel property itself spans five acres full of lodging and communal space. While Route 66 is what gave this hotel its start, there's plenty more to see around the city than the Mother Road. El Rey Court makes for a convenient home base, whether you're headed to Santa Fe for artistic inspiration, exploring the outdoors or satisfying foodie cravings. Check out our guide to Santa Fe as well as a couple of awesome things to do near the hotel:
Experience the artist collective Meow Wolf's immersive installation at the

House of Eternal Return

. This mind-bending, explorable site is something you have to experience to fully understand. Plan to spend at least a couple of hours exploring the secrets of the installation's more than 70 winding rooms. 

Take a quick, three-mile drive to the Santa Fe Plaza where you can amble through the streets and soak in the city's Spanish colonial history.  

Find inspiration with a visit to the

Georgia O'Keeffe Museum

. This popular spot features more than 3,000 works by the renowned artist who drew decades of inspiration from Santa Fe and the surrounding area. 

There's no shortage of good food in Santa Fe either. Enjoy South Indian cuisine at

Paper Dosa

, just minutes from the hotel. Or fully embrace New Mexico's chiles at the Santa Fe institution

The Shed

. 

It would be a shame to visit and not experience at least a little of Santa Fe's burgeoning craft beer scene. While mainstays like

Santa Fe Brewing Co.

started it all, smaller outfits like

Chili Line Brewery

are making a name for themselves locally and beyond.
#elreycourt on Instagram
Rooms
A modern spin on Southwest adobe style
Each of the hotel's 86 rooms and suites are uniquely designed. You'll find no shortage of character here with bright white walls and exposed ponderosa pine beams paired with colorful original artworks, midcentury-inspired furniture and murals with flowing, organic shapes. 
While some of the rooms have been fully renovated, many still contain original features from the motel's heyday. Keep an eye out for retro bathroom fixtures, well-placed skylights and original tile floors throughout. All of the rooms are fully modernized with complimentary Wi-Fi, a Bluetooth Tivoli speaker and a flat-screen with DirecTV. 
At El Rey Court there are almost as many types of rooms as there are suite designs, including: 
Amenities
The El Rey Court's rooms are peaceful havens, but the amenities are top-notch. 
La Reina: Grab a drink at the hotel's on-property tequila- and mezcal-centric cocktail bar, La Reina. The bar's stark white walls pair charmingly with modern fixtures and a cozy kiva fireplace emblazoned with one of the hotel's mottos: "Where fast lives slow down." Order a Ranch Water and absorb the ambiance while sipping your nightcap.
Swim Club: Soak up the sun at the hotel's seasonally heated outdoor pool, complete with an adjacent hot tub and fireplace. The Swim Club is the perfect place to cool off after a day exploring the desert and is a popular spot during the high season. While access to the Swim Club is complimentary for guests, locals can also purchase day or season passes to soak up El Rey Court's retro vibes. 
Public Lawn & Common Area: El Rey Court is a popular place to hang out for both out-of-towners and locals alike. The hotel hosts a wide variety of events, from live music on the lawn to seasonal pop-ups. 
Food Trucks: While the food offerings at La Reina are slim, you can often find local food trucks stationed in the hotel's courtyard. Tender Fire Kitchen can be found on the lawn most weekends slinging made-to-order wood-fired pizzas. If you're planning a weekend getaway, keep an eye out for the Turquoise Trailer, which serves breakfast foods, coffee, juices and more Thursday through Monday. El Rey Court also has other occasional food trucks and pop-up vendors. Be sure to check their social media to see what will be available onsite. 
Shop: Take some of El Rey Court's vibe home with you. The lobby is fully outfitted with a shop alcove brimming with branded hats, tees and more as well as products featured around the hotel like handwoven wool blankets from Nordic Knots and Swim Club pool towels. 
Laundry: El Rey Court offers on-site paid laundry for all guests. 
Pets: The hotel is dog friendly and charges a pet fee of $50 per dog plus tax.
Parking: El Rey Court offers complimentary on-site parking.
#elreycourt on TikTok