THE SCENE
Bright colors and curious objects make for a pleasant, if minimal, experience at the Found Hotel Chicago
There are upscale hostels, and there are shared-room hotels, and while you might argue over the definitions of each, one thing is certain: Found Hotel is definitely the latter. While you can find plenty of millennial digital nomads cranking out work in the hotel's shared areas, a retreat to any of the private rooms is a trip to an eloquently designed, boutique hotel. The space  was designed by John Sofio of Built, Inc., and is the kind of minimalist-chic stuff that's become synonymous with this century.
You won't find a luxury spa or a fine-dining restaurant at the Found, but you will find a colorful lobby full of wood grain and shades of blue. You'll also find a sexy, Asian-inspired karaoke bar downstairs, and Mason offers affordably priced burgers, salads, sandwiches and pastas. All of it combines to create a welcoming, lively atmosphere that makes it easy to stay for extended periods of time.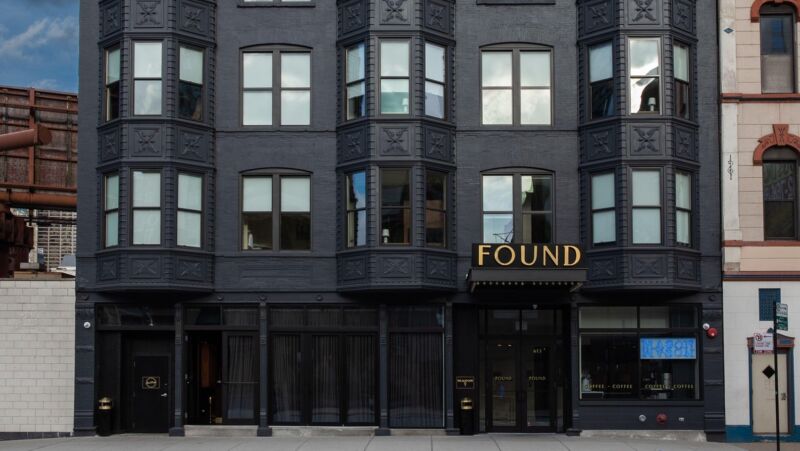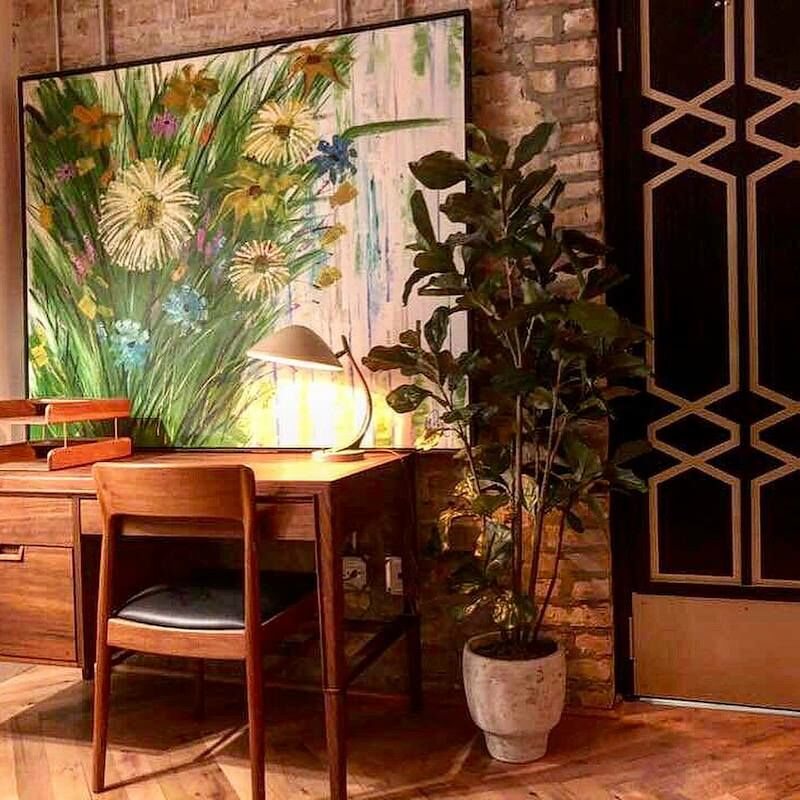 LOCATION
Perfectly situated between Downtown and must-see neighborhoods to the north
The cast-iron beauty that is the Found sits in the middle of River North, a Downtown-adjacent neighborhood of Chicago that's close to the action, but still far enough removed from the city's bustle to be relaxing. You can walk to Navy Pier, the Magnificent Mile and all the mesmerizing architecture along the Chicago River. And it's only a short ride on the CTA train into the Loop and Downtown.
If you're looking to delve into Chicago's neighborhoods, the Gold Coast and Lincoln Park are just north of the Found. And Wrigleyville, with all its baseball-loving fans, is a short ride away as well. Bricktown and Wicker Park aren't far either. No matter where in Chicago you're trying to explore, it won't be hard to find from the Found. Nearby, you can also:
Take your legally mandated selfie at The Bean

—

real name: "Cloud Gate"

—

at

Millennium Park

. The iconic metal sculpture is only a mile away.

Cruise the Chicago River and see one of the most impressive collections of architecture in the United States.

Chicago's First Lady

has daily cruises that lauch about a mile from the Found.

Exercise (or leisurely walk) along Chicago's Lakefront Trail. The Found might not have a gym, but the trail makes for a far nicer place to exercise

—

and it is only about a mile and a half away.

Shop along the

Magnificent Mile

, the most storied retail destination in the Midwest, on North Michigan Avenue. It's only a 15-minute walk away.

Stare down from the sky deck atop the

Willis Tower

, the second-tallest building in the United States, which is 12 minutes away from the Found on the CTA.

Grab an Italian beef sandwich at

Al's #1 Italian Beef

. It's arguably the best in the city and literally across the street.

Less than a mile away you'll find the Museum of Contemporary Art and about a mile and a half way is the Art Institute of Chicago.
ROOMS
Clean, comfortable private rooms, plus bunks if you're down to share
Hostel rooms of years past gave the idea of shared accommodations a bad rap, but the Found is among a crop of hotels that's trying to change their reputation. If you're looking for a place to crash for under 50 bucks, you'll be hard pressed to find better rooms than those in the Found. The hotel has nine shared rooms — one designated for ladies only — with plush, wood-framed bunk beds in addition to a full slate of private accommodations. Each one has a private bathroom, though the shared rooms will have you splitting it and the rest of the room's amenities with your roommates. 
Every room at the Found has free wi-fi and toiletries as well as a hairdryer, an iron and ironing board, an in-room safe, a flat-screen TV with cable service and a desk if you feel like working away from the masses.
Prices begin at around 40 dollars/night for a bed in a shared room and go up to 150-200 dollars/night or more for premium accommodations on busy weekends. 
Shared Rooms –  In shared rooms, you rent the bed, not the room. Each shared room has two sets of the hotel's well-designed bunk beds and can accommodate up to four people. In addition to the standard amenities, guests who choose to share get their own locker that is big enough to fit most backpacks.
Twin Room – If you'd rather not share your space with a handful of strangers, but still don't want to pay for space you don't need, check out the single-sleeping twin rooms. These rooms offer a much more standard, if not trimmed down, hotel experience with one twin bed in a private room. With a little imagination, staying here will be like a throwback to fifth grade, minus the Spongebob sheets and with a lot more independence.
Twin Bunk Room – Traveling with a friend but don't feel like sharing a bed? It's summer camp and sleepovers all rolled into one in twin bunk rooms. You and your BFF can duke it out over who gets the top bunk in these private rooms that are furnished with a single set of bunk beds.  
Queen and Twin Bunk Room – Perfect for families and throuples, this room is similar to the twin bunk rooms except the bottom bed is a queen. 
Queen Rooms – The Found's top-of-the-line rooms takes the hotel's standard private lodging setup — a blue accent wall, a private bathroom, a bed atop a stylish wooden platform — and upgrades it with  a spacious, fluffy queen bed. 
Extended Stay Apartments – The Found also offers accommodations for those looking to stay for longer periods with full kitchens, small living areas and private bedrooms.
AMENITIES
Colorful common spaces and Asian-inspired late-night karaoke
Like most modern hotels with minimalist rooms, the Found is designed around its common areas. The colorful lobby lounge is adorned in playful furniture; an entire wall is occupied by a gridded bookshelf that is light on books and heavy on fun sculptural objects like globes, vases and animal statues. It all works together to create a bohemian vibe that is conducive to work or socializing.
Head to the downstairs lounge, and you'll find the requisite board games and Yahtzee! sets, all encompassed in a wood-paneled space that feels like basement rec rooms from bygone decades. There's also a common working area (which, in more staid hotels, might be called a business center) where you can knock out work in a more traditional environment.
The Found Hotel's restaurant — Mason House — is a burger, pasta and salad joint that manages to keep its base entree prices between 5.95 and 16.95. Like all things at the Found, its budget living served in style. You can get a 5.95 deep-fried hot dog attractively plated on an Instagram-worthy silver tray.
In addition to all that, the Found also offers:
Communal kitchen

Air conditioning

Concierge service

Coffee bar for breakfast

Parking

A game room
MISC
Check-in is at 3pm
Check-out is at 11am