Scene
The giant mural of a naked Burt Reynolds says it all
When a giant mural of a naked Burt Reynolds greets you behind the front desk, you know you've stepped into somewhere special. Such is the first impression at the Found:RE, a Western-industrial showcase filled with rotating art. After checking in under Burt's watchful eye — and other body parts — take a sharp right turn and you'll find yourself in the Found:RE's main gallery, with touring exhibits of everything from audio installations to old rock 'n' roll photographs.
Thus begins the art-filled journey at this Roosevelt Row gem. The soft metal and wagon-wheel chandeliers adorning the rooms and common areas place guests squarely in the American West. And photographs and paintings lining the walls keep the creative spirit going everywhere. Even Match Market and Bar — the hotel's restaurant, gift shop and sundry store — is quirky and offbeat. As Phoenix goes, you'd be hard pressed to find a hotel with more character.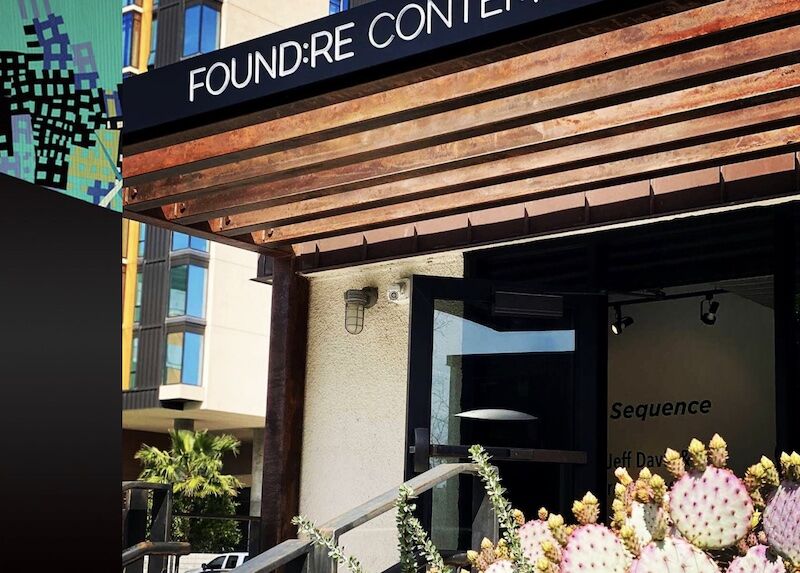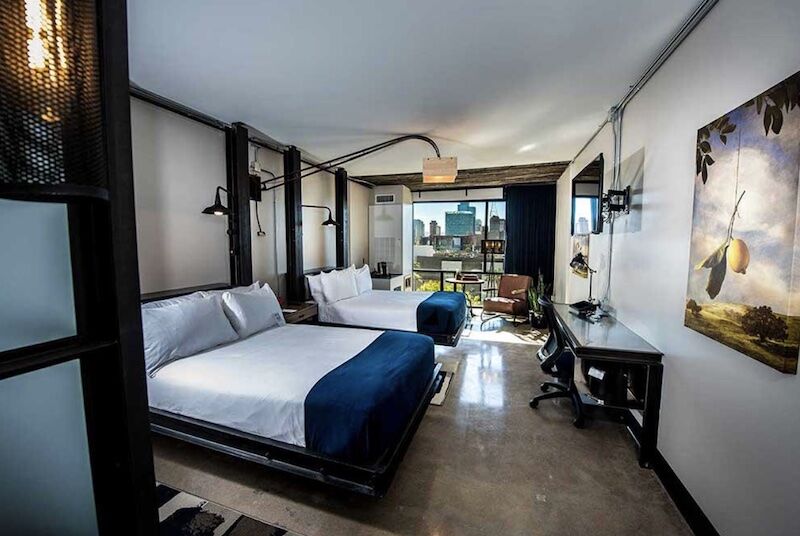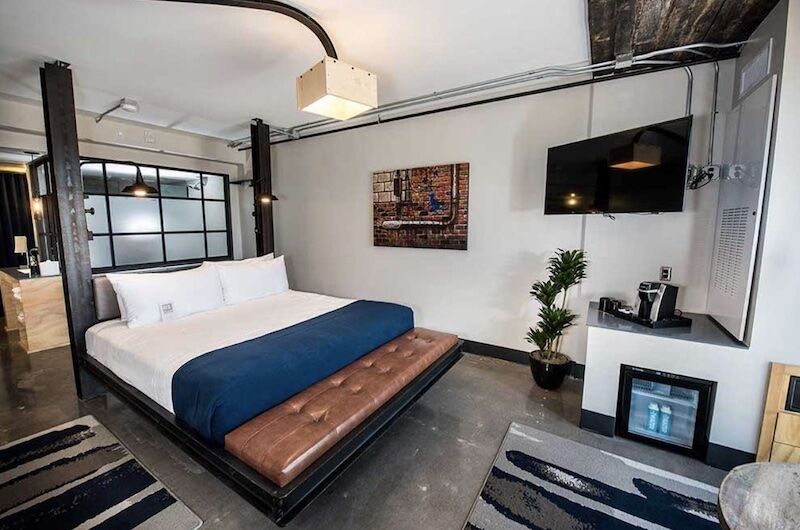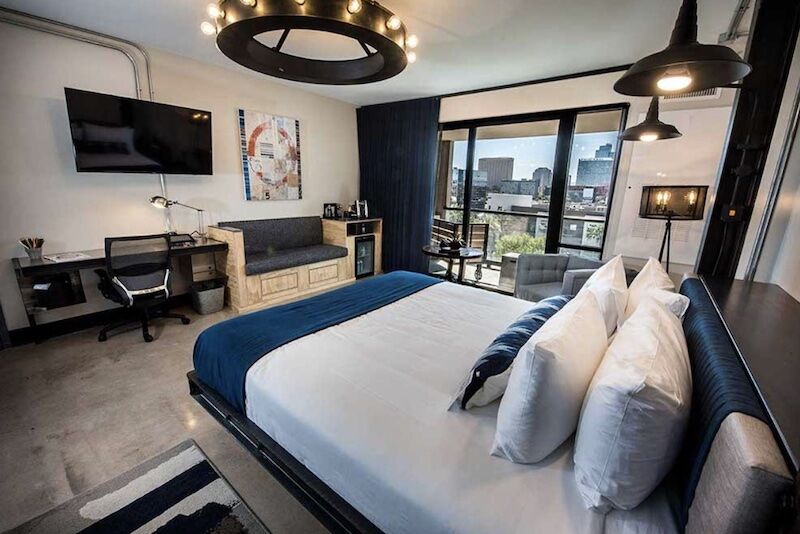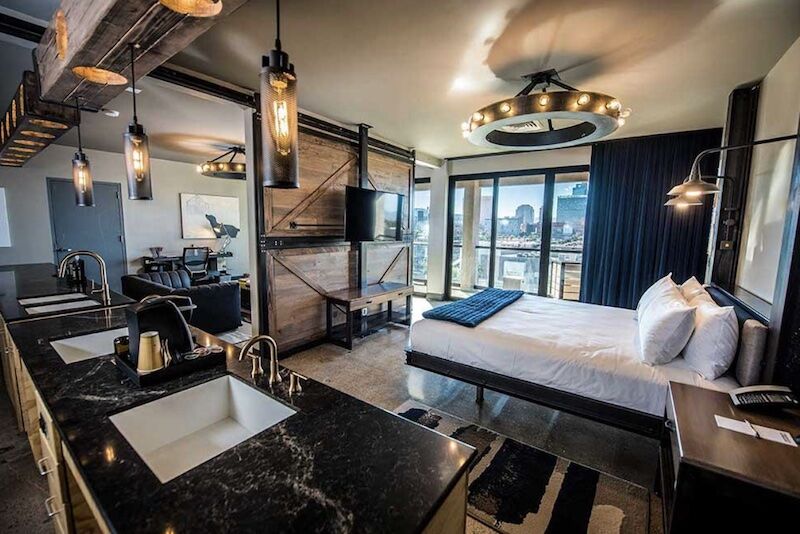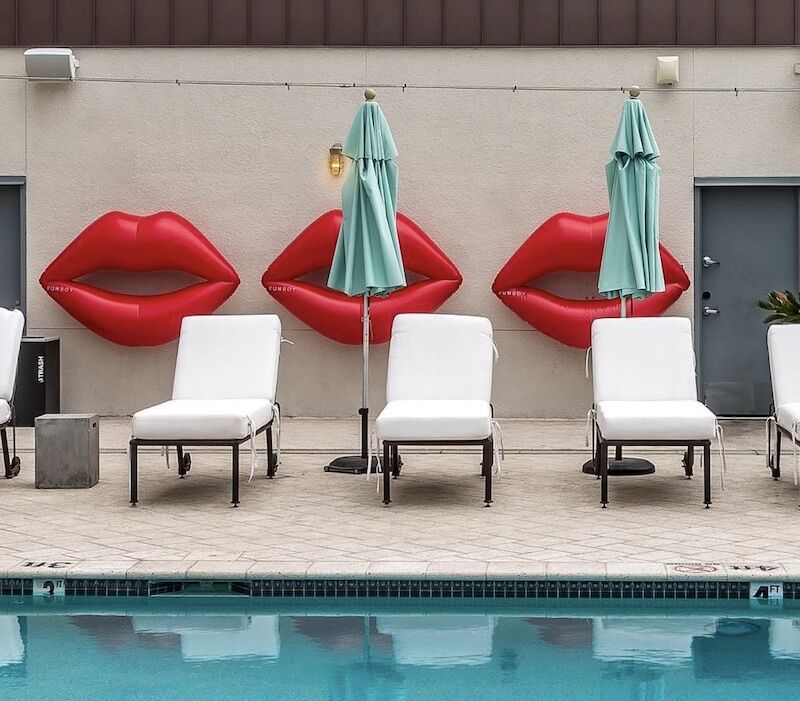 Location
Phoenix's burgeoning Roosevelt Row arts district is your backyard
You'll get a full immersion in Phoenix's art scene staying at the Found:RE Hotel, set squarely in the Roosevelt Row district. Stroll outside and tour street murals, and stroll down Roosevelt Street to breweries, restaurants and unusual boutiques that give the neighborhood its funky vibe.
You're also a short walk from downtown Phoenix and the Arizona State University campus that resides there. As locations in the sprawling valley go, this is about as central as one can get. Beyond the arts, here's what else lies just outside the Found:RE's door:
Show up early for the best breakfast in the West at

Matt's Big Breakfast

. The "Diners, Drive-Ins and Dives" favorite is a seven-minute walk, and about an hour wait for a table.

 

On weekends, check out to the

Downtown PHX farmers market.

You'll sample lots of local, international foods and get a sense of the downtown scene.

Crack open the storybook menu at

Bitter and Twisted

and enjoy some of the best craft cocktails you'll ever have. It's about a mile down Central Avenue in downtown.

Catch a live show at the Crescent Ballroom. It's not just a fantastic spot to catch indie bands, it also boasts a fantastic Mexican restaurant at Cocina 10.  

Learn that the desert is more than a bunch of sand when you stroll the immaculate landscapes of the

Desert Botanical Garden

. It's about a 15-minute drive.

Cheer on the Arizona Diamondbacks and/or Phoenix Suns. Both teams have downtown stadiums, walkable in under half an hour if it's not oppressively hot.
Rooms
The American West meets industrial chic
Part ranch house, part urban loft, the rooms at the Found:RE Hotel are both elegant and inviting, with ample open space and floor-to-ceiling windows. In many rooms, the layout allows for both the bed and the desk to face the skyline views, giving guests endless opportunities to take in their surroundings.
Rooms offer platform beds, Keurig coffee machines and large desks with ergonomic chairs. Baths are filled with CO Bigelow products and Jerdon bathrobes, and you'll find convenient USB ports and outlets in the artful lamps. Original paintings and photographs adorn the walls, and several rooms are lit by wagon-wheel chandeliers, a tribute to Phoenix's ranching heritage.
The Found:RE's rooms break down into the following categories:
Standard King and Double – The Found:RE Hotel's most common and popular rooms, these are larger than most entry-level offerings at nearly 400 square feet. The king beds face the window with the desk behind, while double rooms offer plenty of room for two people.
Deluxe Balcony King – Slightly larger than the standard king, these rooms boast private balconies overlooking the Phoenix skyline. It also brings a small sofa and chair, perfect for watching your large flat-screen TV.
Balcony King Suite – The Found:RE's premium rooms sit on the hotel's top floor, and boast some of the coolest design elements you'll ever see in a hotel suite. Showers with both frosted and clear glass sit in the back of the suite, allowing you to enjoy the city view while you shower. You'll find separate living and sleeping areas, separated by a curtain, as well as a large balcony and two TVs.
Amenities
Set apart by the museum-quality galleries
The Found:RE's art galleries offer a museum-quality experience not typically found in a hotel. But this place isn't content to rest on its creative laurels; it also offers a fantastic restaurant and bar, sunny pool area and amusing souvenir shop. You'll also find free Wi-Fi throughout the property and 8,000 square feet of meeting space.
Found:RE Contemporary Art Gallery
The hotel's poolside art gallery is open six days a week showcasing rotating contemporary art exhibits. Works are mostly from local artists too, so you'll get a good introduction to the Arizona art scene. Just make sure to go during the week, as the gallery is closed on Sunday.
Main art gallery
Just to the right of the front desk you'll find a large exhibition hall that features traveling exhibits and special presentations. Hours and artwork change frequently, so chances are you'll see something new each time you visit. The works are often spread out over the lobby and ground-floor hallways as well.
Fitness center
The Found:RE Hotel's fitness center is open 24 hours a day and offers treadmills, ellipticals, medicine balls, yoga mats and dumbbells up to 35 pounds.
Pool
The swimming pool is good for getting some sun, with a smattering of lounge chairs set around the small pool deck. When it's not too hot, it's a nice place to relax, but with no bar it's not really a "scene," and lacks enough space to swim laps.
Parking
The Found:RE Hotel offers overnight self parking for 14 dollars and overnight valet for 25 dollars.
Whether you're shopping for a quirky Arizona souvenir like hot sauce and recipe books or looking for an early morning coffee, you'll find it at Match. The hotel's onsite restaurant offers a full menu of chef-driven stuff like chipotle-honey-dipped chicken sandwiches and NY strip steaks, alongside a gourmet coffee bar with fresh-baked pastries.
Beyond Market's deli counter, you'll find a curious gift shop with everything from books to photographs to pot holders from local artisans, as well as a couple of rows of specially selected wine. There's also a large main bar, where you can pursue local draft beers and cocktails inside, or outside by a fire pit. It all combines to create a lobby scene where locals frequently come to mingle with guests.