Scene
College nostalgia and Ohio Buckeye pride 
There is absolutely no mistaking where you are at the Graduate Columbus, the Ohio State outpost of this quirky collection of college-themed hotels. A mural of The Ohio State University's Mouth Rushmore sprawls behind the front desk, with wallpaper of students spelling out O-H-I-O on lobby walls. But this hotel does more than just theme itself to the Buckeyes it was built to serve. Set in Columbus's bustling Short North Arts District, it's also often filled with the creative types you'd expect to see near a major university.
The Graduate Columbus staff are noted for their enthusiasm, and checkin feels more like the chipper welcome you'd receive from a college guide during freshman move-in week than a simple hotel welcome. The room decor could be described as old-time study hall with the Ohio State memorabilia on the walls, and there's a burger joint in the lobby. The Graduate Columbus won't take you back to your college days, per se — there are no raging keg parties in the hallways — but it's a tribute to that time, and a great way to immerse yourself in Columbus.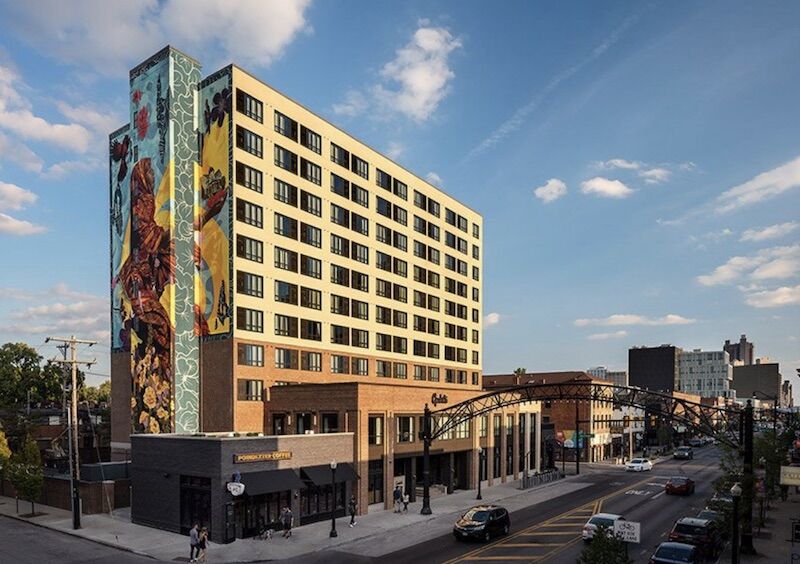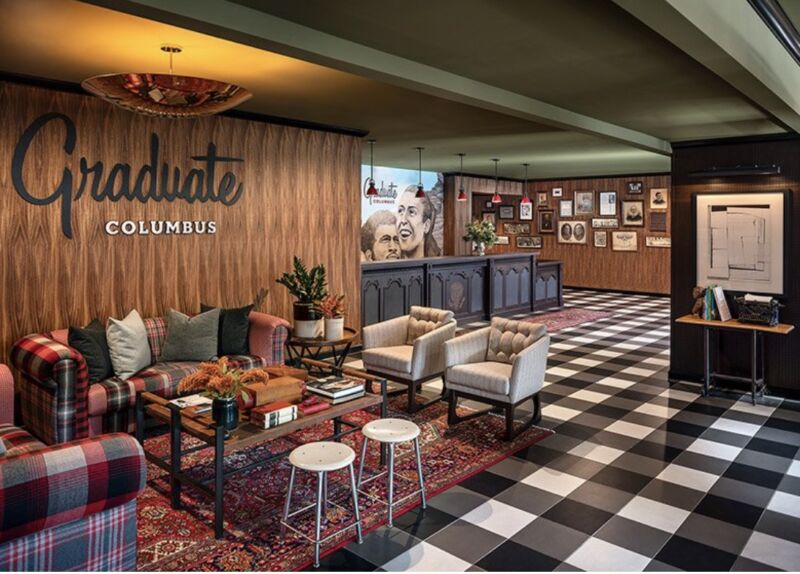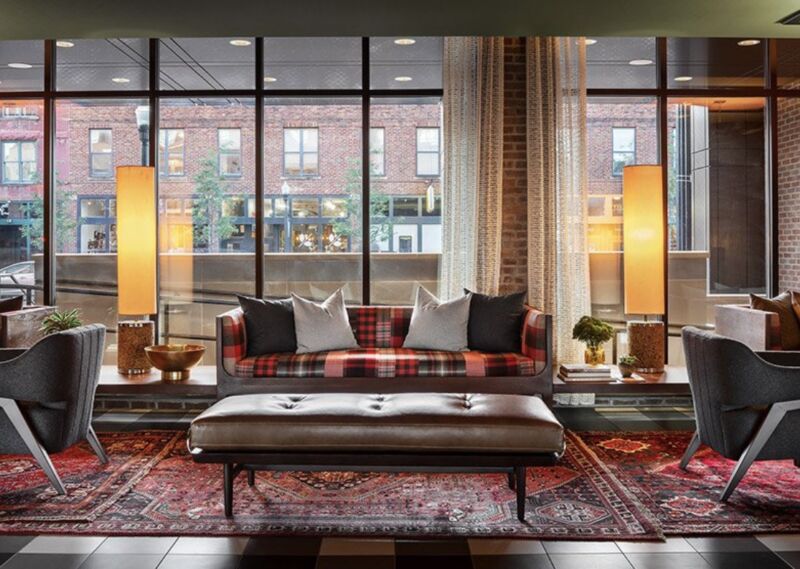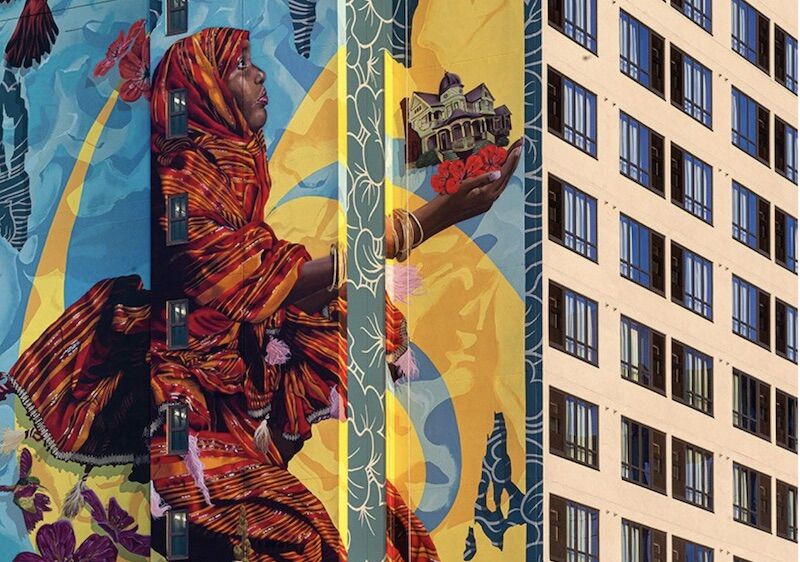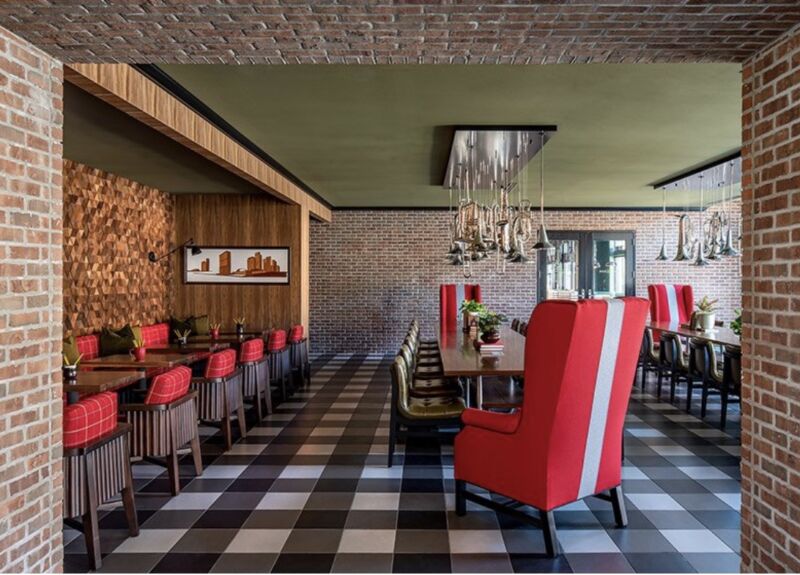 Location
Columbus' spanking-new arts district is right outside your door
The Graduate is about 1.5-2 miles from the OSU campus. So, if you're coming for an Ohio State Buckeyes football game or to visit a student, the location, which is in the Short North Arts District, is not prime. But, if you're coming for literally any other reason, you won't be more than 10 minutes from pretty much anything. Short North is Columbus's hot neighborhood of the moment, so the hotel is a convenient walk to bars, a beer hall, Mexican food, falafel and scores of other restaurants. Just across the street you can get Columbus's best breakfast at The Lox Bagel Shop, and within a block you'll find iconic Jeni's Splendid Ice Creams. It's also a long walk or short scooter ride to Downtown Columbus, the Arena District and pretty much any other part of the city you'd want to visit other than the University District. (For a look at the best things to do in town, see our guide.) Within a few miles you can:
Rooms
Transport yourself to the Ohio State college experience of yesteryear
Graduate Hotels, perhaps more than any other national chain, does themed guest rooms in exquisite detail. In Columbus, that means beds draped with the Ohio state flag, plaques of Jesse Owns over the bed and John Glenn tapestry chairs. The rooms feel a bit like a dorm room, if you'd hired an interior decorator and went to school around 1967. You'll find plaid wallpaper and colorful striped lamps, with retro refrigerators and dark wood furnishings.
The rooms are also dotted with clever little details, whether that means old take-out menus from Columbus staples, retro calendars or lunch boxes. Storage space can be a little tight — the sliding cabinets are a nice tribute to midcentury furnishing but aren't the best for storing clothes. But if you're just coming for a weekend, that won't matter much.
The Graduate Columbus also keeps its guest room categories pretty simple, breaking down into three types, all with accessible options.
Graduate King

– The hotel's standard room gives you a triple-sheeted king-sized bed, desk, chair and bathroom featuring Malin + Goetz toiletries. You'll also have a flat-screen TV and free Wi-Fi, and a good amount of space to move around.

Graduate Double Double

– This is simply the king room outfitted instead with two, you guessed it, double beds.

Graduate King Studio

– It's like the off-campus apartment you finally got to move into senior year, with a fridge big enough for about 300 beers, a wet bar and a couch that pulls out in the living room. It also offers a semi-private bedroom, with just enough open space between it and the living room to still make things awkward when your friends crash.  
Amenities
Plenty of social space upstairs and down, plus two restaurants in the lobby
The Graduate Columbus encourages the kind of common-area workspace you probably miss from your old frat house study lounge. But this common area is made up of two long monastery tables with grand thrones on either end and marching band equipment — a tribute to OSU's famous dotting of the "I" — hanging from the ceiling. You'll also find a grab-and-go cooler by the front desk with late-night study aids like Red Bull and local IPAs waiting for you to snag.
The second floor offers a game lounge with Connect Four and other board games, plus a small business center and water cooler. It serves as the common area for the hotel's meeting space as well, and makes for a nice place to work if you don't want to be bothered.
Fitness Center
The fitness center is sizable, with treadmills, a Peloton bike and dumbbells going up to 50 pounds. It's open 24 hours to all guests, but can run a little hot in the summer.
Bike Rental
Though electric scooters are bountiful in Short North, you can also check out a bike from the front desk and explore town like you did when you were in college.
Parking
The valet lot is just off High Street behind the hotel, and you'll literally see your car from the valet stand. It costs $30 per day.
Food and Drink
The Graduate Columbus has an on-site restaurant called "Café by Day, Bar by Night," meaning  you can stroll in for coffee and a laptop sesh when it's light out, and end the night in the same seat with a cocktail or two. If you're in the mood for an omelet at 5 p.m., Poindexter has you covered, as the breakfast-all-day spot proudly lets you eat like you did in college — with no regard for time. Though pizza is only available after 11 a.m., you can still take it up to your room, let it sit on your desk overnight, then have it for breakfast the next day.
If you're into grease-bomb burgers and crinkle fries, there's also a Shake Shack in the lobby with discounts for guests. Though, you're in a college town, so you can find 100 better hamburgers in a three-mile radius.
FAQ
In which neighborhood is Graduate Hotel Columbus located?
The hotel is in Short North Arts District and is surrounded by dozens of shops, galleries and restaurants. 
Does the Graduate Hotel Columbus offer valet parking?
Yes. They offer valet parking with unlimited in-and-out privileges. The cost is $35 a night.
Is the hotel pet-friendly?
Yes. You can add your pet to your stay for $35 a night.
How far is it from the hotel to Nationwide Arena?
Nationwide Arena is .8 miles away from the hotel.
How far is it from the hotel to Ohio State University?
Ohio State University is 1.2 miles away from the hotel.
#graduatehotelcolumbus on TikTok