Scene
Sneaky design elements give the hotel a playful vibe
The first thing you notice when you walk into the Graduate Nashville is likely the massive, shaggy latch-hook portrait of Minnie Pearl. Designed by artist Margaret Timbrell, the cheerfully colored likeness stretches nearly the length of the check-in desk, which by now you've perhaps noticed is made from a vintage stereo cabinet. 
It's quirky design choices like these that Graduate Nashville has enthusiasm for. 
Because all of the roughly two dozen Graduate Hotels are in college towns, each uses decor that reflects the city it's found in and the closest university (Vanderbilt University in the case of the Nashville location). The Graduate Nashville lobby pays quiet tribute to Vanderbilt throughout the hotel. The black-and-gold star-print rugs in the lobby? A nod to the school colors (and the Tennessee flag). The 160 watercolors of leaves to the right of the entrance? They depict each type of tree that can be found on Vanderbilt's campus, a registered arboretum.
The hotel honors its past life too. Long before it was an Instagram-famous hotel, it was a Taco Bell and a Checkers Drive-in, though the only reminders of that time are with a collection of Pop Art paintings of the fast-food joints' logos. 
While these little treasures are fun, you'd never know their significance unless you asked — there is no museum-like signage explaining these or other Easter eggs scattered throughout the property. Unlike a college exam, in this case, maybe not knowing is half the fun. It's a lot to take in.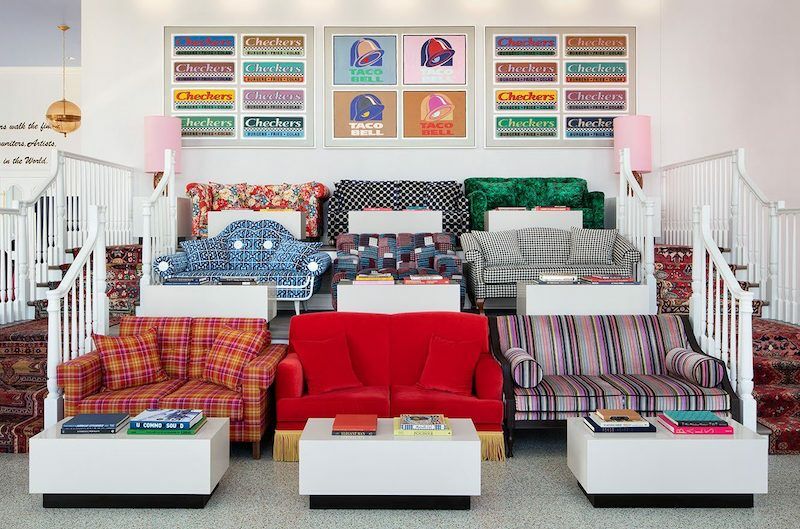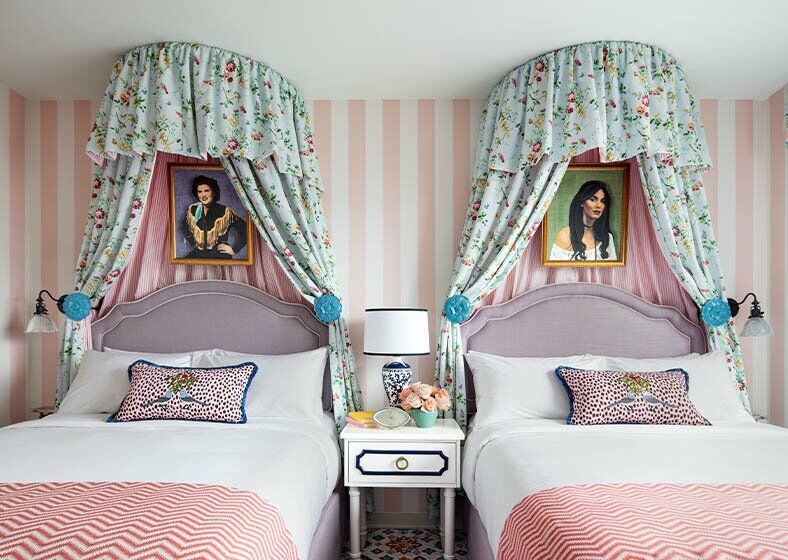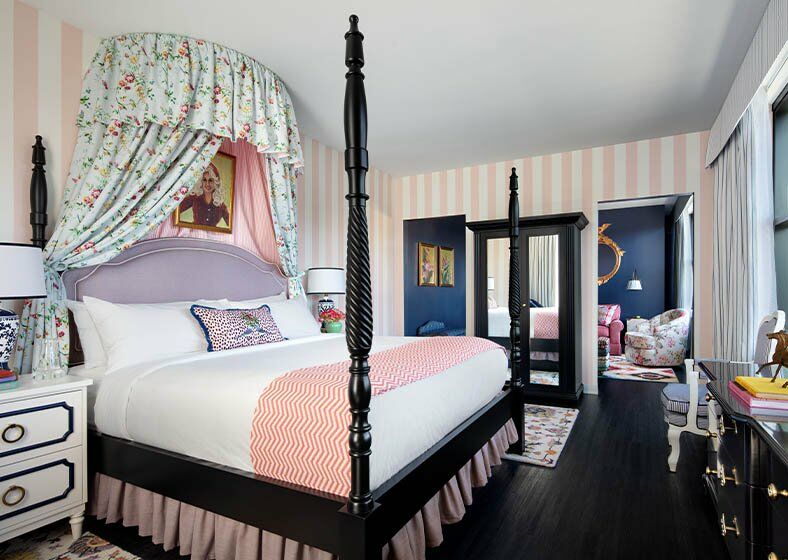 Location
Walking distance to Music Row and just outside the craziness of the Arts District 
Located in Music City's Midtown neighborhood, The Graduate is in a quieter (if that can even be said about Nashville) neighborhood. If you're coming for a bachelor or bachelorette party, it might not be prime — it's a little ways away from the bar districts and honky-tonks. But if you're coming for a laid-back city break and a baptism into all things Dolly Parton, you've found your place. 
There's an interesting smattering of options within walking distance of The Graduate. Here's a small sampling of things to do, eat and drink nearby:
Centennial Park: One of the largest green spaces in Nashville. Here you'll find a one-mile-long multipurpose trail that goes around Lake Watauga, a dog park, volleyball courts, a playground, a bandshell (where there are often movies and performances) and a full-scale replica of the Athens Parthenon that was built in 1897 for a World's Fair. Inside the Parthenon, you'll find a gallery that features American artists. 

Vanderbilt University: This 333-acre campus is full of architectural eye candy. Look for the statue of the school's founder, Cornelius Vanderbilt. Students believe giving him a smooch will bring good luck on tests and sporting events. 

Martin's Bar-B-Que Joint

: You can't go to the South and not get BBQ. Martin's is a local institution where everything is made from scratch. Be sure to get the brisket. 

Hattie B's Hot Chicken

: This chicken spot is immensely popular, so be prepared to wait in line for at least a half-hour. Poultry spice levels range from "Southern" (no heat) to "shut the cluck up!!!" (which is apparently exceedingly hot). The menu is straightforward, with just chicken sandwiches, tenders and wings, as well as a handful of sides and desserts. 

The Local

: A trendy bar where locals do indeed hang out. Come for the Southern-style cooking and locally crafted beers, stay for the outdoor seating and live music. 

Hurry Back

: An industrial space bar with an impressive local tap list, as well as board and yard games.
#graduatehotelnashville on Instagram
Rooms
Squirrels, peek-a-boo chandeliers and canopy beds. 
As a chain, The Graduate brand is known for its attention to detail. For instance, room keys don't just bear the name or logo of the hotel; rather, it's the identification card of a different country singer. To get into your guest room, you might scan the credentials of Willie Nelson, Waylon Jennings, Kris Kristofferson, Johnny Cash or, of course, Dolly Parton. To get to your room, you'll walk down a corridor with custom-made carpets decorated with motifs of cowboy boots, the three stars from Tennessee's state flag, irises for the state flower and an anchor for Vanderbilt.
Except for the 9 to 5 Suite and the Family Suite, each bed in the hotel has a floral canopy, under which hangs the portrait of a Nashville icon (and a sneaky mini jeweled chandelier that's only visible when you're laying down). In the rooms with a single bed that starlet is Dolly Parton. In the double bedrooms, it's both Patsy Cline and Emmylou Harris. 
Again, there are some mini-monuments to Vanderbilt. For starters, each guest room has three squirrels in it. In some rooms, it's a painting of three squirrels, in others, they're found as gold drawer handles, and in the top-tier rooms, they're a trio of statues. The reason is because Vanderbilt University is said to have a 3:1 squirrel-to-student ratio. There's also a print depicting the Honor Code Signing Ceremony, a Vanderbilt tradition dating back to 1875. 
The Graduate Nashville breaks down its rooms into the following types: 
Graduate King: The standard room is outfitted with a king bed, a desk, a lounge chair, HD TV, triple sheeting, a small refrigerator and Malin + Goetz Toiletries. There's also a Graduate Premium King, which is just a corner room, so there's a bit more space. 
Graduate Queen Queen: Almost the exact same room as the Graduate King, except it has two queen beds. 
Graduate Junior King Suite and Graduate King Suite: Both have a separate living room with a sleeper sofa, but the former only has a semi-private master bedroom, whereas the latter has a proper door. Which you choose, we suppose, has to do with how comfortable you are with your friends. 
Family Suite: Two connecting rooms, each with its own bathroom and shower. One of the rooms is the same as the Graduate King, the other has two twin beds with guitar headboards. 
9 to 5 Suite: If you've ever wanted to lay in a California king waterbed and gaze up at a disco ball-tiled ceiling, now is your chance. The sign above the bed says it all: "It Costs a Lot of Money to Look this Cheap." It's equal parts glamorous and tacky. The shag rug has pink feathers in it, and the wallpaper pattern bears Dolly's face. 
Food and Drink 
Each of the three concepts feels like a 3D version of an "I Spy" book
This all-day cafe is found in the lobby, but there's also a separate entrance. Behind the bar (the facade of which is covered in black-and-gold No. 2 pencils), the baristas whip up everything from classic coffee drinks to seasonal specials. There's also a grab-and-go refrigerator stocked with things like sparkling water and sandwiches. To one side of the bar are nine '70s-era sofas and to the other is an atrium with gold-painted couches — that's all to say, there are oodles of spots to sit and enjoy your beverage. 
Cross-Eyed Critters Watering Hole
Imagine, if you will, a low-budget honky-tonk. Give it worn-in floors, a hodge-podge of tables and chairs and wrap the whole scene in twinkle lights — be enthusiastic about it. Built a two-tiered stage, paint the backdrop to look like a barn, and add three animatronic musicians — an aging fox in a blonde wig and hot pink dress playing a keyboard, a round-cheeked pig in overalls holding a guitar and a bear wearing a powder blue suit and guitar-shaped tie strumming an upright bass. Give them a karaoke-appropriate playlist that includes songs like "Sweet Child o' Mine" and "Jolene."  Staple 40 pairs of mismatched cowboy boots to the wall so they spell out the word "these" (as in "These boots are made for walkin'"). Cover the remaining wall space with black velvet paintings of country-Western stars, real and imagined (also include Chuck Norris). Make a drink menu that includes things like "Flaming Dr Pepper" and macro-lagers. Also, inexplicably, sell tacos. Throw in a few pinball machines for good measure. Now draw back. Look over your work. And: Cross-Eyed Critters Watering Hole. 
This indoor/outdoor bar with a pool feels like you're living in a booze-filled Barbie Dream House. Every shade of pink is represented here, from the blush walls and ceilings to the magenta velvet sofas to the hot pink poolside umbrellas to the massive bubblegum-hued chicken wire bust of Dolly Parton in the corner. The food menu focuses on French favorites, like caviar, cheese and moules frites, and many of the craft cocktails are nods to country songs. Be sure to make a reservation — it's a popular stop for bachelorette parties. 
Other amenities include:
Housekeeping (on request)
24-hour fitness center
Valet parking
24-hour front desk
Air conditioning
Laundry service, dry cleaning
Luggage storage
Meeting rooms (6)
Rooftop bar with skyline views
Karaoke bar, coffee shop (Poindexter Coffee)
Free wifi, internet access
Continental breakfast
Blackout shades
Hair dryer
FAQ
What time is check-in and check-out at Graduate Nashville?
Check-in is 4pm. Check-out is 11am. You may purchase early check-in for an 1pm arrival or late check-out for a 2pm departure for an additional $75 plus applicable taxes each.
Is the Graduate Nashville pet friendly?
Yes, it's a pet-friendly hotel. A one-time, non-refundable pet hosting fee of $35 per night per pet will be charged at check-in.
Does the hotel offer parking?
They offer valet parking for $45 plus tax for sedans and $55 plus tax for oversized vehicles, SUVs, and trucks for up to 24 hours per night of reservation, with in/out privileges. There's no self-parking.
How far is it from the hotel to The Parthenon?
It's 1.2 miles or about a 5-minute drive.
How far is it from the hotel to Bridgestone Arena?
It's 1.4 miles or about a 8-minute drive.
How far is it from the hotel to The Ryman Auditorium?
It's 1.4 miles or about a 8-minute drive.
How far is it from the hotel to Grand Ole Opry?
It's 12.6 miles or about a 20-minute drive (via I-40 and TN-155)
How far is it from the hotel to Lower Broadway?
Lower Broadway is 1.8 miles away.
What's the hotel's address?
101 20th Avenue North, Nashville, TN 37203
#graduatehotelnashville on TikTok