Scene
Pop Art and pool parties
Heights House is the hotel version of a never-ending summer. Surfing the wave of trendy motel revivals and Instagram-worthy destinations, Heights House Hotel completed a 3.5 million dollar overhaul in 2020 that included a complete interior gut, roof replacement, exterior additions and LED lighting as well as an entirely new vision for decor. Neon signs, bright murals and colorful details breathe fresh energy into the former Astro Inn, transforming it from seedy to stylish, preserving enough kitsch to push it this side of nostalgic. 
Facing the front parking lot is a full-facade, 1,500-square-foot mural of a vintage blonde bombshell posing with a flying saucer and sky-bound rocket, bolstered by warm shades of magenta, orange and yellow on the south-facing exterior. The same color scheme extends to the midcentury privacy brick wall bordering the covered patio and lounge area adjacent to the cabanas and party-ready pool.
The lobby is compact, but — you guessed it — colorful, featuring a lush, jungle-like ceiling installation, a crescent-shaped bar (more on that later), mural-filled walls and a neon sign behind the front desk making sure everyone knows that "This Must Be The Place." And if you're into retro-chic party energy, it definitely is.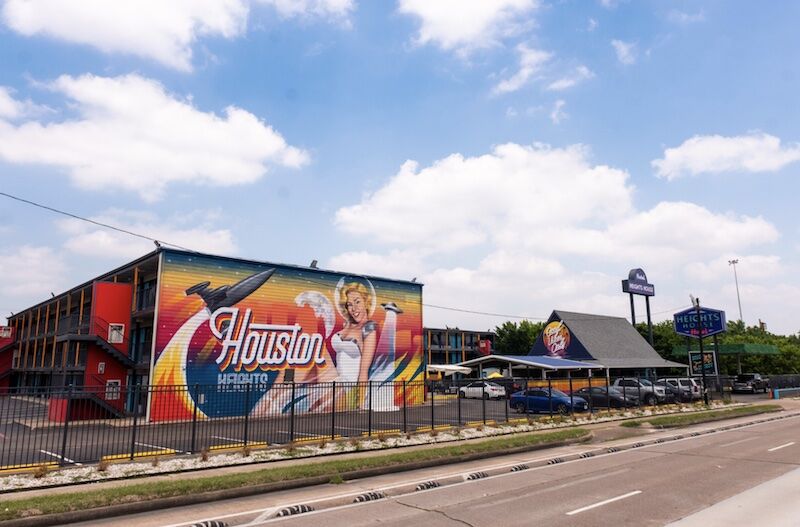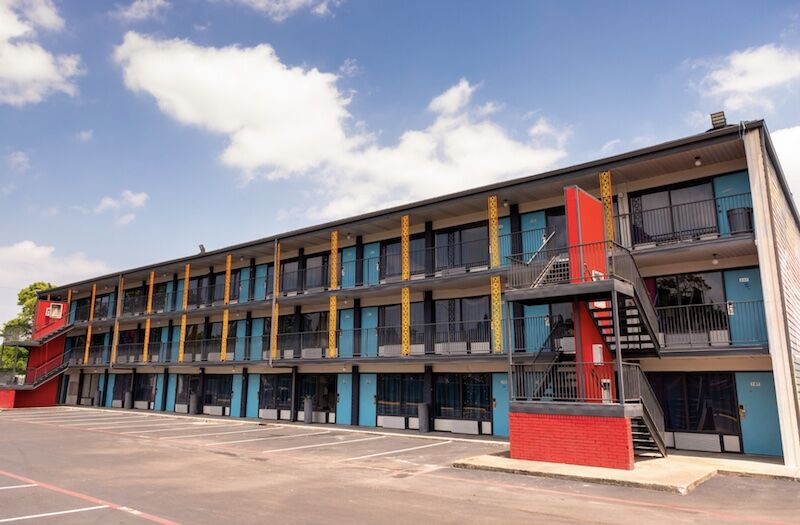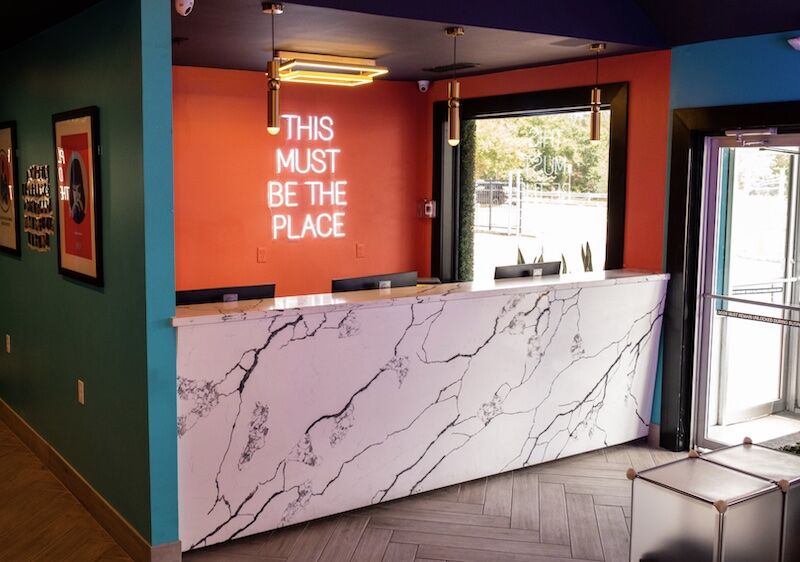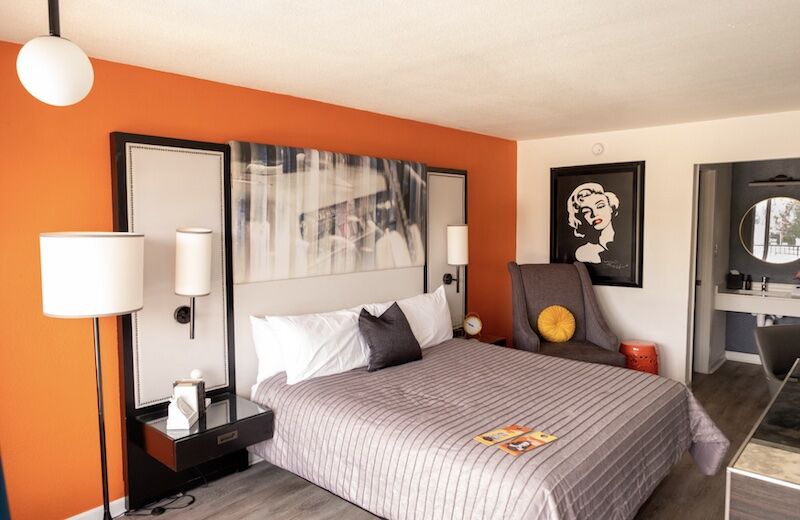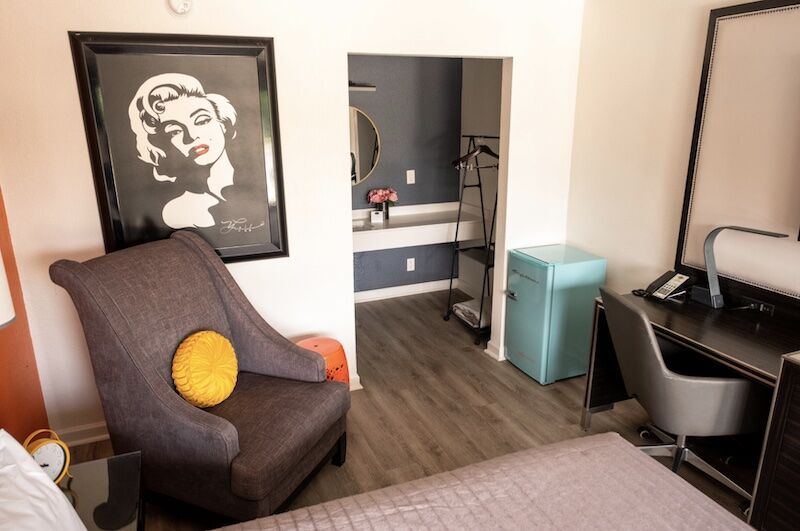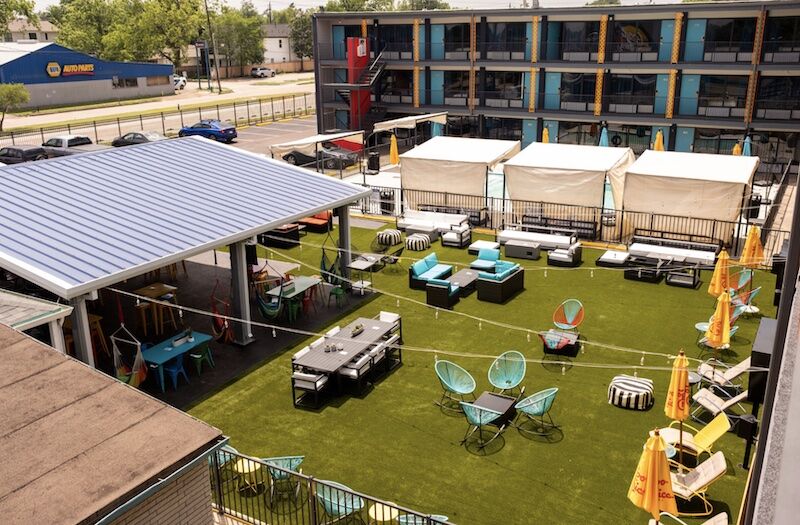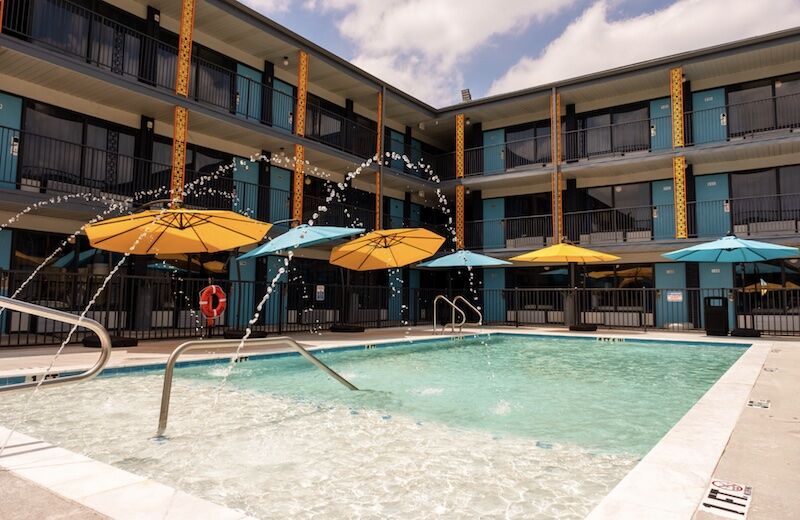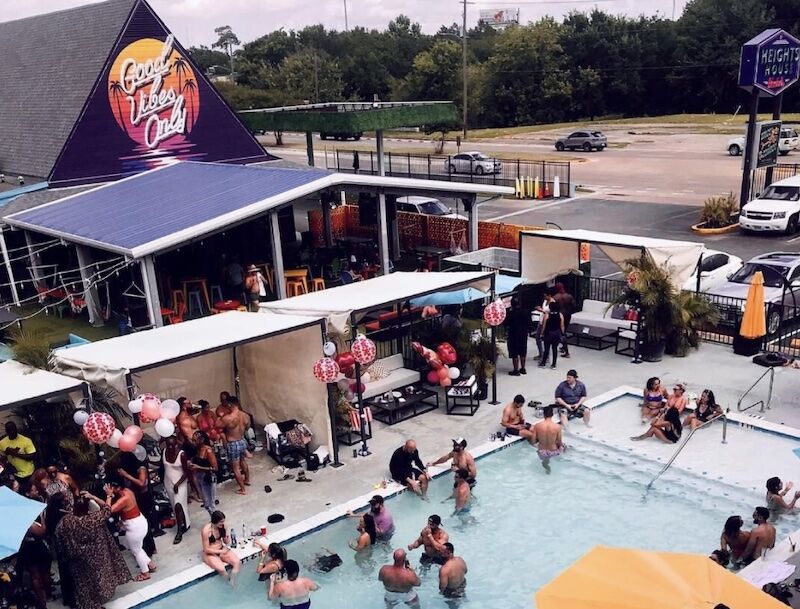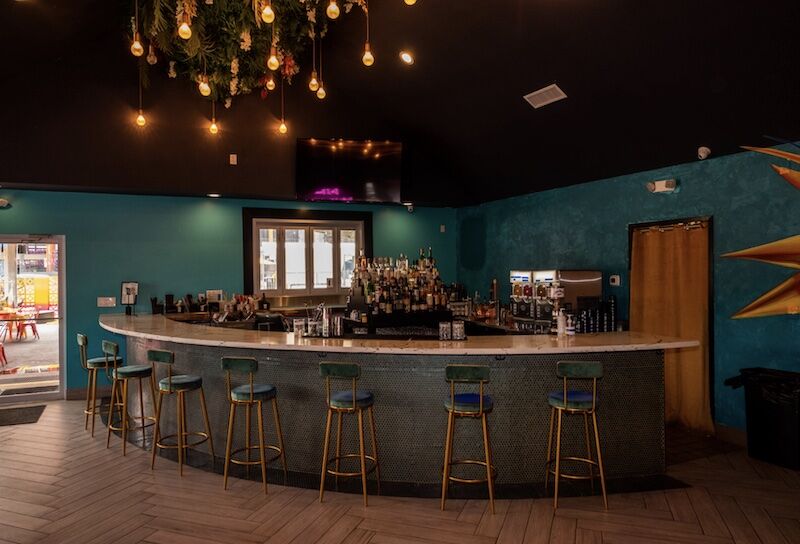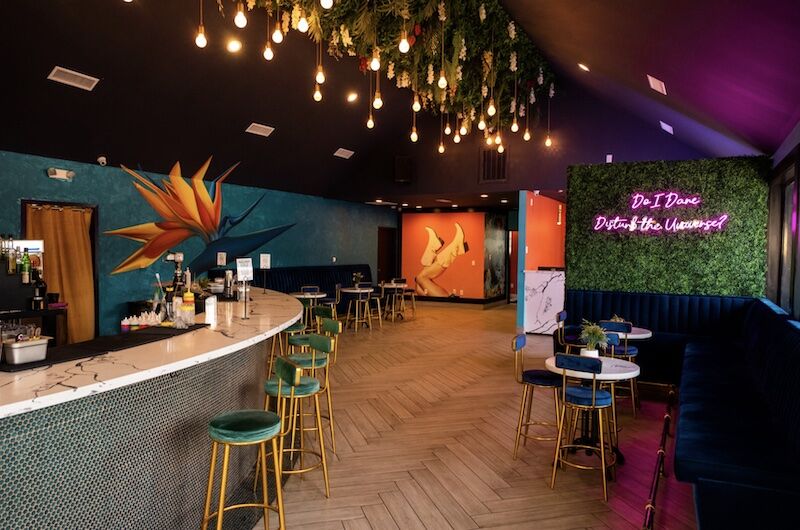 Location
In a hip but laid-back area of town
It's easy to spot once you take the proper exit from Interstate 45, but the location itself is nondescript and unremarkable. This makes for great (free!) parking options with a full lot available — something challenging to find at hotels in nearby downtown. As its name states, it's very close to the Heights neighborhood of Houston, a hip but laid-back area of town full of historic homes, tree-lined streets with a density of food, drink, entertainment and shopping options. Guests may also appreciate its proximity to downtown three highway exits away, translating to a quick rideshare trip, even in rush hour.
Nearby, you'll find plenty to keep you busy: 
Rooms
Compact, comfortable, lively or tranquil
Options are sparse when it comes to floor plans for the 133 rooms on the property. As of now, choices consist of a double with two queens or a single king bed arrangement. All rooms come with desks, 55" flatscreen televisions with cable, private bathrooms with shower/tub combos, but not much space to spread out. Decor is fresh, modern and clean, though less colorful and vibrant than its common area counterparts. It's ideal for staycations and three-day-weekend stopovers where living out of a suitcase feels like a youthful adventure instead of a slog. Being a converted motel, do note that all rooms open to the outside.
Cabanas & Tranquil Travelers
No FOMO allowed on the cabana side, with rooms overlooking the courtyard, pool and patio. If being in the middle of the action — or at least getting to watch it from the comfort of your king or double queen beds — is appealing, the "lively" side is where it's at. When booking, look for the "Cabana King" or "Cabana Queen Double." 
The views are stimulating, but so might be the loud thumping of late-night bass as the party continues long after dark. All kings come with a modern but comfy armchair and side table for additional seating options inside the room, but double queens do not.
A quiet-side alternative, with back-property-facing windows and door is also available; just look for the "Tranquil Traveler"-labeled options.
All rooms are pet-friendly for a non-refundable $50 fee and a few ground rules. Service animals are exempt from pet fees.
Amenities
Everything you need, but possibly not everything you'll want
While life's a party at Heights House, it's not necessarily an overly luxurious one, and that extends to the amenities. It's everything you need, but possibly not everything you'll want (and that's OK!). 
Wireless internet access is available across the property, and guests can enter the vending and ice machine room, which may be more interesting for selfies thanks to the three neon signs glowing inside. Parking is ample and free, pets are welcome for a fee and elevators are available for accessibility. 
In the near future, Heights House plans to offer yoga classes on the Astroturf lawn, bike and scooter rentals, ping-pong tables, shuttle service and live music. 
The real draw here is the pool and cabanas (rentable for non-guests, by the way) as well as the social hub of the courtyard, where bright midcentury-inspired patio furniture and papasan chairs invite an evening of sipping cocktails and catching up with friends. Where to find the cocktails? Glad you asked. Keep reading.
FOOD & BEVERAGE
A destination all its own, Space Cowboy offers a short, sweet and tropical menu that pairs well with cocktails. Think burgers, bites, fried rice and wings, because bar food is bar food for a reason. (The reason is: deliciousness.) While the selection is small, it's enough to keep things interesting. 
Where you'll really want to spend your decision time is picking out the perfect cocktail. Choose from frozen daiquiris, margaritas and lots of crafty, custom drinks concocted specifically for the Space Cowboy menu. There's beer and wine to be sure, but the focus lies on the spirits here.
Don't miss the space hour from noon to 7 p.m. on weekdays, with out-of-this-world drink specials and discounted bar bites.