Scene
Even the locals hang out at downtown's only boutique hotel
Hotel Forty Five opened in early 2022 as downtown Macon's first boutique hotel in the historic core of this mid-sized Georgia city. Housed in an early-20th-century office building restored to its former Art Deco grandeur, it's an eye-catching gem that embraces its history. Vintage elements such as terrazzo flooring and copper detailing have been preserved or reinstalled, as have the logos of banking and insurance companies that used to occupy the building. Artwork and plaques exist at every turn related to Macon's proud and complex history. One wall in the hotel's restaurant displays a huge historic photograph of female workers staring intently at the camera while working the loom in one of Macon's old textile mills. When you walk into the small lobby you see giant light fixtures above resembling cotton bales and a wall with the downtown street grid painted onto it. 
If your aim is to meet and mingle with the locals to get a real feel for Macon, Hotel Forty Five provides a good opportunity to do so. It's been a gathering place since its opening day. The locals come to eat, drink and take in the view from three onsite dining and drinking establishments, and perhaps to reminisce about a time when their parents and grandparents used to work in the building's old offices.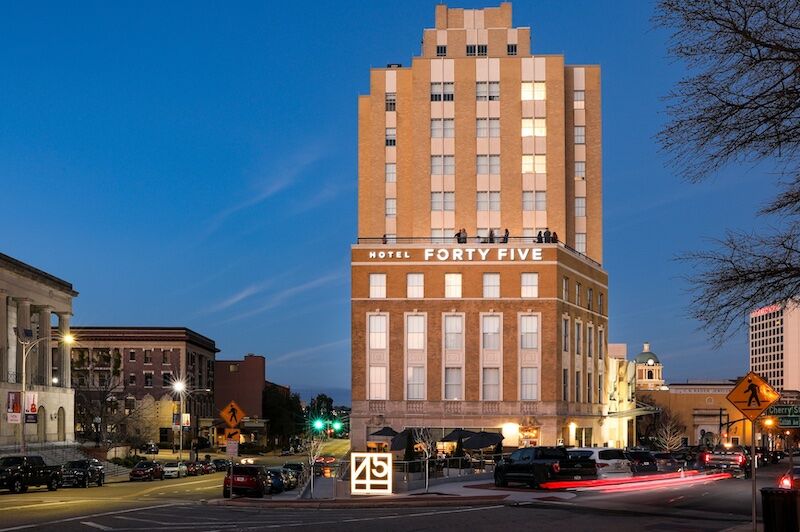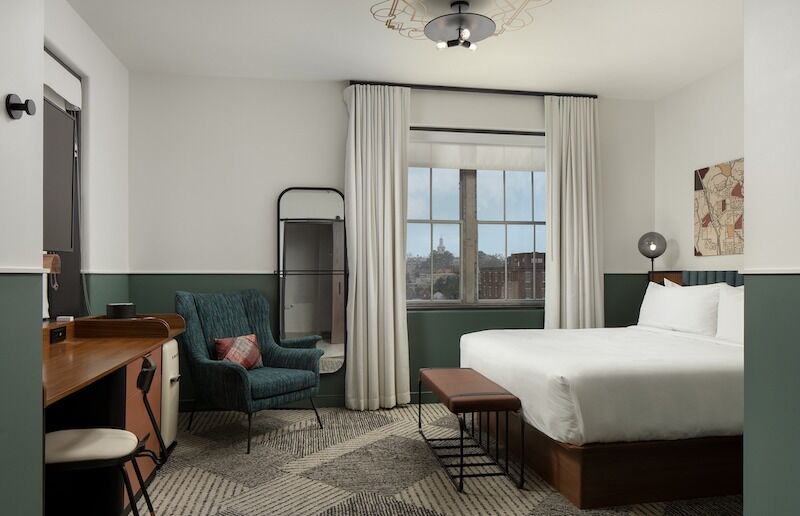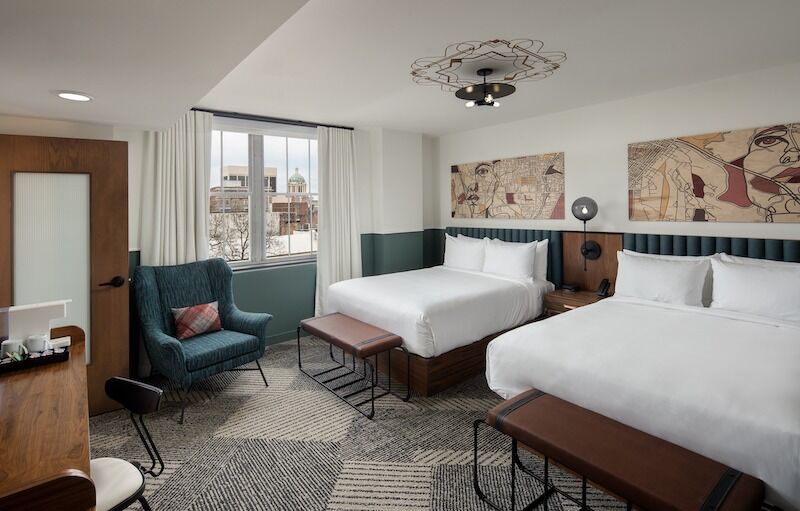 Location
Within easy walking distance to Macon's top shopping, dining and music attractions
The hotel's name comes from its location on Cotton Avenue, a main thoroughfare that runs at a 45-degree angle to the rest of the street grid. In the days when cotton was king in the South, the street was built to cut a direct line to the ports along the Ocmulgee River, and enslaved workers used it to push wagons of cotton to awaiting barges. Cotton Avenue later became a robust Black business corridor and today is in the middle of Macon's low-rise downtown. (The 11-story hotel was deemed the city's first skyscraper when it was expanded in 1940, and is still one of the tallest buildings.) Don't let its stature fool you; downtown Macon bustles with activity and brims with historic architecture, the skyline punctuated here and there by soaring church spires. To the immediate west of the hotel sits the College Hill neighborhood with its historic homes and sleepy streets worthy of an early-evening or Sunday afternoon stroll. In all other directions, the streets of downtown beckon with shops, restaurants, breweries and music museums and venues.
While you're at the Hotel Forty Five, here's a few things to check out:
Rooms
Retro vibe with modern flourishes
All of the 94 rooms at Hotel Forty Five are steps away from the elevator lobby on each floor; There are no long hallways to walk down. Since it's a former office building, there's a retro, "Madmen"-meets-Art Deco vibe. The mini-fridges look like vintage ice boxes, the furnishings seem straight out of a Frank Loyd Wright home, and the windows let in plenty of natural light. Even the bathrooms have windows, with pull-down shades for privacy. Bathrooms also feature spacious glass-door walk-in showers with hand-pump bottles of peach-scented soaps (hey, it's Georgia) hanging on the wall. Most rooms have good views of the city streetscape or, on the upper floors, the city skyline.
Choose from king or double queen guest rooms or one-bedroom and studio suites with king beds and sofa beds in the living area. Pod-style coffeemakers and large LCD-screen TVs are in all rooms and suites.
Guest room, one king: Average-sized room, sleeps two.

Guest room, two queens: Average-sized room, sleeps four.

 Historical view, one king: A bit smaller than average room with good view, sleeps two. 

Night Owl room: Average-sized room with two queen beds, good city view, sleeps four. 

Studio suite, one king: Larger than average room with king bed, sleeper sofa and living area; sleeps four.

Junior suite, one king: A king bed and separate living area with sleeper sofa; sleeps four.

One bedroom, king suite: The largest space offered with a king bedroom and separate living area with sleeper sofa; sleeps four.
Amenities
No need to leave the building for good coffee, wine, craft cocktails and Southern cuisine
Yes, there's a fitness room, solid Wi-Fi, valet parking ($21 a day, no self-parking at the hotel, but a few public decks and hourly street parking downtown), but let's talk about the onsite eating and drinking options.
Reckon Coffee & Wine Bar
Step out of the elevator at the lobby level, cross the hall and walk down a flight of stairs for gourmet coffee and fresh-baked goodies at the hotel's coffee house. There's also patio seating outside for watching the world go by at street level. Reckon closes at 11 a.m. but in the evenings is known to double as a wine bar.
Enjoy specialty cocktails, an ever-rotating craft beer selection, fine wine and light bites at this casual rooftop bar on the sixth floor of the hotel. The bar is inside, but the patio outside is where you'll catch the beautiful skyline views, especially at sunset. Hightales opens at 4 p.m. every day.
Expect elevated seasonal Southern fare at Loom. Located just off the lobby, the relaxed, non-stuffy atmosphere lends itself to sharing plates of sophisticated and eclectic dishes such as fried green tomato Napoleon and Georgia shrimp and stone ground grit cake, or main dishes like field pea cakes and pork belly carbonara. The dining room is bright and airy and includes a bar you can sit at. There's also a patio space for dining al fresco.
#hotelfortyfive on TikTok