Scene
Art-inspired hominess in the heartland
Fargo isn't exactly teeming with character-driven, boutique hotels, but if there's a spot in the city that meets the standards of modern cool and sophistication, it's the Hotel Donaldson. Though its color palette trends toward the white and cherry wood neutrals of a classic American home, art is delightfully ever present in this historic brick building. Each of its 17 suites is decorated by a different artist and the hotel has its own gallery where it displays the work of local creators. 
It's this creative vibe of the HoDo that helps to fill its ground floor restaurant on weekends and to make its rooftop bar a summer hotspot for locals and visitors alike. In the art gallery spirit, Hotel Donaldson plies its guests with a nightly beer and wine happy hour in its lobby and attached terrace, and provides nightly chocolate truffles for a nice evening treat. If you're looking for something special on a trip to North Dakota's most populous city, the HoDo is absolutely the move.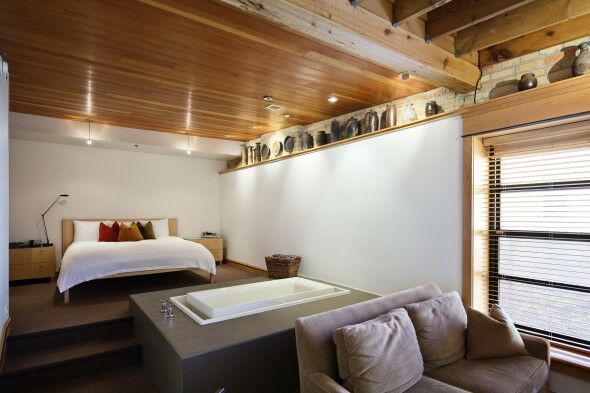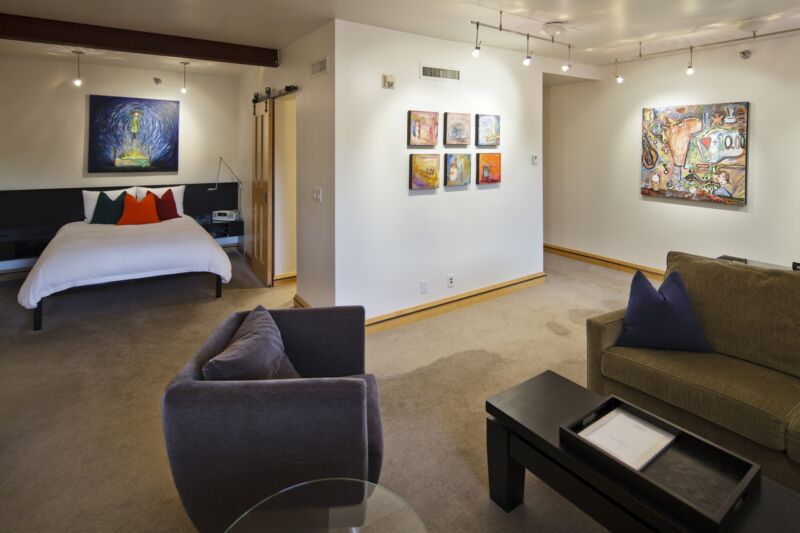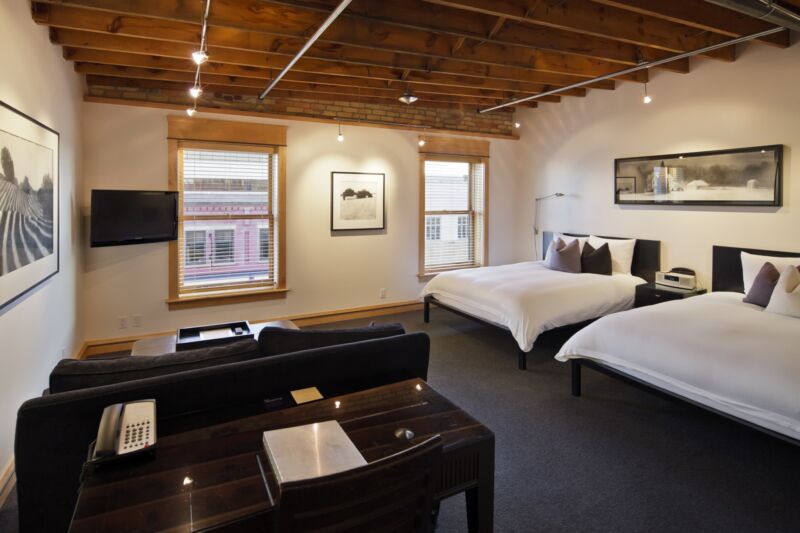 Location
Walk to bars, restaurants and most of what you'll want to see in Fargo
Many people might not know  Fargo beyond what they saw in the Coen Brothers' movie set in the snowy city, but it's actually a vibrant, neon-filled midwestern college town with fun and friendly people. Hotel Donaldson sits in the heart of all of it, where you can walk down Broadway to the city's strip of bars and restaurants, then retreat back to a hotel that's both sophisticated and undeniably homey.
The Hotel Donaldson is also only a few blocks from the Red River and the neighboring city of Moorehead, Minnesota. You can readily walk to each. Nothing in Fargo is too far, and, if you stay in town, you can easily get around  without a car.
If you do want to drive, here's some other cool stuff to do nearby:
Take a picture in the middle of a Super Mario Brothers scene at Fargo's Mario Wall, then tour the rest of the murals that make up the

city's mural tour

.

Visit the famous Fargo Wood Chipper at the

Fargo Moorhead Visitors Center.

  It's also home to the Best for Last Club, which you can join if North Dakota is the  last state you visit after seeing America's other 49. The visitors center about a 10 minute drive from downtown,

Sample cider at

Wild Terra Cider

, the first urban cidery in North Dakota, about a five minute drive. While you're at it, hit

Dekker

and

Fargo Brewing

to try fantastic beers you'll rarely see outside the state.

If you're in town during football season, take in the tailgate scene at the Fargodome. It's home to the eight-time FCS football champion North Dakota State Bison, and the tailgates are a statewide party and education in North Dakota culture.

Learn all about baseball home run king Roger Maris at

his namesake museum

in his hometown. It's about 15 minutes away by car.

See the viking ship that crossed the Atlantic in 1980 at the

Hjemkomst Center

in Moorehead. It's also the area's historical museum and boasts an epic replica of Hopperstad Church.

Paddle along the Red River for a serene way to start the morning. Kayak and canoe rentals are available outside the Hjemkomst Center, about half a mile from the hotel.
Rooms
Artist-designed rooms make this one of the most unique hotels in Fargo
Though the red brick façade and rooftop bar are fun, the coolest things about the Hotel Donaldson are its rooms. Seventeen different artists designed them, meaning every trip offers the opportunity to experience something new. Though the wall art and decorative details differ, each room has a distinctly midwestern feel, with beamed ceilings and exposed brick. Track lighting makes the rooms comfortably bright  on dark North Dakota nights, and the chrome-filled bathrooms add a modern, industrial touch.
The Donaldson's rooms feel large, too. And even though they only clock in at around 450 square feet, the high ceilings give it a large suite atmosphere. You'll find generous seating areas and wide, comfortable beds in each room, as well as a bar, sink and mini fridge. The suites embrace the wide open, North Dakota aesthetic and ensure you'll feel just as free in your room as you do outdoors.
Hotel Donaldson's rooms are available in 1 Double, 1 Queen, 2 Queen, and 1 King rooms. They range from just over 400 to just under 500 square feet, and all 17 have different individual amenities ranging from a soaking tub to a leather ottoman. Check them all out here, and see which strikes your fancy.
Room rates range between approximately $214 to $354 or more. 
Amenities
A rooftop bar and nightly happy hour for guests
The Hotel Donaldson's rooftop bar is probably its most famous amenity, but hang out around the second floor lobby between 5-6 p.m. and you'll be able to drink for free at the nightly guest happy hour. Beer and wine are readily available and you can take them out onto the attached terrace for a view that's almost as good as the rooftop's.The HoDo also puts out chocolate truffles for its guests at 8 p.m. . 
You can burn all of these cost-free indulgences off in the fitness center, a simple little set of cardio machines, light free weights and a cable machine deep in the Donaldson's basement. 
In addition to all that, the Hotel Donaldson offers:
Valet parking

Free WiFi

Fitness Center

Flat screen TVs

Large living rooms in each room

Mini refrigerators
Food and Drink
Bars and a restaurant that can make a claim as best in Fargo
The Hotel Donaldson is as locally known for its bars and restaurant as it is for its artist-designed rooms. Be aware, though, Stoker's is not one of them. In the first floor elevator lobby you'll see a door leading to Stoker's, but don't get your hopes up for a swanky cigar lounge. It's the hotel's events space and open for private events only.
HoDo Restaurant *temporarily closed due to Covid*
The big, bright restaurant with a window out to Broadway is a scene unto itself, bustling with visitors and younger professionals. The food's probably the best New American in Fargo, with grass fed steaks, truffle mac & cheese croquettes, and duck confit taquitos on the menu.
HoDo Lounge
The 1950's chic, rounded bar inside the HoDo Restaurant doubles as a happy hour hotspot and late night cocktail destination. The HoDo lounge boasts Fargo's best craft cocktails.  Here, you can sip on an old fashioned or martini and watch sports on TV at the same time.
Sky Prairie
Granted, a rooftop bar in North Dakota sounds like a terrible idea all but about four months of the year. But hit this spot in the state's all-too-short summer and you'll be treated to a sunny porch on the prairie with landscaped vines, flowers and shrubs sprouting up  along its perimeter. The wind can get a little fierce, but when it dies down you'll have stunning views out over the Red River Valley and into downtown, with fantastic cocktails and an attractive crowd to go with it.