Scene
A buzzy, social vibe with a Gothic Revival backdrop
The Hotel Kansas City brings history to life, capturing the energy and excitement of yesterday in a painstakingly restored space. The hotel opened in October 2020 in the Kansas City Club building, a spot steeped in Missouri history as the center of the city's high society — a place where Dwight Eisenhower, Harry Truman and Ewing Kaufman came to rub elbows — throughout the 20th century. The hotel is a lot less "you can't sit with us," yet still maintains its buzzing, social vibe with a Gothic Revival backdrop. You'll find guests from the hotel's stunning event spaces mingling in the lobby before heading down for a nightcap of live music at Nighthawk. The lobby flexes old-school, with those high ceilings that look like they've carried over from the building's 1920s heyday, save for the abstract busts of early members. But you also feel a center of social gravity, thanks to the retro lobby bar.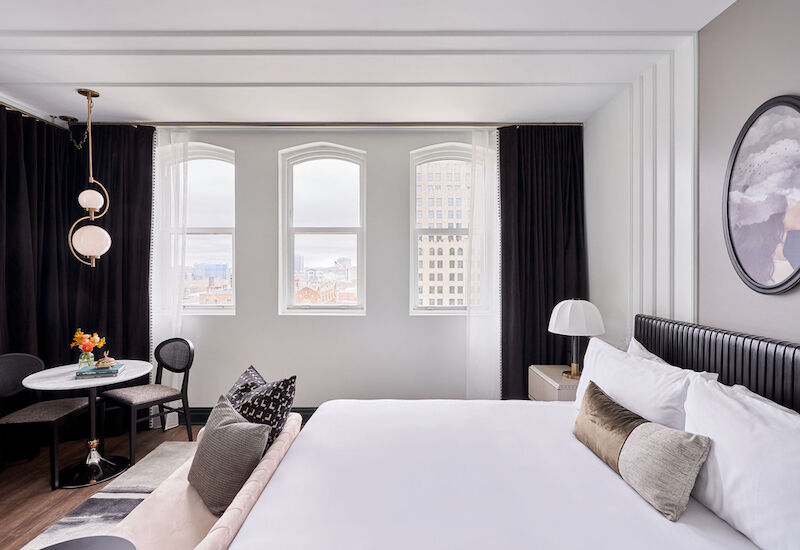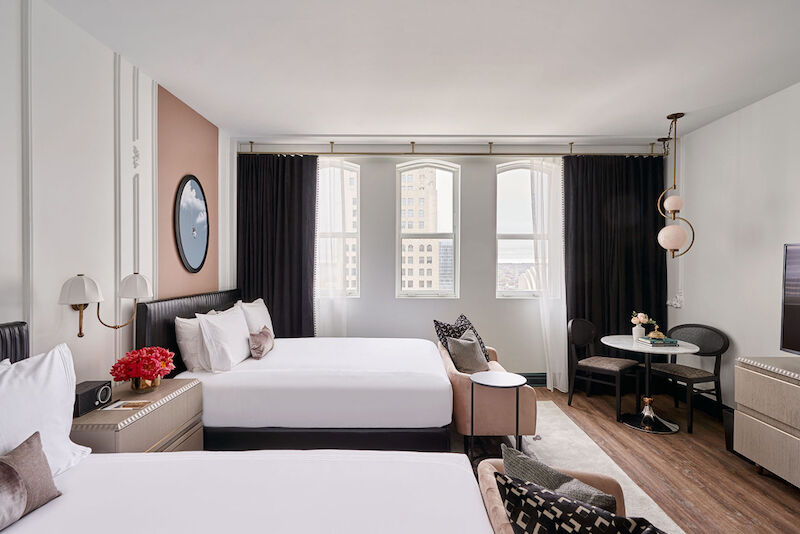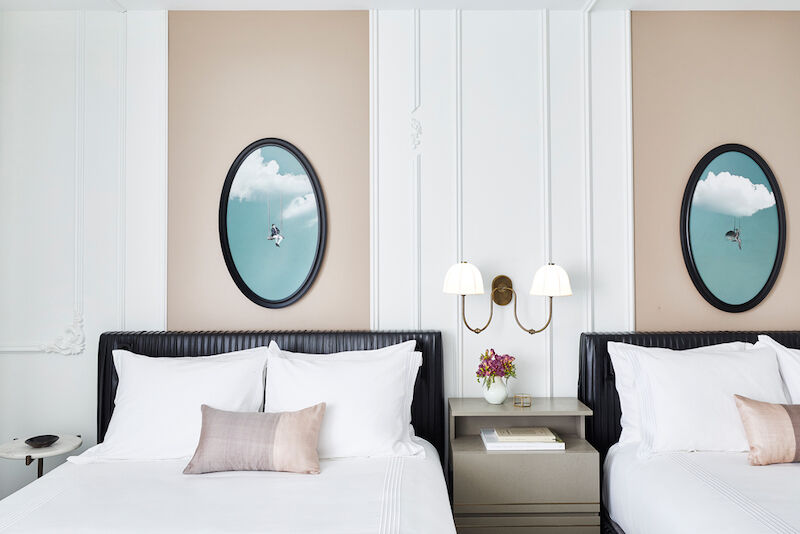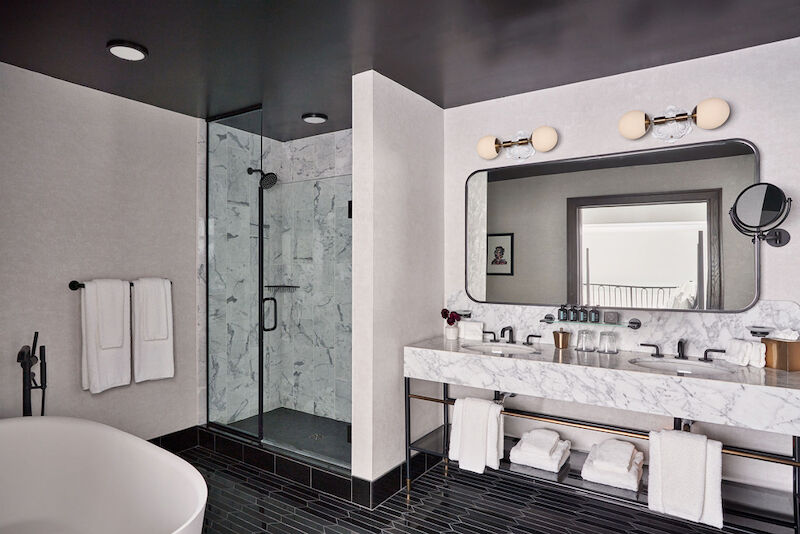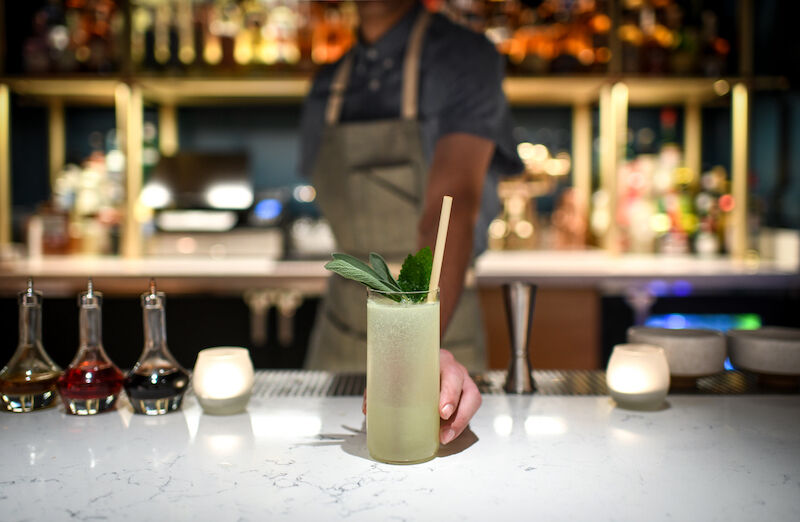 Location
In the Power and Light District and convenient to downtown
The hotel sits in the Power and Light District and is super convenient to downtown Kansas City, the city's light rail and plenty of barbecue. You'll be able to walk to almost anything, save for the local sporting events, and most everything else is accessible within a few stops on the rail. Some things of note nearby:
Rooms
Nods to the past with a modern finish
The original Kansas City Club offered 160 hotel rooms, so lodging is nothing new to this 100-plus-year-old building. The new rooms are nods to the past, decked out in marble bathrooms, hardwood walls and furnishings that bring to mind the roaring '20s.  
Guest rooms on the 13th floor — where the club's pool used to be — still have pool tiles on the walls. Other rooms hang oval portraits of notable club members, like the first woman to ever apply. Most rooms have lamps that look like hoop skirts and drapes that look like a dress neckline. All rooms also include a 42-inch flatscreen TV, safe, refrigerator, coffee maker and two plush robes.
Hotel Kansas City's guest rooms break down into the following categories:
King and 2 Queen Rooms – Even the most basic rooms at the Hotel Kansas City feel undeniably cool, where double sliding doors open into a dressing area with walk-in closets and an all-marble bathroom. They're 330-341 square feet.

King and 2 Queen Corner Rooms – These rooms are slightly larger than their standard counterparts, clocking in at a spacious 407-421 square feet with panoramic views out of vintage window frames. The Queen Corners also boast a hardwood accent wall, and windows that stretch almost from floor to ceiling.

King and 2 Queen Suites – The standard suites are around 600 square feet, giving guests individual seating areas that can be completely cut off from the bedrooms.

King and 2 Queen Loft Suites – Urban lofts meet Victorian-era architecture in these two-story suites, where elevated bedrooms offer some of the hotel's best city views. They hover around 800 square feet, and also bring a soaking tub, shower, dual vanity and dreamy four-post bed.

2-Bedroom Suite – The largest room in the hotel is bigger than most apartments, with 1,227 square feet and two separate bedrooms. One has a king bed, the other two queen beds, and the seating area offers plenty of space to entertain.
Amenities
Hotel Kansas City is awash in history and art, from the ornate ceilings in the lobby to the old key boxes behind the front desk. The most stunning spaces are its meeting venues, though, where you'll find two stories of stained glass murals and brilliant interior architecture in the Tudor Ballroom. The rooftop is home to KC's newest indoor/outdoor rooftop events space, a big reason why you see so many dolled-up people milling around the lobby. There's plenty else to see at the hotel Kansas City.
The former basement of the Kansas City Club has become one of the hottest music venues in the city, where live bands both local and touring play almost every night. It feels like the hidden, downstairs music venue of Prohibition lore, and offers classic cocktails to match the mood. Nighthawk also pours entire lines of draft cocktails, frozen cocktails and original cocktails in a bottle. All of which are just as good as anything made fresh.
Hotel Kansas City's restaurant sits in the back of the lobby, but on some nights you can smell its creations from the time you walk in. The New American menu is long on local specialties, where you'll enjoy Clara Row Rolls with carrots and butter before delving into your apps and entrees. The chile-smoked pork chop with cornbread is the highlight of the menu, although non-meat-eaters will delight with the celery root dumplings with pine nut and Manchego.
Lobby Bar
Sipping a bourbon at the Hotel Kansas City lobby bar, you immediately feel the spirit of the building, as the walls, furniture and dim lighting all lend themselves to 1920s excitement. The lobby bar exudes class, and serves as a crossroads for both hotel guests and those attending events here. And though Nighthawk is the big nightspot, this is the social hub of the hotel.
Lobby Café
The hotel's old champagne bar is now the gourmet coffee shop, where you can get crafted coffee drinks at sometimes-nonsensical hours. But coffee in urns is there all day. It's also where you can pay for the hotel's hot and cold breakfast buffet, which is underwhelming but convenient.
F.A.Q.'s
What time is check-in and check-out?
Check-in is 3PM and check-out is noon.
How far is Hotel Kansas City from Arrowhead Stadium?
Hotel Kansas City is 7.9 miles from Arrowhead Stadium via I-70 East. It's about a 13-minute drive.
How far is it from Hotel Kansas City to T-Mobile Center? 
Hotel Kansas City is blocks away from T-Mobile Center. It's .3 miles away.
How far is it from the hotel to Kansas City International Airport?
The distance from Hotel Kansas City to Kansas City International Airport is 17.7 miles and takes approximately 20 minutes to drive.
How far is the hotel from Legoland Discovery Center?
Hotel Kansas City is 1.2 miles north of Legoland and is approximately a 6-minute drive.
How far is the hotel from Union Station?
Hotel Kansas City is 1.7 miles north of Union Station and is approximately a 6-minute drive.
How far is the hotel from Crown Center?
The hotel is 1.1 miles from Crown Center shopping center.
How far is the hotel from the Kauffman Center for the Performing Arts?
The hotel is .7 mile from the Kauffman Center.
How far is the hotel from the Kansas City Convention Center?
The hotel is walking distance (.4 mile) from the Kansas City Convention Center.
How far is the hotel from Ambassador Hotel Kansas City?
The hotels are walking distance from each other and just .3 of a mile away. 
Does the Hotel Kansas City have Wi-Fi?
Free Wi-Fi is available throughout the property.
Is there a fitness center (or gym) at the hotel?
Yes. There is a 24-hour fitness center with dumb bells up to 50 pounds, treadmills, ellipticals and two Peloton bikes. It's sparsely used, though, so malfunctioning equipment might not get reported for a long time. What we're saying is, you won't be sharing the place with anyone else. But some stuff might not work.
Is there parking at the hotel?
Hotel Kansas City offers valet parking with unlimited in and out privileges for $30 per night.
Does the hotel have meeting spaces?
Yes. Hotel Kansas City has more than 20,000 square feet of event spaces including a 6,000 square foot rooftop.
Is the hotel pet-friendly?
Yes.
Is there an indoor or outdoor pool?
No.
#hotelkansascity on TikTok