Scene
A colorful collection of quirk topped with spectacular views
It helps to have a sense of whimsy if you want to stay at Hotel Lincoln in Chicago — or at least to not take your hoteling too seriously. From the moment you pull up to this old brick building in the heart of residential Lincoln Park and see its dilapidated, old sign welcoming you to the city's most unpredictable hotel, you know you're in for something a bit to the left of (and more than) the average contemporary lodging. The front desk is made completely out of old dresser drawers, some with candy inside. It serves as the centerpiece to a lobby filled with mismatched yet well-arranged furniture and a seemingly random collection of art.
Looking closer, you can see the method to the Lincoln's eccentricity, as colors, shapes and patterns complement each other in a way that feels homey, like your parents' rec room with considerably less pet hair. And the pictures on the wall are a mishmash of animal sketches, old photos and cartoonish portraits that feel like a combination of a cluttered grandparent's living room and an old Italian restaurant. People who stay here appreciate a good dose of quirk or simply have tired of hotels full of the muted tones and clean lines favored by today's mass manufacturers. For some, the boldness can be refreshing, and us normies — families, digital nomads, geeky travel magazine writers — can all partake in the fun.
Still, this hotel is owned by Hyatt and has all the drapery of a standard or above average, establishment. There's a rooftop bar with panoramic views of the skyline and Lake Michigan, and The Kennison restaurant, which draws plenty of locals from the nearby redbrick row houses. In their food offerings, too, Hotel Lincoln has hidden a surprise: Sushi Suite 202 is a guest room converted into a chandelier-lit, six-seat sushi tasting room. The hotel calls it a speakeasy of sorts, but you don't need to know a password or crawl through a washing machine to get in. A reservation will suffice.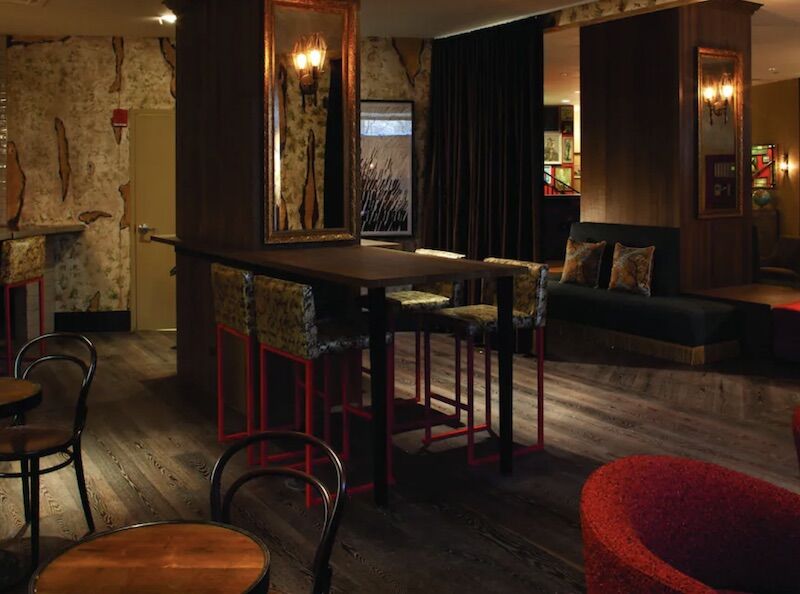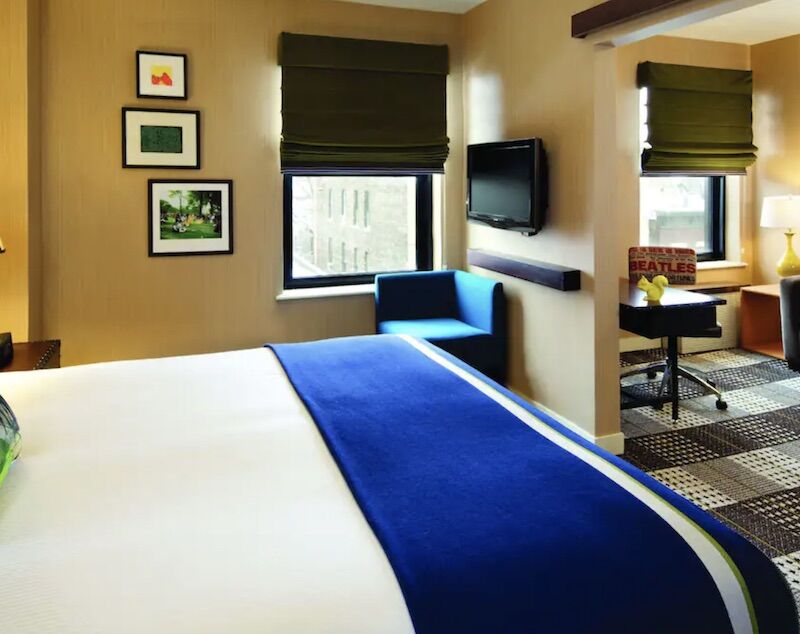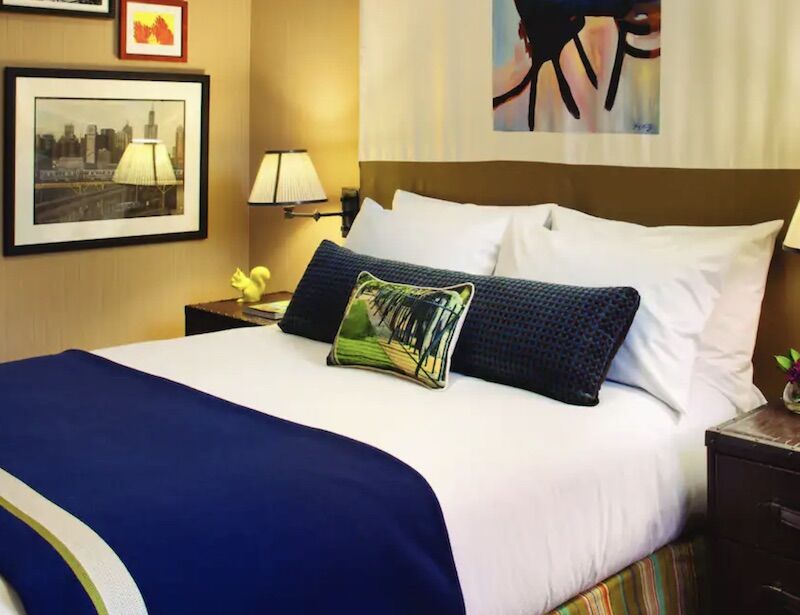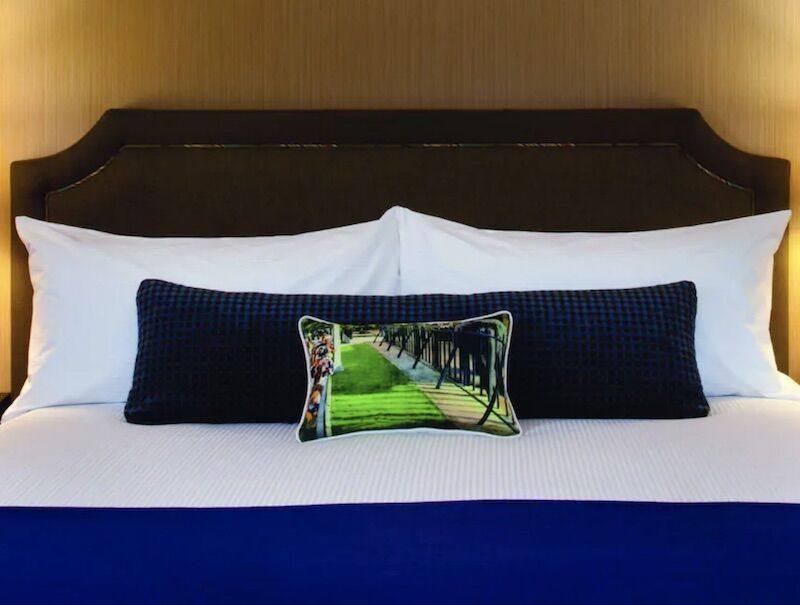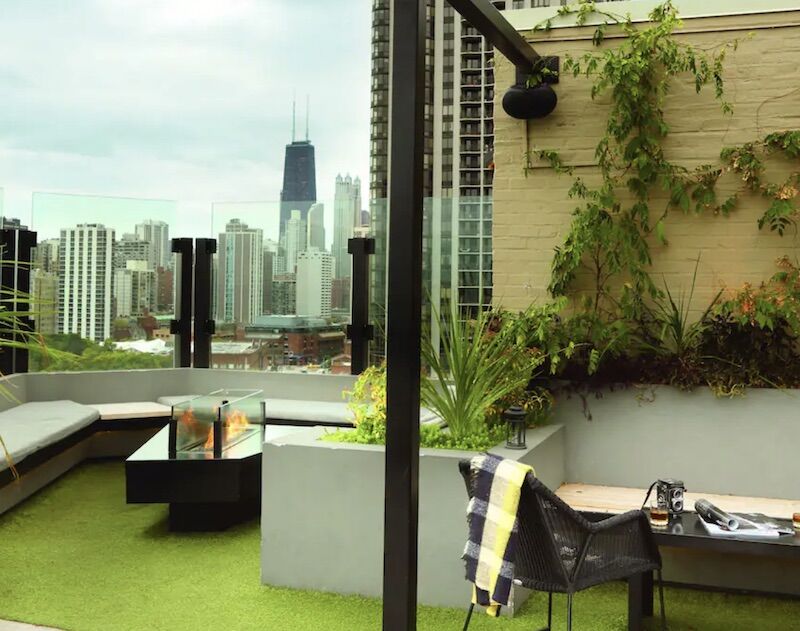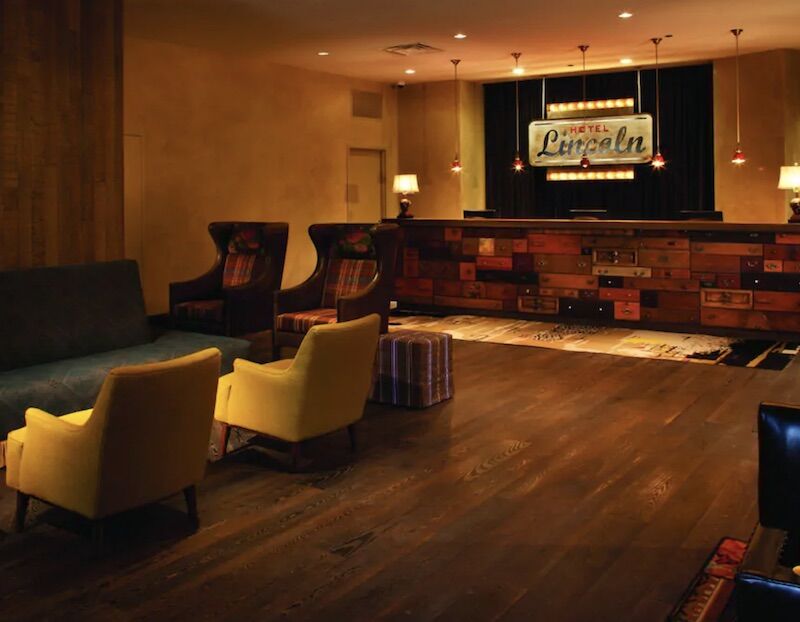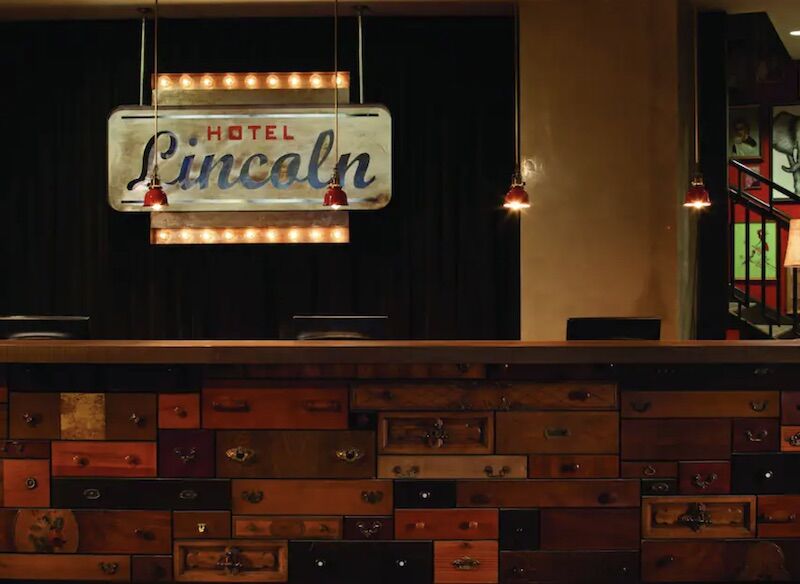 Location
Like living in a real Chicago neighborhood, but not too far from anything
The Hotel Lincoln Chicago sits on the eastern fringe of the Lincoln Park neighborhood, a fairly residential area dotted with hole-in-the-wall restaurants, corner taverns and convenience stores. The hotel will give you the feeling of living like a local as much as is possible while staying in a hotel. And Hotel Lincoln is safely away from the packed-street action of Downtown and the Loop. It's also conveniently near the Lincoln Park Zoo and the North Avenue Beach.
That said, you'll need to get a cab or jump on the CTA train to get much of anywhere else in Chicago. But if you're cool leaving the hotel in the morning and not coming back until your day of sightseeing is through, it's a perfect neighborhood respite. And it's not exactly lacking for stuff nearby. For a full guide to the most notable and quintessential experiences in the city, check this out. In the meantime:
Rooms
Offbeat decor and local art in small-but-efficient rooms
The polished thrift store aesthetic of the Lincoln's lobby carries over into its guest rooms. The walls are lined with colorful, sometimes-confusing stuff from local student artists depicting things like cityscapes, forest walks and musicians. All that sits atop loud, patterned carpets, with vintage-looking wood furnishings and pillows that fit right in with the stuff on the wall.
The rooms are small, especially the single queen rooms, though you will get a work desk, HD-TV, alarm clock and tablet to run the room. If you're looking for a little more space, opt for the one-bedroom suites. They've got an added sitting area that looks like it could have been ripped from the set of "Mad Men."
The views in the rooms vary wildly. If you've got some cash to burn and want to wake up with a stunning water view, it's worth shelling out for the lake view rooms. If you plan on getting back well after sunset and keeping the curtains pulled until late in the day (or until your hangover subsides), save some money and skip the view.
Amenities
A rooftop bar, farm-to-table restaurant and sushi in a suite
Not that we'd suggest it, but you could probably feed yourself pretty well without leaving the Hotel Lincoln. With two restaurants, a bar and a coffee shop, you'd be pretty satisfied if work or some other hotel-bound commitment kept you from exploring the city. But, if you do want to explore one of America's best food scenes, the Lincoln has seasonally available bicycles you can borrow. Other amenities include: 
Gym
The Lincoln's fitness center is open 24 hours, but it's minimally equipped: a few cardio machines and light weights is about it. If you need a more extensive setup, we recommend getting the $25 day pass to the Equinox nearby.
What the J Parker lacks in altitude it makes up for in perspective. Its location north of Downtown gives you a spectacular view of both the Chicago skyline and Lake Michigan. The bar is not limited to cocktails and small plates either; during the day you'll find yoga classes and other programming taking over the space.
The Kennison is perhaps the most visited part of the Hotel Lincoln, attracting local foodies and guests with an ever-changing seasonal menu. It's nothing too fancy, but the restaurant will impress you with its takes on otherwise common staples. Meatballs are dressed up with harissa and lamb, and chicken sandwiches get a spicy Nashville treatment. It's worth a stop if you're not up for venturing out into the city, and is especially handy during winter visits when the weather isn't as welcoming.
Sushi Suite 202 is easily the coolest concept inside this hotel that's teeming with stuff that'll make you stop and stare. It's a converted hotel suite that's now a six-seat cocktail and sushi bar spread between the former sitting room and bedroom. Inside, you and a handful of others will get a 17-course omakase experience for $149 with sustainably sourced fish from everywhere on the planet. The gourmet experience led by Jordan Dominguez all happens in a 500-square-foot space that feels as intimate as really good room service.
Elaine's is a bit of a throwback to the ragtag coffee shops of the mid-'90s, where plaid pillows and vinyl couches make for a perfectly comfortable place to prop up your laptop and throw on some classic STP. Even if you never set foot in a coffee shop in the '90s, Elaine's is still a welcoming place to mingle with guests and neighborhood residents alike. The collection of coffees and pastries are pretty solid too.
Related
See our Best of the U.S. Bucket List series for your guide to the city: