Scene
Elvis and more Elvis situated just a mile from Elvis' birthplace.
In Tupelo, they love them some Elvis, and it's never more obvious than at Hotel Tupelo, the city's first full-service boutique hotel. The lobby bathroom has mirrors etched with Elvis' iconic TCB tattoo, and his portraits hang throughout. Guests are largely in town to see Elvis Presley's birthplace, but are beckoned to stay awhile by the welcoming, rentable Graceland that is Hotel Tupelo. Floor-to-ceiling windows give those strolling the city streets a look into the high-energy lobby, where Jobos, the hotel's restaurant, has become a local hot spot. A nylon cord sculpture dangles over the front desk, giving onlookers a curious, musical sight to ponder. The decor's fusion of art and music tastefully channels the King of Rock and Roll's "Hound Dog," peanut butter and banana spirit.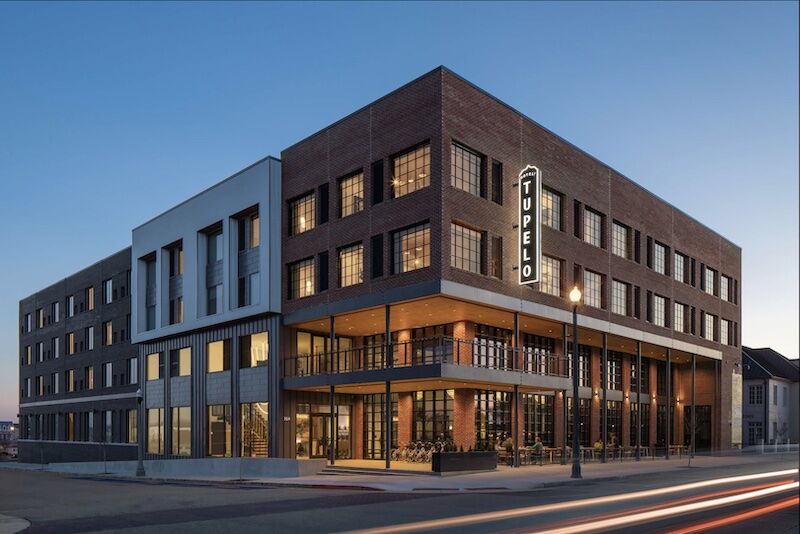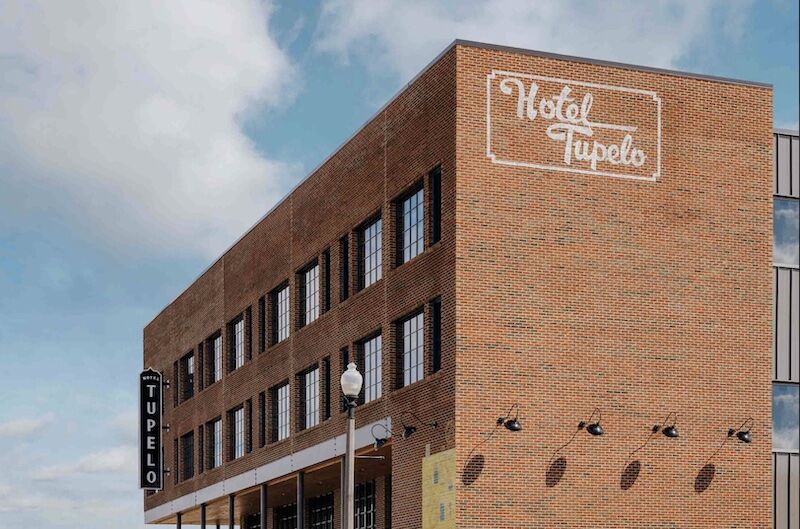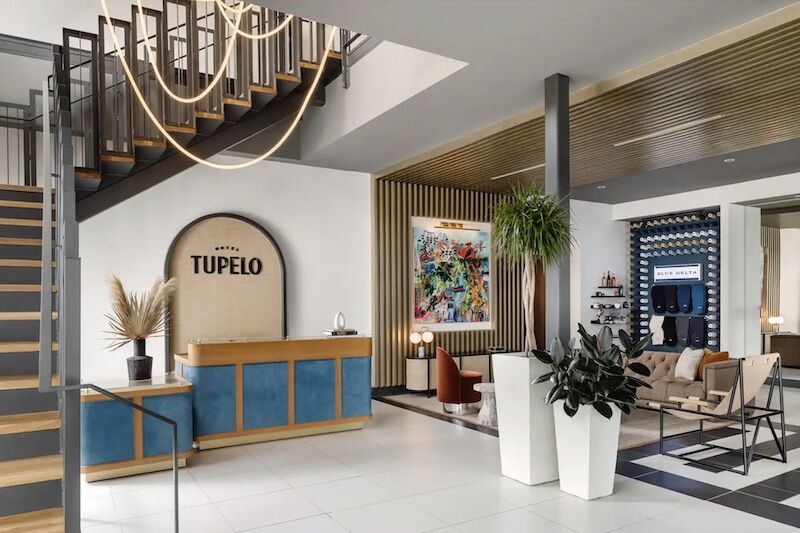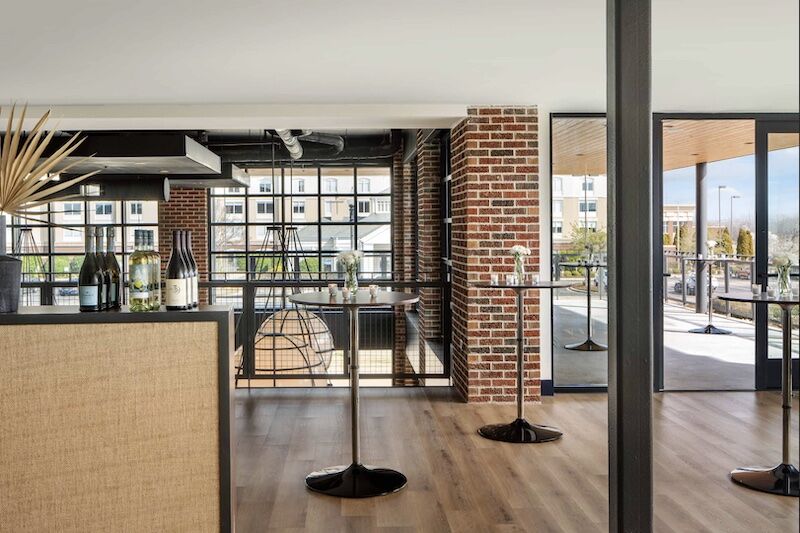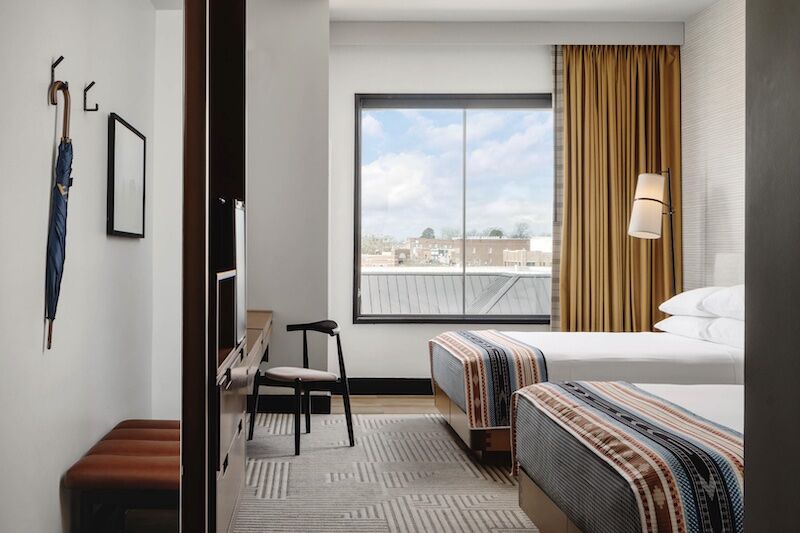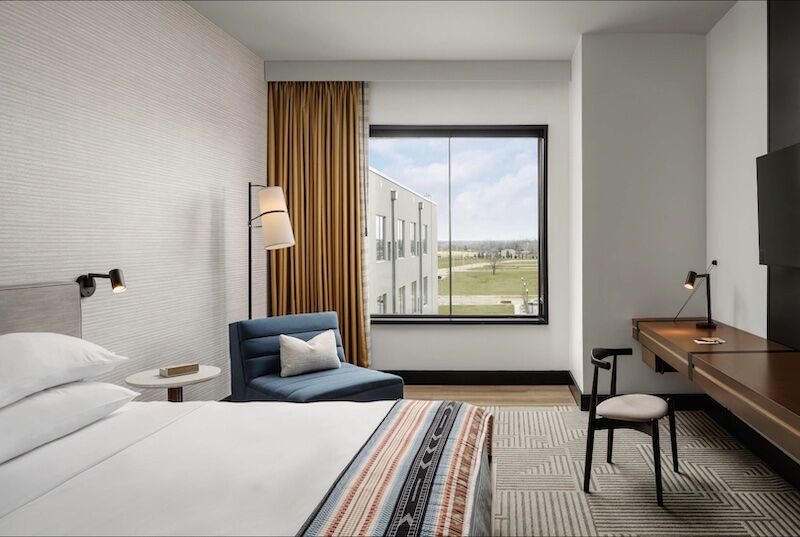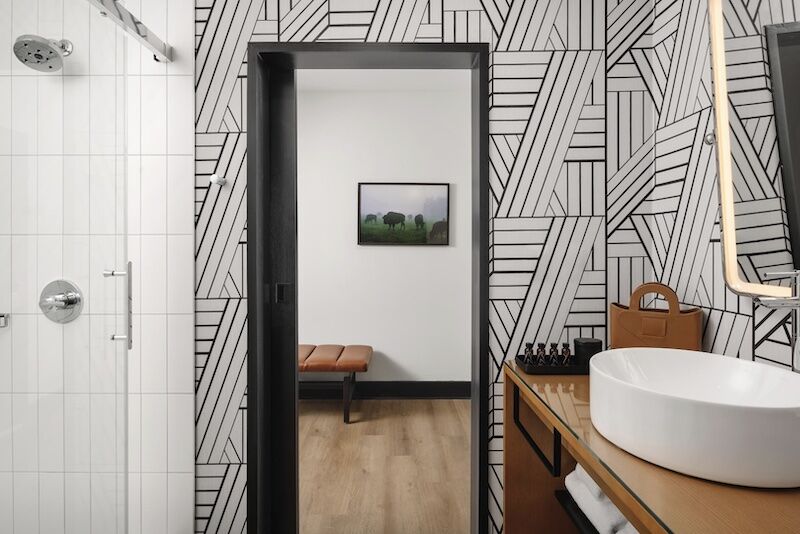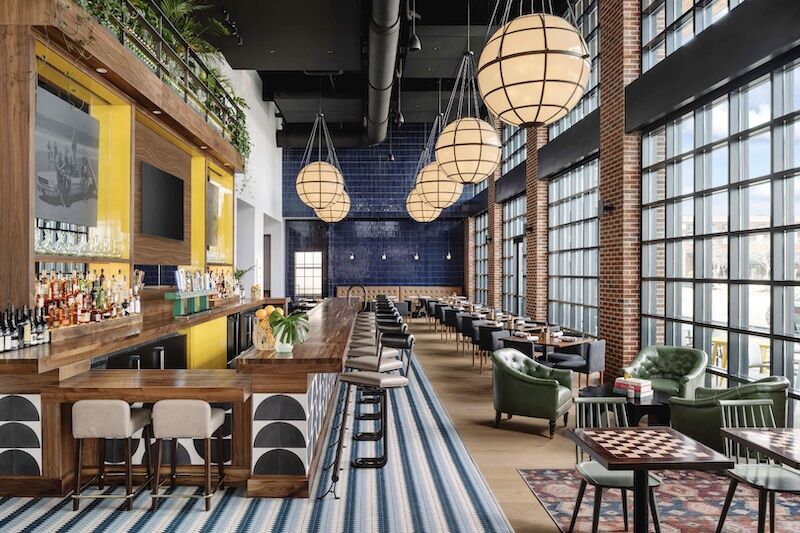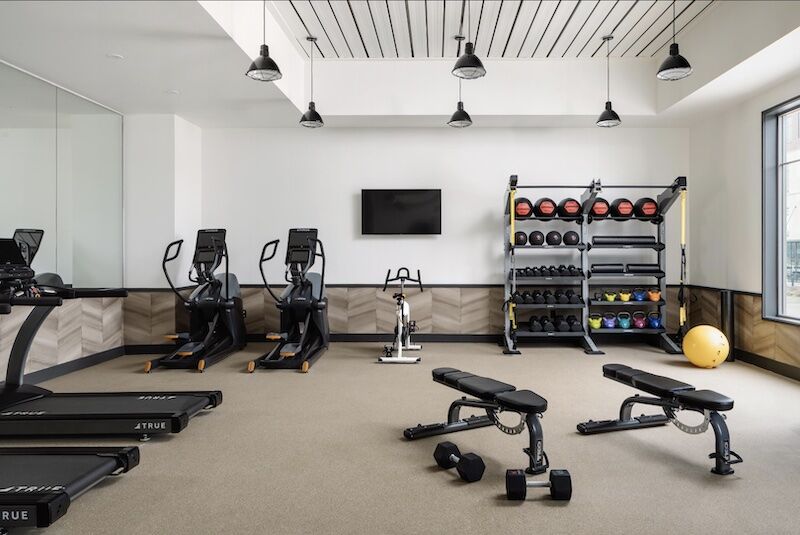 Location
Smack between Elvis's birthplace and downtown Tupelo
Hotel Tupelo sits on the eastern end of downtown Tupelo, near what was once the African American enclave of Shake Rag. It was here that Elvis was first exposed to the juke joints and Black Pentacostal church services that forged his musical style. Though Shake Rag was destroyed during urban renewal, the history lives on at the visitors' center across the street.
The hotel allows for easy access to the city's nightlife. It's within a five-minute walk of downtown Tupelo and the assorted bars, restaurants and Elvis sites it holds. If the weather is cooperating, you can hop on one of the hotel's free bicycles to explore most everything else. Below are a places to add to your list:
If you're in Tupelo, you'd be remiss not to check out the

Elvis Presley Birthplace and Museum

. The historic site is a must if you're a fan and is only about a mile from the hotel.
Johnnie's Drive-In

is the oldest restaurant in Tupelo, and boasts an Elvis Booth where you can sit in the same wooden throne as the King. It's about half a mile from the hotel and is an ideal place to try the doughburger, a Depression-era delicacy made of meat and grain.
Queen's Reward Meadery

is the only meadery in Mississippi, and makes a wine-style mead that will surprise you both in its flavor and its boozy punch. It also offers a mean mead slushie, perfect for sipping on hot Mississippi afternoons.

The

Natchez Trace Parkway

is headquartered in Tupelo, and within about five miles you can visit an old Chickasaw village and the Old Town Overlook.
The

Oren Dunn City Museum

teaches you the complete history of the city from prehistoric times to present day. 
#hoteltupelo on Instagram
Rooms
Modern rooms with a musical touch
Hotel Tupelo went to great lengths to give its property a definitive look, and it starts with the sheet-music-inspired wallpaper in each bathroom. From room keys to notepads, the pattern repeats itself everywhere and ensures no hotel you stay at will look quite like Hotel Tupelo.  
Though they're not especially luxurious, the guest rooms make for a more interesting experience than that of the city's glut of hotel chains. All have an updated midcentury-modern style, a large work desk and bright windows looking out on the city. With amenities like a flat-screen TV, Keurig coffee machine and an umbrella you can take home for $25, the rooms are  comfortable places to work and sleep.
The Hotel Tupelo's 79 rooms break down into four categories: 
Double Queen – These rooms clock in at 335 square feet, with two queen beds, a mini-fridge, an open closet with a handful of hangers and a few drawers for storage. 

King Classic – Effectively the same as the Double Queen, with one king bed and a comfy chair instead of two beds.

King Deluxe –  A 425-square-foot space with a full living area and fold-out sofa. In some hotels this would be called a junior suite. It has a large work desk and flat-screen TV. Though technically it sleeps four, that many people would feel a little cramped in this room. 

Suites – The hotel has two suites, the Tupelo and the King's Suite. As the names might imply, the 912-square-foot rooms are decorated to pay tribute to either the city or the King, filled with photos, art and more of that sheet-music wallpaper. The corner suites have large living rooms, bars and separate master bedrooms with dual sinks: ideal spots for families or traveling music executives looking for the next big thing.
Amenities
Jobos: Pronounced "YO-bos," this coastal cuisine restaurant was inspired by the city of the same name in Puerto Rico. Locals, however, uniformly call it "Jobos," with a hard, English "J." Jobos has become a city hangout. Locals pack the place nightly to sip local beers and craft cocktails in front of the full-wall TV screen. Beyond alcohol, patrons come for Tupelo's only shuffleboard table and a sunny patio for lazy Sunday brunches.The restaurant's menu is also a massive draw, offering fresh ceviche, octopus with bacon lardons and a Santa Cruz steak served with pork belly, crispy potatoes and aji verde sauce. 
The gym: Not a lot of people go to northern Mississippi to exercise, so you might have the hotel's spacious on-site fitness center to yourself. It boasts TRX bands, physio balls, full dumbbells, two ellipticals and two treadmills. It's also equipped with a water station and towels, and some functional training equipment too.
Delta Blue: Northern Mississippi's famous custom jean maker has a small display in the lobby. If you're looking to get some made, they will come to the hotel and get you fitted.
Grab and Go: Next to the jeans display, you'll find a small grab-and-go market with local products, including a candle with the hotel's signature scent and Keurig pods of its custom coffee. The shelves are similarly stocked with quick snacks like chip bags and M&Ms in case you get back late and the restaurant is closed.
Other amenities: There's free wifi and high-speed internet access, a business center and free parking.
FAQ
What time is check-in and check-out?
Check-in is at 3 pm and check-out is at 11 am.
When is brunch at Jobos?
Each weekend brunch runs from 9am – 2pm.
What's the distance between Hotel Tupelo and Tupelo Regional Airport?
The distance is 4.4 miles or an 11-minute drive.
How far is Tupelo from Memphis?
The distance between the two cities is 116 miles or an hour and 45-minute drive.
How far is it from Hotel Tupelo to Tupelo National Battlefield?
The hotel is two miles away from the Tupelo National Battlefield using W Main Street.
What's the distance between Hotel Tupelo and Cadence Bank Arena (or Bancorpsouth Arena)?
The hotel is walking distance from the arena. It's just .3 miles away.
Where is the hotel located in the city?
The hotel is located in downtown Tupelo in the historic Fairpark District, which was once the county fairgrounds.
What's the hotel's address?
314 East Main St, Tupelo, MS 38804
Is Hotel Tupelo an independent hotel?
Hotel Tupelo is a Wyndham hotel.
Are there other hotels named Tupelo Hotel?
No, but there are many hotel names that include Tupelo, like Suites Tupelo North, Home2 Suites by Hilton Tupelo, Tupelo Inn & Suites, Candlewood Suites Tupelo, Hilton Garden Inn Tupelo, America's Best Value Inn Tupelo, Wyndham Tupelo, plus Comfort Inn, Holiday Inn Express and others.
#hoteltupelo on TikTok