Scene
A feel-good spot with a warmhearted mission
At Hotel Ylem, feeling good feels great. With its immersive "Y-lanthropy" mission on display both inside and out, Hotel Ylem is not just an inviting space to spend a few nights, it's an inviting space, period. Personal touches are everywhere, from the grand mural on the front exterior, featuring work from marine conservation artist Janavi Mahimtura Folmsbee to the note from "Mom" near the china cabinet in the lobby. 
Guests are encouraged to leave handwritten notes on one of three "wishing trees" near the grand staircase, leaving messages of hope and kindness for one another and themselves. Inspirational quotes and colloquialisms cover the chalkboard-coated front desk. A sense of warmth blankets the whole property, welcoming guests with open arms.
Though it's stylish enough to feel modern, Hotel Ylem's overwhelming energy is inviting, which is an important vibe to nail considering the its proximity to the Texas Medical Center. Its convenient location is ideal for those in town for treatments or visiting loved ones in medical facilities up the road. The hotel offers specialized medical rates, so do call before you book if this is the case.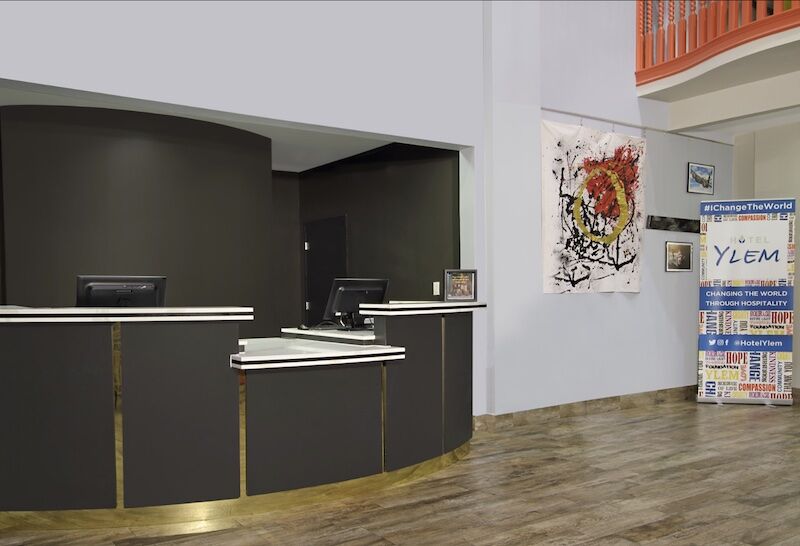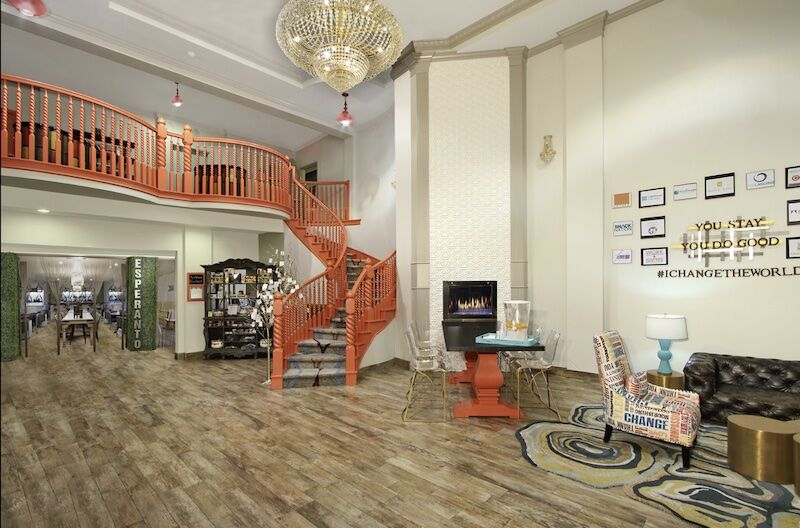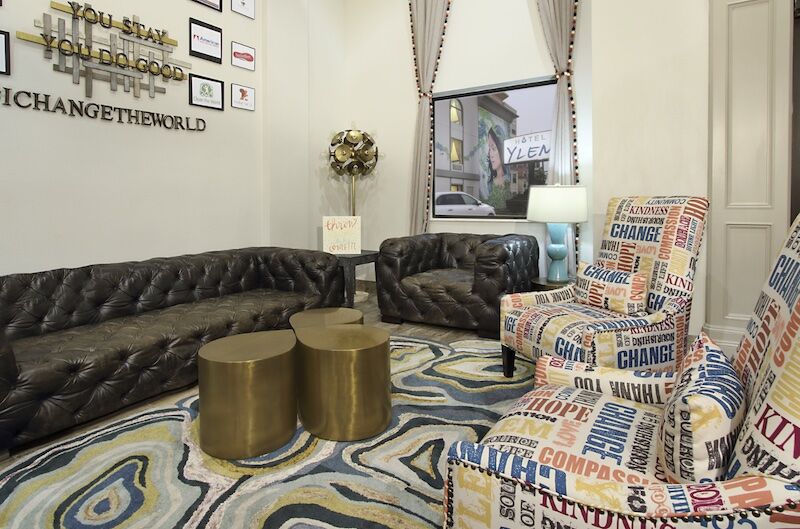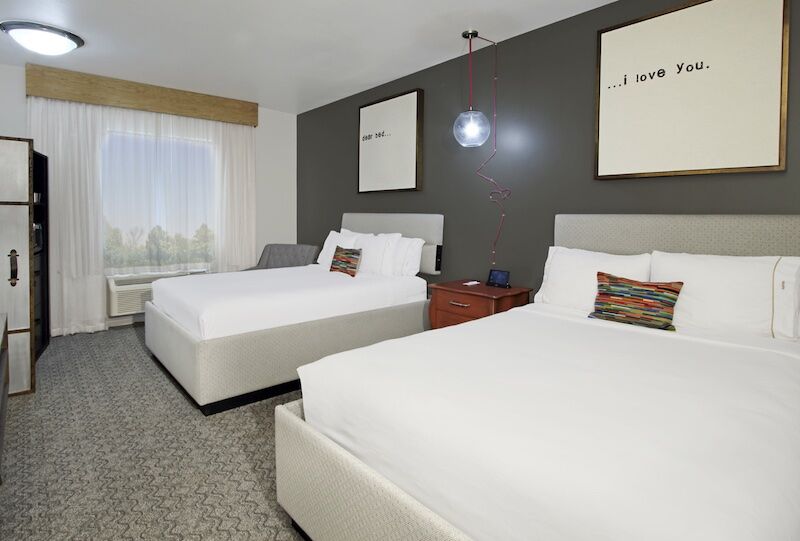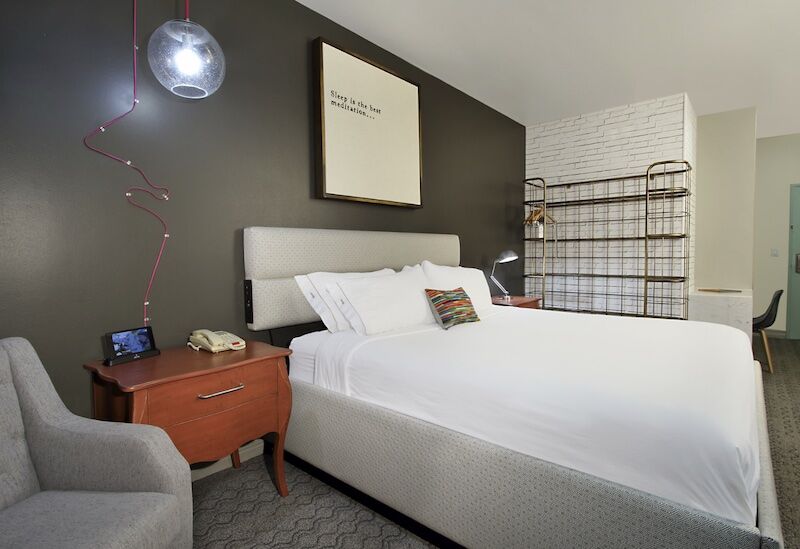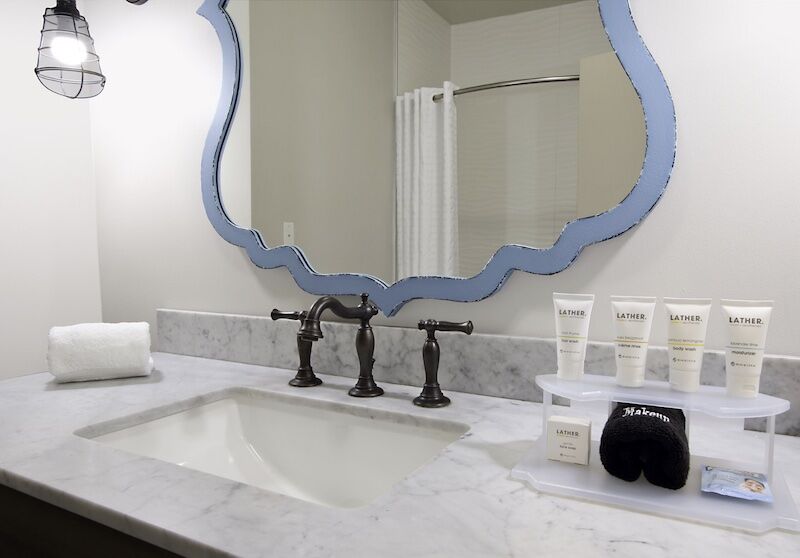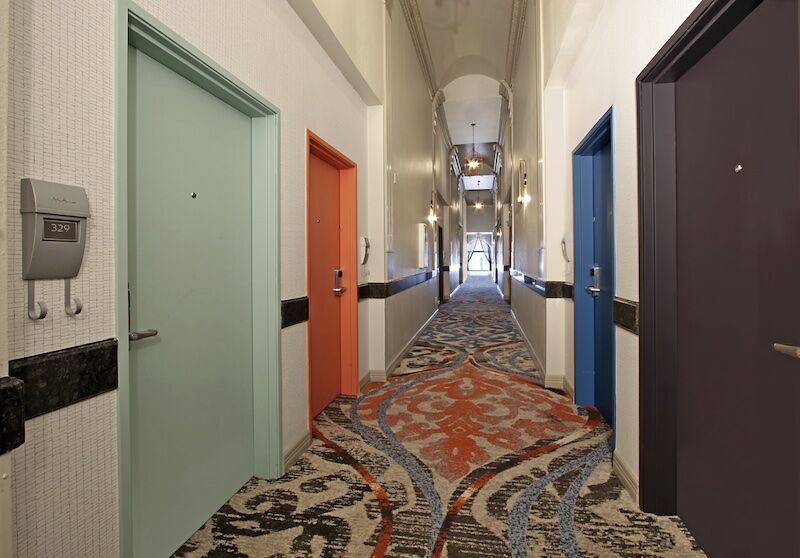 Location
Off of Houston's beaten path
It may be removed from the heart of Houston, as it sits on the south side of town, but the location still offers easy access to major landmarks. Before you hit the best things to do in Houst0n, here's what's in the immediate area:
Rooms
Standard but stylish
Hotel Ylem's mission might be less-than-standard for a hotel, but the rooms fall in line with common options found at popular chains (not surprising given its former incarnation as a Holiday Inn). However, the design is a step above, comfortably modern with features like funky fixtures, retro-inspired mini refrigerators and unique art above the headboards with phrases like, "dear bed…" answered above the adjacent queen, "…I love you." 
All rooms include private bathrooms with shower/bathtubs, a workspace, high-speed Wi-Fi, coffee maker with espresso pods, KEYPR tablets (a digital concierge), mini-fridge, microwave and flat-screen televisions with DirectTV.
King or Double Queen Room
Fairly standard layouts for both a king or two queens comfortably sleep up to two or up to four people, respectively, inclusive of all the above amenities as well as a tufted armchair.
King or Queen Suites
For those looking for extra room to spread out, these options (which are limited) include an additional sitting area.
ADA King
Lowered counters and a roll-in shower with a grab bar make this room more accessible.
Amenities
Accessible and artistic
In addition to all the in-room amenities mentioned above, comfort is easy to come by at Hotel Ylem. Overall options for guests include a sundry shop, art available for purchase (18% of each sale is donated to charity), free shuttle service, free Wi-Fi, complimentary coffee, free parking, an Astroturf-outfitted fitness center, business center, meeting rooms, laundry, a small library with seating overlooking the lobby, elevators and free breakfast. 
Accessibility features are braille-coded exits, accessibility ramps, elevators, braille-coded elevator, accessible tub, roll-in shower and visual alarm, telephone and doorbell alerts.
Pets are not allowed, but late checkouts are. 
Food & Beverage
Delivery is your friend
At the moment there is neither food nor beverage available in the hotel bar, Esperanto. It's closed until further notice according to staff. However, you'll find plenty of local and national chain restaurants nearby and within walking distance, but if something more unique is on your mind, head into the Rice Village area — a quick 13-minute drive — where you'll find a plethora of bars, restaurants and retail.Closer in, check out Dimassi's, a Mediterranean buffet, Golden Krust, a Caribbean franchise or Jollibee, another franchise known for Filipino-style fried chicken.
FAQ
There's a 24-hour front desk.
Yes, they have a concierge.
Check-in is from 3pm on.
Check-out is at noon.
Hotel Ylem has free parking.
The hotel offers guests a shuttle service to Texas Medical Center, including MD Anderson Cancer Center.
William P. Hobby Airport is the closest airport to the hotel at 8.9 miles away.
George Bush Intercontinental Airport is 20.4 miles away.