Scene
Treat Yo Self
Hotel ZaZa's Museum District location is where elegance meets attitude. With just enough of an edge, this boutique gem is a perfect fit for the neighborhood, fully stocked with artful portraits of celebrities and also a lobby water feature fully stocked with real, live koi. 
The atmosphere ranges from luxurious to curious; a quiet undercurrent of mystery keeping things interesting from the lobby to the lounge, and those are just the public spaces. Accommodations are carefully curated works of art in and of themselves, with 10 unique concept suites, over-the-top "Magnificent Seven" suites and eight separate options for the simpler guest rooms. If you can't find something you like here, it's probably your own fault. 
Worthy of a scene in a Wes Anderson film, the pool is outfitted with perfect symmetry in shades of blues, whites and yellows. Other scenic spots include the terrace inside Monarch, the hotel bar and restaurant, which overlooks the Mecom Fountain and the Museum of Fine Arts.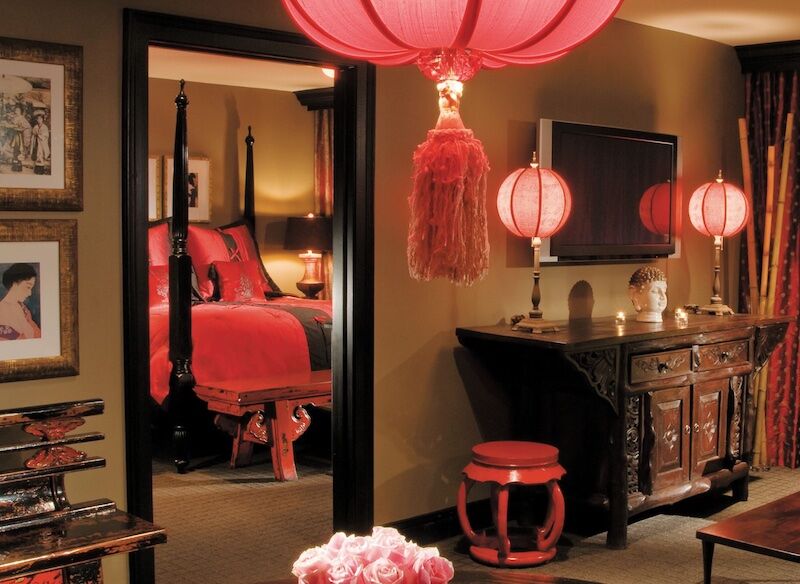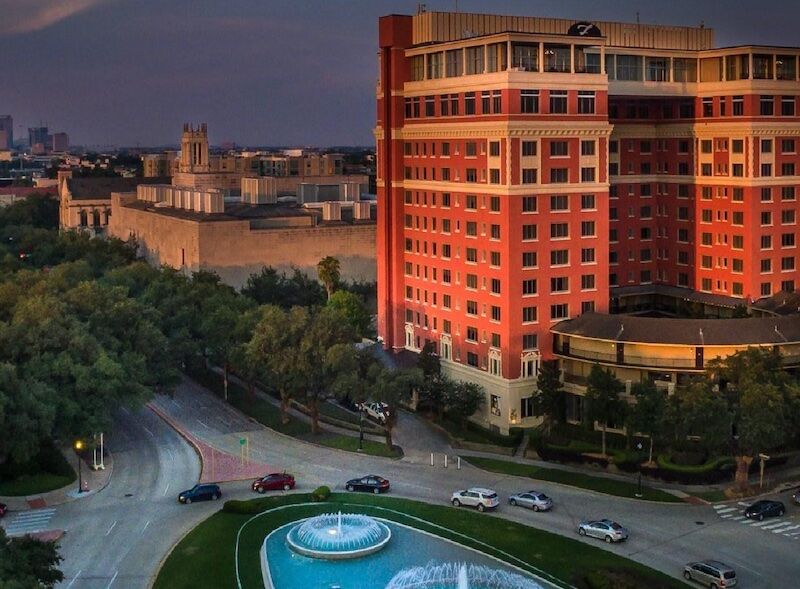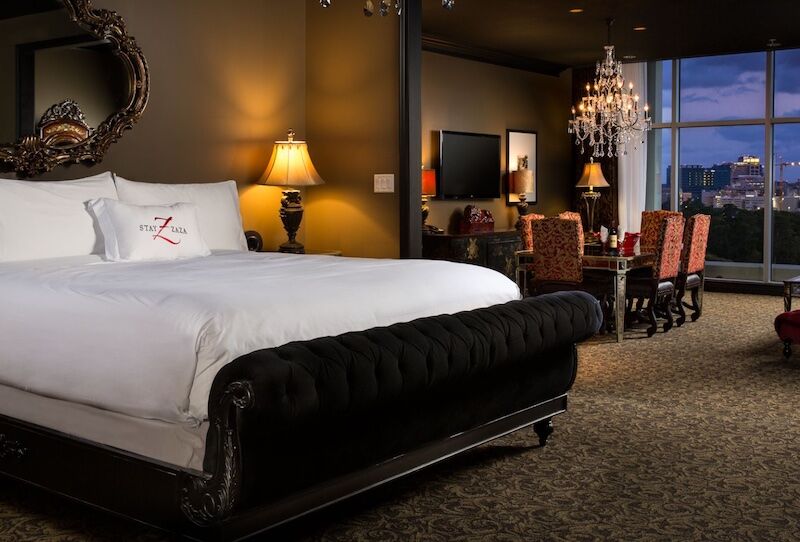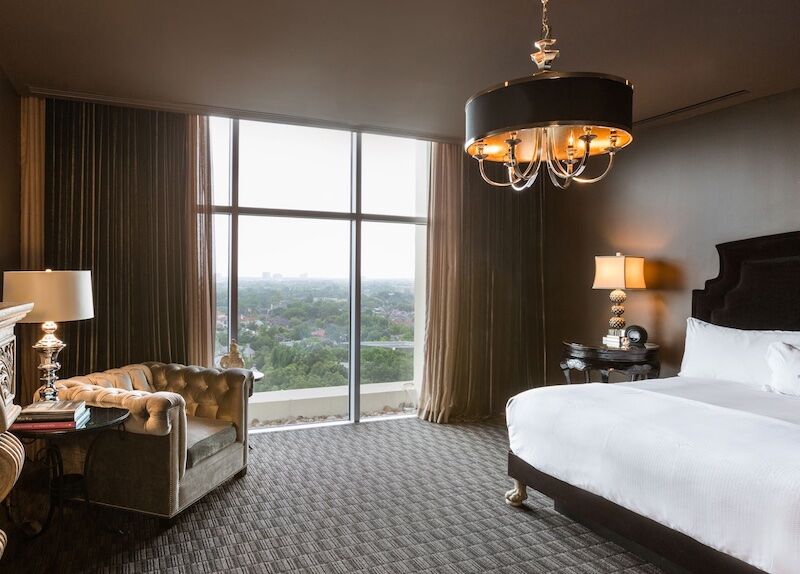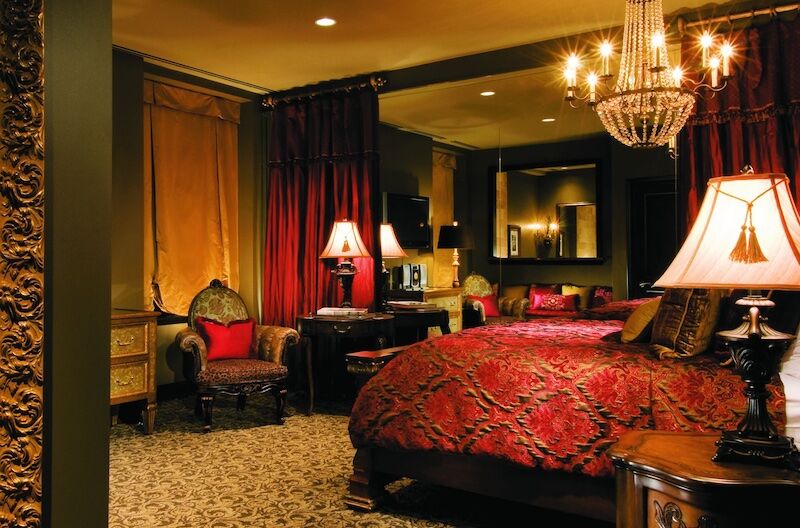 Location
In the heart of it all
The Hotel ZaZa Houston Museum District is one of two Hotel ZaZa locations in Houston. (The other is Hotel ZaZa Houston Memorial City which is 14 miles away.) A concentration of outdoor beauty and indoor explorations surround Hotel ZaZa Museum District in the form of Hermann Park, McGovern Gardens as well as 19 museums. It's easily walkable, bikeable, centrally located and is in proximity to Houston's METROrail. Here's a few ideas to get you going before you dive into the best things to do in Houston. 
Rooms
Decisions, decisions
If variety is the spice of life, then ZaZa is a masala in the world of hotels. The options aren't endless, and certainly not cheap, but they are exciting, luxurious, fun and even a little naughty in the best kinds of ways. 
Magnificent Seven suites
Magnificent is truly the correct adjective for these large-scale suites meant for over-the-top experiences. Pick from the Bella Vita, Black Label, Fatal Charms, For Your Eyes Only, It Happened One Night, Rock Star Suite or the Tycoon because #YOLO. The creme de la creme of Houston accommodations, all range between 900 to 2,200 square feet (approximately) and spare no details when it comes to design and decor.
Concept suites
Ten options await, ranging in square footage from 448 to almost 2,000, each individually themed and then properly outfitted. All are standouts, but first-time Houston visitors may enjoy the "Houston, We Have a Problem" suite suited for meetings and out-of-this-world experiences. An astronaut (suit only, no real humans included) stands guard over a corner overlooking a space age bubble chair and crescent-shaped sofa. 
Guest rooms (and mores suites)
So variety, right? It continues. Still more suites are available, though with smaller footprints compared to their aforementioned siblings, but in keeping with individualized details and luxurious amenities. On varying levels are the king or double balcony options, pool villa or bungalow and "petites," rooms under 300 square feet. Truly something for everyone.
Amenities
Luxury abounds
It's both boutique and luxury, and the amenities here reflect that. In-room, you'll find: Egyptian bathrobes and slippers, custom bedding and Italian linens, blackout drapes, stocked refrigerators with snacks, high-speed WiFi, a LED flat-screen TV with HD cable channels and a safe. Select rooms and suites also offer full dining rooms, kitchens, half bathrooms, soaking tubs, hardwood floors, work areas and washer/dryers. Room service is available at the hotel, too.
Onsite: A hotel spa with a laundry list of services, Monarch, their signature bar and restaurant, a fully-equipped business center, dry cleaning and laundry service, a dedicated concierge, the resort-level pool with any accompanying poolside bar, fitness center, 24-hour front desk and much more.
FOOD‌ ‌&‌ ‌BEVERAGE‌ ‌
Fancy & fun
Monarch soars with options for breakfast, lunch, dinner and even an after-hours DJ and bottle service on Saturdays. Brunch is available for weekend mornings through 2 p.m. with a mix of cultural classics like chicken and waffles, chilaquiles, brioche French toast, eggs Benedict and classics like pancakes and bacon. Weekday breakfast is scaled back with simple options like oatmeal and breakfast tacos. 
Lunch and dinner offerings are fairly standard, upscale and broad enough to keep everyone in the group satisfied. Think pasta, seafood, steaks and sandwiches. The food is good but the atmosphere is also a star, versatile enough for a romantic dinner or a buttoned-up business lunch. 
Beer, wine, cocktails and a limited menu are also available poolside, with bottle service options. 
If you do venture out, Toasted Coconut is an adventurous departure with rum cocktails and tropical dishes, The Breakfast Klub is a Houston institution for soul food and Lucille's is a hot spot for upscale Southern fare. All are within a small radius of the hotel.
FAQ
What time is check-in and check-out?
Check-in is 4PM and check-out is noon.
Are pets welcome at the hotel?
Hotel ZaZa Museum District is pet-friendly. A one-time, non-refundable deposit of $150 per pet is required at check-in.
Is there internet access at the hotel?
All guests can access free WiFi throughout the hotel.
Does the hotel have an outdoor pool?
Yes, Hotel Zaza Houston Museum District has an outdoor pool and a poolside bar.
Does the hotel have meeting rooms?
Yes. There are seven meeting spaces ranging from a 425 square-foot — the X room which is also on the 1oth floors — to a luxe main ballroom which is 3730 square-feet, has full window dressings and oversize chandeliers.
What are the hours of the spa, the Zaspa?
The Zaspa hours are:
It's closed on Monday and Tuesday
Wednesday and Thursday: 10AM-7PM
Friday and Saturday: 9AM-7PM
Sunday: 9AM-6PM
Does the hotel offer parking?
Valet parking is available at Hotel ZaZa and parking fees vary depending on length of stay.
Is smoking allowed at the hotel?
Hotel ZaZa Museum District is a non-smoking hotel.
Does Hotel ZaZa have other locations?
Besides Hotel ZaZa Museum District the hotel has three locations as of November 2022: Hotel Zaza Austin Downtown, Hotel Zaza Dallas Uptown and the other aforementioned location in Houston.
What is the Hotel ZaZa Houston Museum District's address?
5701 Main street, Houston, Texas 77005.