Scene
Stepping through the foyer at InnBuffalo brings you to an era when Nickel City ruled. Antique furnishings, plush couches and meticulously restored hardwood walls and stairwells usher guests to a grander time, when captains of industry and the politicians they owned drank bourbon and played cards 'til all hours. You can almost hear their echoes as you sip cocktails in the main parlor, and can feel their footsteps as you ascend the staircase to one of nine period-specific suites.
Proprietor Joe Lettieri — who co-owns Inn Buffalo with his wife — will happily regale you on the history of Herbert Hills Hewitt, the turn-of-the-century industrialist who built this grand Victorian home. He'll tell you of the presidents who walked the halls over snacks in the dining room and show you pictures of the house in its glory days in the downstairs billiard parlor. Over breakfast, other guests join you in this impromptu history lesson, as a mixture of curious travelers and newlywed couples make for an always-eclectic group.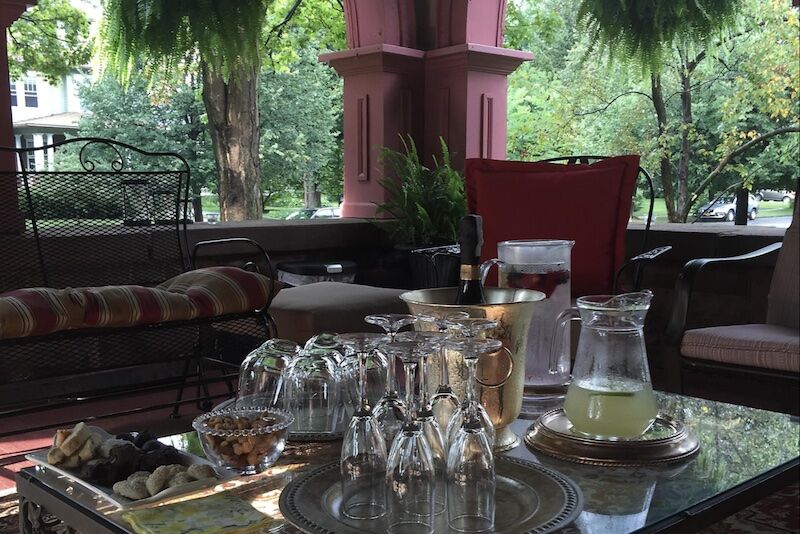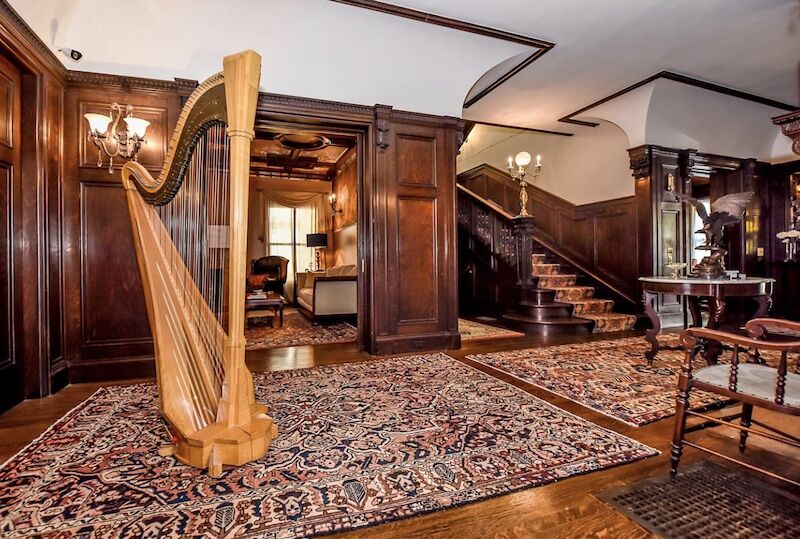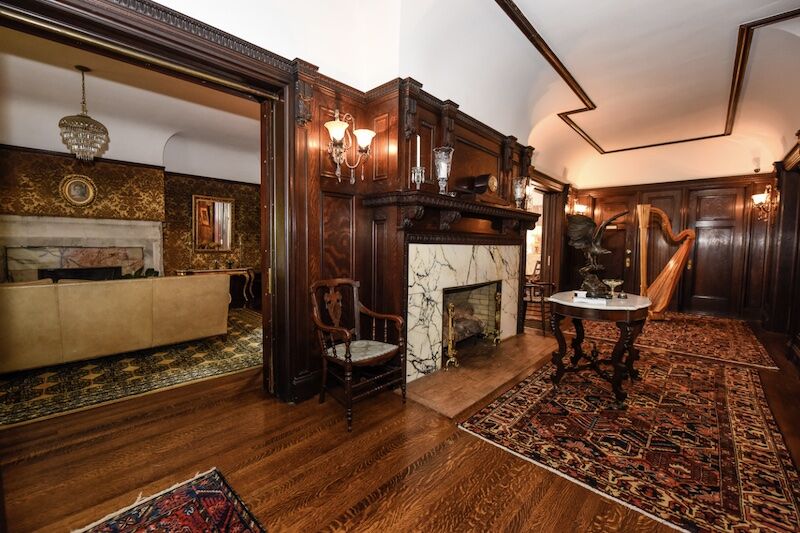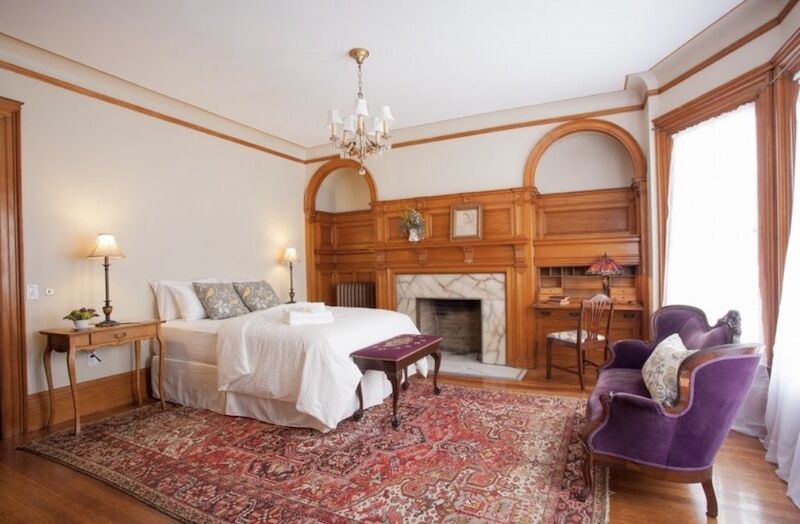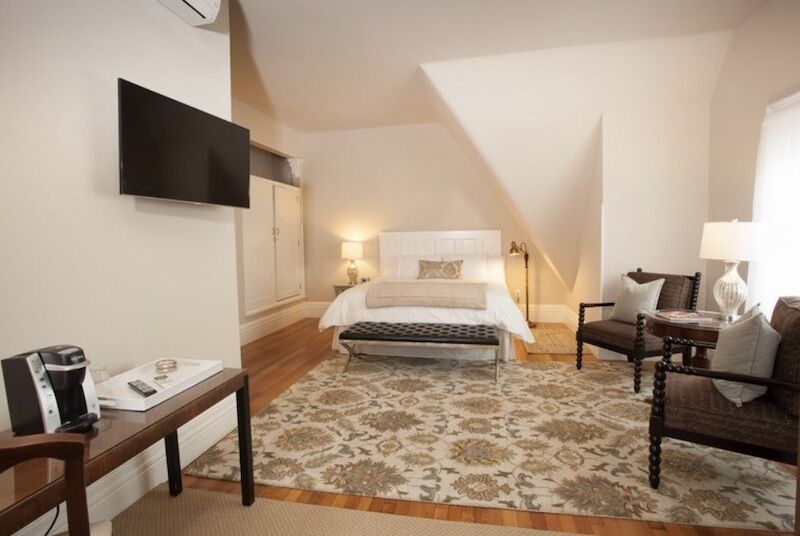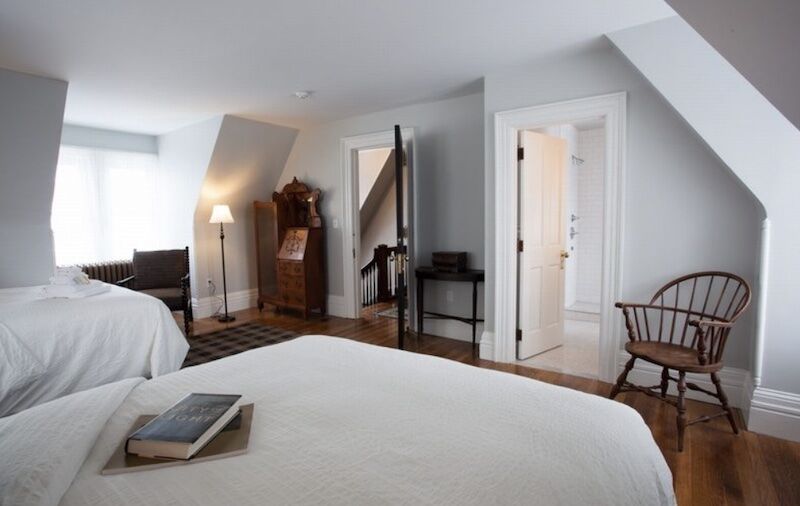 Location
Steps from Elmwood Village, one of the best-planned neighborhoods in the country
As the name implies, InnBuffalo off Elmwood sits a short walk from Elmwood Avenue, the main drag in bustling Elmwood Village. The strip of bars, boutiques and only-in-Buffalo restaurants was named one of Ten Great Neighborhoods in America by the American Planning Association, due mostly to its stunning architecture and walkable streets.
While it's certainly an ideal place for a home base, Buffalo has loads more to explore, none of it all that far.
Eat Buffalo wings at the place they were invented —

Anchor Bar

in downtown Buffalo. It's a hot spot for visiting NFL players and offers a delicious slice of the city's history. It's about a five-minute drive.

Peruse a world-class collection of modern art at the

Albright-Knox Gallery

. It sits inside stately Delaware Park, about five minutes away, but is undergoing renovations until mid-2023.

Tour

Frank Lloyd Wright's Martin House

, a National Historic Landmark and a tribute to the power of preservation. It's less than 10 minutes away.

Kayak through abandoned grain silos in eerily beautiful

Silo City

. It's about 15 minutes away and one of the more unique tours you'll ever take.

Go skating at

Canalside

. The city's hub for winter sports also offers ice bikes and bumper cars in colder months. In summer, you'll find roller skating and regular concerts. It's 12 minutes away.

Try your hand at trivia at Founding Fathers Pub. The landmark bar is decked out in presidential memorabilia, and the owner holds court behind the bar quizzing patrons like a beer-soaked "Jeopardy!"
Rooms
Nine unique suites that feel like visiting royalty
Each room at InnBuffalo is themed after a notable Buffalonian and adorned like a guest room in a Gilded Age mansion. Each is completely unique and ranges from 200-400 square feet. Most have only one bed, however. So unless you scored the Frederick Law Olmstead suite, you'll be snuggling up with whoever you came with. 
The rooms mostly boast hardwood floors with fine rugs, and feature period-specific wood furniture, including desks and chairs. Bathrooms are a blend of modern and classic, with subway tile walls and rain showers, brass fixtures and bath amenities. Rooms aren't huge, but comfortable enough to call home for hours when you're sleeping. Business travelers would be better suited to work in the common areas, both because they'll find more space and because they're a much more aesthetically pleasing place to work.
The best room in the place is probably the Sarah Dutro, which in addition to the fireplace also has a built-in desk and a big bay window. For larger groups, you can adjoin the hotel's two largest rooms — the Art Nouveau East and West suites —  to maximize your space.
Amenities
Inn Buffalo's greatest amenity is its exquisite design, where gold leaf, ornate rugs and refinished wood make staying here like sleeping inside history. The library provides a comfortable seating area, perfect for perusing books over an Old Fashioned and gazing out the oversized window.
Mobile workers can post up at the antique desk in the lobby, giving the air of 19th-century aristocracy — with a laptop.
You'll also find free parking on the side of the hotel (though it's often easier to park on the street) and free Wi-Fi everywhere.
There is no fitness center, and the "front desk" is the owner's cell phone. But service is always prompt and on point.
Food at InnBuffalo
The owners have a ready supply of snacks, ranging from fresh fruit to chips to Famous Amos cookies. There's also a big silver bowl filled with water and sodas, and once the owners learn your preferences you'll find your favorites available at all hours.
Mornings bring a full breakfast of fresh-baked scones and other pastries, as well as yogurt parfaits and fresh fruit. There's no specific seating time, so you're welcome to roll downstairs in your PJs, hang with other guests or grab your coffee and go.
The Rathskeller
InnBuffalo's amenity to beat all amenities is the downstairs Rathskeller, which to hear Joe Lettieri tell it was once a boisterous boys club filled with industry titans and politicos. Walls are filled with news clippings from the turn of the century, while an antique pool table, silver bar cart and plush chairs turn the room into an instant speakeasy. Smoking isn't allowed in modern times, but the place almost begs for the thick air of cigars. Even without it, you won't find a cooler downstairs bar in Buffalo, or maybe all of New York.