Scene
Weddings and events abound inside this modern castle
Imagine, if you will, driving through the rolling blue hills of Kentucky, and as you come around a bend, towering medieval turrets pop out of the skyline. That's a bit the feeling as you approach The Kentucky Castle, a seemingly misplaced fortress set just outside Lexington. Its surreal setting aside, the place is steeped in bizarre history (it was built by a couple who divorced during construction, survived a massive fire and sat abandoned for decades) and lavish settings.
The hotel has only 14 rooms (15 if you include the glamping tent), and typically you'll be sharing the space with people there for a wedding or one of the castle's popular murder-mystery dinners. But it never feels crowded; the castle covers an astounding 55 acres, and you can stroll the gardens and working farm to enjoy a little of the countryside. Just don't expect a magic trip to King Arthur's times; nearly everything in the castle was constructed in the last 15 years, so it's more like a modern mansion than a historic relic.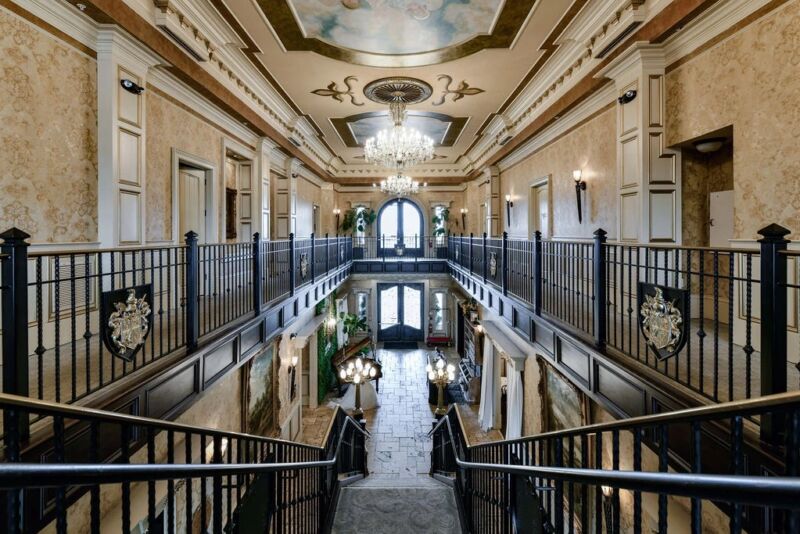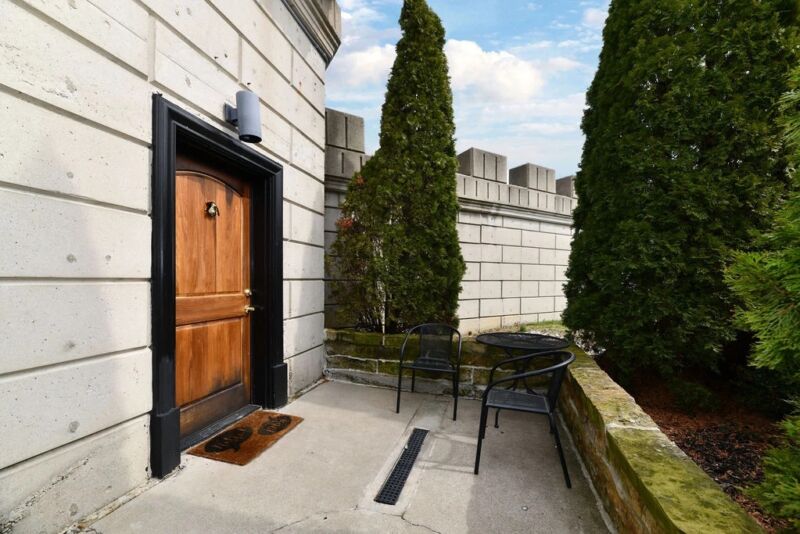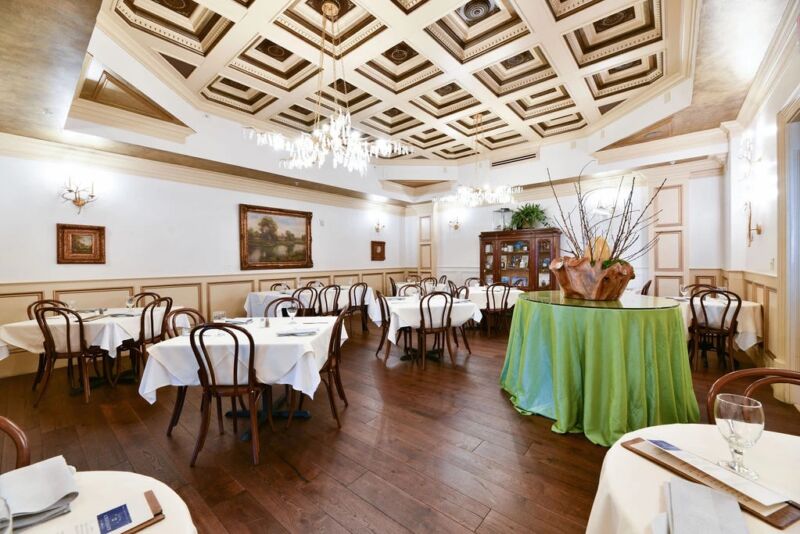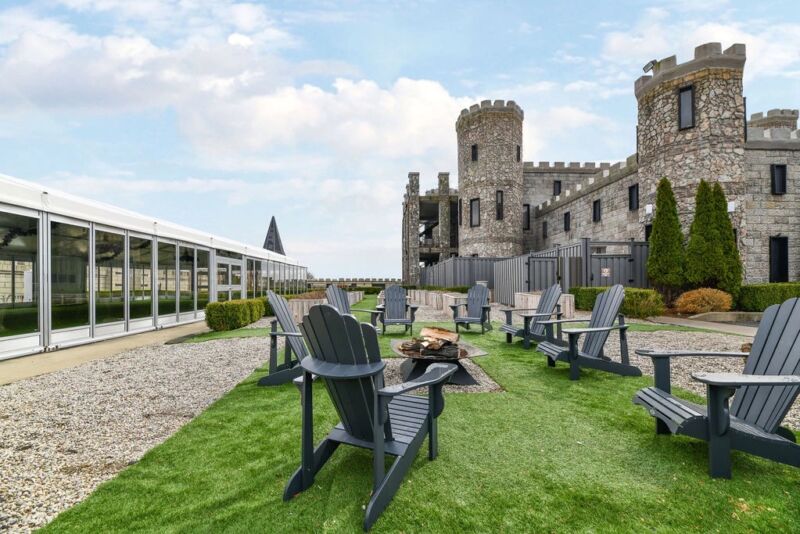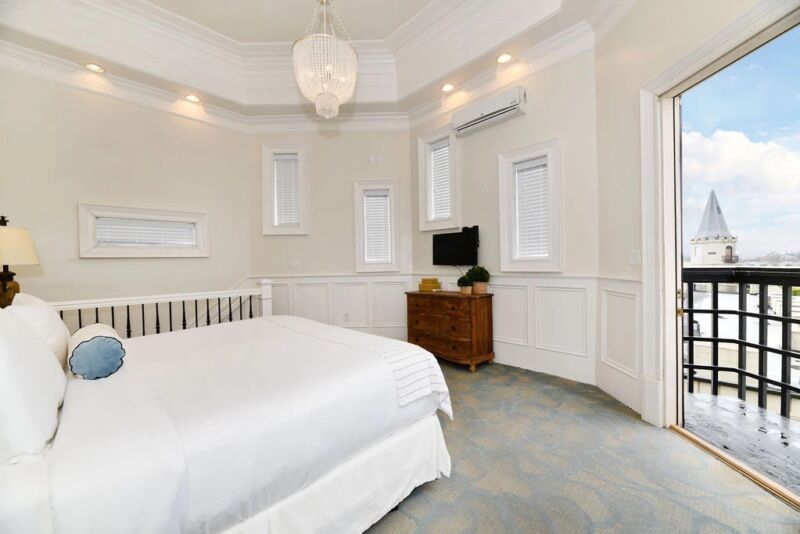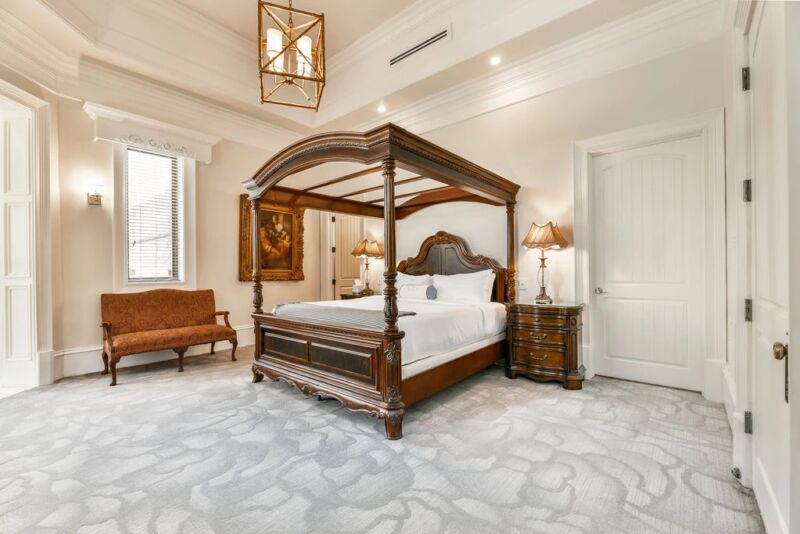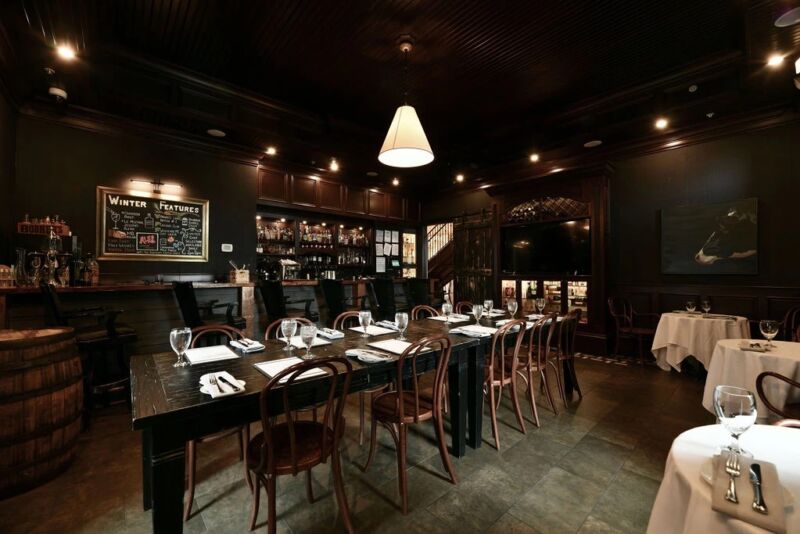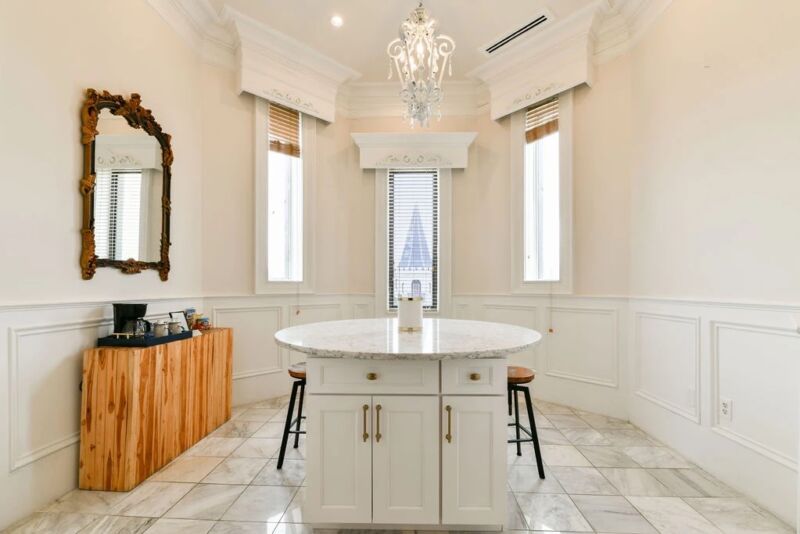 Location
Surrounded by countryside, but a short drive to the Bourbon Trail and Lexington
Most of The Kentucky Castle's appeal lies in its aura of escape. Set in central Kentucky, about 20 minutes outside of Lexington, you won't be walking much of anywhere outside the castle grounds. If you didn't rent a car, you'll need to make the most of the onsite amenities. That said, the drive into town isn't painfully long, so if you do have transportation, popping into the city, or out along the Bourbon Trail, isn't too tough.
Among the best things to do nearby:
The Kentucky Bourbon Trail runs all around Lexington, and you can hit

Buffalo Trace

,

Four Roses

,

Woodford Reserve

and

Wild Turkey

all without about half an hour.  

One of the grandest experiences in horse racing is at scenic and historic

Keeneland

. It's about halfway back into town, less than 10 minutes from the castle.

Visit the International Museum of the Horse, as well as the retirement home for some of the most famous thoroughbreds in history, at the

Kentucky Horse Park

. It's about 25 minutes away.

Immerse yourself in Kentucky nature at the

Raven Run Nature Sanctuary

. The public park is free to explore, and boasts over 10 miles of trails.

Eat, drink and generally experience Lexington nightlife in the

Distillery District

. It's still home to two operating distilleries, but also features bars, restaurants and a live music venue in old bourbon warehouses.

Catch one of the most legendary programs in college basketball at Rupp Arena, home of the Kentucky Wildcats. They play from early November through February, and the arena is about 15 minutes by car.
Rooms
Modern amenities in a not-quite-historic setting
The Kentucky Castle boasts 14 rooms and a glamping tent, so space is at a premium. The rooms all have high ceilings but strangely bare walls for a hotel that's transporting guests to a tapestry-filled time. They still feel fancy, with four-post beds and high ceilings, with lush pillows and blackout curtains making for a fantastic night's sleep. But it won't feel historic, or really much older than any new four-star hotel.
The bathrooms are done up in Italian-looking tile but again seem a little more like a new-construction guest suite than anything historic. The Hermes amenities are nice, though, and there is still an overwhelming sense of luxury. The rooms are split among king rooms on the first and second floor and multilevel suites in the four turrets surrounding the castle, broken down into the following categories:
Glamping tent – It's not exactly roughing it, but this isn't a full-service hotel room under canvas either. You'll have limited electricity, a private bathroom and firewood. The tent is a chance to immerse yourself in horse country and a totally unique experience. But not the luxury of the full castle.

King Deluxe – The entry-level room (both literally and figuratively) has a four-post king bed, period furniture and high ceilings, plus 239 square feet of space.

King Premier Suite – This slightly larger version of the King Deluxe is also on the ground floor, but offers a small seating area and 260 square feet.

Grand King Deluxe – Similar to the King Premier, but sits on the second floor and is considerably larger at 317 square feet.

Terrace Suites – These junior suites sit on the upper level and offer over 400 square feet of space, with large separate seating areas.

Tower Suites – For the ultimate castle experience, these are worth the extra $100-or-so a night. Located in the turrets, these two-story numbers come with private balconies and a kitchenette. There's also a fold-out couch downstairs, making these ideal for families.

Farmview Cabin – The rustic, whitewashed cabin is the ultimate country escape, with a king bedroom, upstairs loft with two full-sized beds, kitchen, laundry and a large living room. For a cozy group outing, this is the move.
Amenities
Farm fresh food, a bourbon bar and full-service spa
The Kentucky Castle has a little bit of an identity crisis going on, and while the amenities it offers are fantastic for a 21st-century getaway, everything still feels a little…off. So go in with the expectation of secluded luxury and not anything resembling Excalibur, and you'll be pleased.
Gardens
A perfect example of what we're talking about are the castle gardens. While meticulously manicured and lovely for a short walk, they don't exactly transport you to Versailles, France either. Good for a stroll, but you won't need to devote too much time.
Outdoor swimming pool
The castle has a relatively small pool deck, set behind the walls and near the tennis courts. It's open to all guests, but has specific hours for adults-only swims.
Farm
This might be the castle's coolest asset, a full, working vegetable farm where you can see lots of the stuff used in the castle's restaurant. There's also an apiary, truffle orchard and fragrant lavender fields to explore, plus horses, sheep, goats and chickens wandering around. 
Spa
The spa is set off the main building, meaning you may find yourself trudging up a small gravel path in your spa robe if you want the full experience. The small cottage has all the major spa treatments, plus a cryotherapy chamber and cupping and reiki services.
Bourbon bar
As one might expect in Kentucky, the bourbon bar at the castle is impressive. The dark wood and dim light make for an ideal place to sample small-batch stuff you'll probably never find back home. The cocktail menu is fantastic too, and legend has it that Lance Bass called the espresso martini here the best he's ever had when he was at the castle for the "Vanderpump Rules" wedding. 
Castle Farm
The farm-to-table restaurant at Kentucky Castle is actually a much bigger draw than the hotel itself, bringing both tourists and locals from Lexington for the city's most sought-after dining experience. Much of the food at the on-site restaurant comes from the onsite farm (and, presumably, more once it begins its cattle grazing and poultry operation) and is prepared exquisitely. Start with the pan-fried Brie, covered in panko and served with black raspberry gastrique. Then move on to prime filet mignon or Wagyu short rib, served with mushroom andouille risotto and French beans in lemon-basil butter. If you're traveling solo, the restaurant menu is also available at the bourbon bar.
FAQ
What time is check-in and check-out?
Check-in is 4PM and check-out is 11AM.
Does the hotel have concierge?
A 24-hour reception and concierge are available at the hotel.
Does the hotel have a pool?
Yes, the Kentucky Castle has an outdoor pool. (See above)
Does the hotel have free wifi?
Yes, the Kentucky Castle offers free wifi.
Does the hotel have free parking?
Yes, the Kentucky Castle offers free parking for guests.
Does the Kentucky Castle have event spaces?
Yes, the Kentucky Castle offers indoor and outdoor spaces used for meetings, receptions, dinner parties and more.
How far is the Kentucky Castle from Blue Grass Airport?
Kentucky Castle is 4.2 miles from the airport or about a 7-8 minute drive.
What is the Kentucky Castle's address?
230 Pisgah Pike, Versailles, KY 40383