Scene
If you're a chic millennial businessperson with a labradoodle, this hotel was built for you.
Arrive at Kimpton's Forum Hotel, and its namesake becomes obvious. While the conference hotel opened in Spring 2023, its dominating white columns pay homage to Roman architecture, as well as big-man-on-campus Thomas Jefferson's obsession with all things neoclassical. 
A moody (dare we say, University of Virginia-branded?) blue pervades the hotel's interior; the lobby's lofty atrium is divided by navy velvet couches and leather chairs. Off to the left, double doors open onto a smaller sitting area which can only be described as IKEA showroom meets Downton Abbey smoking lounge. Each bookcase has enough silver to stock an antique shop, and the faux-marble coffee table has a perfectly angled stack of art books—the diagonal spines read The Architecture of Trees and Annie Leibovitz's wonderland. Follow the lobby all the way to the right, and it transforms into the Birch & Bloom steakhouse and swanky U-shaped bar, where upbeat alt-pop pumps. 
While it might have been designed for and by millennials, today's clientele skews middle-aged businessmen carrying suit jackets, plus a class of 20-somethings sporting backpacks — not surprising, given the fact that the hotel is located on the grounds of UVA's Darden Business School. The lower level is filled with spacious conference rooms and event spaces, including a 6,000 square ft. ballroom. Behind the lobby's multi-story giant bay window, sunny gardens and woodsy walking paths spread out behind the hotel, framing a low waterfall and pond. 
Five acres of arboretum and botanical gardens extend behind this moody conference hotel — located on the grounds of the University of Virginia.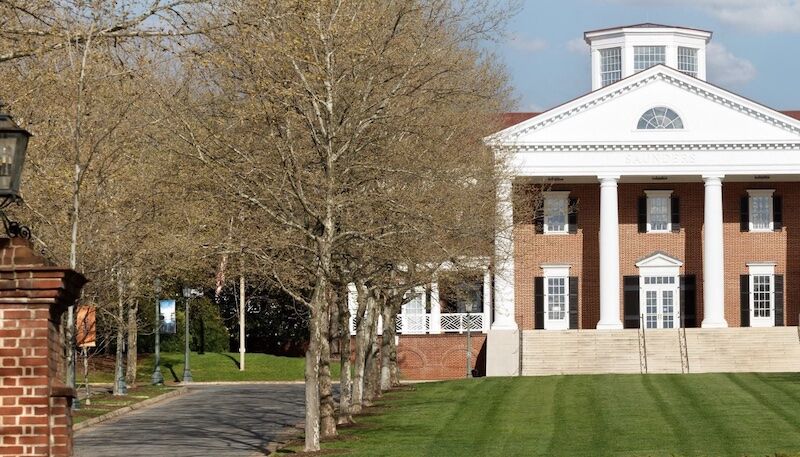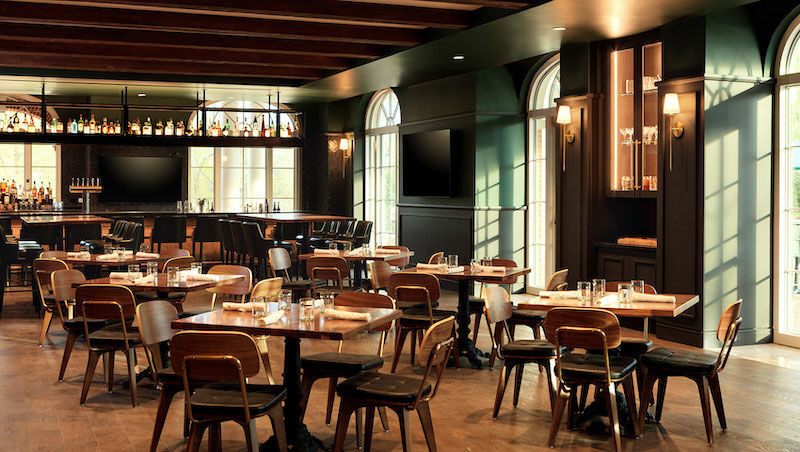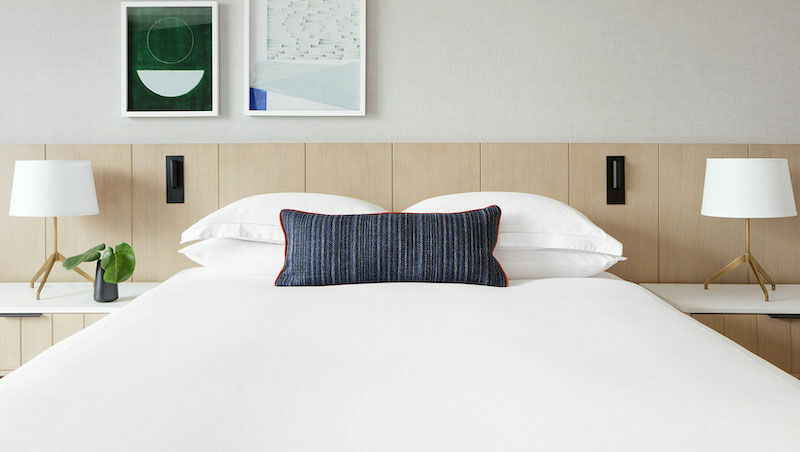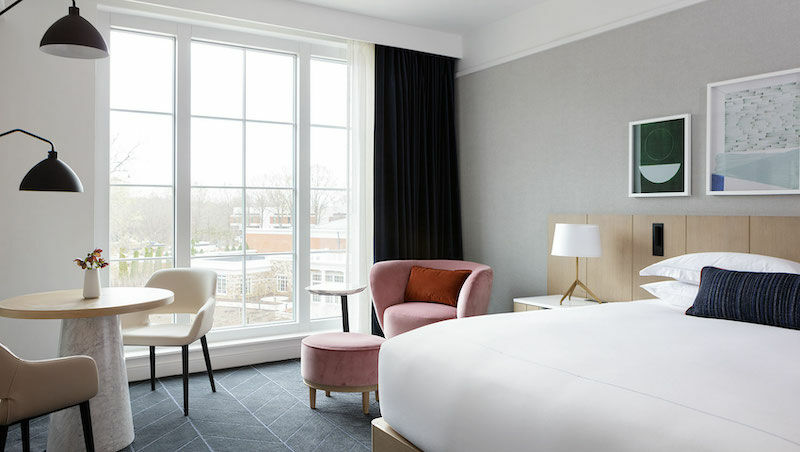 Location
Charlottesville offers history, a funky art scene, and plentiful booze. 
Located on University of Virginia's North Grounds, the Forum Hotel's immediate surroundings aren't the most exciting — picture graduate student housing and nondescript brick buildings. However, the location is a short walking distance from the University's Academical Village (a UNESCO world heritage site) and just a short drive or bike ride from Charlottesville's Downtown Mall, a vibrant pedestrian thoroughfare. 
While you're on the University's Grounds:
A 10-minute drive (or free trolly ride away), on the historic Downtown Mall: 
The Charlottesville area is also spilling over with breweries, wineries, and cideries. If you have more time, drive 30 minutes to Nelson Route 151, and drink in the company of the Blue Ridge Mountains. 
Rooms
Clean, mid-century style with comfy seating for work and chill-axing. 
These rooms are all about the views. Floor-to-ceiling windows and balconies let in soft natural light, and sleek modern furniture keeps each well-equipped space feeling like there's plenty of legroom. Even basic rooms include a seating area with a conical faux-marble table, two white leather chairs and a curvy, velvet armchair in millennial pink.
King & Double Queen Room: 300-365 square feet with a king or two queen beds, flat-screen TV, breakfast-size table (with the two chairs), and velvet arm chair with an ottoman. All rooms have a walk-in shower, some include a private balcony or terrace.
Various Suites: Studio King and 1-bedroom suites offer extra sleeping options, living and dining areas, and/or private terraces. The light wash, modern aesthetic remains the same. 
Hospitality Suite: The largest of the Forum's suites, this apartment-style lodging (1175 sqft.) uses the same or very similar furniture as the previous rooms to filloutfit a bedroom with a king bed, a separate living room and full dining area, and. There's also a swanky soaking tub. 
Amenities
While it's not taking any risks, stylistically-speaking, the Forum's glamorous and on-trend amenities and public spaces will please a wide range of out-of-towners. 
Arboretum and Botanical Gardens
Step off the back terrace of the Forum Hotel into a sunny, terraced garden with seating and stone patios throughout. A rock waterfall spills into a pond, and gravel walking trails lead through a wooded area to an outdoor event space. As Lady Catherine De Burg would say, it is "a prettyish kind of a little wilderness." Follow the Forum Hotel's trails to the Rivanna Trail, a 25-mile multi-use trail running along both sides of the Rivanna River. 
Restaurant & Bar: Birch & Bloom
Bland and classy, this modern steakhouse manages to evoke all other hotel restaurants I've seen, except bluer. Pedigreed Executive Chef Eric Brownlee has designed a farm-to-table menu that features well-tended meat from Polyface Farm (made famous by Michael Pollan's The Omnivore's Dilemma) and artisanal cheeses from Caromont Farm, as well as local produce. The bar serves specialty cocktails and local beer on tap (though more imported wines–domestic and international–than local). The Monte Cristo with Shaved local ham, gruyere, battered brioche, red currant and berry coulis is mouthwatering. But don't get your drip coffee here ($5? Really?)
Taproom: The Good Sport
One of those places that rides the line between kitschy and cringy: the Good Sport is, as the name suggests, a very, very sports-themed bar. Two large flat screen TVs dominate the long room, vintage sports gear and team photographs cover the walls, and someone dared to upholster booths in plaid. It's like Cheers, recreated at Disney World. However, they serve up a good number of local beers, and a rockin' Lemongrass Mojito.
Gym
The on-site fitness center has your run-of-the-mill cardio equipment, plus Peloton bikes for you glim-glam fools. Staying at the hotel also gives you pass access to UVA's North Grounds Recreation Center (a 3-minute walk away), which includes a pool, handball/racquetball courts, basketball courts, and fitness classes.