Scene
Though the biggest draw for the Kinley Cincinnati Downtown is probably its central location, it would be a pretty solid hotel no matter where it was. The midcentury throwback lobby, filled with plush furniture and large tables, makes for a great spot to lounge while you enjoy gourmet coffee from the bar. No booze here, but there is often a barista on hand to make whatever crazy caffeinated concoction you're feeling.
Just off the lobby you'll find creative food at Khora, which is typically filled with more local foodies than with hotel guests. As exciting as the restaurant is, perhaps the coolest  thing about the Kinley is its partnership with the 1628 Ltd. coworking space. Just a couple blocks away, 1628 is a combination workspace and art gallery where rotating works from local artists and art students adorn the walls. The assorted creatives who work there are exactly the kinds of people you want to meet in a new city, and, if you have to get stuff done while you're in Cincy, there's not a better place to crank out a few hours of hard work.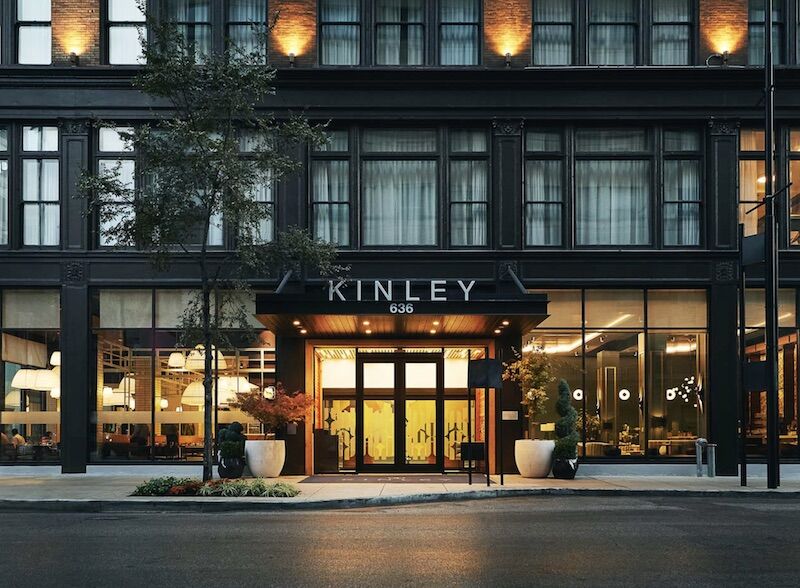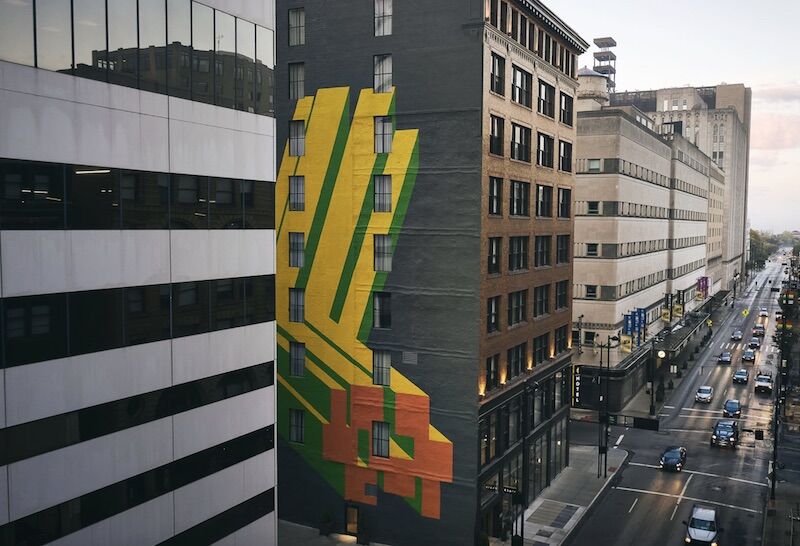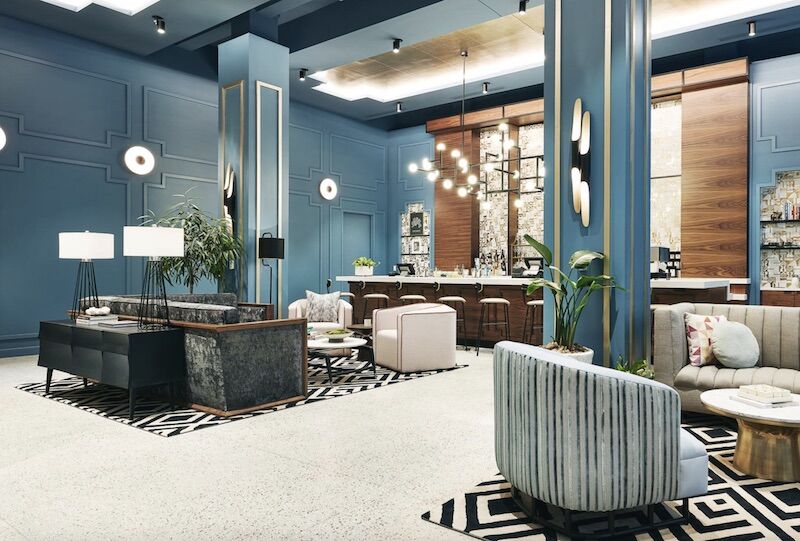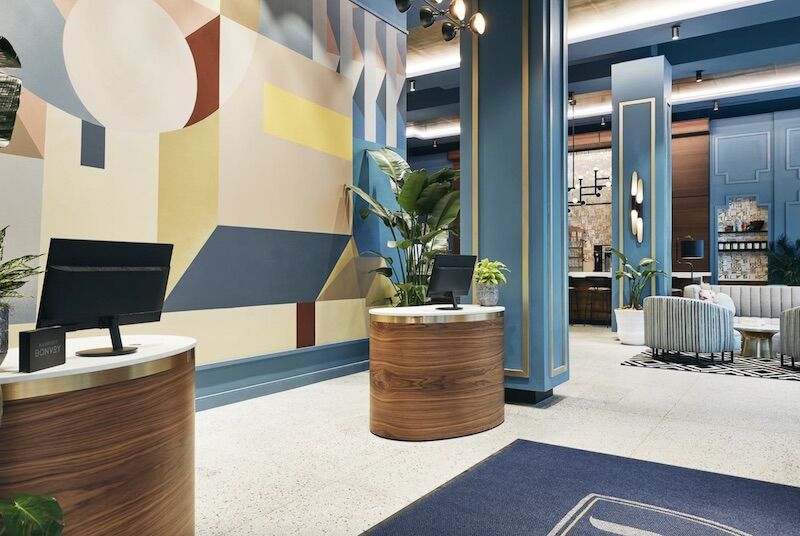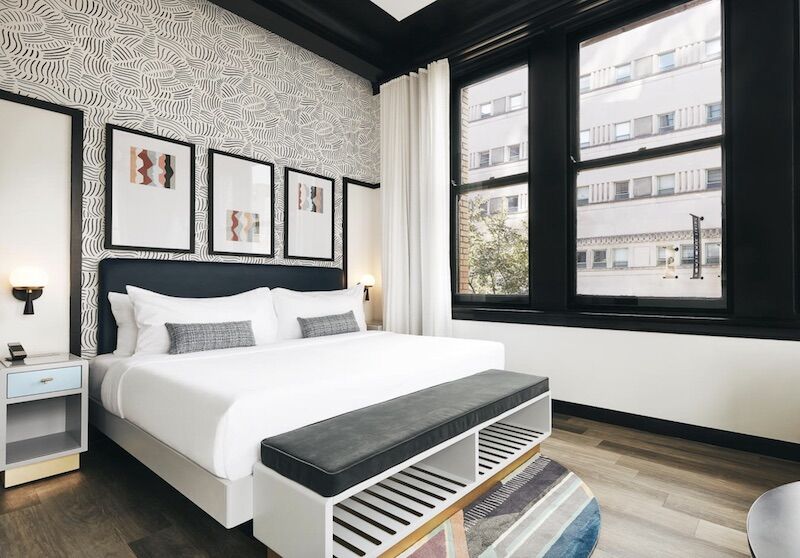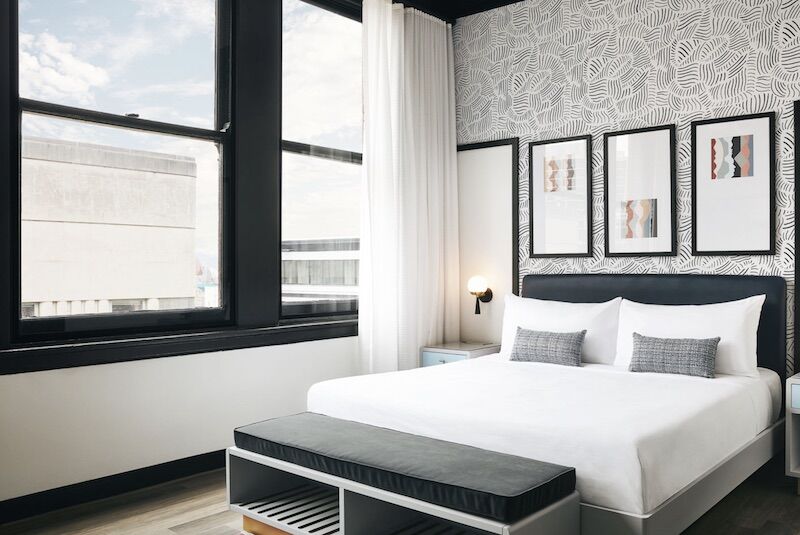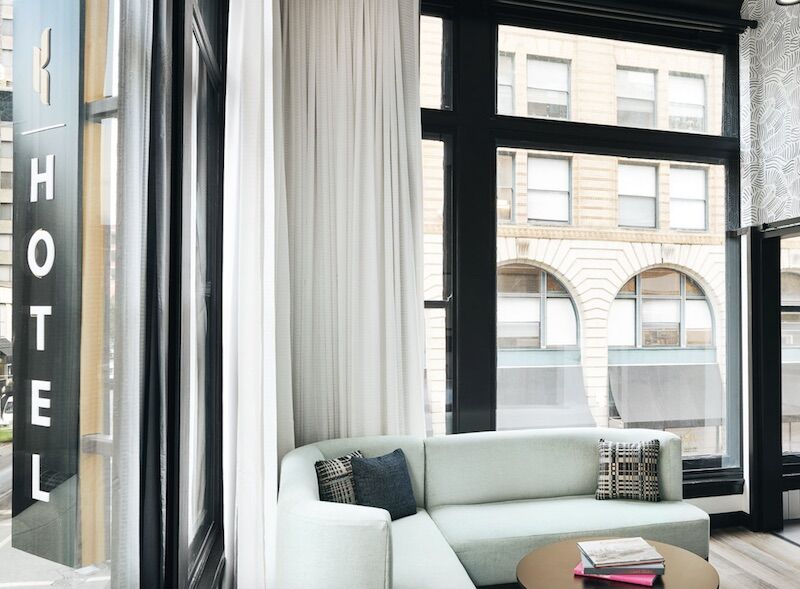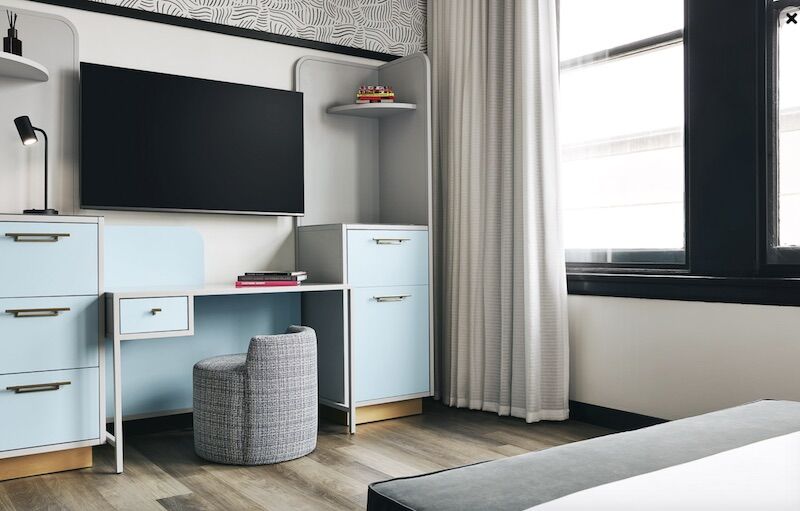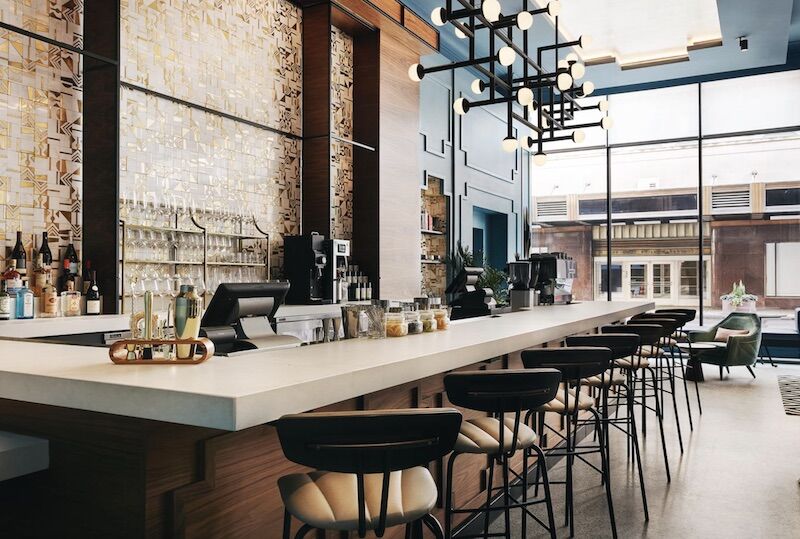 Location
The Kinley Cincinnati Downtown might be the best-located hotel in the city. Step out the front door of this century-old brick building and you're in the center of downtown. From here, it's just a 15-minute walk to the riverfront, modern art museums, the Italianate wonderland that is Over-the-Rhine and so much of what we think makes Cincinnati fun. If the weather is cooperating, you'll likely be able to explore many of the city's best attractions on foot.
For the most notable and quintessential things to do in the city, see our full guide. And here are some of the top attractions you can walk to from the Kinley:
Rooms
Kinley's rooms aren't huge, but they are well thought out in terms of design and sense of place. Most rooms have long windows that look out on the buildings of downtown, imbuing the space with the brick and steel of the Midwest. The interiors are elegant. Each room generally adheres to a color palette of black and white and makes creative use of wall trim to differentiate room features and section off accent walls of pastel blue or wallpaper with soft, leaf-like patterns. The beds are comfortable and ceilings are high, preventing  the small space from feeling cramped.The white-tile bathrooms feature rain showers and products from Beekman 1802, plus hairdryers and fluffy towels. 
You'll also get free Wi-Fi, a chair and desk, flatscreen LCD TV and a mini fridge across the three basic categories of rooms:
King/Queen/Double Rooms – These make up the bulk of the 94-room Kinley. They are all relatively small rooms (remember, this building is over 100 years old) with a MurMaid mattress, high ceilings and a decent sized bathroom. The king room is a little larger than the other two, which feature either a queen-sized bed or two double beds.
Bunk Room – Though typically bunk bed rooms are the domain of  hostels, the Kinley has a handful of rooms with four twin beds stacked two-by-two. Each bunk comes with an individual light. They're ideal if you have kids, or are just trying to save money in a small group.
Denton Suite – The two-room Denton suite has the most space and the best views of any room at the Kinley, with corner-suite views of Cincinnati's stunning skyline. It has a large, wood-floored living room separated from the bedroom by a sliding metal door and is really the only option at the Kinley if you need plentiful space.
 Room prices begin at around $225. 
Amenities
The Kinley Cincinnati Downtown isn't huge on amenities, though the 24-hour fitness center does have a Peloton bike in addition to a couple of treadmills and a good selection of weights. You'll also find a full gourmet coffee bar in the lobby, where an onsite barista mixes drinks most of the day. The two most important amenities to know at the Kinley, though, are its coworking space and Khoura, the ground-floor restaurant.
Though the Kinley doesn't have a business center per se (there's a printer in the lobby if you absolutely need one), a couple of blocks away you'll have access to 1628 Ltd. It might be the most colorful coworking space you'll ever step into, where paintings and sculptures from local artists sit around every turn, and creatives and business types from around the city diligently working on their laptops. It's not only a good place to get work done, but also gives you the chance to meet interesting locals with a different viewpoint on the city.
Kinely's restaurant might be a bigger attraction for locals than the hotel itself, where chefs Kevin Ashworth and Edward Lee have created dishes from local ingredients to make what they call a "grain-focused menu." The Midwestern spins on European classics include the Ohio Semolina, a Gemelli "Cincy Style" lamb ragout with pumpkin seeds and caramelized goat cheese, and an Atlantic sea bass with apple slaw, brussels sprouts and brown butter agrodolce.